Each year before the Cannes Lions International Festival of Advertising, Ad Age asks creatives execs around the world for their thoughts on what will nab big honors this year. For 2017, we checked in with the festival's former jury presidents for insight into what they believe works best for each category and for their advice to this year's judges. We'll be counting down each day until the festival with their thoughts.
Today, we hear from former Entertainment Lions Jury President and CAA Marketing Chief Creative Officer and Co-Head Jae Goodman.
What must win a Grand Prix this year?
Fearless Girl must win in every category in which it applies (e.g.: PR, Glass Lion). Forget what I think about it as a marketer, it's how it made me feel as the father of a daughter that matters most. Bravo, Fearless Girl creators. And, thank you.
Since Cannes 2016, what's the best work you've seen/what should win Grand Prix in Entertainment?
Today at Apple. Maybe it launched too late for the entry deadline, but it's the apex of "Entertainment Marketing" and is some of the best marketing in the world in any medium.
Just as the world pronounces brick and mortar retail dead, Angela Ahrendts and her team at Apple Retail redefine the retail experience and do it with the curation, style, taste, scale, breadth, depth, specificity and ease that only Apple can. They have turned, seemingly overnight (actually, according to the video I watched, they did it literally overnight), their already world-leading retail experience into a community hub full of useful, entertaining and meaningful content and experiences. Sure seems like an Entertainment Lion Grand Prix to me.
Last year's Entertainment Lions Grand Prix, The New York Times' VR experience "The Displaced" and the promotional campaign that surrounded it, re-imagined The New York Times brand through content and experience. Apple Retail has done the same.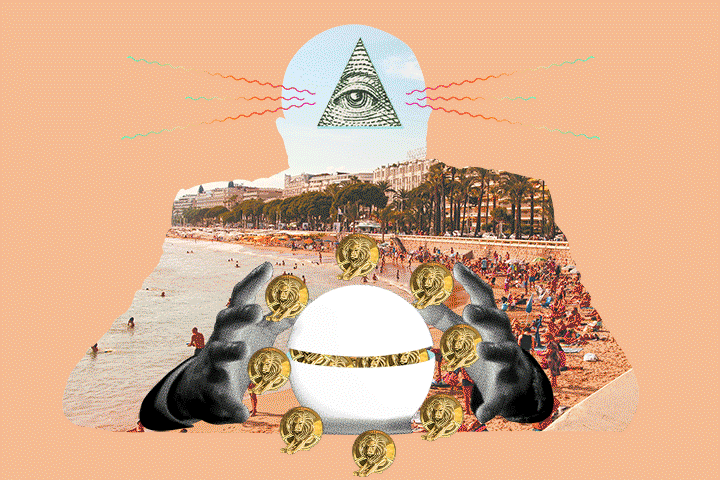 Any other work, regardless of category, that made you jealous, that you expect to win big?
Everything General Electric is doing. Their VR project "The Possible" made me quite envious, bordering on jealous.
The short film "Home" starring Jack O'Connell out of BBH London [and co-funded by UNHCR] made me full-on jealous. Such a smart way to bring the refugee crisis to light, so emotional in its telling, so personal. It won a BAFTA! I should have listed it above in the Entertainment category as a Grand Prix contender. If Apple is not entered, this is my pick.
The "Tale of Thomas Burberry" is stunning in its storytelling, direction, production... and it has the unique benefit of being a true story! I am rooting for this one.
The Marks and Spencer Mrs. Claus story is beautiful, too. I am guessing that the story is not true, but please don't tell my kids.
Qualcomm's "Lifeline" that won big at Spikes Asia has got to be a contender. It's an ambitious project, in Chinese and English, with big talent behind and in front of the camera, and it works.
And I just might be rooting for Chipotle's latest animated musical short "A Love Story" and their episodic show by the creators of "Yo Gabba Gabba" called "Rad Lands"...available now on iTunes!
What trends in the work did you see from judging last year that you hope won't happen again this year?
One aspect of our jury conversations that I did not enjoy was the subject of what type of company or agency developed the work. There were judges who wanted to penalize work that was created by brands in-house, or work that came from a media agency or publisher rather than a "creative" agency. As the CCO of an entertainment and sports agency's Marketing division, whose work for our clients has won four Grand Prix in four different categories (Film, Cyber, PR, Entertainment) and another two dozen Lions, I sure believe that great creative work can come from anywhere, and that an idea's provenance has no bearing on the quality, effectiveness or Lion-worthiness of the idea.
Any trends you do expect to see?
Please let there be a trend away from stunts wherein unsuspecting people are part of a hidden-camera social experiment and then the results are revealed to the sound of violins in a minor key and distributed via YouTube. That said, Dove makes me cry every time and this year's model in the form of Heineken ["World's Apart"] has taken the genre to a new high.
If there's one category you had to eliminate from the Lions, what would it be, and why?
It seems as though a lot of the categories are blending together. For example, there is a Film Craft jury, and then there are categories for craft within other juries, such as Entertainment Lions. I'd like to see that cleaned up a bit. Actually, the team at Cannes Lions has been really great about trying to do this and has enlisted a group of us to help... but it's a process.
In general, what needs to go away at Cannes? What does it need more of?
As Cannes continues to expand as an important global media market and marketing business conference, it risks losing its focus on the importance of high-quality creative work. The Cannes Lions team has this fantastic presentation that makes the case -- quantitatively -- that Lion-winning work drives better business results. More people need to see that presentation and recognize that great creative work creates real value. Nike might have a thing or two to contribute to this conversation. And Jonathan Mildenhall at Airbnb sure did us all a favor by commissioning and publishing his study.
What advice do you have to jurors and jury presidents for this year?
Quality first. This is Cannes Lions.
Connection to the brand and business are a must. Quality creative alone is not a winner, quality creative that drives brand and business results is a winner.
Intent matters. If the brand set out to make a commercial (TVC) and then edited it to ninety-seven seconds, that does not make it a short film. If the TVC "premiered" on YouTube before the Super Bowl, that does not make it a digital short.
And here is some friendly advice to first-time jurors: surrender to the process. Be present. This may be the only time you take an entire week of your life and dedicate it solely to experiencing the work that brands and agencies around the world hold up as their absolute best. You are there because you are an expert, but the result of the week is that you will become that much more of one.
Judging Cannes Lions is a hard job, but I promise that if you take it seriously it will make you better at your actual job.