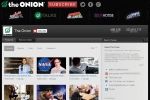 "Area Writers Choose Life of Poop-Smeared Bum Rather Than Move to Chicago"
So maybe it's not up to snuff as an Onion headline, but you can't blame a guy for trying, after a rash of reports last year heralded the apocalypse at the satirical news brand.
A chunk of The Onion's New York-based writing staff, as well as Editor Joe Randazzo and social-media star Baratunde Thurston, weren't relocating to the Windy City, where the company was uniting its 100-person staff, raising an unpleasant question: Could The Onion hold on to its unique place in culture while operating outside New York?
Since the relocation last summer, The Onion has not just survived, it's thrived. As measured by ComScore, traffic to The Onion is up an impressive 51% to just under 4 million monthly visitors. Moreover, a historically "difficult partner for advertisers," as President-CEO Steve Hannah described the company he's led since 2004, has cozied up to brands and tried out new distribution partners for its much-loved brand of satire.
In Mr. Hannah's view, the success has come not despite the move to Chicago, but because of it. "We had the creative in New York and the business in Chicago and never shall the twain meet," he said. "There was the occasional tendency to demonize each other from 1,000 miles away."
Having everyone under the same roof has made it possible to roll out two pretty big philosophical changes to how The Onion has done business.
It's easy to forget that The Onion was born in a different world -- 25 years ago, as a weekly in Madison, Wis. Even deep into a digital age that's tailor-made for real-time news riffs and tweeting The Onion's drop-the-mic funny headlines, the company still viewed itself as a weekly destination. It was reluctant to spend too much time on breaking news, even though readers wanted just that, as traffic spikes on more-topical content demonstrated. Responding to reader desire, the approach has shifted to more content -- and more topical content -- from the editorial team, which is now led by Will Tracy. That change, Mr. Hannah said, is responsible for the surge in traffic in recent months without increasing headcount.
The second big shift related to how The Onion deals with brands. The old approach, Mr. Hannah said, went like this: "If you can fit into our creative construct, we will allow you in. Which is absolutely the wrong way to deal with advertisers."
Now it's a different story. Collaboration is the mantra, and The Onion has even set up a creative-services offering that operates a bit like an ad agency even as it works both with creative shops and directly with brands. In addition to creating branded content that appears on-site, Onion Labs does white-label creative. Clients have included Ford, Clorox and Hilton. For Microsoft's Internet Explorer, Onion Labs set up a Tumblr with the self-deprecating title %u201CThe Browser You Loved to Hate.%u201D For Dodge, it parodied the upfronts with a fake presentation of new fare like "Pumpkin Growers."
At the same time, Mr. Hannah and his sales team have been successful in selling old-fashioned sponsorships for brands like Starbucks, Budweiser, Ray-Ban and Fiat.