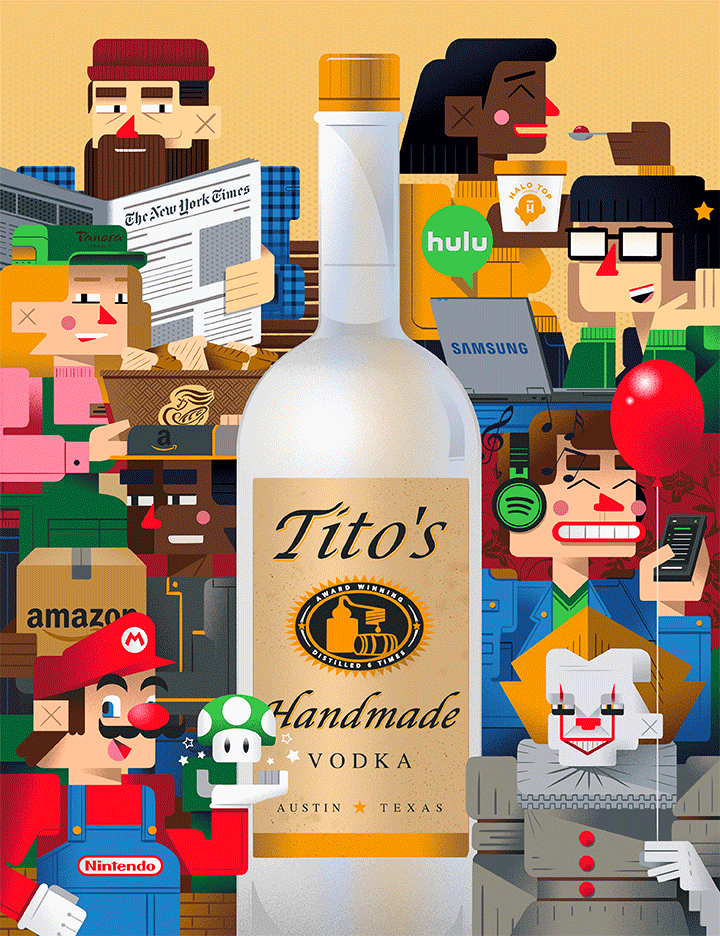 Illustration by Gabriela Zurda
Published on December 5, 2017
TITO'S HANDMADE VODKA
Marketer of the Year
By E.J. Schultz
Nicole Portwood still remembers a phone call she made several years ago to lobby a music festival to accept the vodka brand as a sponsor. "I got the cold shoulder," says Tito's VP of brand marketing. "I can't tell you how many people hung up on me because they didn't have any idea who we were."
They do now. Tito's, founded in 1997 under the then-ridiculous proposition of a Texas-distilled "handmade vodka," this year became the top-selling spirits variety in U.S. stores, surpassing more established players like Jack Daniel's Black Label and Smirnoff Red Label. Once only available in Texas, Tito's is now sold everywhere from United Airlines flights to big restaurant chains like McCormick & Schmick's, which recently featured a "Mexitini" cocktail made from Tito's and triple sec. At U.S. retail stores, sales surged 40.8 percent to $198 million in the 52 weeks ending Nov. 5, according to IRI data cited by Wine & Spirits Daily. In bars and restaurants, Tito's now commands an impressive 7.1 percent share of the fragmented vodka market, up from 1 percent in 2011, according to Technomic.
The brand's growth, while remarkable, is not the only reason Tito's is Ad Age's 2017 Marketer of the Year. Its path to the top is an example of the new marketing battlefield in which upstart brands are successfully taking on giant consumer packaged-goods conglomerates, often by eschewing big-spending ad techniques. Tito's has not run a single TV ad in its 20-year history. Instead, it has relied heavily on word-of-mouth and scrappy marketing like its "Vodka for Dog People," a philanthropic effort that has included events like Yappy Hours and Puppy Pawties to raise money for organizations like no-kill shelters.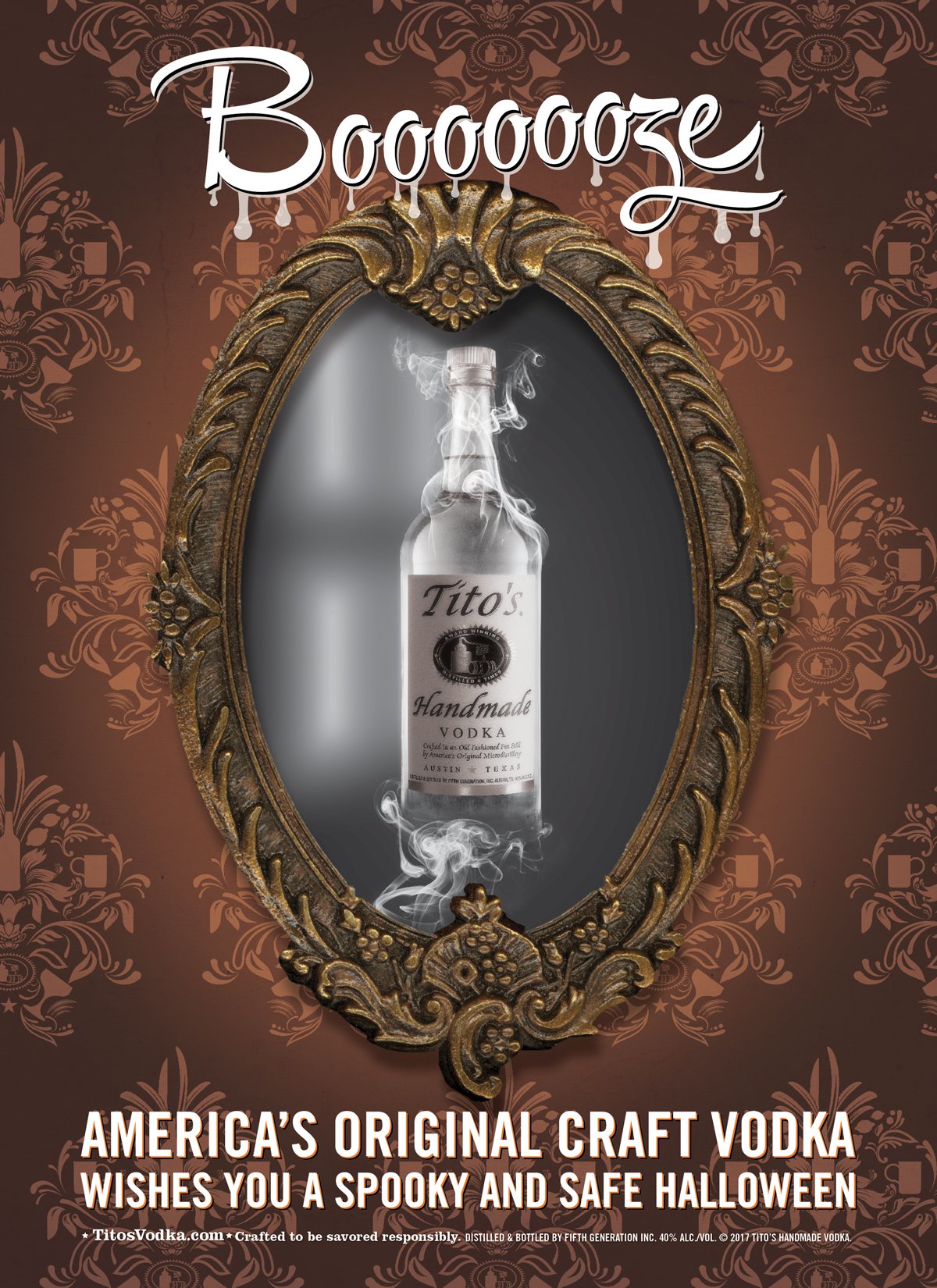 Tito's sparked a revolution in spirits with its 'handmade' vodka. Credit: Tito's Handmade Vodka
It has, however, spent signficantly on print and outdoor advertising. "We are kind of old-school," Portwood says, noting that the brand remains loyal to magazine ads. Recently, the company has run ads in titles as varied as Rolling Stone and Popular Mechanics.
Tito's handles creative in-house, while relying on KSM South for media buying and Praytell for PR. While other brands obsess about millennials, Tito's avoids specific targeting, operating under the philosophy that "if you have a liver, we deliver."
That's among the many "Titoisms" offered up by brand founder Bert "Tito" Beveridge, whose folksy approach underpins pretty much everything the brand does. "He is what he is: a Texas cowboy on a billboard with a dog sitting on cases of Tito's," Emily Pennington, editor of Wine & Spirits Daily, recently wrote. "Is there a little myth-making going on? Of course, but he's always made decisions based on his own likes and dislikes regardless of what his competitors were doing."
The brand's founding story, outlined in detail on its website, is as important as any marketing campaign it could run. Beveridge, who has degrees in geology and geophysics, worked in the oil and gas industry and then got into the mortgage business. In the early 1990s, he began making flavored vodka for friends as Christmas presents before realizing the real opportunity was in pure, smooth vodka. So he studied photos of old moonshiners, built his own still and "kept messing with it until I got to where everybody liked my vodka better than the other stuff," he writes on the brand's site. He built a distillery after running up a debt of $88,000 on 19 credit cards. A breakthrough came in 2001, when Tito's took double gold at the World Spirits Competition.
Tito's has cultivated a craft identity: Its formal name is Tito's Handmade Vodka and it's still promoted as being made in "old-fashioned pot stills." It's priced cheaper than premium competitors like Grey Goose and Absolut, and has avoided jumping on the latest hot trend in favor of consistency. For instance, Tito's stayed away from flavored varieties even as other brands flooded, and later oversaturated, the market with sweet-tasting blends. When all the varieties marketed by its rival spirits are bundled together, Tito's, which comes in only one variety, is still behind Smirnoff, Jack Daniel's, Crown Royal and Captain Morgan, but it's gaining fast, according to IRI data.
Portwood, who worked on Grey Goose at now-defunct media agency KSL before taking the Tito's job eight years ago, traced the brand's rise to the consumer mood that took hold in the wake of the 2008-09 recession. It used to be all about "bottle service and bling," but "suddenly people started valuing substance over image," she says. "As people began to look for American-made brands, they wanted to know the stories behind the brands they were aligning with."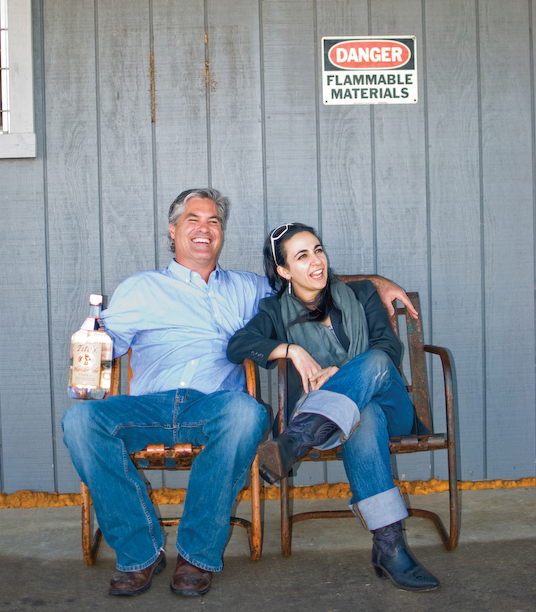 Bert 'Tito' Beveridge (l.) and Nicole Portwood, VP of brand marketing. Credit: Tito's Handmade Vodka
Tito's climb to the top has not gone unchallenged. Tito's "handmade" and "pot stills" claims have been challenged in court multiple times by plaintiffs alleging false advertising/labeling. "All but one has been dismissed, so there's not a lot of validity to those claims," Portwood says. "When you're succeeding, people will look for ways to drill holes in your ship."
Earlier this year, Smirnoff took a not-so-veiled shot at Tito's with a TV ad starring Chrissy Teigen that went after "fake crafty" rivals. If anything, the attention from a big-spending rival showed that Tito's, which once couldn't get its calls answered, had truly arrived.
Read more
SAMSUNG
By Adrianne Pasquarelli
The ad is hard to forget: An ostrich wanted so badly to fly, but weak pectoral muscles and tiny wings kept him earthbound. That is, until he discovered a Samsung Gear VR headset and was able to simulate flight through virtual reality, soaring through the clouds to the strains of Elton John's "Rocket Man."
Created by Leo Burnett Chicago, the spot won three gold awards at the Cannes Lions International Festival of Creativity earlier this year, and is brilliant not only for its humorous splendor, but also because its message of achieving the impossible could be a metaphor for Samsung itself.
Just over a year ago, Samsung was plagued with problems. Following numerous reports of phone batteries catching fire, exploding washing machines and a bribery scandal implicating a top executive, Samsung became the poster child for a brand in crisis. Yet after issuing an apology ad, and overhauling its product testing process—the brand enlisted hundreds of researchers and employed a third-party auditor—Samsung has managed to restore its reputation. Its recent new products, the Galaxy S8 and Galaxy Note 8 phones, have been successful, and consumers are eagerly anticipating the next iterations, expected to be released early next year.
In October, the South Korean tech company reported record earnings, generating $12.9 billion in operating profit and posting a 30 percent rise in revenue. Samsung has also moved up on Interbrand's ranking of top global brands, landing at No. 6 earlier this year from No. 7.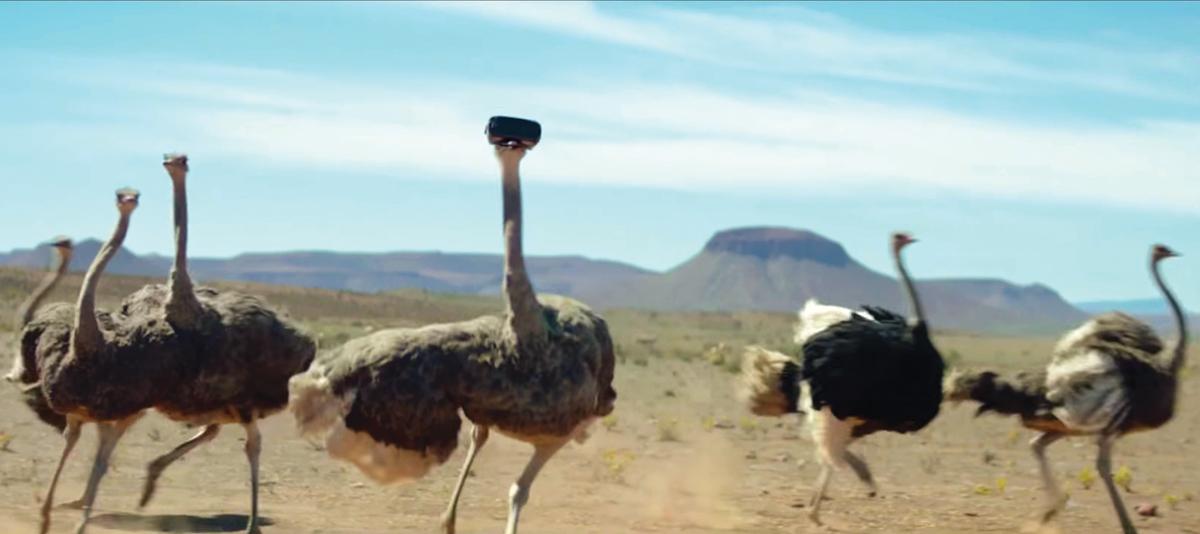 Samsung's ostrich spot from Leo Burnett Chicago. Credit: Samsung via YouTube
Ads like the flying ostrich under the "Do What You Can't" tagline, and a recent colorful promotion of Samsung's QLED television, helped rebuild Samsung into a showcase for innovation. It's also gained ground with its retail experimentation. Last year, it opened Samsung 837, a 55,000-square-foot store in Manhattan's Meatpacking District that sells the brand experience, rather than the merchandise (which can be played with, but purchased elsewhere) as a way to engage with consumers.
"To inspire through purpose is bigger than a bottom line," said Pio Schunker, senior VP and global head of integrated brand marketing, at the October Association of National Advertisers conference, where he spoke about Samsung's reinvention. "When you have that, it'll see you through the good, the bad and the absolutely horrendous times."
Read more
NINTENDO
By George Slefo
The protagonist of one of marketing's biggest comeback stories of 2017 is an Italian plumber with a mustache.
Nintendo and its iconic character, Super Mario, leveled up with the release of its $299 Switch, a crossover between home-gaming console and portable gaming device. It was a bold move for Nintendo, which had a flop in 2010 with its last console, the Wii U, which suffered, among other reasons, because its games couldn't be played on the go.
Switch is significantly different from recent offerings from rivals Microsoft and Sony, which are making video-game systems that are more powerful but not portable.
Nintendo's risk was rewarded. For its fiscal second quarter ended Oct. 30, Nintendo reported revenue at $1.9 billion, a massive turnaround from the $57 million loss in profit reported for the first half of the last fiscal year. Overall, Nintendo told analysts it expects to make a cool billion in profit by year's end. Its estimate was driven by Switch, continuing demand for Pokémon Go and the introduction of SNES Classic, a tiny gaming console that comes preloaded with iconic games more than two decades old.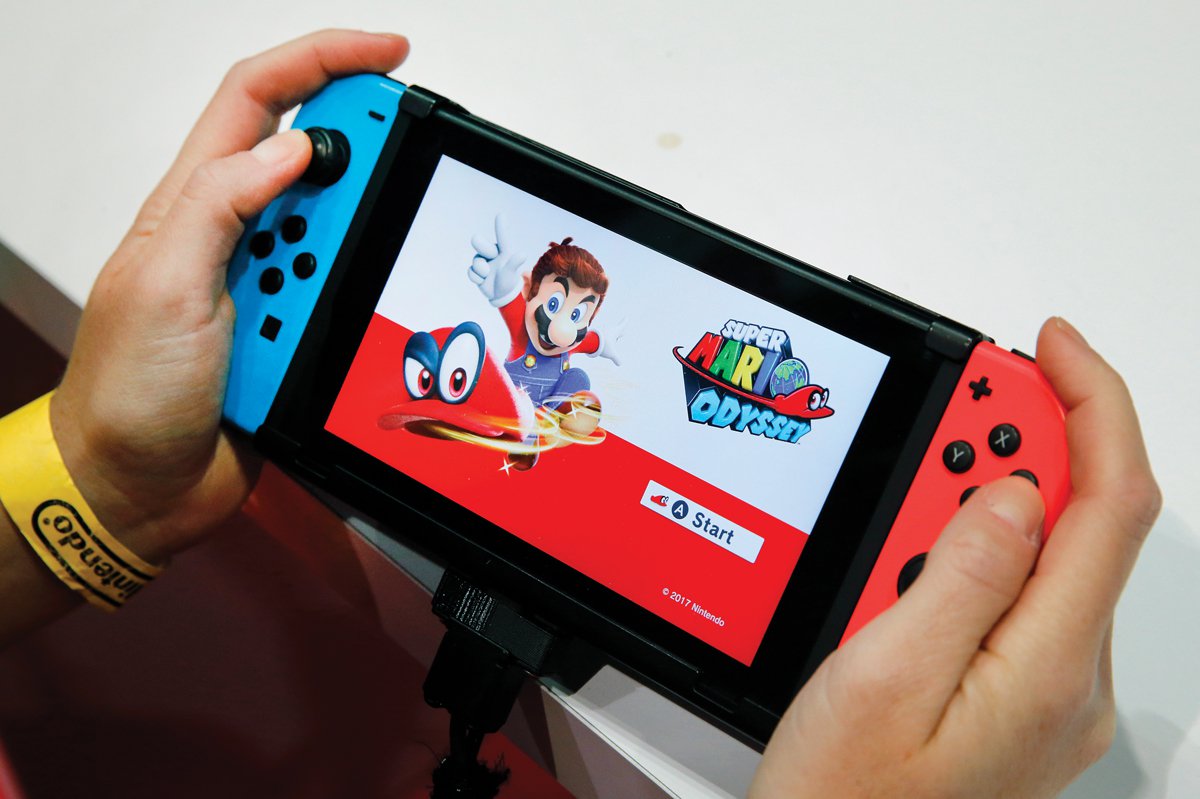 Nintendo, with the help of Super Mario, bet big on a portable video game console. Credit: Chesnot/Getty Images
Nintendo fueled demand for Switch with its first Super Bowl spot in February, from Leo Burnett and production company Interrogate, that featured its "Legend of Zelda: Breath of the Wild" game with a soundtrack of Imagine Dragons' "Believer."
At the time, Nintendo said it had hoped to sell 2 million units on the March 3 launch date, but the company now estimates it will sell 14 million units by year's end.
Finding a Switch when it was released proved difficult, driving hopefuls to camp outside retail stores. And it's still in demand: Switch was among the top five bestselling products every day from Nov. 22 through Cyber Monday, according to recently released data from Adobe.
The Switch—which a Quartz reviewer wrote was "one of the best, and most addictive, new pieces of technology I've used in a long time"—isn't alone in contributing to Nintendo's very good year. SNES Classic also flew off store shelves and prompted shortages. The SNES Classic, which retails for about $80, is currently selling for double that on eBay as Nintendo and Super Mario continue their odyssey.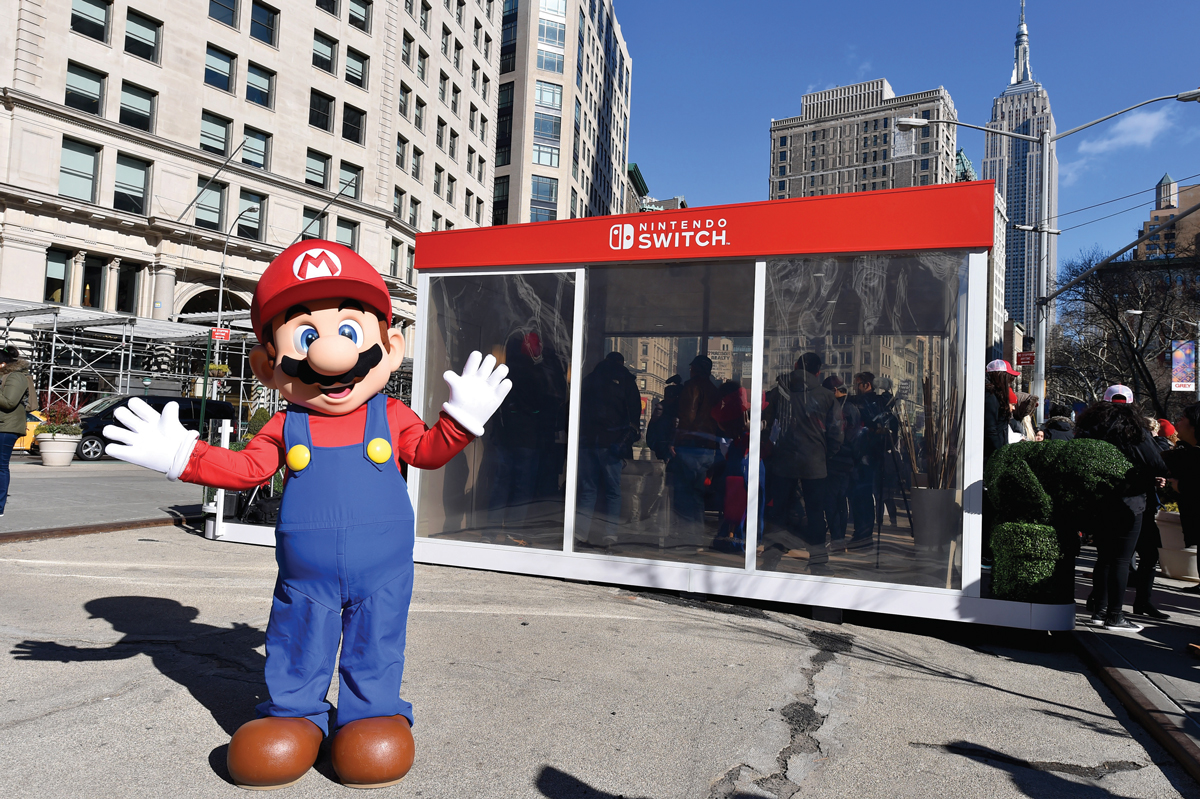 Credit: Michael Loccisano/Getty Images
Read more
PANERA
By Jessica Wohl
Panera Bread's annual marketing budget hovers around $100 million, yet the brand outshines the giants with a simple proposition: When you eat at Panera, you know exactly what you're getting.
The company's "clean" food crusade to remove artificial flavors and preservatives, along with its move to post calories and added sugar information directly on cups, has resonated with consumers. Privately held Panera says it notched same-store sales gains of more than 6 percent year-over-year during the first nine months of 2017, a coup during a time when many competitors are struggling.
Panera's approach of serving reasonably priced food in what some company executives call the "craveable wellness space," along with its digitally savvy ordering technology and increasing use of delivery, also attracted a suitor in JAB Holding Company, which acquired Panera in July for $7.2 billion.
"Transparency and clean foods is a message that consumers are looking for," says Morningstar analyst R.J. Hottovy, noting that Panera is a leader in such messaging.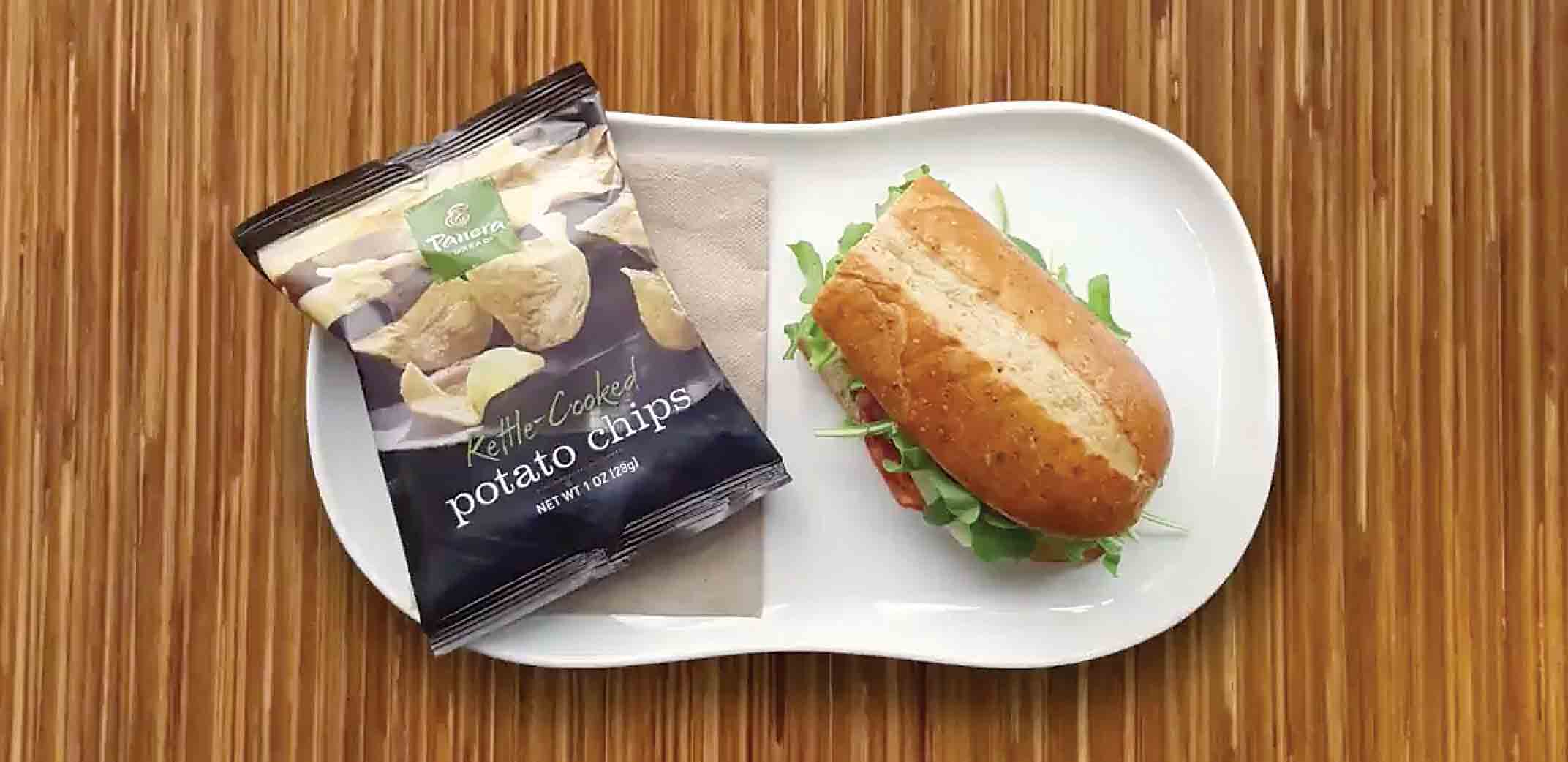 Credit: Panera
Panera's "100% of our food is 100% clean" push began in January, appearing in a TV spot, on billboards, on staff T-shirts and in social posts.
"Now we're actually marketing to effect change versus marketing for marketing's sake," says Chris Hollander, senior VP of marketing at Panera, which works with Anomaly on its advertising. "That's when it gets exciting."
Along with its push to tell people just how much added sugar is found in fountain drinks, Panera used the opportunity to suggest patrons try some of its new, lower-sugar beverages. (The sugar-in-drinks effort is even more interesting when one recalls Hollander spent more than a decade in marketing roles at Pepsi before joining Panera in 2010.)
Some efforts didn't hit. A video plea from soon-to-step-down CEO Ron Shaich, asking the top three burger chains' CEOs to serve better kids' meals, didn't spark as much conversation as Hollander hoped. Even so, Panera wants to move from more traditional creative executions to being more nimble, reactive and opportunistic, all while keeping costs in check.
Next up, it's putting more emphasis on delivery and forging deeper connections with millions of diners through personalized offers that include marketing salads or sandwiches, not both, depending on what one typically orders, or enticing a patron who only buys coffee to pair it with a new breakfast sandwich. There's also plenty of restaurant remodeling to do as Panera tries to maintain and grow its relevancy in the crowded fast-casual dining market it helped create. And it's still too early to say how Panera will approach marketing at Au Bon Pain, which it's in the process of acquiring.
"I'll be shocked if Panera in two years looks like Panera today," says Hollander.
Read more
HULU
By Jeanine Poggi
Hulu emerged from the shadow of Netflix and Amazon this year thanks to the dystopian drama "The Handmaid's Tale." The adaptation of the Margaret Atwood novel of the same name is the first Hulu original series to garner critical acclaim and become part of the cultural zeitgeist—with the help of some smart marketing and good timing.
With its first-ever Super Bowl ad, a creepy IRL stunt and bold print campaign, Hulu went all-in promoting the series set in a future universe where women have been enslaved and forced to become handmaids to help stem a population crisis. It didn't hurt that the theme of women's oppression, which underlies the series, has become a real-life bogeyman given the post-election threat of women's rights being curtailed.
Hulu capitalized on that fact, embedding actresses dressed as handmaids on high-traffic city streets and at festivals like South by Southwest. Clad in red robes and white bonnets, the handmaids silently walked through crowds, turning heads and sparking social media conversations.
The unsettling stunt was mimicked by other women, who dressed like handmaids at protests across the country and carried signs like "Make Margaret Atwood Fiction Again," playing off President Trump's slogan.
Hulu's print and outdoor campaigns gave off a similarly creepy vibe. The company released nine character posters the day after "Handmaid's Tale" premiered in April with messages like "The future is a f---ing nightmare," "This is not ordinary" and "Your body is no longer your own."
Hulu aptly ingrained itself and "The Handmaid's Tale" into the women's movement. It partnered with The Wing, a New York social club for women; created a capsule collection inspired by the series with fashion design collective Vaquera; and curated an art installation on the High Line in New York where hundreds of books containing messages of hope and resistance lined the nearly one-and-a-half-mile stretch.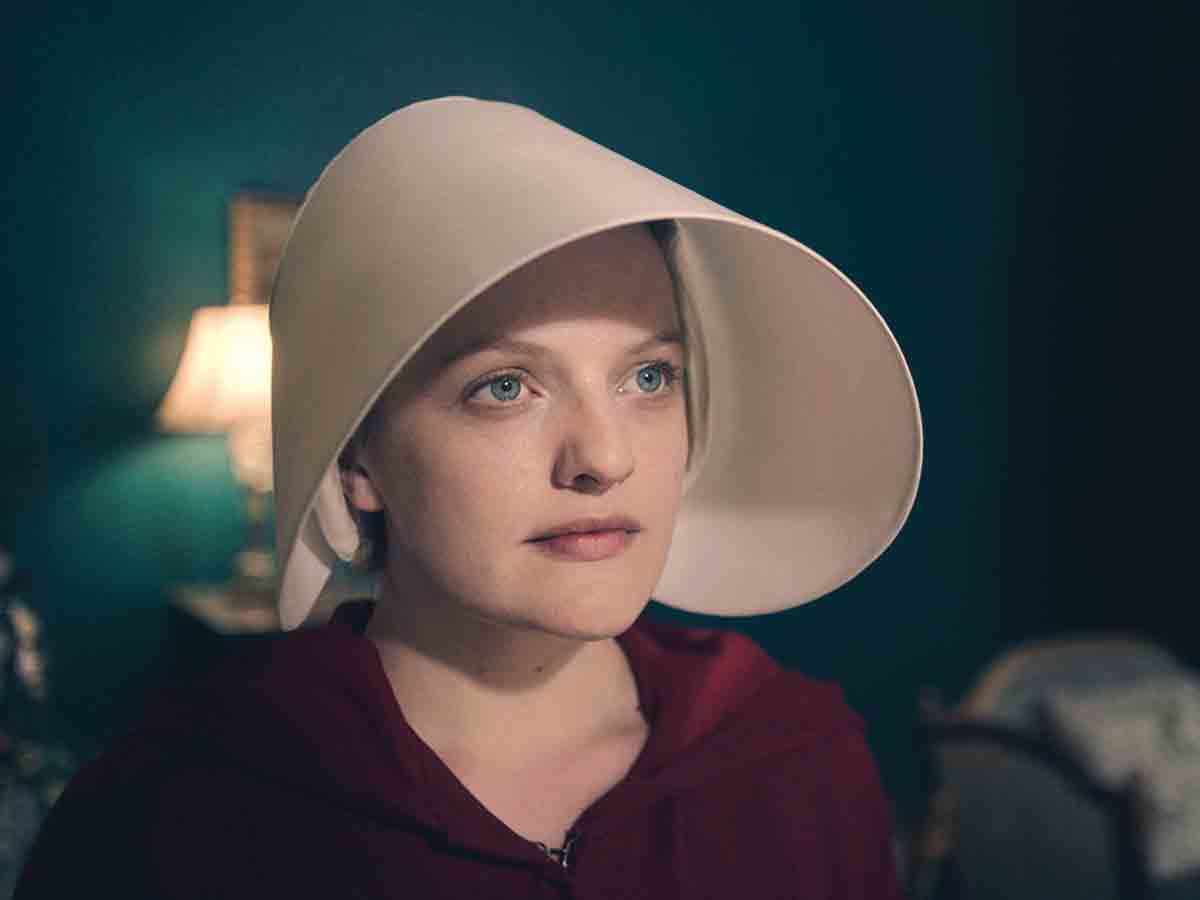 Elisabeth Moss in 'The Handmaid's Tale'. Credit: Hulu via YouTube
And in a true sign of resonance, "Handmaid's Tale" was spoofed by "Saturday Night Live" and quoted in a speech given by Hillary Clinton.
It all culminated in September, with Hulu taking home eight Emmy Awards for the series, including the top prize for best drama—the first streaming service to win the honor.
Hulu's success this year extends beyond "Handmaid's Tale." In the last six months, it has also launched a live TV service, created a $5 streaming bundle for students in conjunction with Spotify, and added thousands of new episodes of content from the likes of Fox and NBC Universal. All told, the company will spend $2.5 billion on content in 2017.
While Hulu doesn't release ratings, the company says average daily sign-ups nearly doubled during the first few months after "The Handmaid's Tale" debuted.
Read more
THE NEW YORK TIMES
By Megan Graham
"We recognize that people can disagree on how best to tell a disagreeable story."
That's The New York Times National Editor Marc Lacey responding to social media blowback claiming that a Times story last month normalized a Nazi sympathizer. But public reaction to the profile, negative as it was, did prove one thing: People care about The New York Times and what it has to say.
That includes President Trump. One of his favorite insults of 2017 has been to lash out at the "failing New York Times," which might be the best marketing the company could ever ask for.
Times CEO Mark Thompson famously called Trump "rocket fuel" for the paper, which hit an all-time record in the first quarter of this year for digital subscriptions. Today, the Times has nearly 2.5 million digital subscribers and another million print subscribers. The paper also saw year-over-year growth of 59 percent in digital subscriptions for the third quarter of 2017. "We've had some monumental growth over the last few quarters," says Clay Fisher, the publication's senior VP of consumer revenue.
In its visible battle against "fake news" and through blockbuster investigative reporting on subjects including Harvey Weinstein and the New York subway system, the outlet has converted its readership into an ardent support system who routinely take to Twitter to encourage their followers to subscribe.
"The fundamental journey we're on is we're trying to get people to pay for the news," says David Rubin, head of audience and brand. "We need to not only tell people what we're offering is really great, but that it's better than something they can get for free."
The paper supplements the digital and print products with virtual reality offerings, newsletters and a free Daily podcast that gives listeners a 20-minute look into the day's biggest stories. The podcast averages 750,000 listens a day and serves ads both for the Times and other brands.
The New York Times also launched its first major brand campaign in over a decade with "The Truth Is Hard." The campaign, by Droga5 New York, kicked off in February with a simple, powerful video that displayed a barrage of conflicting statements, completing with the message: "The truth is hard/the truth is hard to know/the truth is more important than ever." The campaign included digital, social, print and out-of-home ads with similar messaging.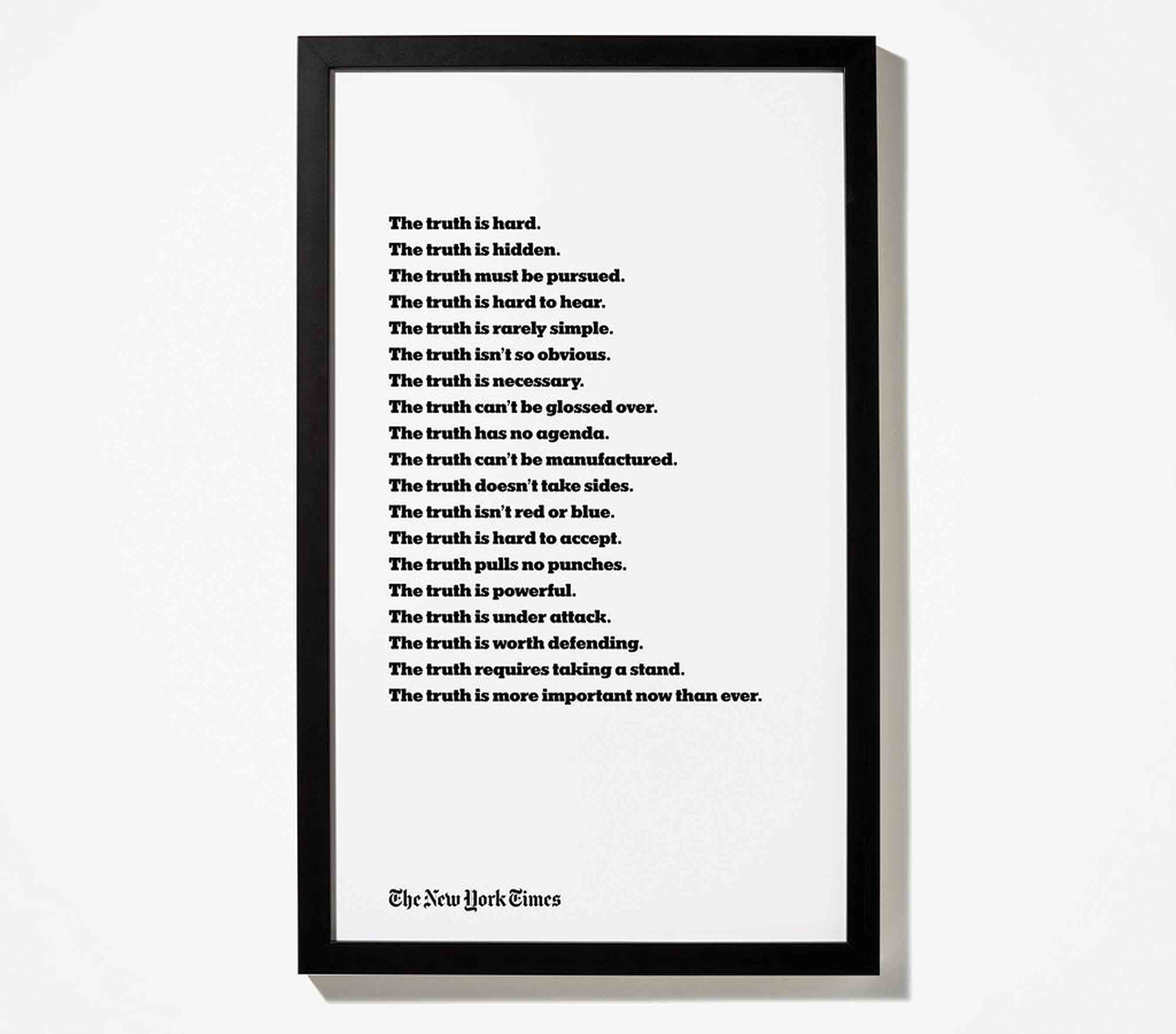 The New York Times' first major brand campaign in over a decade centered around one simple line: 'The Truth Is Hard.' Credit: The New York Times
"In the moment, the response was really unbelievable," Rubin says. "We had over 25 million [video] views, the lion's share of which were organic," in its first 10 days. The campaign continued with a series of videos directed by Darren Aronofsky on stories by Times journalists on topics including war, terrorism and economic hardship.
The campaign launched on a Thursday. On Friday, journalists from the Times and other outlets were barred by then-White House press secretary Sean Spicer from attending a press briefing. On Sunday morning, demonstrators were outside the New York Times building.
"We woke up to a demonstration in front of our building, with a bunch of supporters protesting for the right to free speech," Rubin says.
Many were holding the campaign's print ad.
Read more
AMAZON
By Adrianne Pasquarelli
In Amazon's holiday ad this year, hundreds of brown boxes—to the tune of Supertramp's "Give a Little Bit"—sing their way to gifting destinations, braving conveyor belts, mopeds and freight jets to deliver joy to consumers. The campaign, says Amazon, which was created with London-based Lucky Generals, was prompted by customers themselves.
"A big focus of our marketing effort is to look for insights that help shape that customer experience," says Neil Lindsay, VP of worldwide marketing at Amazon and a self-described Supertramp fan. "When people receive an Amazon box, it prompts a smile—that's true for me and we hear it all the time."
Amazon has reason to smile. The 23-year-old brand just reported a 34 percent revenue increase to $43.7 billion in its third quarter over last year. In 2016, unstoppable Amazon generated $136 billion in annual revenue, and it's gaining even more dominance across categories, as evidenced by its $13.7 billion purchase of Whole Foods.
While Lindsay says the brand is "proudly lean" when it comes to its marketing budget, the company is ramping up its spending as it continues its expansion into video, music, food and devices. Last year, Amazon spent $2.6 billion, a 30 percent spike over 2015, on advertising, and is the largest retail spender in the U.S., according to Ad Age's Datacenter. Yet internal teams are small enough that they can be fed with just two pizzas at gatherings, Lindsay says. "It's important to stay small even while big is an important theme in our company," he notes.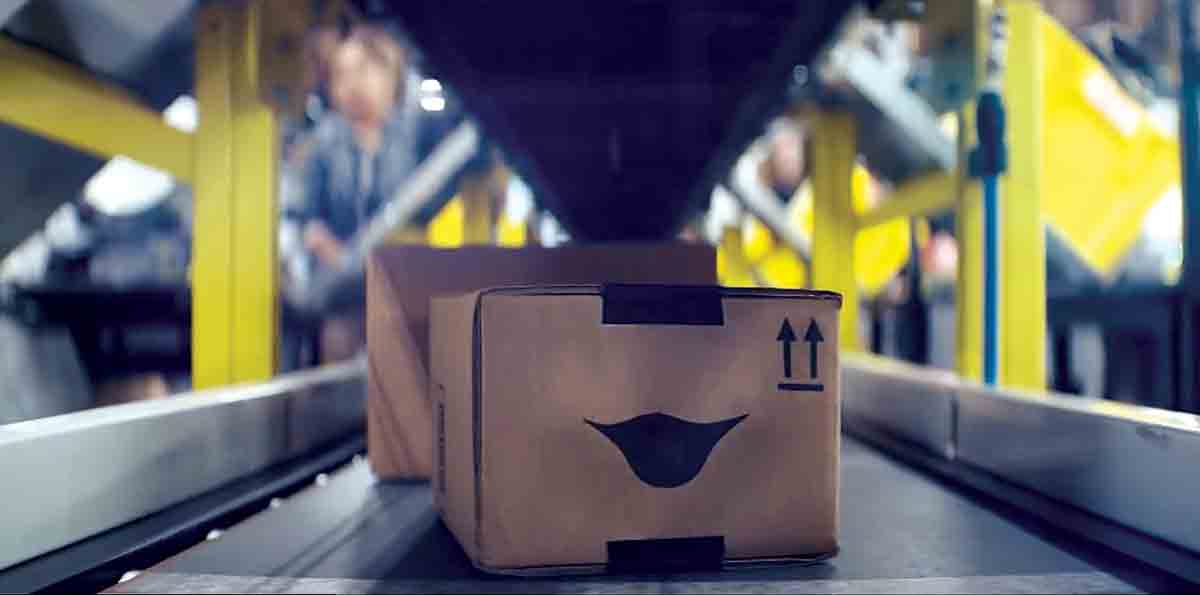 Credit: Amazon via YouTube
The brand works with a host of agencies for various platforms, including Above ¶ Beyond, which created a campaign for its Music Unlimited offering, and Crispin Porter & Bogusky Los Angeles, which worked on its NFL streaming service.
Lindsay uses his own experiences to help inform the Seattle-based brand's strategy as well. Every evening he asks Alexa to call his father in his native Australia. Such stories helped create Amazon's "Alexa Moments" campaign for the Echo late last year.
Most campaigns, like "Alexa Moments" and the singing boxes, are well-received by the public, but Amazon did suffer a brand blemish earlier this year when allegations surfaced accusing Amazon Studios head Roy Price of sexual harassment. Price, lauded for award winners like "Transparent," resigned shortly thereafter.
Lindsay says Amazon's marketing will always tie back to effectiveness.
"Marketing only matters to customers to the extent it helps them find that next product or service," says Lindsay. "It's not just shouting about what we want to say about the brand. The challenge is making sure it's relevant."
Read more
"IT"
By Megan Graham
Missing children posters and red balloons tied to sewer grates were just the beginning of the massive marketing effort behind "It," the movie released in September based on Stephen King's 1986 horror novel.
The film has so far earned $692 million in global ticket sales, which reportedly makes it the highest-grossing horror film of all time. Variety reported that it set the record for the most-watched trailer in a single day, generating 197 million views globally within 24 hours of its release.
"It's fair to say we broke the internet, and then we had to keep trying to break it," says Blair Rich, president of worldwide marketing for Warner Bros. Pictures.
The film "wasn't really about the murderous clown, it's really about the universal fear of the loss of innocence," says Rich, which allowed Warner to "break free of the tropes of horror movies."
Experiential was a large part of the campaign. The company had a school bus drive around the country, for example, with a VR experience that took fans to the Derry, New Hampshire, sewers where they came face-to-face with Pennywise the clown.
At Hollywood and Vine in Los Angeles, the studio built a replica of the eerie Neibolt house from the film for fans to tour. More than 35,000 visitors went through, waiting on average five hours on weekends, Rich says.
Fan interactivity also included "It"-inspired art that the studio displayed in pop-up and museum exhibits.
"We really used the fans as effectively as a megaphone," Rich says. "When you allow fans to be the most passionate and have the most ownership, it really pays off. That kind of big voice starts to multiply and it became very contagious."
Read more
SPOTIFY
By Megan Graham
There was a time when an endorsement from the president of the United States came with some gravitas. So, this past January, when former president Barack Obama—who famously organized Spotify playlists on themes like summer and workouts—quipped that he was still waiting for his job at the music streaming service, the company kept the bit going. Spotify posted a job listing for the title of "President of Playlists," requiring a candidate with a Nobel Peace Prize and "experience in programming playlists at a federal level."
"We were able to capture this kind of cultural moment, where people were both celebrating and mourning the change that was about to happen to this country," says Spotify CMO Seth Farbman, referring to the election of Donald Trump. "We started off the year by both reflecting on where we'd been and also kind of setting the stage for where we might go as a culture, as a country in particular."
It's that data-fueled pop wizardry that has helped Spotify, the Stockholm-headquartered company that landed in the U.S. in 2011, climb to 60 million paid subscribers and 140 million active users this summer. (Privately held Spotify typically only reports subscriber numbers in 10 million increments, so July is its most recent public subscriber tally.) The service lets listeners play more than 30 million songs for $9.99 a month (ad-free) or for free with commercials. Apple Music, which launched in 2015, had around 27 million paid subscribers in June of this year. Jay-Z rival Tidal was believed to have about a million paid subscribers last year.
The appeal isn't hard to understand. Name a mood, and Spotify has a playlist for it. One out-of-home campaign in February poked fun at the utter randomness of users' playlist titles, whether they're "root canal songs" or "sorry I lost your cat." The campaign by Spotify's in-house creative team and Wieden & Kennedy New York was just one of many ways Spotify uses a massive wealth of user data as fodder for its ad campaigns.
Another campaign late last year crunched listener data for out-of-home displays with messages like "Dear 3,749 people who streamed 'It's the End of the World as We Know It' the day of the Brexit vote, hang in there."
"The brand has a lot of permission to sort of comment on culture and what's going on," Farbman says. "There was a role for the brand to create levity during otherwise concerning times. It's soothing to know you're part of something and that others have the same kind of attitudes and feelings as you. But it's lighthearted, too. Certainly this past year the world has needed a little levity to go along with all the seriousness."
Read more
HALO TOP
By Jessica Wohl
Let's get one thing out of the way: It doesn't taste like Ben & Jerry's, Häagen-Dazs or many other premium ice creams. But Halo Top, powered by consistent social media outreach, word-of-mouth and giveaways, has had a stellar year, and even became the bestselling ice cream brand in the U.S. for the four weeks ended Sept. 10. High-protein Halo Top carries a fraction of leading brands' calories and fat, and has established itself as a relatively guilt-free indulgence for those willing to shell out a little more than they would for Ben & Jerry's, as it sells at an average premium price of just under $5 per pint.
Time named Halo Top one of the 25 best inventions of the year (we'll overlook that it was actually invented in 2012).
While it's still the nation's top-selling pint, Halo Top recently slipped to fifth place overall. Its runaway success prompted the deeper-pocketed ice cream giants like Breyers and grocer Kroger to bring out their own high-protein brands.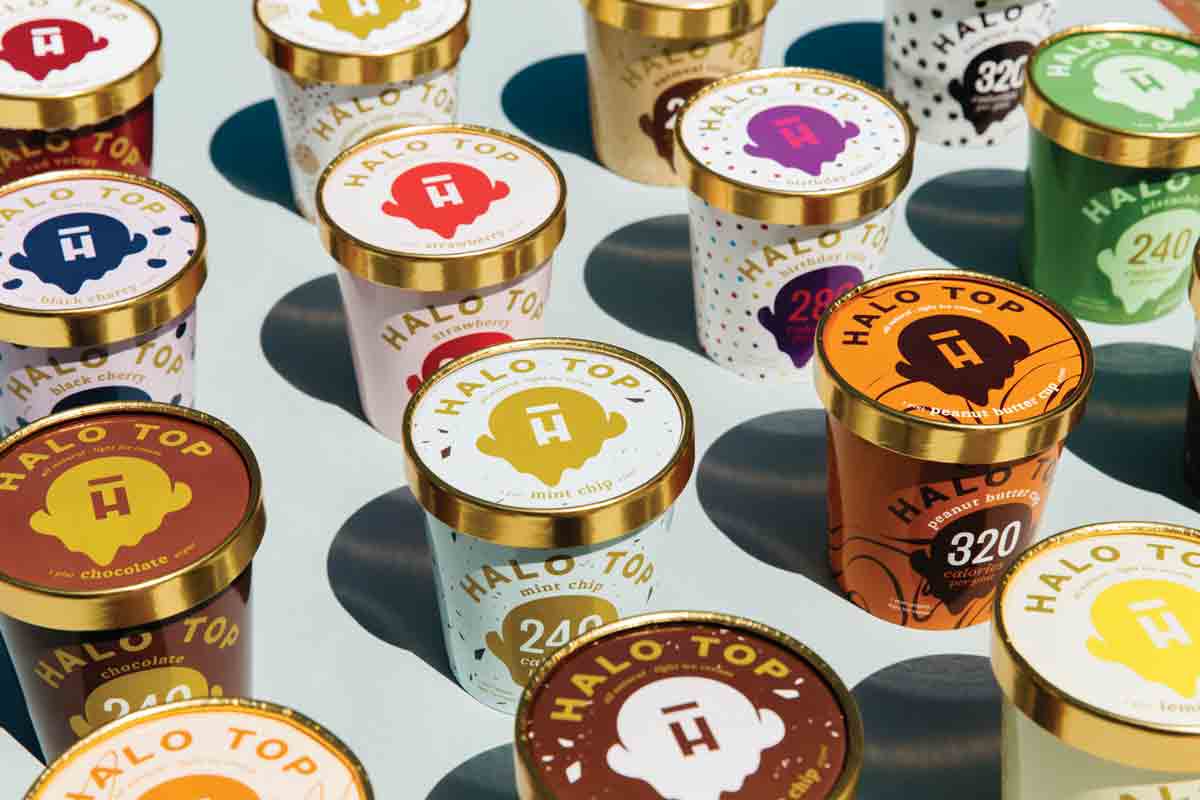 Credit: Halo Top
But Halo Top, which made a name for itself initially with word-of-mouth, is gearing up for a fight by introducing more paid advertising.
That effort began with buzzy video ads with an angel-versus-devil theme on YouTube and elsewhere. Then came a longer-form spot—seemingly straight out of a Stanley Kubrick film—in which a woman was force-fed ice cream by a robot. Halo Top Founder and CEO Justin Woolverton said his brand had "never done anything this off-the-wall before." Additional proof that the concept was a bit out there included a smaller competitor, Enlightened, responding with a spoof. Halo Top recently introduced new flavors and dairy-free varieties.
Now, it's looking into more mainstream approaches to attract new buyers. The company, for instance, opened its first scoop shop at California's Westfield Topanga mall.
In grocery stores, Halo Top's exponential growth rate has slowed, but the numbers remain staggering. Sales soared about 2,500 percent in 2016 and increased 1,656 percent in the 52 weeks ended Nov. 5, to nearly $298.6 million, according to IRI, a Chicago-based market research firm. Meanwhile, the overall industry grew at a 3.2 percent clip and six of the other top 10 brands posted declines.
Read more
Web production by Chen Wu.