Ad Age's editorial partner Bluefin Labs, the Cambridge, Mass.-based social-TV analytics company, spent last night and early this morning parsing data for this chart, which shows the 10 Super Bowl spots that racked up the highest levels of social-media response on Twitter and in public Facebook posts. Note that in the hours and days ahead the comment tallies for each of these spots will surely continue to grow. For the purposes of this chart, Bluefin collected comments within a 45-minute window that started when each ad aired. Scroll down below the graphic for some context.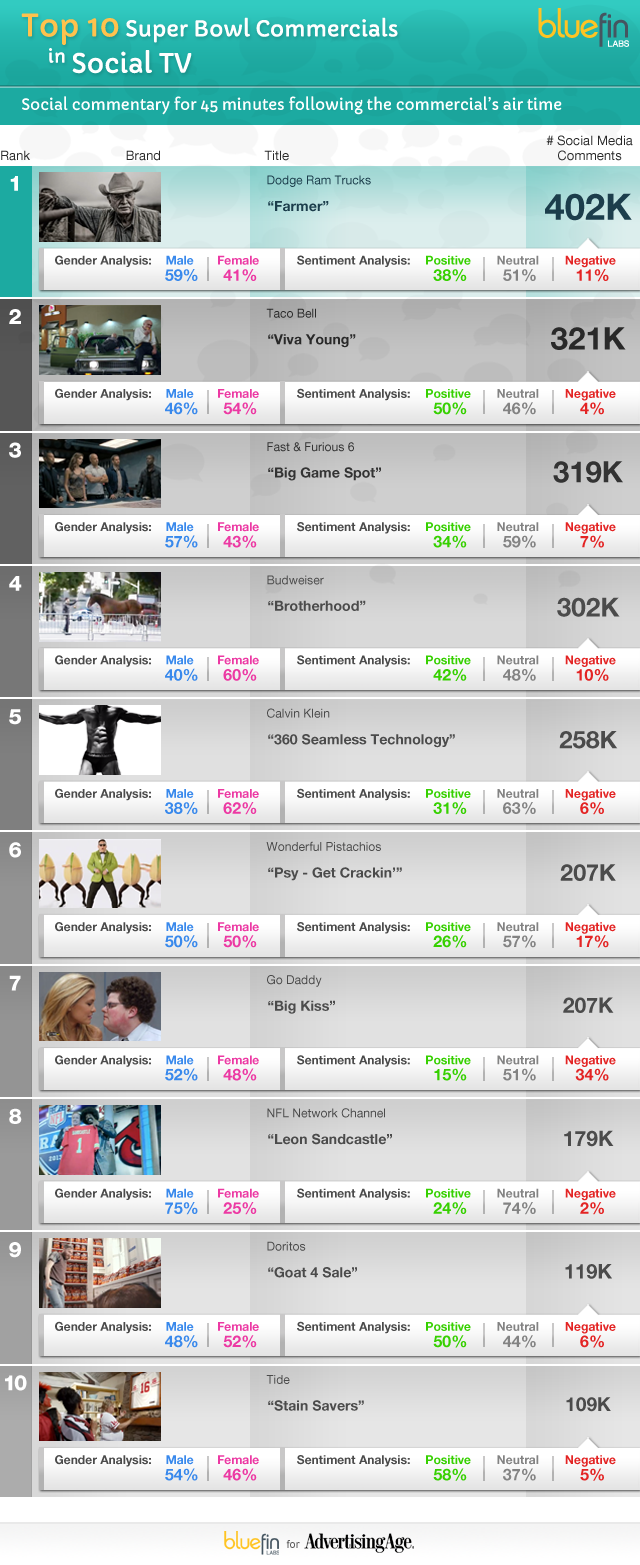 The No. 1 spot honors go to "Farmer," the retro heart-tugger for Ram trucks built around the old Paul Harvey essay "So God Made a Farmer." It got a boost, no doubt, because of its sheer length (two minutes).

Religion -- specifically, the weird secular religion of sports-hero-worship -- is also the (sideways) subtext of the No. 10 spot, "Stain Savers."

Sentiment analysis -- the process by which scary-sophisticated computers deploy natural language processing to track "feelings" in social-media comments -- is still an inexact science. Most tweets and posts don't necessarily betray any clear love- or hate-itude, which is why most spots shown in our chart score predominantly "neutral." But one spot, GoDaddy's creepy "Big Kiss," earned (if that's the right word) unusually high (34%) negative sentiment.

This year's most weirdly homoerotic ad, for Calvin Klein undies (and, um, oily gears?), is our No. 5 spot with 257,654 mentions. It's worth noting that last year's quasi-porny male skivvies ad, "Beckham for H&M," took the No. 1 spot in Jan. 2012 with way fewer comments (114,375), which tells you just how much more people were tweeting and posting about Super Bowl ads this year.

Bluefin's Tom Thai notes that "All of this year's Super Bowl commercials tallied a combined 3.9 million social-media comments across Twitter and public Facebook. That's a 225% increase from last year."

Did you miss any of the spots during a bathroom break or fridge run yesterday? We've got the complete set for you right here.
Simon Dumenco is the "Media Guy" columnist for Advertising Age. You can follow him on Twitter @simondumenco. You can follow Bluefin Labs on Twitter @NetInsights.