"If I stay and listen to the whole song, Geri is going to have to agree to 1985 pricing."
Overheard at the tail end of ABC's upfront presentation at Lincoln Center's Avery Fisher Hall in Manhattan on Tuesday, shortly after the network trotted out one-hit-wonder Montell Jordan to perform an updated version of his 20-year-old single "This is How We Do It." "Geri" is ABC ad sales chief Geri Wang.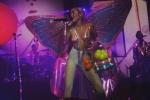 Miley Cyrus at the Adult Swim upfront party at Terminal 5 on Wednesday night. Credit: Anthony Crupi
Imagine acid that has itself dropped acid
and you're still nowhere near to getting your head around the lysergic WTF brilliance of Miley Cyrus's performance at the Adult Swim party Wednesday night at Manhattan's Terminal 5. Always the hottest ticket in town among the young buyer set, the network's annual throwdown is Upfront Week's most raucous gathering, and the "We Can't Stop" singer held up her end of the bargain. And then some. Dressed [sic] in diaphanous, glittery butterfly wings, elbow-length gloves and pink pasties, Miley delivered hits from her back catalogue, introduced the new track "Tiger Dream" (featuring OKC acid casualties Flaming Lips) and kept the audience guessing with eclectic covers from Johnny Cash and Led Zeppelin. Firing up a spliff the size of a hoagie roll, Miley offered it to a weirded-out cohort of suits at the front of the stage. Upon getting no takers, the singer appeared genuinely bewildered. "You're going to be at a show where I'm dressed like a fucking butterfly and not be high?" she asked.
NBC Entertainment chairman Bob Greenblatt and Dolly Parton perform at NBC's upfront presentation on Monday, 2015. Credit: Paul Drinkwater/NBC
It was one thing to learn
that NBC Entertainment Chairman Bob Greenblatt and Dolly Parton are such good friends that the singer-songwriter regularly shows up at his Beverly Hills home to hang out and play music. It's another to see that kinship demonstrated on the Radio City Music Hall stage
at NBC's upfront pitch Monday
. In town to talk up her new made-for-NBC movie "Coat of Many Colors," the charismatic Ms. Parton asked the Peacock boss to accompany her on "I Will Always Love You." And so he did, playing the piano while she sang, making for one of Upfront Week's weirdest, most memorable moments. As the applause was dying down, Ms. Parton demonstrated why any TV exec would want to have her in his corner, telling buyers, "We're looking forward to many projects, so get that money out!"
"I got into this business
in the hope that some day I could make a difference in online viewability standards," joked Rob Lowe, launching into a hilariously damning condemnation of shady web advertising practices. Appearing in a clip that aired at the top of Fox's upfront presentation at Manhattan's Beacon Theatre on Monday, the actor made a strong case for the inherent shoddiness of the online ad environment. "You know, TV ads are full screen and 100% viewable. Tragically, current online video standards require that only 50% of the screen be viewable, for just 2 seconds," Mr. Lowe said, before cutting to a few microseconds of a half-obscured snippet of the Fox comedy "The Last Man on Earth."
"I don't know about you, but I have no idea what the [bleep] I just saw," Mr. Lowe said, drawing generous laughs.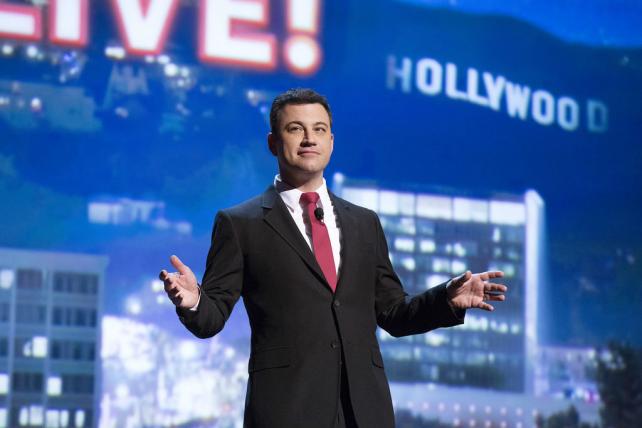 Jimmy Kimmel at ABC's upfront presentation on Tuesday. Credit: ABC/Heidi Gutman
"We have two hashtags: #TGIT for 'Thank God It's Thursday' and #OFITROTW, which stands for, 'Oh Fuck, It's the Rest of the Week.'"
It was comedian Bill Eichner's first upfront,
and frankly, the experience kinda freaked him out. Having brought his Funny or Die series "Billy on the Street" to truTV, Mr. Eichner opened up to buyers at Turner's upfront on Wednesday. "This feels like a Scientology convention," he said, casting a wary glance at the rows of suits staring up at him from the front rows of the Theater at
Madison Square Garden
. "I feel like, any minute now, Kelly Preston is going to come out and sign us up. We're all going clear!"
Estimated peak volume of ABC's upfront presentation, or roughly the same noise level an observer would experience on the foredeck of an aircraft carrier. This year's shows seemed louder than ever -- like, third-act-of-"Transformers" loud. It's ironic that in an upfront dedicated to precision metrics and data-enriched buys, the networks still resorted to good old blunt-force sonic trauma to drive their message home.
As the host of Comedy Central's "The Colbert Report,"
Stephen Colbert has already demonstrated an uncanny affinity for working around brand integrations without looking like a corporate shill. Even when he's mocking the parameters of an on-air "sponsortunity," as he did with Kraft's Wheat Thins back in 2012, the deftness with which he handles product placement and the added value of a Colbert-backed integration is, for many brands, worth running the ridicule gauntlet. While charming the pants off advertisers at CBS's upfront last Wednesday (he referred to the swells at Carnegie Hall as his "adverbuddies"), Mr. Colbert said he'll be bringing integrations to the "Late Show." (That wasn't a possibility on the old show, as no one CMO in her right mind would let David Letterman within 100 yards of her brand.) That move was endorsed by CBS ad sales boss Jo Ann Ross, who said he would be "advertiser-friendly, but in his own voice." Ms. Ross added that she has already brought Mr. Colbert out to meet individual clients, many of which did not recognize him. "He still had that crazy beard," she explained.
Before anyone in the scrum of sports and media reporters
could so much as fire off the inevitable question, ESPN president John Skipper addressed the elephant in the room. Speaking immediately after ESPN's May 12 upfront presentation at the Minskoff Theatre, the affable ESPN boss had nothing but praise for the departed Bill Simmons, a man who increasingly had been a burr in Bristol's saddle. "The decision I made earlier this week was business, which should not detract from the appreciation that I have for Bill Simmons for what he did," Mr. Skipper said, before going on to tip his hat to Mr. Simmons' abundant talents as a content creator (the doc series "30 for 30," the Web site Grantland) and as the most-read sportswriter of the modern age. Mr. Skipper did not comment on whether Mr. Simmons would again appear on any of the ESPN platforms before his contract expires in September. The ESPN boss seemed palpably relived that Mr. Simmons has been uncharacteristically silent on the matter, allowing that "there's no point in having a public fracas."