Unclassified Topic
Twitter Week in Review: We Are Impressively Civic-Minded for Once
HootSuite's Twitter Week in Review, Jan. 18-24
Our Twitter Week in Review chart uses data collected and parsed for Ad Age by the What the Trend (WTT) unit of HootSuite, the social-media management dashboard with more than 4 million users. (Last week's chart is right over here.) We're back today with Volume 41. Scroll down below the infographic for some context -- and watch for a fresh edition of our Twitter Week in Review each Friday.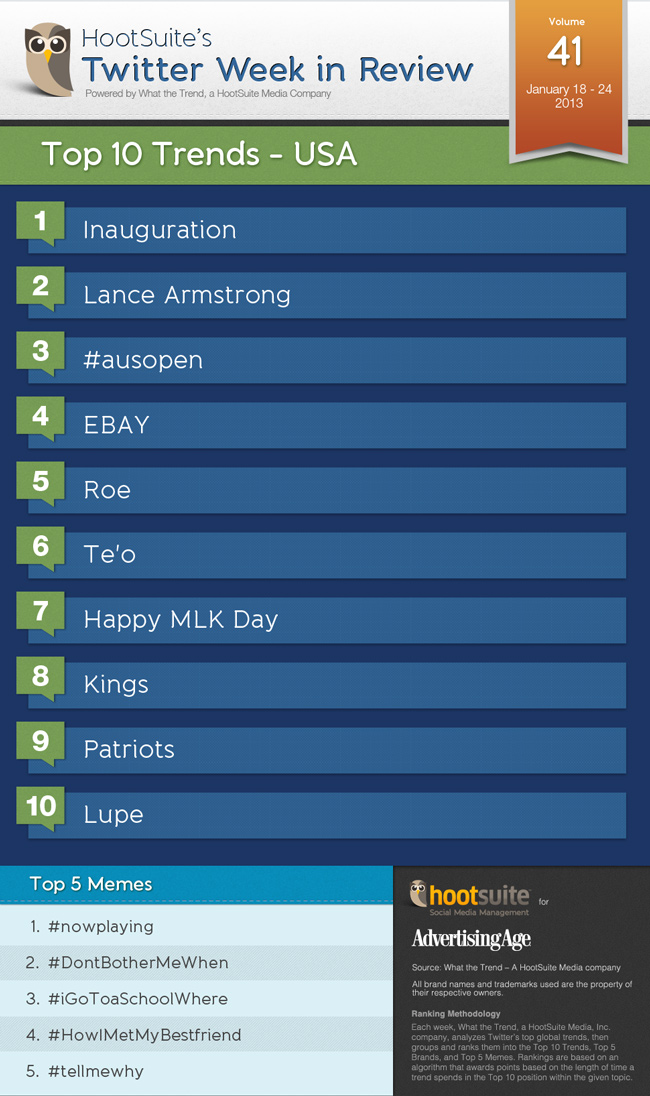 President Obama kicked off his second term Monday (Martin Luther King Day) with a formal inauguration ceremony on the steps of the Capitol Building, dominating the early week media conversation for a variety of reasons. While the pundits on cable news picked at the president's short speech and dissected the did-she-or-didn't-she drama surrounding Beyonce's alleged lip sync, so did millions following along on Twitter. During one of the pre-inauguration events in Washington on Sunday, rapper Lupe Fiasco also made headlines for reportedly launching into an anti-war, anti-Obama rant in the middle of one of his songs, leading to his ejection from the stage. The event's host said it wasn't the political content that got him the hook but his "bizarrely repetitive, jarring performance that left the crowd vocally dissatisfied."

Lance Armstrong stormed the Twitter conversation for a second week, actually climbing four spots on the chart -- because his two-part interview with Oprah Winfrey only started started airing on Thursday, Jan. 17, at the very end of last week's Twitter Week in Review measurement period, and continued Friday, keeping people talking well into the weekend.

With America's abortion debate at a fever pitch this past year during the presidential election, it's no wonder the 40th anniversary of the Supreme Court's ruling in Roe v. Wade became a hot topic on Twitter. Tuesday was official anniversary of Roe v. Wade, which struck down many state laws restricting abortion. The ruling is still being tested and challenged. Just this week, a New Mexico state representative introduced a bill that would make abortion in the case or rape or incest akin to destroying evidence and qualify it as a felony. The bill is unlikely to pass.
For explanations of trends and memes not covered above, visit What the Trend. Help What the Trend define trends by following WTT: Define Now (@whatthetrend).