Unclassified Topic
Twitter Week in Review: Timberlake Tops Te'o and Armstrong With Return to Music
Manti Te'o Didn't Even Crack the Top 10
Our Twitter Week in Review chart uses data collected and parsed for Ad Age by the What the Trend unit of HootSuite, the social-media management dashboard with more than 4 million users. We're back today with Volume 40, covering Jan. 11 through Thursday. Scroll down below the infographic for some context -- and watch for a fresh edition of our Twitter Week in Review each Friday.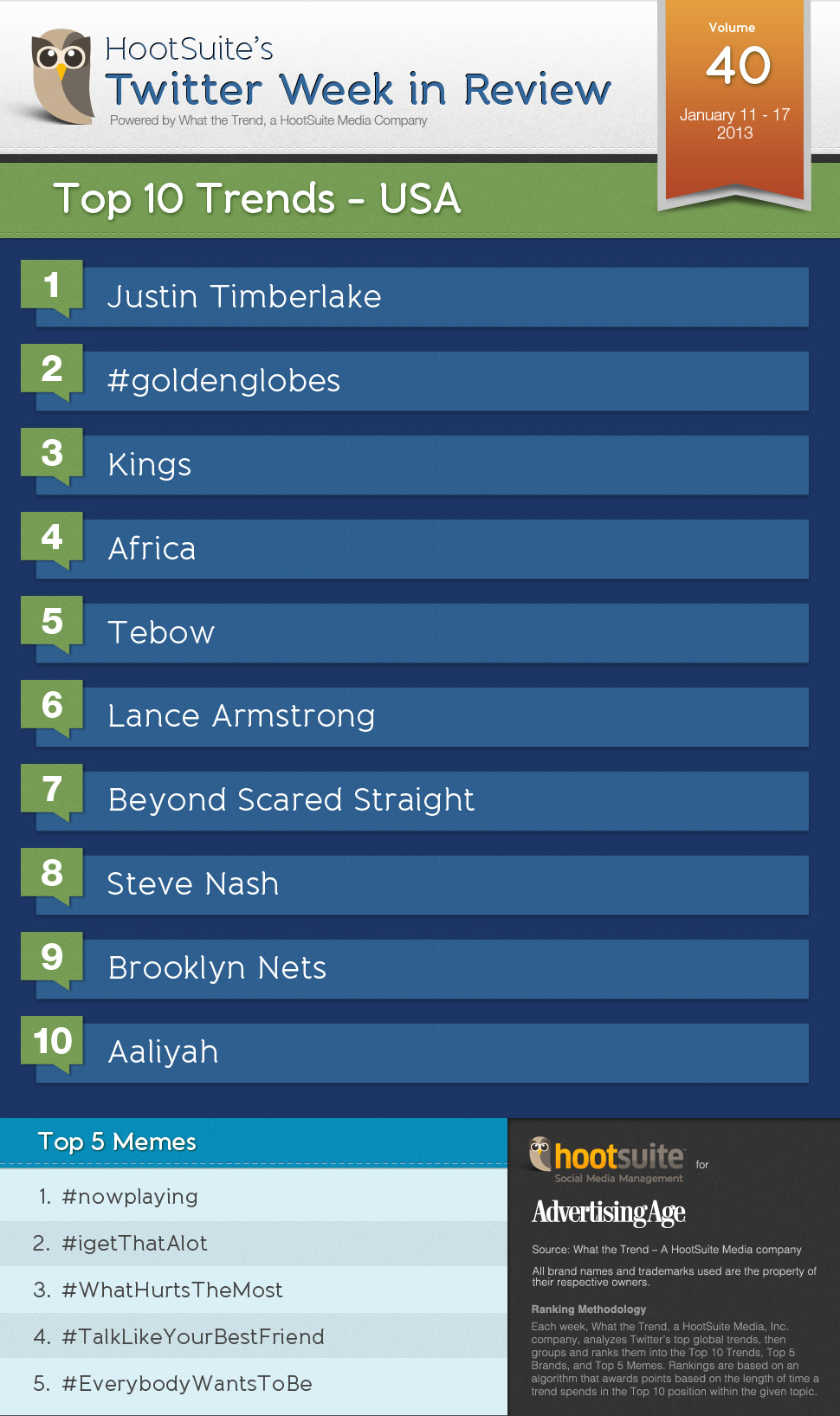 Justin Timberlake was hot this week. The singer released "Suit and Tie" featuring Jay-Z, returning to music after a six-year hiatus, and it is already estimated that the single will be his best-selling to date. He released the song on MySpace, which was just re-launched as a music-centric social network. Specific Media bought the ailing MySpace from News Corp. for $35 million in 2011, securing Timberlake as an investor.
Awards season has begun -- and it shows on the chart. A Golden Globes hashtag trended during the broadcast on Sunday night, with a lot of chatter about Jodie Foster's Cecil B. DeMille Lifetime Achievement Award acceptance speech in which she publicly (sort of) came out. The hashtag continued to get some use in the days following the show as media outlets and fans talked over fashion choices and memorable moments -- including Jennifer Lawrence's Meryl Streep diss/"First Wives Club" reference that no one seemed to get.
The NBA was a hot topic once again this week. The Brooklyn Nets were trending after their seven-game win streak came to end on Wednesday, and fans buzzed over Steve Nash's successful week and comments on helping teammate Pau Gasol (who trended last week due to an injury). But it was rumors that the Sacramento Kings might be moving to Seattle that really got "Kings" to trend (OK, with a little help from discussion around the Los Angeles Kings hockey team.) Sacramento Mayor Kevin Johnson, fighting the idea, secured approval from NBA Commissioner David Stern to present a counteroffer from buyers who would keep the team in California's capital. The talk is likely to keep escalating: When the owners, the Maloof brothers, talked about moving the team in 2011, a local ad agency called Glass created a campaign for the team to stay put called "Sac Deflated," which took off nationally and was covered by The New York Times.
In other sports-related trends, Lance Armstrong also made his way onto the chart this week. In his first TV interview since being stripped of his Tour de France titles, the cyclist admitted to Oprah Winfrey that he had used performance-enhancing drugs. Not that his confession was surprising; media coverage leading up to the interview gave away the big reveal. Presumably he and Manti Te'o would have made bigger marks on the chart, however, if their confessions and fake-dead-girlfriend-revelations, respectively, came earlier in the week.
For explanations of trends and memes not covered above, visit What the Trend. Help define trends by following WTT: Define Now (@whatthetrend). And stay up to date on the latest HootSuite product-update details and company news by following @hootsuite.