Unclassified Topic
'Obama is Not Satan': Here's Your Week in Twitter
HootSuite's Twitter Week in Review, March 15-21
Our Twitter Week in Review chart uses data collected and parsed for Ad Age by the What the Trend (WTT) unit of HootSuite, the social-media management dashboard with more than five million global users sending 3 million messages each day. (Our last chart is right over here.) We're back today with Volume 49.
Scroll down below the infographic for some context -- and watch for a fresh edition of our Twitter Week in Review each Friday.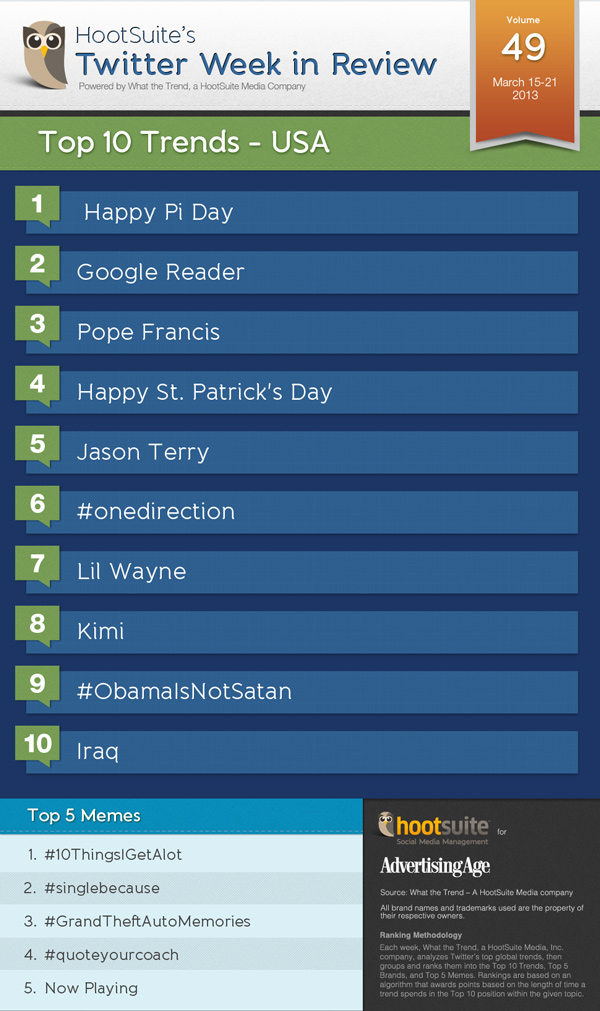 As we've pointed out before, social media and made-up, nerdy holidays were practically created for each other. "National Pi Day" rolls around every March 14 to celebrate the mathematical constant equal to the ratio of a circle's circumference to its diameter. As we have seen with "National Margarita Day" and "National Donut Day," these days are basically excuses to drink/eat/earn nerd cred -- apparently much-appreciated by Twitter users.

The death of Google Reader was much bemoaned on Twitter after Google said it will end its support for the 8-year-old RSS tool in July. In its spring cleaning announcement last week, the company cited a loyal following but declining usage over the years. Although Google didn't mention it, maybe people now follow the news via Twitter.

The History Channel's ambitious and controversial miniseries "The Bible" certainly drummed up plenty of buzz and ratings for the network since it premiered March 3, but it was the show's depiction of Satan that drew the most ire on Twitter. Conservative commentator Glenn Beck was among the first on Twitter to point out that Mehdi Ouzaani, the Moroccan actor portraying Satan in the series, bears a striking resemblance to Barack Obama -- or at least an older and more sinster version of him.

Anyone else think the Devil in #TheBible Sunday on HIstory Channel looks exactly like That Guy? twitter.com/glennbeck/stat…

— Glenn Beck (@glennbeck) March 17, 2013

The show's producers denied any disrespect to the president, but ultimately this led to Obama -- the fifth most followed person on Twitter, with some 28.6 million behind him -- oddly sharing a top trend with Lucifer.

Iraq found its way back into national consciousness and, subsequently, the top trends list on Tuesday, which marked the 10th anniversary of the U.S. war there. Though Americans withdrew more than a year ago, the anniversary was a violent day for Iraq -- a rash of bombings attributed to Al Qaeda killed 65 people, making it the deadliest day of the year so far.
Visit What the Trend for explanations of trends and memes not covered above, and follow WTT: Define Now to help define trends.