Our Twitter Week in Review chart uses data collected and parsed for Ad Age by the What the Trend (WTT) unit of HootSuite, the social-media management dashboard with more than five million global users sending 3 million messages each day. (Last week's chart is right over here.) We're back today with Volume 53. Scroll down below the infographic for some context -- and watch for a fresh edition of our Twitter Week in Review each Friday.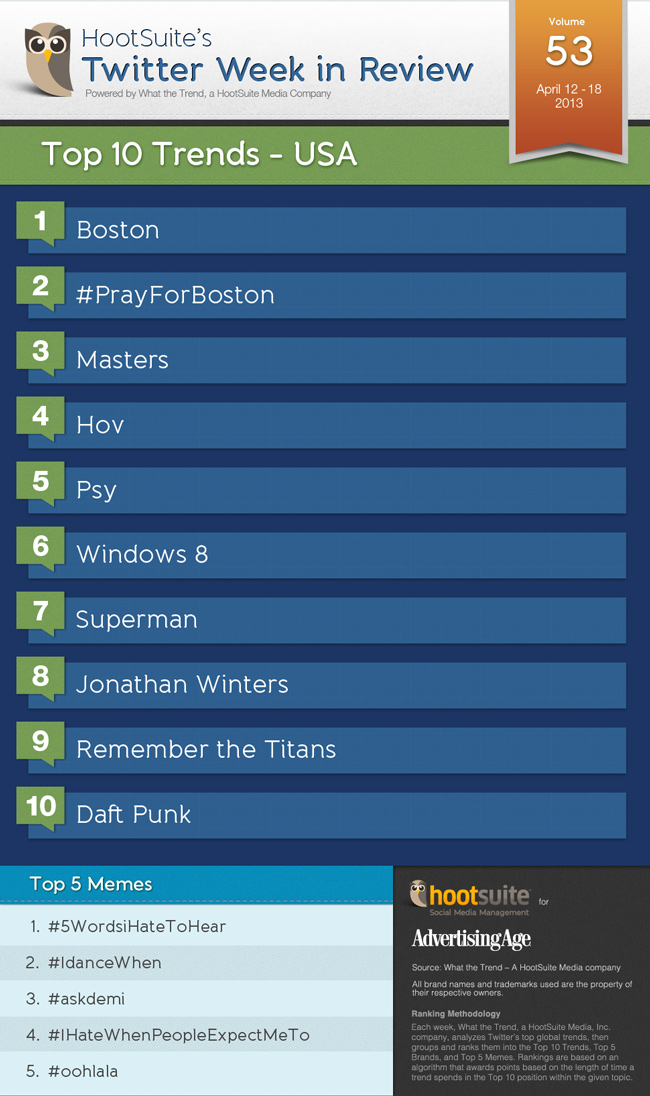 The deadly bombings at the Boston Marathon on Monday afternoon unsurprisingly topped Twitter's trending chart by a large margin this week, as the city was constantly in the news in the hours and days following the tragedy -- with every turn of events, contested report, photograph and debate seeming to immediately land on Twitter and linger. One of the suspects in the bombing was killed early Friday morning; the search for the other paralyzed Boston into Friday afternoon. But expect to see trends related to the bombings continue to dominate conversation.

Even in a very busy news week, however, pop culture kept much of its grip on Twitter conversation. "Hov" is one of the handful of nicknames attributed to rapper and entrepreneur Jay-Z, who was in the news for several reasons this week, starting with continued back-and-forth over his recent trip to Cuba. Time magazine then added to the chatter by naming him one if its most influential people of the year. New York City mayor Michael Bloomberg, who penned a tribute in the magazine, called him "an artist-entrepreneur who stands at the center of culture and commerce in 21st century America."

Korean pop sensation Psy this week defied the viral video odds -- which ordinarily call for a sophomore slump -- with the release of the follow-up single to his phenomenally successful 2012 hit "Gangnam Style." His new song, "Gentleman," has since been viewed almost 165 million times since its debut on YouTube last weekend, breaking records for most views in 24 hours and quickest pace to 100 million views, among others.

And Daft Punk, the French dance-music duo, made its way onto the chart amid anticipation for its new record and the release this week of the first single, "Get Lucky."
Visit What the Trend for explanations of trends and memes not covered above, and follow WTT: Define Now to help define trends.