Unclassified Topic
Insult to Injury? Ron Johnson's Firing Made Him a Top Trend on Twitter This Week
HootSuite's Twitter Week in Review, April 5-11
Our Twitter Week in Review chart uses data collected and parsed for Ad Age by the What the Trend (WTT) unit of HootSuite, the social-media management dashboard with more than five million global users sending 3 million messages each day. (Last week's chart is right over here.) We're back today with Volume 52. Scroll down below the infographic for some context -- and watch for a fresh edition of our Twitter Week in Review each Friday.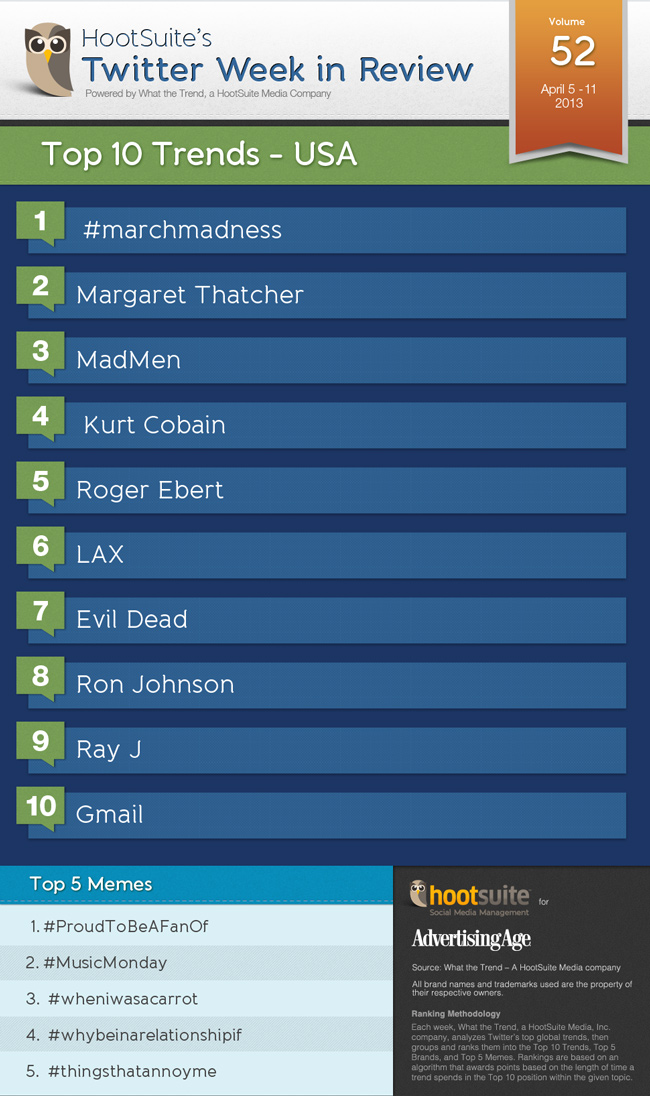 The sixth season of AMC's hit '60s drama "Mad Men" premiered Sunday night with a dense two-hour episode, and apparently it wasn't just us at Ad Age who were excited about it; the show clocked in as the third most talked-about topic on Twitter this week in the U.S. The episode drew 3.4 million viewers, down slightly from its fifth season premiere.

Death strikes the top trends chart again this week, with no fewer than three trends referring to celebrities passed (recently and otherwise). Legendary film critic Roger Ebert died Friday, and entertainment outlets all over web posted tributes, while fans on Twitter shared their own favorite snarky reviews the writer had penned over the years. After former British prime minister Margaret Thatcher died Monday, Twitter users debated her controversial legacy -- a discussion that evolved into one surrounding the etiquette of criticizing a notable figure who's recently died. Finally, fans of alternative rock icon Kurt Cobain acknowledged the anniversary of his death on April 5, 19 years after he committed suicide.

Technically, "Evil Dead" qualifies as a death-related trend, but it's really just a not-so-great horror movie remake. (According to Ebert's pal Richard Roeper, it's a disappointing bore.)

Perhaps the most interesting trend on this week's chart is Ron Johnson, J.C. Penney's former CEO who lost his job at the company this week after a brutal two years of sales dips amid a new marketing and promotions strategy. It's not often a retail CEO fails quite so conspicuously, but it's usually even less likely to become one of Twitter's top trends.
Visit What the Trend for explanations of trends and memes not covered above, and follow WTT: Define Now to help define trends.