Unclassified Topic
The Week in Twitter: Here's What Ruled Besides the Super Bowl
HootSuite's Twitter Week in Review, Feb. 1-7
Our Twitter Week in Review chart uses data collected and parsed for Ad Age by the What the Trend (WTT) unit of HootSuite, the social-media management dashboard with more than five million global users sending 3 million messages each day. (Last week's chart is right over here.) We're back today with Volume 43. Scroll down below the infographic for some context -- and watch for a fresh edition of our Twitter Week in Review each Friday.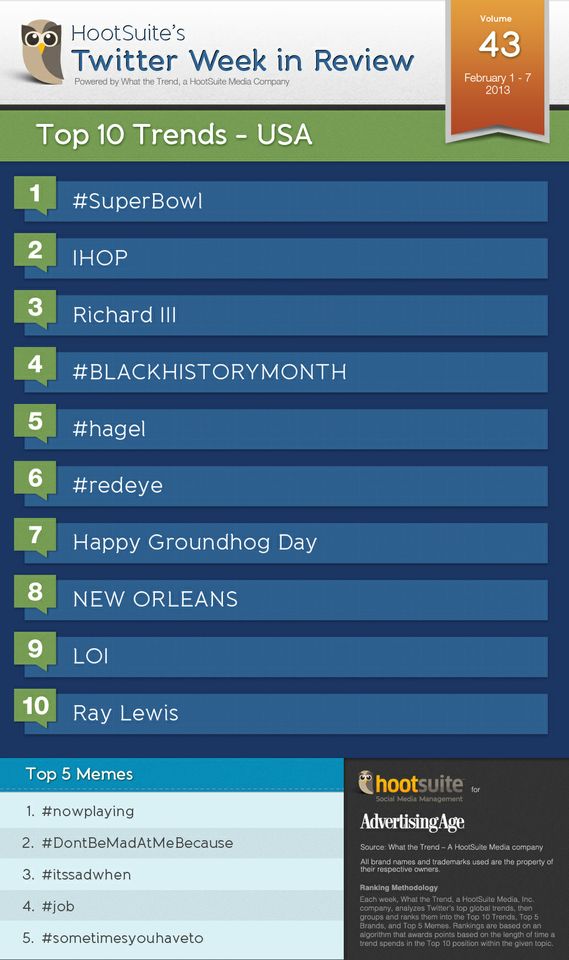 The Super bowl may have dipped in the ratings this year, but of course it could not be stopped on Twitter. Beyonce's fiery half-time performance was a big conversation driver (and .gif generator as well), and it was followed by a power failure that shut off half the lights in New Orleans' Superdome, which led to a 34-minute break in gameplay. (This gave clever tweeters ample time to compose an array of jokes speculating about how Beyonce "broke the Super bowl," and then promptly steal them from each other.)

A less obvious Twitter trend came in at No. 3 on this week's chart: Richard III, who died over 500 years ago. The University of Leicester confirmed this week that the human remains found under a parking lot in the U.K. late last year are indeed those of King Richard III, who died in battle in 1485 but was unceremoniously buried in a previously unknown location. After an extensive search that led to the discovery of the remains, investigators took DNA samples from the king's distant descendants to confirm their theory. Indeed, a computer-generated facial reconstruction taken from a 3D map of the skull bears a strong resemblance to Medieval-era paintings depicting the king -- and, as many tweeters wasted no time pointing out, Lord Farquaad from the animated movie "Shrek."

Pancake chain IHOP scored its annual social media win this week thanks to "National Pancake Day," an-eight-year-old tradition in which its patrons receive a free short stack of pancakes with a side order of pressure to donate to the Children's Miracle Network Hospitals. Twitter users have demonstrated repeatedly how much they love chatting about made-up holidays (look no further than "International Talk Like a Pirate Day" for proof).
Visit What the Trend for explanations of trends and memes not covered above, and follow WTT: Define Now to help define trends.