Check Out This Witty Card Game Made Out of 'Alternative Facts'
Game Devised by N.Y. Creatives Includes Dangerous 'Trump Cards'
Published On
Feb 09, 2017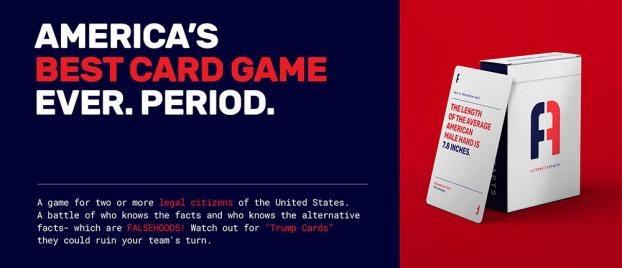 Editor's Pick
President Trump advisor Kellyanne Conway's now infamous remark about "alternative facts" has unleashed a rich stream of creativity around the world, it seems. Advertisers including Dove and Swedish cake brand Delicato have created witty print campaigns around the theme, and now a group of New York-based creatives has unveiled its very own card game based on the concept.
The Alternative Facts Game sets up a battle between two teams to see who knows the difference between the facts and the alternative facts. There are also "VERY DANGEROUS Trump Cards" and, to quote the explainer, the "first team to collect 15 cards and announce 'I know cards. I have the best cards 'wins." Each deck of 52 cards sells for $14.92, available from the website, and a portion of the proceeds will be donated to the ACLU.
The game was created by "a team of natural born Americans and one Englishman (with a visa)" -- and the website itself, which includes "quotes" from the likes of Sean Spicer, is itself worth a look.
Credits
Date

Feb 09, 2017
Brand:
Client:
Alternative Fact Writer:
Chief Card Designer:
Chief Misinformation Officer:
Campaign Strategist:
U.S. Director, Art:
Need a credit fix? Contact the Creativity Editors