Starbucks Takes CEO's Civility Message to Its Advertising
Day After Howard Schultz's Speech On Citizens' Responsibility, Company Seeks Change Through Print Ad
Published On
Mar 24, 2016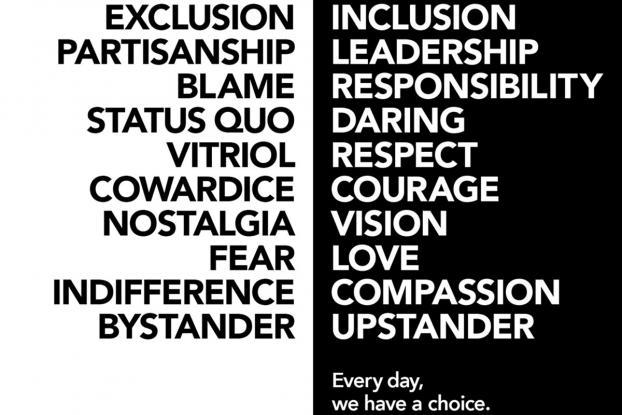 Editor's Pick
The latest advertising from Starbucks is another departure from selling coffee, as the chain aims to promote civility following a plea for change in America from its top executive.
The first of a two-page print ad that ran Thursday features opposing ideas, set against each other in black and white, like the familiar cookies sold at some of its outlets.
For example, the word division is shown in capital letters on one side of the page across from unity. Cowardice sits across the page from courage, while fear sits across from love. The second page is a five-paragraph message that suggests many people could be making better choices.
During the company's annual meeting Wednesday, Chairman and CEO Howard Schultz said he struggled to find the right words about "the pain I feel about where America is headed and the cloud hanging over the American people." He then spent several minutes sharing his thoughts, which included his memory of attending a 1960 campaign rally in Brooklyn for John F. Kennedy with his mother, what he called today's "dysfunction and polarization" in America and a tale of how Jews shared the limited number of blankets they were given in rail cars when they were being transported by the Nazis.
It is the latest societal push from the chain, which in the past has promoted ideas such "Race Together." That 2015 campaign, which included having baristas write "Race Together" on customers' cups to spur conversations, faced some public backlash.
It is also not the first time Mr. Schultz has used the company's annual gathering of investors and employees to raise societal issues. Two years ago, he asked what the role and responsibility of a for-profit company was. This year he broadened his thoughts, asking those at the meeting and watching online, "What is the role and responsibility of us, as citizens?"
The ad ran in Thursday's editions of The New York Times and The Wall Street Journal. It can also be seen on the company's website, where a video that runs about seven minutes shows Mr. Schultz's comments.
It was not immediately clear which advertising agency or agencies may have worked with Starbucks on the campaign. Edelman handled public relations outreach.