Vosges : Groove Truffle Collection
And you thought truffles couldn't get any better.
Published On
Aug 24, 2011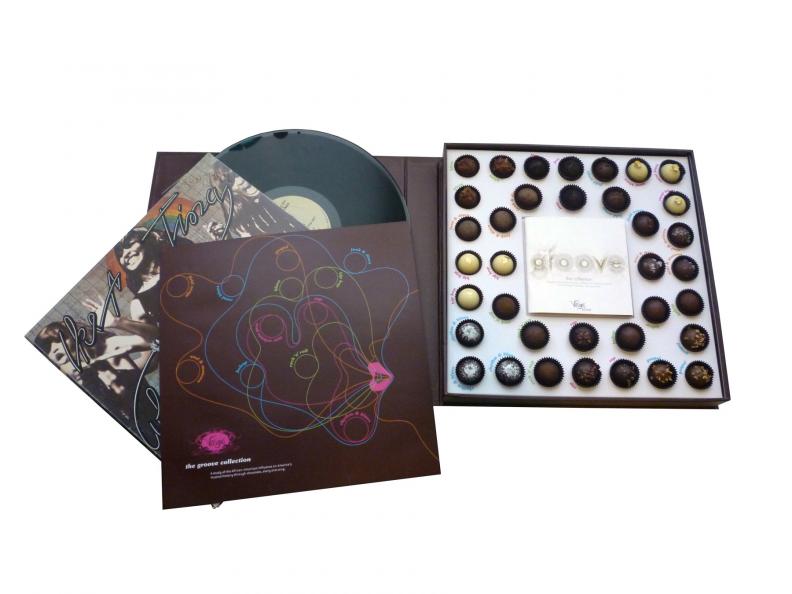 Editor's Pick
We all know eating chocolate is an experience to be savored, but this new truffle collection from Vosges is encouraging candy lovers to indulge in the flavors even more intensely, without adding any extra calories. How so, you ask? With music.
This upcoming holiday season, the candy maker will be launching the Groove Truffle Collection. Part of the brand's Haut-Chocolat Holiday Collection, the assortment of musically-themed concoctions will come packaged with a CD of tracks designed to enhance the tasting experience. Each collection also comes with a unique vintage record and the Vosges team even tapped fame typographer/designer Marian Bantjes to adorn the packaging.
The collection won't be available until around mid-November, but the brand's Krug champagne-imbued Hip-Hop Truffle, which will be part of the collection and paired with Jungle Brothers' "Because I Like it Like That," is now available to whet your appetites. Vosges founder/CEO Katrina Markoff conceived the idea for the Groove Collection after seeing how hip-hop culture was inspiring the broader world of pop music and the global community as a whole.
Other couplings include Odetta's "Hard, Oh Lord" with the Rural Blues truffle, The Bar-Kays' "Dance Dance Dance" with Funk & Disco and Grandmaster Flash's "The Message," with rap.
Credits
Date

Aug 24, 2011
Brand:
Client:
Creative:
Designer:
Need a credit fix? Contact the Creativity Editors