Neiman Marcus Print and Outdoor Campaign Supports Store Opening in ... 2018?
Published On
Sep 09, 2014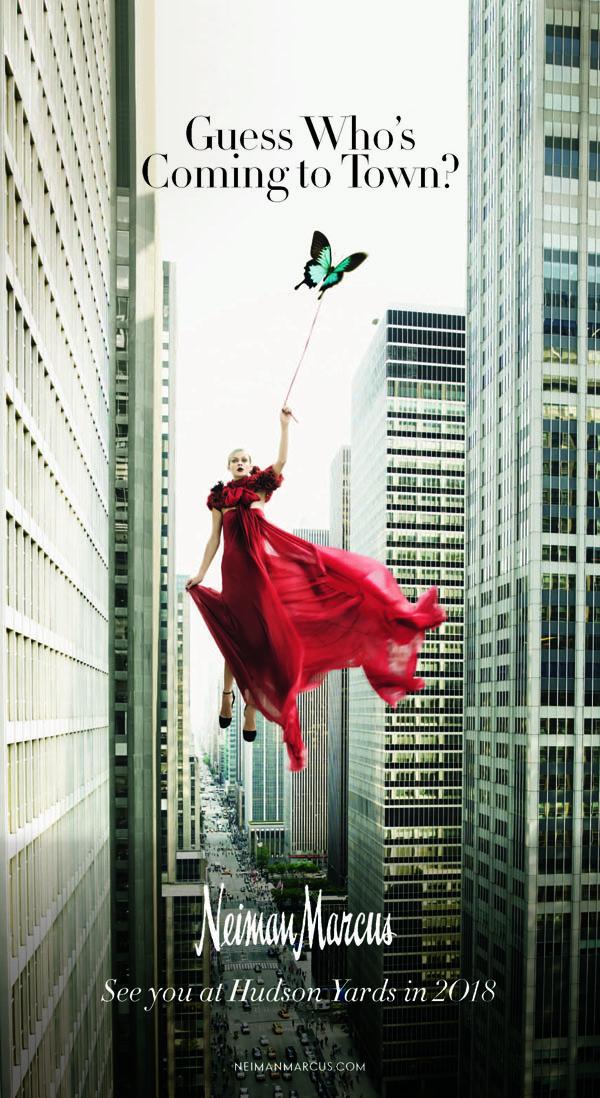 Editor's Pick
When news broke last week that Neiman Marcus will open its first store in New York as the marquee retail tenant anchoring Hudson Yards, a massive new complex under development on Manhattan's West Side, fashionistas had one question: When?!
A little patience is in order, because the answer is 2018. But the four-year runway isn't stopping the venerable luxury department store from capitalizing on the buzz surrounding the announcement. The print ad above appeared in the "Sunday Styles" section of The New York Times and Monday's WWD -- just in time to capture the attention of Fashion Week attendees -- and a billboard, using the same imagery and tagline, "Guess Who's Coming to Town?," has gone up at 33rd Street between 10th and 11th avenues in Manhattan, close to the future store.
A Neiman Marcus rep tells Creativity that a trampoline was deployed in a rooftop shoot -- along with post-production magic -- to help create the illusion of a fashionista (model Viktoriya Sasonkina) floating through Manhattan's skyscraper canyons. Photographer Chris Craymer worked with Art Director Lori Stadig of the in-house Neiman Marcus creative team.
The butterfly is a visual signature/ornament Neiman Marcus has used since 1971.
Credits
Date

Sep 09, 2014
Brand:
Client:
Photographer:
Art Director:
Need a credit fix? Contact the Creativity Editors