Cirque du Soleil Wants You to Know Its Amazing Performers Are Real People Too
Print Ads and Film Show Them Doing Very Mundane Things
Published On
Mar 02, 2017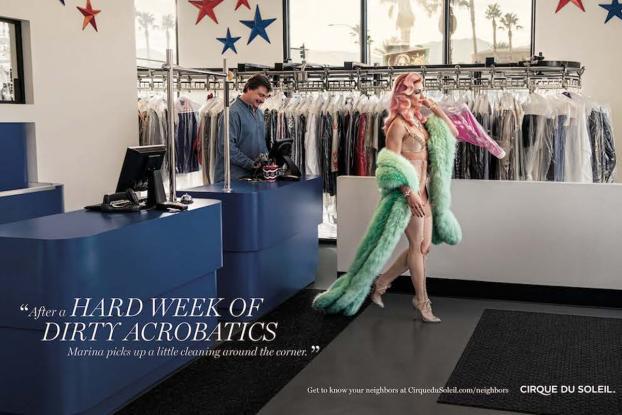 Editor's Pick
Although the members of Cirque du Soleil may make our eyes crawl to the back of our heads with the amazing things they can do with their bodies, the new "Locals" campaign from Y&R aims to show that they're real people too.
Print ads shot by Russ Quackenbush and video directed by Alvin Tam show colorful and outlandishly dressed performers like a strong man, an acrobat and a dancer doing mundane things like picking up their cleaning, drinking coffee and cleaning the pool. It's a bit reminiscent of ESPN's famous "This Is Sportscenter" campaign, but with an artful touch.
The campaign is directed to locals of Las Vegas, highlighting popular Cirque du Soleil shows running there "O," "Zumanity" and "KA."
"We wanted to represent the multiple sides of these artists: as amazing Cirque performers from some of the greatest shows in the world, but also as every day Las Vegas residents," said Y&R VP-Group Creative Director Nathalie Brown in a statement. "The ads bring to life their extraordinary feats in contrast to their everyday errands, and really highlights the personality of Cirque du Soleil."
Credits
Date

Mar 02, 2017
Brand:
Client:
Agency:
Need a credit fix? Contact the Creativity Editors