mcgarrybowen/Dentsu : Kizuna Cranes
New York meets Tokyo for a message of hope for Japan.
Published On
Aug 16, 2011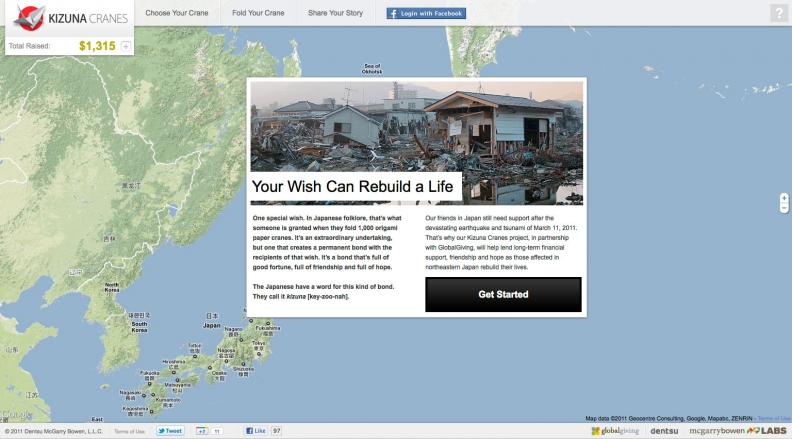 Editor's Pick
From mcgarrybowen in New York and its parent company Dentsu in Tokyo comes Kizuna Cranes, created to commemorate the six month anniversary of the Japanese tsunami and earthquake and encourage donations. Kizuna is the Japanese word for 'bond', while in origami the crane symbolizes hope and recovery.
The site allows users to make a donation to 'sponsor' one of 30 cranes, adding a personal message of hope; they can print out and fold their cranes and then share their photos via social media. Designers from mcgarrybowen and Dentsu incorporated elements inspired by both New York and Tokyo into the design of the cranes; koi fish and plum blossoms mingle with watercolor washes and subway maps. Users can see who else is sharing their crane around the world by way of interactive Google maps.
mcgarrybowen hopes to raise $100,000 for the Japan Earthquake and Tsunami Relief Fund by the one-year anniversary, but is setting an initial challenge of $1000 a day for 30 days.
Credits
Date

Aug 16, 2011
Brand:
Client:
Agency:
Agency:
Need a credit fix? Contact the Creativity Editors