MINI : MINI Cooper Yachtsman
MINI makes an underwater leap.
Published On
Apr 02, 2012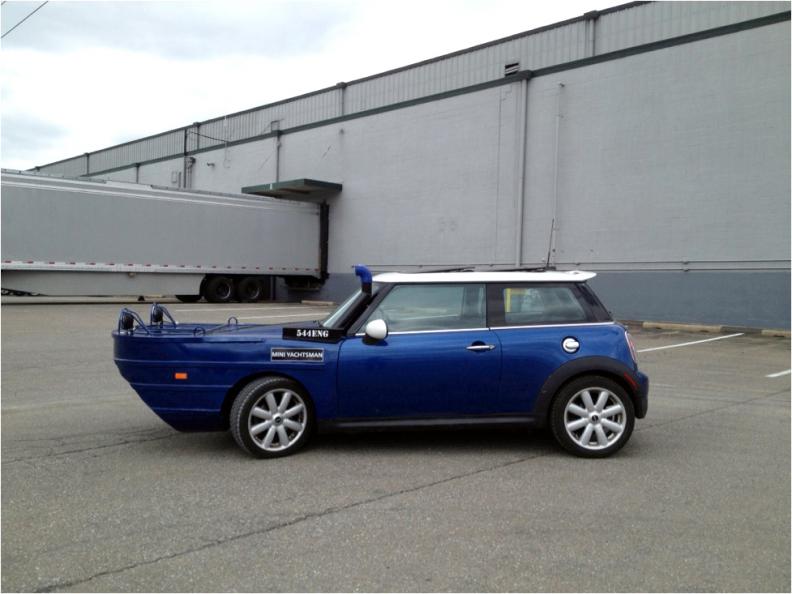 Editor's Pick
Mover over James Cameron, MINI is making its own aquatic journey with the launch of the MINI Cooper Yachtsman. Announced yesterday, April 1, by the BMW Group, the vehicle will launch in New York at the Hudson River next week, to coincide with the N.Y. International Auto Show. According to the release, the "corner-carving crustacean"promises "go-kart-like handling" and a combination of "amphibious and landphibious" performance.
The car comes with a shark-resistant undercoating (standard) and will be able to carve through water at up to 61 knots. The craft measures at 169.8 inches long, features Reef Blue metallic paintwork and contrasting silver alloy wheels and rudder. Fully equipped, it weighs 4,600 pounds and can go from 0 to 60 in 6.6 seconds on land and in 2.4 minutes on water. Top "land-phibious" speed is 141 mph.
Like other MINIs, the Yachtsman also boasts a number of customizable options, including a Klaxon that can sound with customer's choice of sea lion, porpoise, sperm whale, dolphin, seagull or mallard duck. It will also feature personalized under-hull messages, including recommended graphic options such as "Suck eggs, Kraken" and "Mermaid Magnet."
The vehicle went on sale yesterday and is priced at $236,000. It will appear at the MINI stand at the N.Y. International Auto Show in the Jacob Javits Center on April 4.
MINI Australia also had a pretty creative campaign for the Countryman on April 1, which let you build your own vehicle by collecting parts, one each month.