Nike Is Raffling Off 89 Pairs of the 'Back to the Future'-Made-Reality Adaptive Lacing Shoe
Consumers Can Get Their Hands on the Kicks Via Digital Draw
Published On
Oct 04, 2016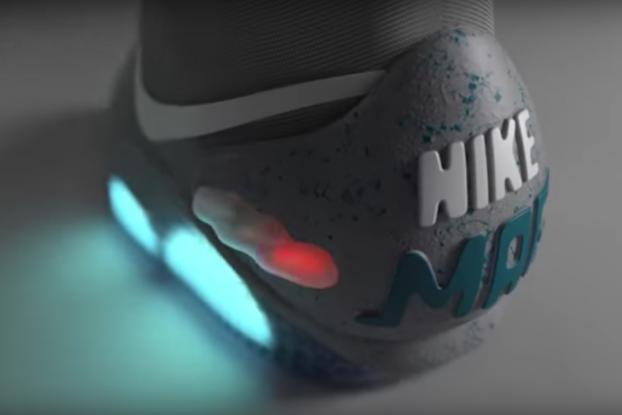 Description
Thirty years ago, self-lacing Nikes were just a fanciful, futuristic idea that we saw on the feet of Marty McFly in "Back to the Future II." But over the years, we've seen them become a reality. Back in 2011, the marketer developed a special edition, real-life version of the Nike Mag to auction off for the Michael J. Fox Foundation for Parkinson's research -- generating $10 million in 10 days for the organization and then last year, it gave Mr. Fox a pair of his own.
Then, this spring, Nike announced the arrival of the Hyper Adapt 1.0, a consumer version of the futuristic footwear, built with adaptive lacing technology that automatically conforms the shoe to the athlete's foot. At the time, Nike said the shoe would be available in three colorways to Nike+ members this holiday season. Today, the brand and Mark Parker, Nike's chairman, president and CEO, announced a draw whereby consumers could get their hands on one of the 89 limited-edition pairs of the actual Nike Mag shoe.
Participants can enter the draw via Nike.com/Mag or through the Nike+ app, where they can obtain a ticket by donating $10 to the Michael J. Fox Foundation. There is no limit to entries. The draw will occur from Oct. 4, 2016 to Oct. 11, 2016. Nike will notify winners on Oct.17.
Additionally, a single pair will be auctioned live in Hong Kong (Oct.11), London (Oct.14) and New York (Nov. 12). The latter will take place during "A Funny Thing Happened on the Way to Cure Parkinson's," the Michael J. Fox Foundation's benefit gala.
"Though it initially shared only a few seconds of screen time with Michael, the idea behind the Nike Mag unlocked something much bigger at Nike," said Mr. Parker in a statement. "It sent us down an unchartered path of innovation, but it also opened our eyes to our ability to fight some of the world's biggest challenges. We feel privileged for the opportunity to raise even more awareness for the fight against Parkinson's."