How Nike Used Street Art to Celebrate Shanghai's Runners
The City Became a Gallery Honoring Local Figures in the Running Scene
Published On
Nov 09, 2015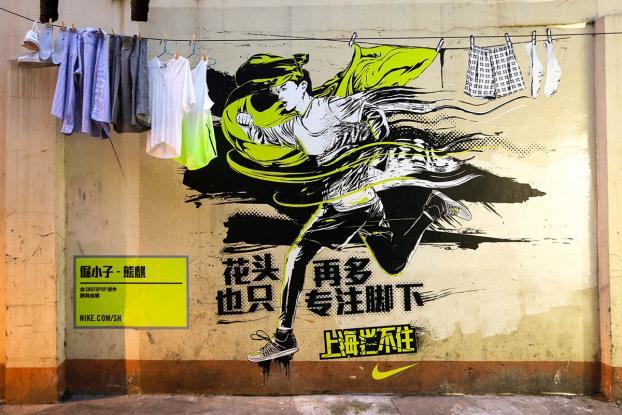 Editor's Pick

Runners in Shanghai have a lot to put up with. There's air pollution and a shortage of parks. And as Wieden & Kennedy points out, "The streets are filled with obstacles like pedestrians, hawkers, tourists, scooters and taxis that don't check their blind spots when they turn the corner."
And yet there's a fast-growing community of Shanghai runners dedicated to the sport, which wasn't traditionally popular. In a campaign centered around the Shanghai International Marathon on Sunday, Nike and Wieden & Kennedy put up eight street art murals featuring locals from the city's running scene. The campaign is called "Unstoppable," and the goal was to honor the local running culture developing despite the challenges.
"How do you make Shanghai feel like it's a running city?" said Terence Leong, Wieden Shanghai creative director. "You can call Boston a running city. In L.A. and Santa Monica, there's running by the beach. There's Central Park in New York. Here there's smog -- and we just almost got run over by a scooter while we were crossing the road."
Another Wieden Shanghai creative director, Azsa West, said that "some of the work in the past has been a little more about trying to educate people on why they should run. Like trying to convince them, 'hey, you should try this weird thing.' Now I think (the sport) is getting more traction. It's becoming its own thing. Nike wants to be a part of that conversation and inspire them to keep going."
One of the murals, by street artist WK Interact, features retired pro runner Jin Yuan, who became the head coach for the Nike Run Club. Another honors Xu Yun, who missed out three times on the Shanghai Marathon; she decided to run a half marathon on her own. The murals use a QR code, and people can scan them with their smartphones to get extra digital content, including animations.
Around a popular running venue, Century Park, the team put up small stickers to tease the campaign, featuring runners jumping over obstacles, for example. At the marathon, they took pictures of people crossing the finish line, similar to the shots amusement parks take of people riding roller coasters. It put the photos into an app, creating what looks like a long digital street art mural; it was sent to runners hours after they crossed the finish line.
Nike has worked for years to build up sports culture in Asian cities. In Jakarta, Nike and BBH did a similar campaign to "hack" the city and turn it into a running track, with encouraging messages along the way. In China, where many people are starting to seek out healthier lifestyles and are getting into sports, the company's marketing outreach has been paying off; revenues in greater China were up 30% in the most recent quarter despite a general slowdown in the economy.
Credits
Date

Nov 09, 2015
Brand:
Client:
Agency:
Need a credit fix? Contact the Creativity Editors