My Son Does Advertising : Portfolio Site
Parental love for little sweethearts.
Published On
Oct 03, 2011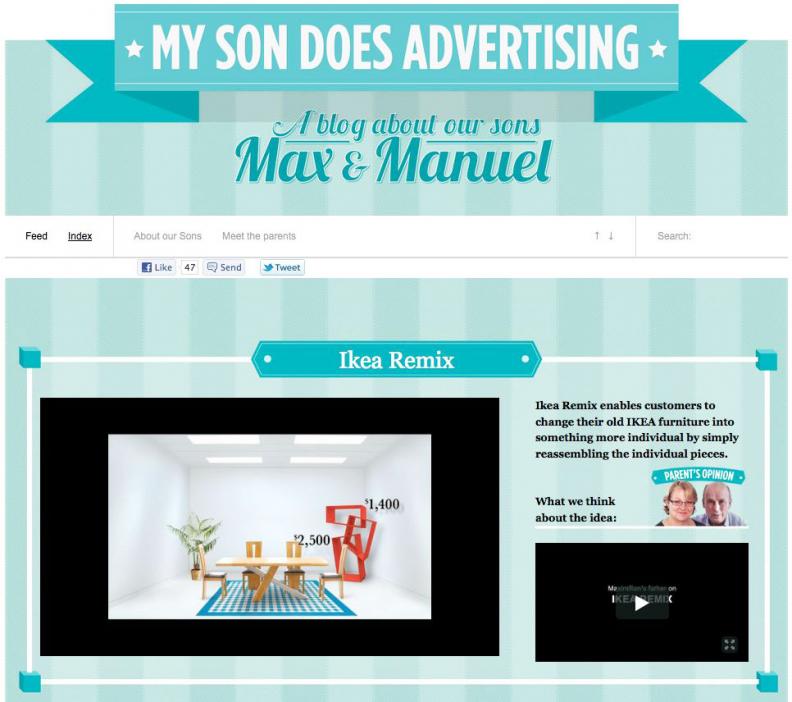 Editor's Pick
This takes portfolios to whole another level. The proud parents of copywriter Maximilian Hoch ("writes funny sentences") and art director Manuel Urbanke (does the colorful pictures") apparently, are showing off the work their sons have done in a portfolio site like no other. The site features work the duo have done for IKEA, Durex and Guinness, among many others. Alongside the work are videos from the parents themselves, explaining what they think of the work. Visitors can even chat with the parents, if they're so inclined.
Maximilian and Manuel have together worked for agencies including Y&R, Saatchi & Saatchi and DDB New York.
While it's pretty likely that the creatives themselves devised this scheme, we appreciate the clever details that went into pitching it--like the email addressed to "Mister Creativity," and from an AOL email address to boot.
Credits
Date

Oct 03, 2011
Brand:
Client:
Need a credit fix? Contact the Creativity Editors