Fed-Up Creatives: 'Thoughts and Prayers Can Be Meaningless When It Comes to Gun Violence'
New Book From Fed-Up Wieden Creatives Takes Stand on U.S. Gun Control
Published On
Jun 28, 2016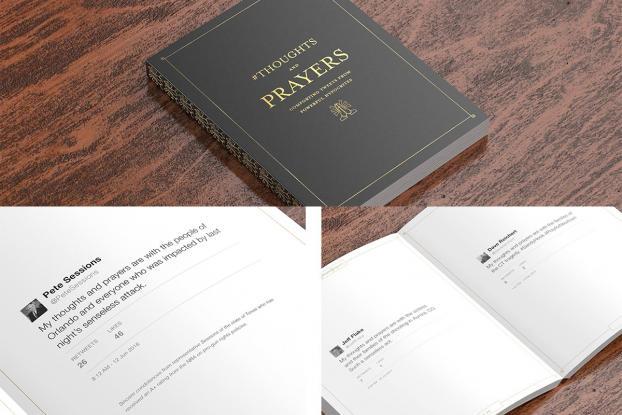 Editor's Pick
Now that advertising's biggest festival of the year has passed, our thoughts are settling back into the real world, which hasn't been so tinged with sun and rose. Just prior to the big event, the U.S. had a huge wake-up call about gun violence after Orlando saw the biggest mass shooting in its history. So a group of frustrated creatives from Wieden & Kennedy, Portland decided to use their powers of creativity to try to do something about it.
Following such tragedies, the creatives observed that politicians take to the media--social or not--to express their sympathies and prayers. But largely, that's about as far as it goes. So the creatives put together #ThoughtsAndPrayers: Comforting Tweets from Powerful Hypocrites, a book compiling the hollow condolences from pro-gun politicians who they believe can take a more impactful role in ending gun violence.
People can purchase a copy of the book for $25, with all proceeds going to The Brady Center to Prevent Gun Violence. Since 1994, Brady Background checks have prevented 2.6 million dollars in gun sales to those banned from purchasing arms. The fees for this project will go toward supporting effective campaigns that aim to keep guns out of the hands of criminals and dangerous individuals.
Agency W&K itself was not behind the book idea, although it's one of the many employee-initiated personal projects it has supported. In this case the agency helped cover the upfront cost of the books.
Credits
Date

Jun 28, 2016
Brand:
Client:
Need a credit fix? Contact the Creativity Editors