An NYC Artist Takes the Trump-Dictator Comparison to a Whole New Level
Kryzto's 'Trust Me, Folks' Mashes Up the Republican Candidate With Stalin, Gaddfi, Mao & More
Published On
Oct 07, 2016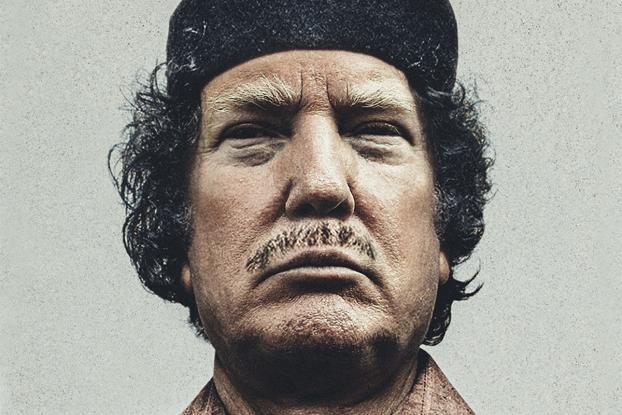 Editor's Pick
The media hasn't been shy about likening Donald Trump to various dictators, and has even dedicated covers to the idea, but a New York-based artist who goes by the pseudonym of Kryzto has gone the extra step with painterly mashups of the Republican presidential candidate and dictators such as Hitler, Mao, Gaddafi and Stalin.
A self-described foreigner based in New York City, Kryzto explained that "sometimes it takes seeing to believing how far the similarities run" between Trump and historical despots. "Nearly half of U.S. voters are still considering electing a candidate who clearly fits more comfortable with the U.S.'s biggest enemies, than with the leaders of the free world," he said.
Entitled "Trust Me, Folks," the project aims at driving voters to open their eyes and think carefully about who they vote for come election day.
According to Kryzto, the idea began as a joke but then "revealed a deeper truth" that compelled him to create more. In the back of his mind, "I was just trying to laugh at him, hitting him back somehow. Because I was like, 'How can someone even be allowed to say this rude things publicly? I showed them to some friends and, as they reacted, I realized there was there was something there."
So far, the project includes eight mashups, which can be seen on a dedicated Tumblr.
"People have been asking me to add some new ones," Kyrzto said. "So, I'll eventually do that. And maybe even get an edition on canvas. But right now I just want to make sure it gets out there, physically and virtually. So it can actually stick on people's head before the election that this guy shouldn't be the one commanding the country with the biggest nuclear armament in the world."
Kryzto says he plans to put up posters of the images in cities ahead of the election. Others are welcome to do postings of their own by downloading and printing them off the Tumblr. Additionally, Kryzto will be creating 48"x36" signed, limited edition prints -- for those of you who'd like to have a giant Kim Jong Ump on your wall.
The artist also happens to work as a freelance creative director at agencies and in-house at brands but chooses to be anonymous since he works in the U.S. on a Visa and wants "to avoid any trouble in case [Trump] wins."
We'd love to see how Trump himself would react to seeing the images -- aside from the dictator comparisons, they also depict him as Latino, Asian and even a Muslim. Also, we think that the new 'dos prove to be way more flattering than his own fluffy, questionably orange puff.