Universal Pictures : Hellboy 2: The Golden Army ARG
With his devilish sequel to Hellboy set to be another summer hit, director Guillermo del Toro has let his film metamorphosize into an in-depth ARG effort that lets visitors find clues (which have all been deployed) through variou
Published On
Jun 27, 2008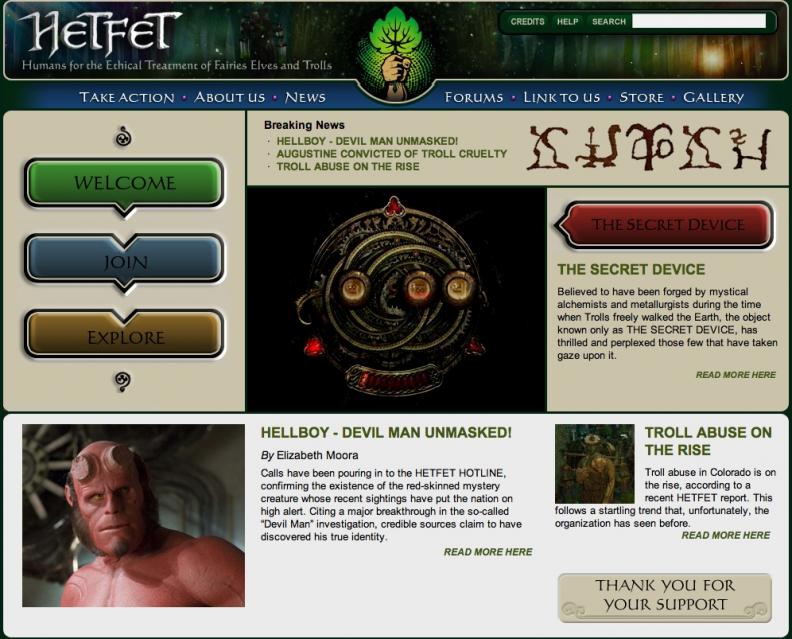 Editor's Pick
With his devilish sequel to Hellboy set to be another summer hit, director Guillermo del Toro has let his film metamorphosize into an in-depth ARG effort that lets visitors find clues (which have all been deployed) through various blogs, YouTube videos and microsites to unclock what it calls the Secret Device.

Purportedly the centerpiece of Hellboy 2: The Golden Army, the Secret Device is first touched upon with the campaign's initial site for HEFTET, a mysterious organization that's an acronym for Humans for the Ethical Treatment of Fairies, Elves, and Trolls and is directly involved in the film's storyline. Soon, other peripheral sites can be accessed including the vlog from the character Lexi and the site to unlock The Secret Device, which by clicking on a slot machine of sorts, you'll randomly be given numbers that if correct, can crack the lock.

Played throughout the month of June, the ARG had participants scour for several codes hidden in videos, news stories, photos, limericks, email, phone messages, and forums, also using YouTube, Facebook, Myspace, and Twitter to solve a series of interconnected puzzles. Playing Sherlock Holms of sorts, the gaming process unfolds in real-time as more clues, codes, and supporting content gradually become available and are shared across the community. The final prize for those investigative players is an an intricate online device that launched the world premiere of an original animated Hellboy II prologue comic, with the added bonus of winning a trip to an early screening of the film, hosted by Guillermo Del Toro himself.
Credits
Date

Jun 27, 2008
Client:
Agency:
Executive Agency Producer:
Creative Director/ Copywriter:
Agency Producer/Copywriter:
Website Design:
Video Creative Director/Copywriter:
Production Company:
Director:
Executive Producer:
Head of Production:
Producer:
Editorial Company:
Composer:
Editor:
Editor:
Executive Producer of Editorial:
Executive Producer of Editorial:
Visual Effects:
Music:
Brand:
Need a credit fix? Contact the Creativity Editors