Anyone who has worked in or near adland knows that a fridge full of beer is an agency staple. A handful of shops, including McCann and Almighty, have taken that a step further by bottling their own brews.
The ales are enhancing the work place culture at some agencies, while serving as an exercise in product development at others, and at one shop, Baldwin&, it's become a successful side businesses.
Ale-Mighty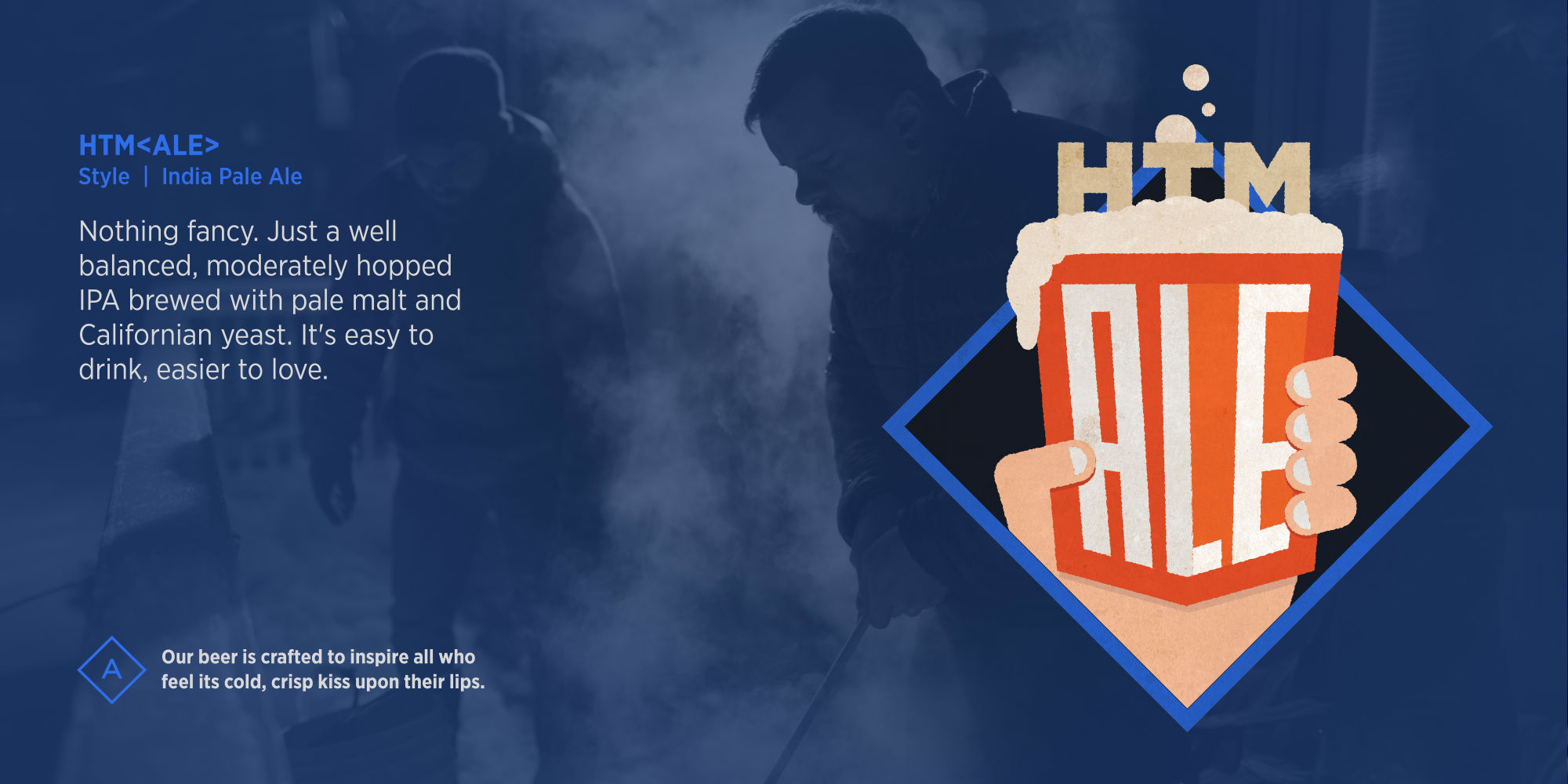 At Boston-based digital agency Almighty, brewing beer is a passion shared by a few employees. Jeff Preussner, a senior developer and the agency's unofficial brewmaster, homebrews with a coworker each month. "I figured it would bring people together," said Mr. Preussner, who said that employees now gather on Fridays whenever a new brew is on tap, and collaborate on names and recipe ideas. Almighty has a few brews at the office, including HTM Ale and Ale-Mighty IPA, and it's experimenting with recipes for a habanero stout and a peppercorn and orange peel saison.
EGC 1985 IPA
EGC Group, an agency based on Long Island, N.Y., recently paired with client Crooked Ladder Brewing Company to create a custom brew in celebration of the agency's 30th anniversary. The firm, which launched a craft beverage division two years ago, brewed the hoppy beer to highlight its work in the beverage space as well as to celebrate the culture within the company, which regularly holds craft beer tastings. "It really represents who we are, which is a young, vibrant ad agency who really has their finger on the pulse of what's hot and what's trending," said Jimmy McCune at EGC Group. The handcrafted beer, called EGC 1985 IPA, is brewed with four different kinds of American hops, and will be poured at the agency's anniversary party in October.
Truth Well Brewed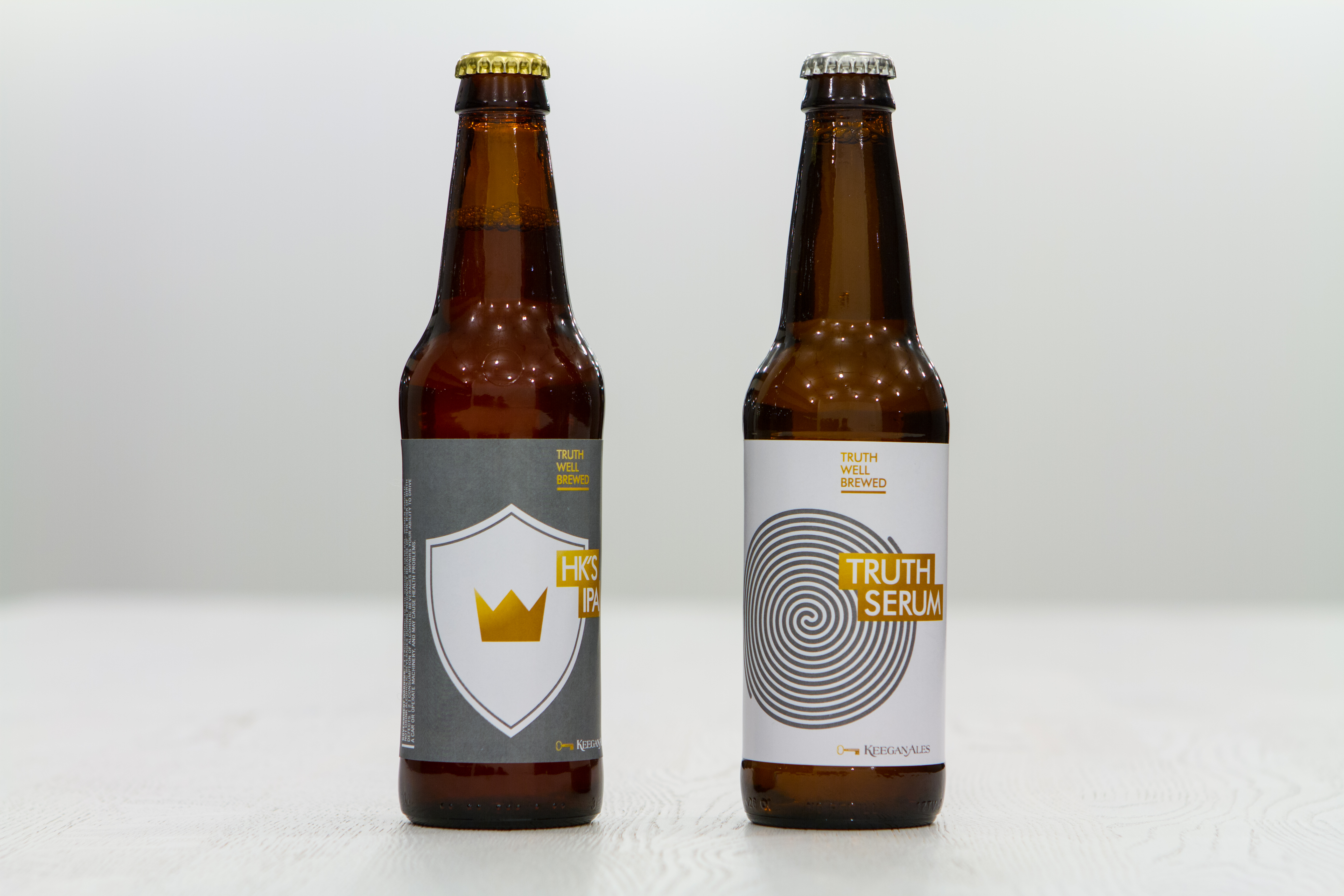 McCann's Truth Well Brewed beer brand, which is bottled and on tap at its New York office, promotes employee camaraderie, livening up events in the office such as fashion shows, trivia nights and, occasionally, breakfast meetings. The name draws inspiration from the agency's motto, Truth Well Told, and the shop has a selection of brews, out of Keegan Ales in Kingston, N.Y., tied to the spirit of the McCann brand. Some also commemorate client wins, like Stealth Stout, in honor of aerospace and defense firm Lockheed Martin, and Postal Pilsner, named for the U.S. Postal Service account.
Buying, branding and packaging the beer taught the agency, which handles social for spirits brands including Jose Cuervo and brewing partner Keegan Ales, about nuances in the industry that it might not otherwise have encountered. For example, the label for HK's IPA, named after founder H.K. McCann, is approved for public distribution, but the easy drinking Truth Serum blonde is not because the word "serum" is a medical term that makes the label unfit for mass production. The agency does not plan to change the name or enter the craft beverage industry, but it could benefit from experience if a beer brand joins its client roster.
Ponysaurus
Digital shop Baldwin& made a marked entry into the craft beer space when it spawned off a pet project between founder David Baldwin and two friends into a full-fledged brewing company that now acts as a client. The agency aimed to have revenue streams outside of advertising from the get go, so when Mr. Baldwin noticed the craft beer scene in North Carolina exploding, he turned his hobby for homebrewing into a business. The result: Ponysaurus, a brewing company with eight Belgian-inspired beers, including biere de garde ale and weissbier ale, that is distributed at restaurants and stores in its home state. The brewery, based in Durham, N.C., will is also opening a taproom and beer garden. "It's an agency labor of love that is hopefully going to turn into much more," said Mr. Baldwin.
Other Brews
Other agencies have also experimented with brewing in the past. In 2011, Arnold, which has long had an in-house bar, found a way to dispense frothy goodness all day long with a beer vending machine, affectionately dubbed Arnie, Ad Age reported. The decked-out machine was stocked with six different handcrafted beers including the Arnold Pilsner, and the shop intended to brew more styles in connection with major cultural events and clients. The project was born out of an initiative called "The Make Project," which aimed to manage less and create more. And the beers are no longer in production, according to a spokeswoman for Arnold.
72&Sunny also crafted the Yes& IPA this year as part of the agency's in-house creativity residency, 72U. A seven-person team at the agency produced 20 gallons of the limited-edition brew over four weeks, along with a mural that doubled as the design of each of the 60 bottles created, according to Creativity.