A Flick Football Box Is Pizza Hut's Latest Packaging Innovation
New Box Also Involves Real-World Competition
Published On
Aug 30, 2016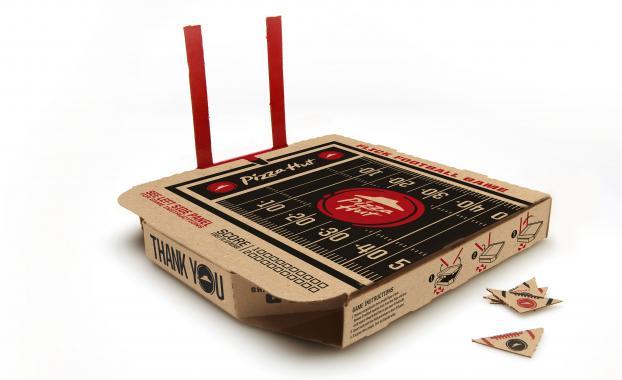 Editor's Pick
Pizza Hut may need to get a little less innovative with its packaging, lest its boxes draw the spotlight away from what's inside. Previously, the fast feeder debuted containers that turned into a DJ turntable and a movie projector, and now, just in time for football season, the Yum Brands chain has introduced a Flick Football Box, complete with field, goal post, football triangles and even a scorecard.
The box come with any medium pizza, including those available on its $5 Flavor menu.
While the box adds a dose of fun to the meal, it also introduces a bit of real competition as well. Pizza Hut is inviting customers to share videos of their flick football skills in the "Flick Football Challenge," for a chance to win free pizza from its $5 Flavor Menu. Players enter by sharing their videos on Twitter with the @PizzaHut tag and hashtag #PizzaHutHut. Winners will be determined weekly according to different challenges, including the most creative flick, most consecutive flicks and longest flick.
Pizza Hut has also appointed Dallas Cowboys placekicker Dan Bailey, who coincidentally wears No. 5, as its Flick Football ambassador.
"We know our fans enjoy a little competition and we're happy to provide a platform that lets them get in on the game in a whole new way while watching their favorite team," said David Timm, chief marketing officer, Pizza Hut in a statement. "The box brings some excitement back to the classic Flick Football game, and we are proud to bring some entertainment to the table along with our $5 Flavor Menu."