The Standard : Instructions on How to Be Politically Incorrect -- Spit
Published On
Sep 11, 2012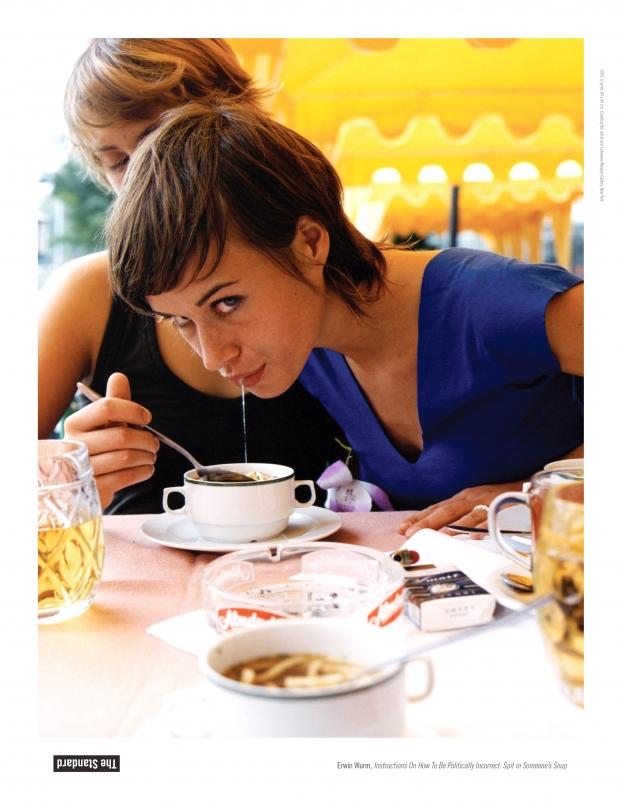 Editor's Pick
The Standard Hotel is getting feisty with a new series of print ads featuring work from Austrian artist Erwin Wurm. Using images from Wurm's 2003 series "Instructions on how to be politically incorrect," the ads take a pretty broad definition of "politically incorrect," preferring to use the term to showcase things that just should never happen, ever, from peeing on a rug (presumably using a Go Girl), to spitting in your fellow diner's soup, to a man sticking his head down a woman's shirt.
The ads will appear in publications like Artforum, V Magazine, Fantastic Man, CR Fashion Book, Paper, Dossier and Frieze, and could pass for regular content in those ad rags, except for the small Standard logo that appears at the bottom of each print.
The Standard is also selling a limited edition of the "Pee" print through its Shop The Standard, and the hotel also has a larger collaboration with the artist already happening: Wurm's "Big Kastenmann" sculpture was installed in the Plaza of the Standard in July.
Credits
Date

Sep 11, 2012
Brand:
Client:
Need a credit fix? Contact the Creativity Editors