Omnicom Group stock this month scored its all-time high; Interpublic and Dentsu Inc. hit the highest points since 2007; and WPP and Publicis Groupe reached levels not seen since 2000.
Boom times? Not exactly. U.S. agency revenue increased 5.6% in 2012, but that was the slowest growth since the ad-market recovery began in 2010. Agencies are on track for another year of moderate growth in 2013.
U.S. agency revenue -- covering all forms of marketing communications, including advertising, media, digital, marketing services, health care and public relations -- totaled $35.6 billion in 2012.

Source: Agency Report 2013
2012 estimated U.S. revenue by discipline, and digital revenue from all disciplines, for the 900-plus agencies in Agency Report.
---
Digital services accounted for nearly a one-third slice -- 32.5% or $11.6 billion -- of U.S. agency revenue in 2012, according to Ad Age DataCenter's bottoms-up analysis based on Agency Report data compiled for nearly 1,000 agencies, agency networks and agency companies. That was up from 30.3% in 2011, 28.0% in 2010 and 25.8% in 2009.
U.S. agencies' digital revenue rose 6.9% in 2012, including Ad Age's tally of revenue for pure-play digital agencies and digital work at agencies of every discipline. Digital's revenue trajectory slowed from 2011's double-digit growth rate, but there's no denying that digital makes up an increasing share of work across the spectrum of agency disciplines.
Case in point: public relations. U.S. PR-agency revenue rose 5.6% in 2012, tracking with 5.8% job growth in that sector, as agencies continued to play up their capabilities in social media. PR employment is close to a record level even as staffing in ad agencies and media agencies remains well below 2007 pre-recession levels.
Revenue for U.S. ad agencies increased 4.8% last year. Media agencies' revenue rose 7.4%, fueled in part by digital services and analytics.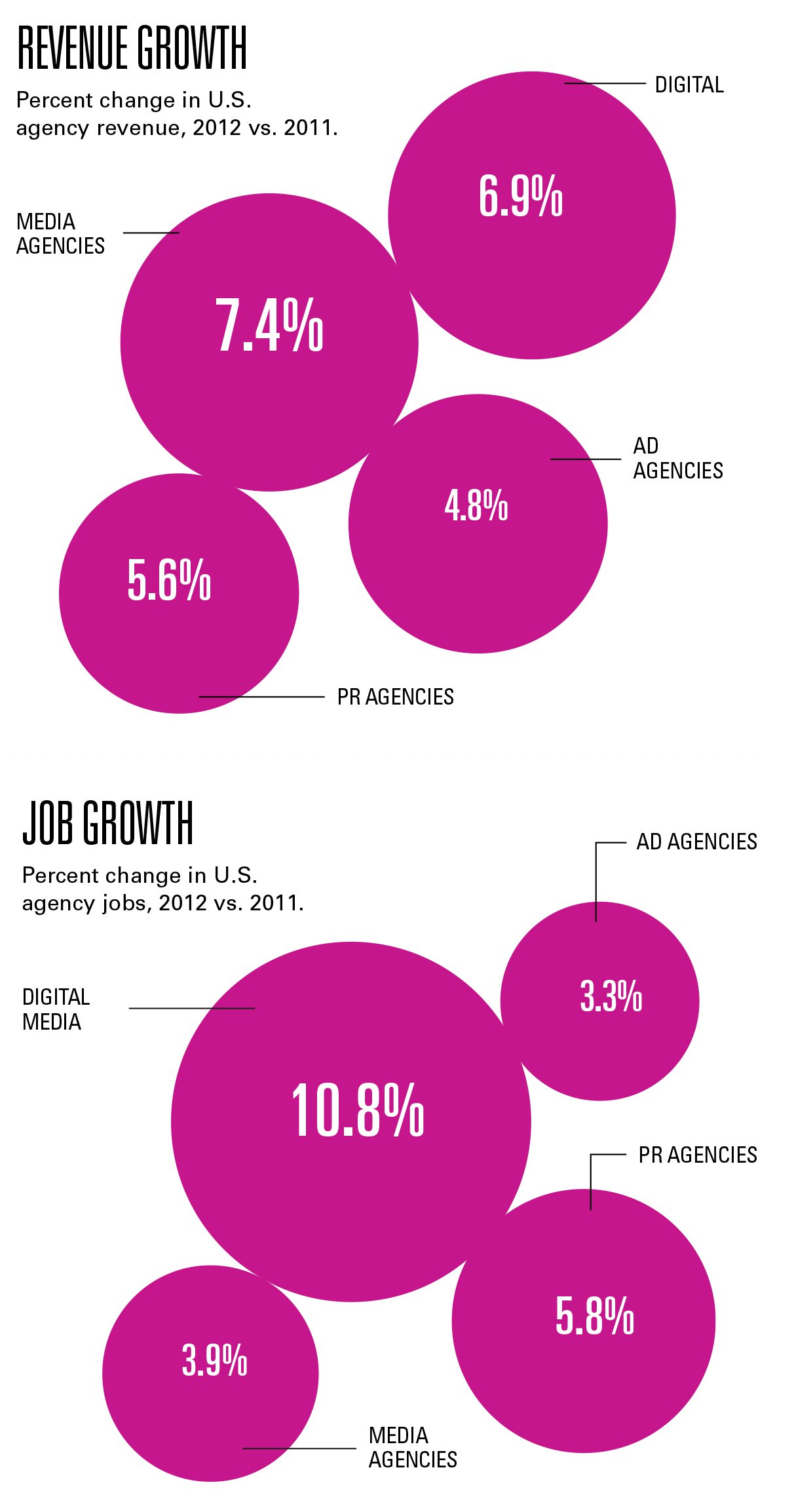 Source: Agency Report 2013 (Revenue);
Bureau of Labor Statistics (Jobs)
Digital revenue for agencies from all disciplines. Job growth based on sector's average 2012 vs. 2011 employment.
---
Agency revenue from customer-relationship management and direct marketing edged up 3.6%.
All sectors of the agency business grew last year, with gains for major sectors ranging from 9.2% for promotion down to 2.1% for health care. Promotion agencies saw strong growth in experiential/event marketing. Pharma advertising was hit hard last year as many name-brand drugs began to face generic rivals.
Three-speed economy
The U.S. is likely to see another year of modest growth for agencies in 2013, with worldwide growth dampened by troubles in the eurozone.
"We still have problems in Europe, and the spillover effect of that is real," Interpublic Chairman-CEO Michael Roth said on his earnings call this month. "The United States, although it's growing, is not growing at the rates I would like to see it growing at."
Interpublic forecasts low-single-digit 2013 U.S. organic growth (revenue growth after factoring out acquisitions and the effect of exchange rates), with 2% to 3% worldwide organic growth.
Omnicom is looking for 2013 worldwide organic growth in the range of 3% to 3.5%. President-CEO John Wren told analysts this month: "The global economy appears to be operating at three speeds. Asia and Latin America remain strong. The U.S. continues to experience slow but steady growth. And the most challenging region continues to be the eurozone." On the positive side, Mr. Wren said: "We remain optimistic that the U.S. economy will continue to improve for the balance of the year."
Fluctuations in exchange rates significantly affected the 2012 growth rates that the Agency Report shows for companies and agencies with large eurozone revenue, regardless of their headquarters. That's because the euro last year slumped 7.7% against the dollar. Publicis Groupe's stated 2012 revenue in euros rose 15.6% in North America and 13.7% worldwide. But when the company reported its revenue in dollars, the increase was 6.9% in North America and 5.0% worldwide.
Ad hoc, not ad agency
Publicis and its rivals increasingly are competing for consolidated accounts as clients look for solutions that are less ad agency and more ad hoc -- custom solutions drawing on resources across an agency company.
WPP, a strong proponent of this cross-agency "team" approach, has team leaders coordinating more than 35,000 employees on 35 of its largest accounts representing about $6 billion of its $16.5 billion worldwide revenue.
Marketers are consolidating in part with an eye toward efficiency. WPP Chief Executive Martin Sorrell acknowledged on an earnings call last month "a very significant negotiation that takes place on both sides" when a client consolidates its account. But he stresses how consolidation also can mean a significantly higher volume of work. Paul Richardson, WPP's finance director, told an investor conference in March: "When we consolidate or win a team approach, we are probably knocking out something like 70 to 80 local agencies in the process. ... I think there is a share win in the team approach not from the other majors but actually from the midsized agencies. And that's where I think there is advantage."
If clients want to hire an agency company, are agency brands still relevant?
Mr. Sorrell touched on the issue at an investor conference last December. "If you ask me what is the biggest difference between clients today and 12 months ago or 24 months ago or 36 months ago," he said, "it is this demand that we put the best talent together for them. I mean, [I] just got off the phone talking to a client based in Europe -- exactly the same issue. He's not interested in the agency brands. We are, internally. He's interested in getting the best people working on his business."