Bigger ribs are big business. TGI Fridays is the next casual-dining chain hoping to win back diners with meatier ones.
Ribs are the focus of the 52-year-old chain's new campaign, due Oct. 18, overseen by Stephanie Perdue, who joined TGI Fridays as chief marketing officer in early 2017 and is clearly eager to get the middle-aged chain to become more innovative.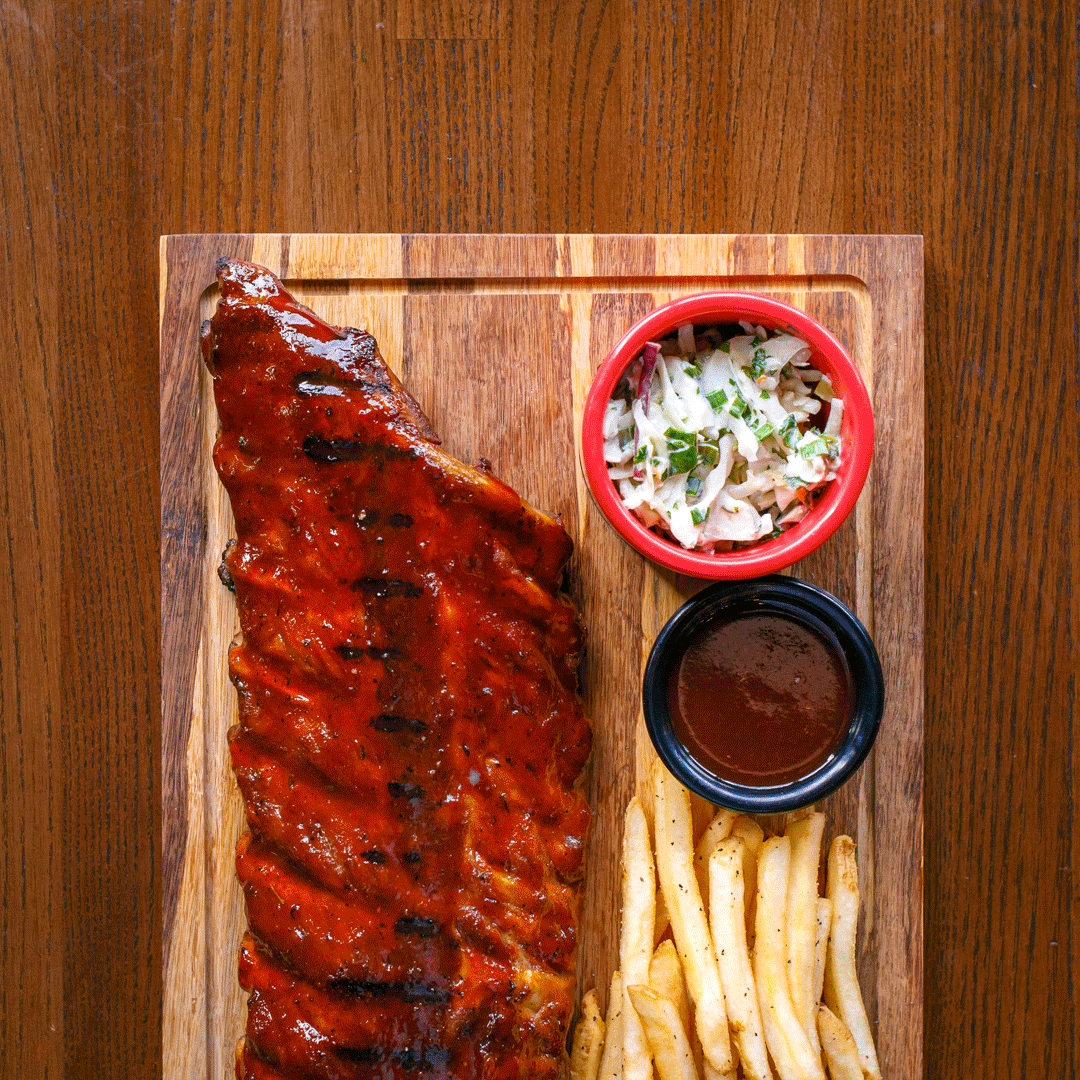 Credit: TGI Fridays
"What I saw is a category that was kind of indistinguishable from each other," Perdue said of joining TGI Fridays and the casual dining category after more than a dozen years at Taco Bell.
Along with ribs featuring 30 percent more meat, and even one variety topped with bacon, Perdue gets excited when discussing its plan to start delivering alcohol along with its food, its increasing number of loyalty program members, beef burgers with wackier toppings, as well as meatless ones.
"We are looking at innovating in every sense of the word," Perdue said. "Could you at some point get a Fridays bartender to come be the bartender at your home?"
First up, TGI Fridays says it has "changed the whole conversation around ribs," in a 15-second spot with a voiceover as the actors are too busy eating the ribs to speak. The TV spot comes from The Richards Group, which is working with TGI Fridays on a number of projects.
The effort lands on the heels of competitor Chili's introduction of "Texas-sized" ribs, which it also says are 30 percent meatier.
TGI Fridays is emphasizing its bacon-crusted ribs (because America can never have enough bacon), and sides including giant onion rings, Brussels sprouts, and baked mac & cheese. Its $12.99 introductory price (with two sides) is down from about $20 typically at many restaurants and a few dollars below Chili's standard pricing. After about four weeks, TGI Fridays' in-restaurant price will increase, but online orders will stick at $12.99 to help spur online sales. The marketer also came up with potentially shareable GIFs and had design influencer Enon Avital come up with a teaser for the Big Ribs.
And TGI Friday's is partnering with Lash, a startup in Dallas, to start delivering alcohol with its home-delivered food, a first for a big casual dining chain.
TGI Fridays, like the overall category, could use a boost. Its sales fell 8.3 percent to just under $1.37 billion in 2016, according to data from Technomic. And 19 percent of adults who have eaten at a casual dining restaurant at least once in the past three months said they'd consider going to TGI Fridays, while 25 percent would consider Chilli's, according to YouGov BrandIndex data from Sept. 1 through Oct. 11. While TGI Fridays trailed Chili's, both exceeded the casual dining sector average for consideration which was about 12 percent.
Still, there's some momentum. TGI Fridays doesn't disclose sales but says take-out sales are up 30 percent since online ordering debuted in 2016; more than 70 percent of online orders in the last year have come from new customers and the average amount spent online is 7.2 percent higher than in its restaurants. Another potentially strong signal is younger people are noticing the chain: 48 percent of those who joined its rewards program this year are 21-to-32 year olds, the chain says.
Perdue has led the creation of an in-house creative team, including hiring Caroline Masullo as VP of digital strategy, Rebecca Latacz as senior director of marketing, and Chris Vary as senior director of communications. Zeus Jones and Redscout were brought on for 2018 planning. Along with The Richards Group, agencies working on the Big Ribs launch include Camelot, Moxie, MXM, Rauxa and Zeno Group.
TGI Fridays already updated its burger menu, adding items including a mac & cheese burger, an idea that got strong support from social media followers. Burger sales are up about 15 percent since its menu relaunch earlier this year, Perdue said. Next, runner-up Philly Cheesesteak burger is set to be introduced early next year.
And it's not all about the meat. TGI Fridays has been testing Beyond Meat's meatless burgers and plans to introduce them nationwide in early 2018.