This is not a story about rebranding.
Walmart U.S. Chief Marketing Officer Tony Rogers is clear about that. Although the country's largest retailer has evolved its marketing, product mix, private-label offerings, agency and vendor relationships, strategy and more, Rogers is adamant that there's no fundamental change in how Walmart operates. "As business and technology advance and customer habits continue to change, it requires any brand to pause and refresh or redefine as necessary," he says.
That adaptability has helped Walmart reverse the streak of same-store sales declines that marked 2013 and 2014. Today it boasts 12 straight quarters of same-store sales growth at gradually accelerating rates.
To survive the retail carnage that pushed Sears and Kmart toward irrelevance and dragged down success stories like Target and Kroger, the $485 billion behemoth remade itself as a unified online-offline proposition. It has rolled out drive-thru pickup of grocery orders to 1,000 of its more than 4,000 U.S. stores and has installed automated kiosks at about 100 stores where people can collect orders inside. It's using technology more smartly to maximize checkout orders at Walmart.com.
For customers who shop in person, the chain has improved its quality with revamped produce sections and higher-end exclusive or private-label apparel, food and nonfood items. Plus, it's sprucing up the appearance of its stores.
But through all of this, Walmart hasn't lost sight of its signature low-price proposition—it's simply honed it into a more resonant pitch: We don't just save you money, we allow you to live better.
It's a message that fits the more balanced course it found during the past three years under CEO Doug McMillon, after more than a decade lurching between trying to win upscale customers and hunkering down on its low-income base. But what might most separate it from Sears is that Walmart knows change is expensive, and sometimes you have to lose money to make it.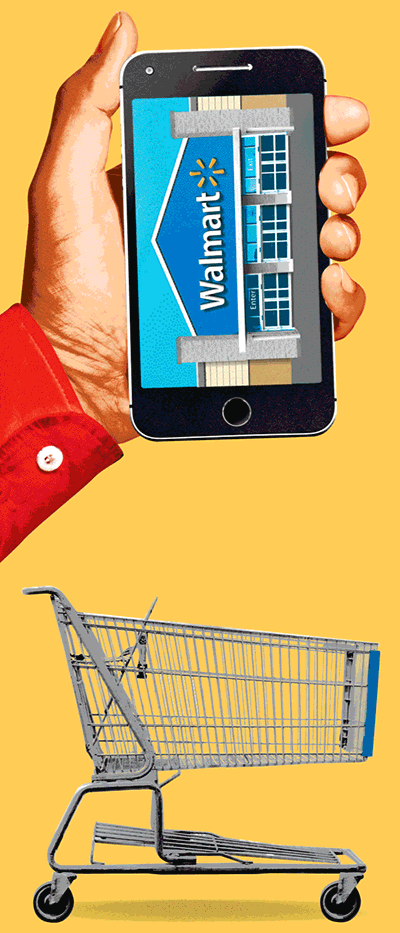 Credit: Illustration by Doug Chayka
Walmart won't be the next Kmart because it's more willing to take some short-term financial hits for long-term results, says Brandon Fletcher, an analyst with Bernstein Research and a former VP of global business process at Walmart.
"Walmart management recognizes that the big retailers of the past made decisions to preserve the models they created," says Fletcher. "Walmart has decided it wants to be a retailer for the long haul, even if that means being a little suboptimal in its returns. Walmart is [also] willing to invest in a new business model, even one that it's kind of bad at and will take them a while to get good at."
The price/convenience equation
Walmart's vaunted lower prices have made life harder for such rivals as Target, Kroger and Dollar General, even if the primary intended targets were Amazon and hard discounters like Aldi and Lidl. In a presentation to corporate officers in May, Rogers outlined Walmart's marketing strategy, but emphasized this point: "None of this matters unless we have price leadership. We're always maniacal about not letting people get distracted from price."
But price is a game no retailer wins all the time. Avoiding the fate of failed retailers rests at least as heavily on delivering the second half of Walmart's slogan, "Save Money. Live Better," with a bigger focus on convenience and quality.
"I don't know that they have a solid response yet to Lidl and Aldi," says Leon Nicholas, senior VP for retail insights at Kantar Retail.
'Clean, fast and friendly'
Rogers' biggest surprise when he came back to the U.S. last year from a two-year stint as CMO for Walmart in China was "how much convenience had been elevated as a driver for consumer behavior," he says. That's partially based on expectations raised by online shopping and other digital services. But Rogers says the demand for more shopping convenience also stems from sobering factors specific to the U.S.: both parents working in 60 percent of two-parent households, people working an average of five hours longer a month than a few years ago, and people tethered to work via smartphones, which put them in contact with their jobs on average 13.5 hours a day, or, as Rogers puts it, "nearly all their waking hours."
Walmart reaches every demographic in the U.S., says Rogers, but to win on convenience, the retailer is focusing more on a segment it calls "busy families." They're "the most intense combination of being busy and money-challenged," he says. "They have the highest bar in terms of delivering on price, quality and convenience. If you can deliver on this subset, you can probably deliver on everybody."
This group is "a little higher-income than we've defined our customer in the past," Rogers adds. But that doesn't mean Walmart is going upscale as much as it's targeting a segment that's more suburban and multicultural than its prior core.
"They've found the right balance between promotion and everyday low price," says Don Stuart, managing partner of Cadent Consulting Group. The company has removed some of the clutter of bargain-bin store-floor displays, for example, but hasn't done away with them entirely. Most shoppers give Walmart credit for having the lowest prices most of the time, Stuart says—or at least being close enough that it's not worth the effort to shop around.
Walmart U.S. CEO Greg Foran, an Australian who joined McMillon's team early on, was accustomed to operating in a duopoly market down under, with less price competition and more significance to the store experience, says Fletcher, of Bernstein Research. So Foran is focused on making sure checkout lines aren't longer than three deep and generally keeping the store experience "clean, fast and friendly." Walmart has improved customer satisfaction as a result, according to its own measures and external sources such as the American Customer Satisfaction Index, which tracked a major lift this year.
Add to clean-fast-friendly the three-legged stool of price-convenience-quality. Winning on those last three is key for Walmart to succeed across the biggest customer base in America, as Rogers sees it.
Just based on trading area, Walmart skews a lot more Middle American or red state than its more coastal, blue state competitors Amazon and Costco. But Rogers is convinced that Walmart's demos look pretty much the same as America's. He identifies three very different groups of shoppers who are particularly interested in Walmart's defining proposition of saving money: people living paycheck to paycheck, others scrimping on basics to pay for high-end purchases such as iPhones and well-off consumers who got that way in part by frugality.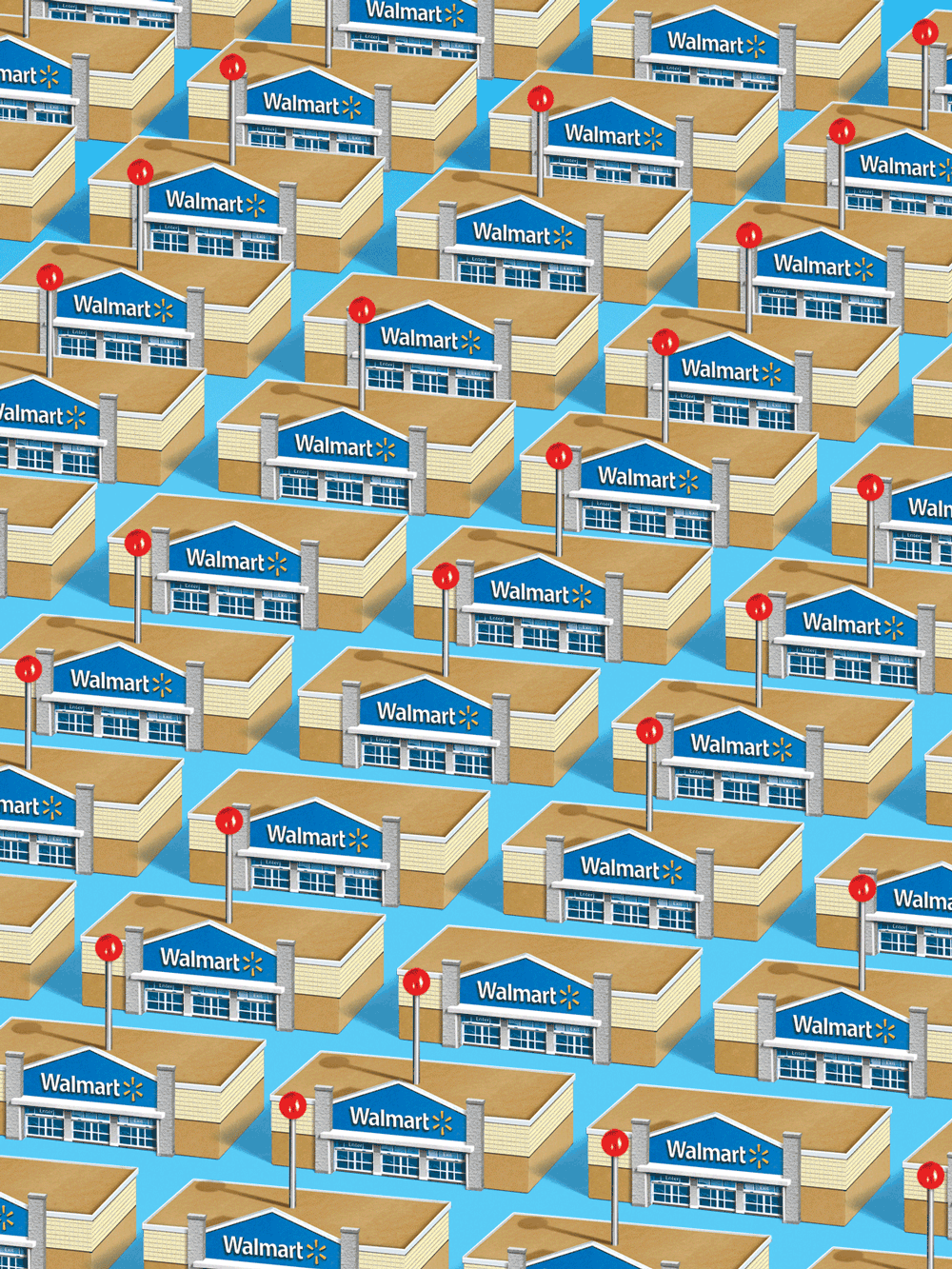 Credit: Illustration by Doug Chayka
Linking online and offline
Though Amazon is on track to pass Walmart as the biggest U.S. retailer sometime in the next decade, Walmart's e-commerce growth rate is outpacing Amazon's. Walmart also recently inked a deal with Google to provide products for its online shopping mall Google Express, escalating its Amazon counterattack.
Winning in e-commerce is crucial for all segments of shoppers, who all want convenience. To try to buttress an online presence still dwarfed by Amazon, Walmart has enlisted its huge portfolio of stores. As of this year, Walmart finally appears to be breaking through in making "bricks and clicks" work together in a way that meaningfully affects online sales growth. Free two-day delivery on millions of items without an Amazon Prime-like annual fee was one key to sparking a surge in e-commerce sales, up 63 percent in the first quarter and 60 percent in the second quarter, according to Walmart's second-quarter earnings announcement Aug. 17. (Amazon's e-commerce growth, meanwhile, hovered in the 20 percent range.) Discounts for store delivery on nearly a million items are also helping, Walmart said on its earnings call. And the chain put advertising weight usually reserved for the brick-and-mortar stores behind the efforts, according to Rogers.
It wasn't easy to convince executives to put the bulk of Walmart's advertising this winter behind a dot-com initiative, but it happened in part because of an effort to unify Walmart's e-commerce and general marketing teams last year. In a similar vein, Walmart is uniting tech teams in its Bentonville, Arkansas, headquarters; San Bruno, California; Hoboken, New Jersey; and India under the @WalmartLabs banner and expanding staffing not just in Silicon Valley but also in lower-cost outposts.
Walmart is also using tech to tweak its pricing strategy. Under Walmart e-commerce chief Marc Lore, who was CEO of Jet.com before Walmart acquired it in September 2016, the retailer is experimenting with bringing Jet's more complex pricing model, which bestows steeper discounts on larger orders. Shoppers might get a lower price on Walmart.com, for example, by adding baby wipes to a basket that includes diapers.
The whole variety of inducements looks to be working. TABS Analytics, which calculates market share based upon online tracking surveys of 2,000 consumers, suggests Walmart has doubled its online share of vitamins to 9.1 percent between April 2016 and April 2017. And it gained ground in baby care, where it has been weak relative to its market share in other categories, says TABS CEO Kurt Jetta. Walmart's online market share in the diaper category rose 0.9 percentage points to 5.1 percent, for example. Amazon's share fell 0.1 point to 7.1 percent. Target also did well, up 1.1 points to 4.3 percent. However, Walmart also gained in offline diaper share, rising 0.5 points to 18.1 percent, while Target fell 1.1 points offline to 11.9 percent, giving up its online gains.
Kantar's Nicholas says Lore's impact since Walmart acquired his Jet.com operation for a steep $3.3 billion last year is impressive. However, he says it has come at a cost that includes Lore making 10 times more than McMillon last year (thanks to a restricted-stock payout). "It would have been cheaper," says Nicholas, to get more aggressive on e-commerce five years earlier.
Mixing up the product mix
With rivals like Aldi, Lidl and Costco competing largely based on their private-label programs, Walmart is putting more resources into its own brands, too, and not just the lowest-cost tiers but also higher-end products. In June media presentations, executives from Chief Merchandising Officer Steve Bratspies on down went to great lengths to highlight Walmart's increased emphasis on quality, including extensive testing that goes into its bargain-priced sportswear and towels.
Latriece Watkins, senior VP of consumables and over-the-counter, showcased private-label products aimed not just at the biggest mass brands, but also emerging players such as L'Oréal USA's Matrix salon brand. "Aspirational products at disruptive prices" was how Scott McCall, senior VP of home and seasonal, described Walmart's product development effort. This includes some Walmart "exclusives," such as a Keurig K-Cup coffee maker hitting stores now priced at $59—$30 or more below prices elsewhere—and Yankee Candles priced around $10 less than they sell for elsewhere.
Walmart has significantly staffed up development for its own baby-care brands in the past 18 months, executives said, focusing on everything from pouch meals to baby wipes and strollers, with products priced 25 percent to 50 percent below branded rivals. Winning in packaged goods is key to winning online and offline with those "busy families," says Rogers. And families with newborns are among the most prized, not to mention the busiest. They eat at home more and buy more of just about everything as they establish households.
"Walmart.com was built on big-ticket purchases like TVs," says Rogers. "What's happening now is a much more balanced approach where consumables play a much bigger role in customer acquisition."
Everyday low agency pricing?
While Walmart has seldom hesitated to throw its weight around to get better prices, it's starting to use its power in new ways. One example was consolidating most of its creative advertising account in July 2016 with Publicis Groupe via a new entity, Department W. Saatchi & Saatchi is the central agency, but 14 agencies participate, including three that worked on Walmart's holiday advertising last year.
"Our mindset was all those advertising agencies are owned by these holding companies," says Rogers. "There should be some benefit to us in the holding-company model. I want to have access to all the talent within Publicis."
The unification effort is paying off in a marketing campaign built around rock anthems that Rogers feels is giving Walmart a more recognizable look—or, really, sound. "We're excited about how for the first time in a long time we have a style and approach to advertising we think can belong to us," he says.
In one recent example, Whitesnake's "Here I Go Again" pulses over a back-to-school spot in which kids imagine themselves as superheroes on their first day of school.
In what appears to be a first for the retail industry, Walmart also recently conducted a review to streamline the army of third-party field merchandisers that help place displays and products in its stores, culling the firms involved to five from more than 30. It was an audacious move because outside marketers, such as P&G and Unilever, pay the firms for their efforts, not Walmart. But Walmart was able to engineer a roster that made the process more efficient in its stores, a spokesman says. It also ensured that each supplier had an in-store marketing force dedicated specifically to the chain. The expectation is that the resulting supply-chain savings get passed back to Walmart.
But it also meant forcing big suppliers like Unilever to switch vendors. "Right now they're in a fairly enviable position in that they're indispensable for shoppers and suppliers," says Cadent's Stuart. "Suppliers may not be happy with how they do business in every case, but they can't walk away. "
Bratspies has acknowledged that Walmart's efforts to get more efficient may mean some added tension with suppliers. Then again, suppliers have plenty of grumbles about other retailers.
Walmart as startup
Even as Walmart wields its bigness in new ways, it's playing with small flanker brands in e-commerce. Counting Jet.com, it has acquired six small e-commerce players whose customers often weren't big on Walmart, including Hayneedle, Shoebuy, ModCloth, Moosejaw and Bonobos.
Perhaps one true sign of a shift is that Walmart says it's not imposing itself on these brands. Rogers describes Walmart's approach to the newly acquired online retailers this way: "Imagine if you get purchased by the world's largest company and you have access to those resources, and yet they aren't really going to change you. All they want is for you to be better versions of yourselves."
Walmart has learned from startups that Wall Street will let you be "suboptimal" on profit as long as you grow. Righting the ship on store operations has also bought Walmart permission to make big and so far money-losing bets on e-commerce, where even Amazon is at best thinly profitable.
Amazon eked out a 2.3 percent operating margin in North America in the first half. But take away cloud computing and Amazon remains a roughly $150 billion-a-year startup losing money quarter after quarter. Walmart remains more than three times Amazon's size by global sales. And Walmart's $13.6 billion in after-tax profit last year stacks up nicely against Amazon's $1 billion in pre-tax profit on retail.
Whatever you call it—reinvention or something else—Walmart is "not going down the path of generational decline like Sears and Kmart," Nicholas says. But he still isn't convinced that Walmart has the bricks part of the bricks-and-clicks equation completely figured out—that the work is done. "That doesn't mean there aren't still too many stores," he says," and that the stores themselves aren't still too big for where we see America's shopping patterns headed."