What's this?
This content has been created by Ad Age Studio 30, a custom content studio.
Find out more
Creativity
And the winner of Driving Creativity is ...
Courtney Bott of FIT designed the top vote-getter in the Kia/Ad Age contest
Bott, an advertising design student at the Fashion Institute of Technology
Credit: Alfred Maskeroni/Ad Age
Earlier this year, Kia Motors America partnered with Ad Age Studio 30 for the Driving Creativity contest, in which art and design students were invited to create a print advertisement for the Kia Stinger. The competition aimed to foster innovation for the advertising designers of tomorrow, and also allow Kia, which prides itself on being a youth-driven company, to embrace a fresher perspective.
After applicants were whittled down to six finalists, the decision was turned over to the Ad Age readership, which voted online for their favorite ad. On Dec. 4, Courtney Bott, a 22-year-old advertising design student at the Fashion Institute of Technology, was proclaimed the winner. The FIT senior will receive an all-expenses-paid trip to the 2019 Cannes Lions International Festival of Creativity, $10,000 toward her tuition and $5,000 to her school/program.
Studio 30 caught up with Bott, a native of Bayville, New Jersey, shortly after she learned of her big win, and she was eager to discuss the role art has played in her life, her postcollege aspirations and the details of her grand prize.
Bott knew at a young age that design was a field that called to her. "Even in elementary school, I just wanted to be in the art room," she says. "So I would ask to be the art helper." By the time she reached high school, Bott took "every art class possible. … I just didn't know how to make it lucrative." Eventually, after exploring graphic design and computer-aided design classes, Bott began to formulate her career goals. She first pursued a communication design associate's degree at FIT, which "gives you a pretty broad look into the whole design field." And when the time came to choose her concentration, Bott felt "advertising was really where my heart was."
Under the suggestion of Thomas McManus, an FIT associate professor of advertising and digital design who serves as her senior portfolio class instructor, Bott applied for the Driving Creativity contest. "I thought it would be a great way to add some print ads to [my students'] portfolios," McManus tells Studio 30.
Bott describes her advertisement as "simple. I was trying to keep it to the point—and memorable. Clear. Concise. Nothing extra," she says.
"By using a graphic mnemonic based on the car's name, Courtney evoked the youthful spirit of the Kia Stinger in a surprising way," professor McManus says of Bott's winning ad. "The contrast between the two incongruous elements helped create a striking piece of communication."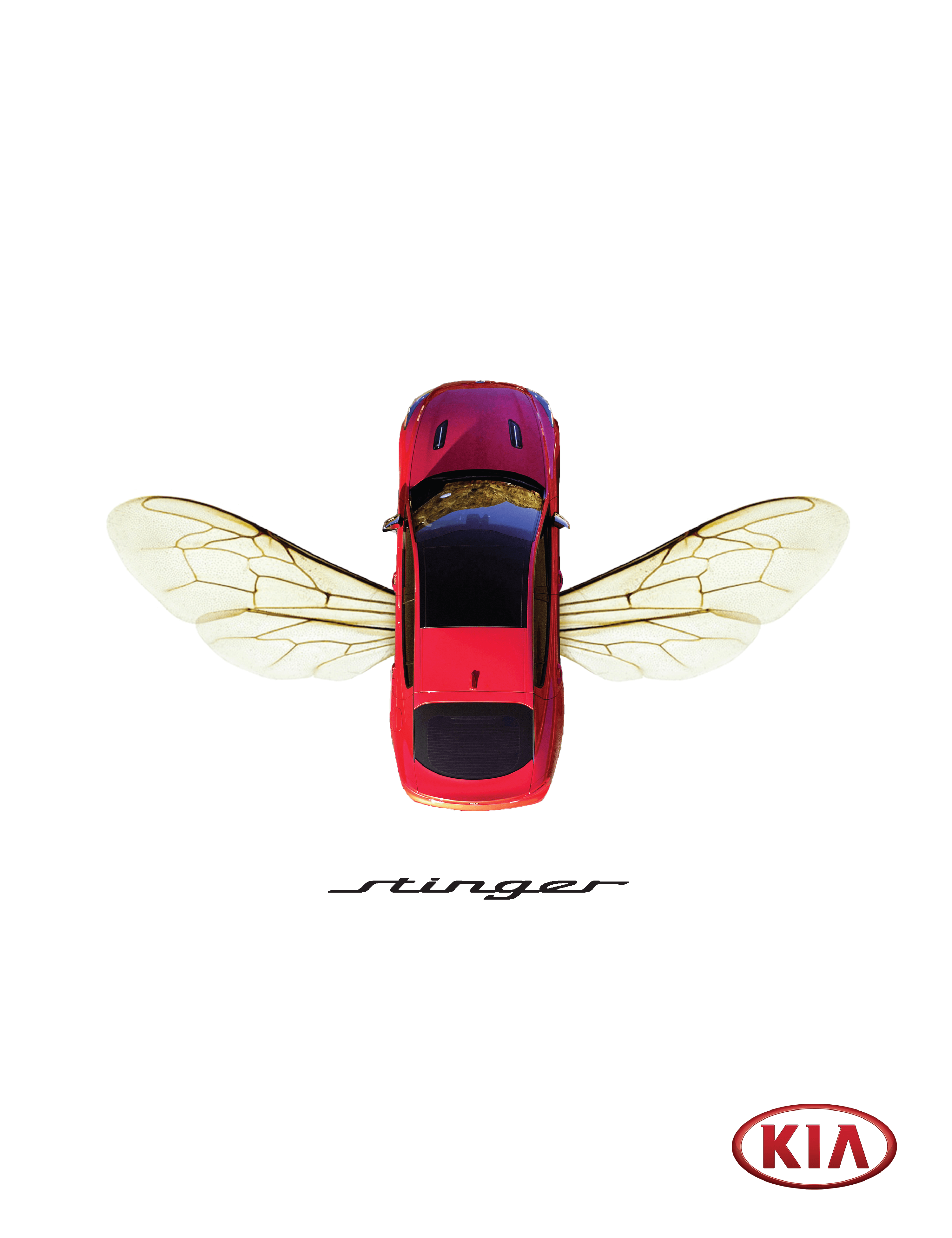 The winning ad
Although Bott has one more semester at FIT, she already has a firm grasp on a potential career path: She "would love to be an art director" at either an advertising agency or a fashion/beauty brand. Throughout her course of study, Bott says she "found out that I'm really good with seeing how an idea can spin out into other mediums, be it social media, print or a commercial."
But it's not just her upcoming graduation that has Bott excited about 2019. As previously mentioned, part of her Driving Creativity prize includes a trip to Cannes, France, in June. "I've never been outside of the country!" she explains.
Bott also has plenty of ideas on how to put the $5,000 grant to good use, even if she doesn't benefit from it personally. She wants to help the next wave of designers get a leg up in the business. "I'm hoping [the money] goes directly to the advertising design program," she says. "There are a lot of field trips we could have gone on if we had a bigger budget. At least in the future, advertising design students will be able to get a little more exposure to what the industry is actually like."