Wired scored a perfect 140 "digital IQ" in the study, which ranked magazines based on their website, digital marketing, social media effort, mobile and tablet applications, putting it at "genius" level.
The magazine was noted as having an outstanding digital edition for all four tablet platforms; mobile and social sites designed to highlight partner's products; and both curated and sponsored content delivered through Twitter, Tumblr, and Pinterest. It has also amassed 1.4 million followers on Google+ since brand pages launched in November last year.
The other magazines in the top 10 fell into the "gifted range." Six of those magazines -- Entertainment Weekly, Glamour, Time , Sports Illustrated, Cosmopolitan, and People -- were also on the list last year.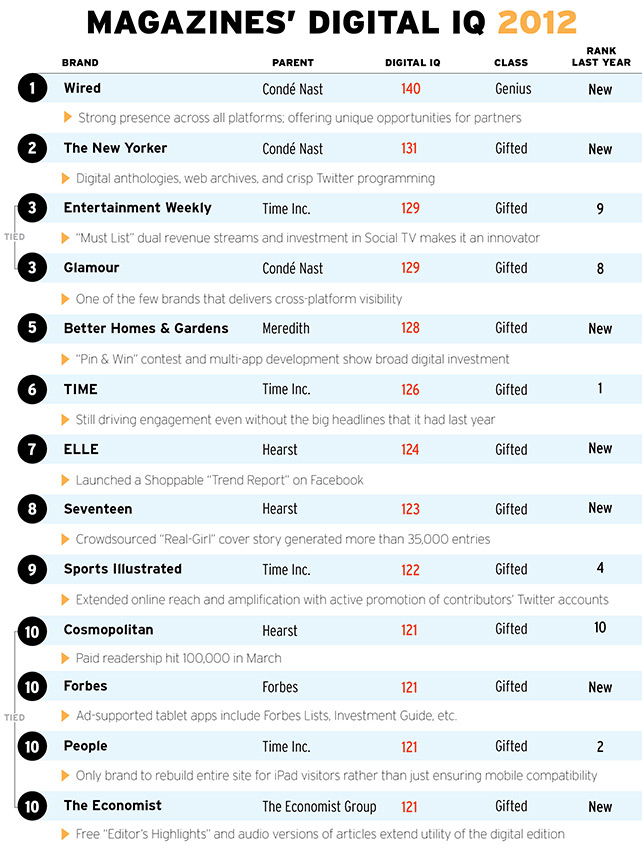 "Source: L2"
Notes: Scores reflect the effectiveness of the brand's site; its marketing efforts, off-site brand presence and visibility on search engines; its social media brand presence, community size, content and influence; its compatibility and marketing on smartphones and other mobile devices; and its availability and store metrics on tablet.
Time took top billing last year with a 140 IQ, but this year it fell to 126 and No. 6. The study cites the "trifecta of news stories" -- the tsunami, the death of Bin Laden, and the Royal Wedding -- as extreme engagement drivers for the publication in 2011, and their absence the reason for the drop.
Of all 80 magazines, Popular Mechanics had the largest increase in IQ, jumping 38% after it put additional weight behind its tablet and a redesigned email to incorporate social sharing. Playboy's IQ decreased by 52% -- the largest loss from last year -- after it decided to create new social-media accounts specifically for "playboydotcom."
Yet, overall digital IQ seemed to improve over last year. In the previous study, seven magazines at the bottom of the list that were branded as "feeble." This year there were only four: Traditional Home, ESPN, Men's Journal, and Town & Country. All of these, except ESPN, had the same classification last year.
The majority of magazines' scores benefited from investing in tablet platforms. So much so, that L2 wrote that "brands' investment in the tablet platform is rapidly nearing maturity." Of the publications on this list, 98% are available in at least one of the four main digital stores (Nook, Kindle, iTunes, Google Play) and more than one-third are available on all four.
Additionally, scores improved as more magazines embraced emerging social platforms such as Pinterest and Google+. Of those publications on the list, 89% are active on Pinterest and for nine of them, Pinterest provides more traffic than Facebook. And 12 magazines have larger communities on Google+ than on Facebook.
As magazines continue to diversify their digital offerings, and digital audiences grow, the key issue is being able to monetize that activity. A big part of that is attracting and retaining advertisers, yet less than half of the publications in this study don't promote advertisers beyond their site or tablet edition. "In sum," L2 wrote, "magazines are failing to deliver on a primary ask of their advertisers-integrated digital campaigns."