News
JC Penney's Media Spending Climbs But Sales Go Into Free Fall
CEO Ron Johnson Boosts TV Advertising, Adds Former Coca-Cola Marketer Sergio Zyman as an Adviser
JC Penney sales plummeted 25% in 2012, even as its measured media spending jumped 14% to $504 million.
The beleaguered retailer spent more on advertising than it has in any of the last five years and made major changes to its media mix, under the direction of CEO Ron Johnson. TV advertising climbed, particularly network TV spending, while radio and internet display investments dropped. And despite Mr. Johnson's declaration late last summer that the retailer would invest heavily in newspapers, spending in that category was down slightly.
JC Penney reported that its fourth-quarter net loss widened to $552 million. The retailer posted an annual net loss of $985 million.
Sales in the fourth quarter, which includes the holiday-shopping period, slid 28% to $3.88 billion. For the year, sales fell 25% to $12.98 billion. That marks the lowest annual revenue the retailer has reported since at least 1987.
"It's the worst performance that I've ever encountered in decades of covering retail -- there's nothing really to compare it against," said Bernie Sosnick, an analyst at Gilford Securities.
Still, despite the dire results, Mr. Johnson struck an optimistic tone, even as he admitted sales and customer traffic were below expectations for the year. "We have accomplished so much in the last 12 months," he said in a statement. "Looking ahead, we are energized by our shop rollout plans for 2013 and the exciting work our teams are undertaking to transform the store."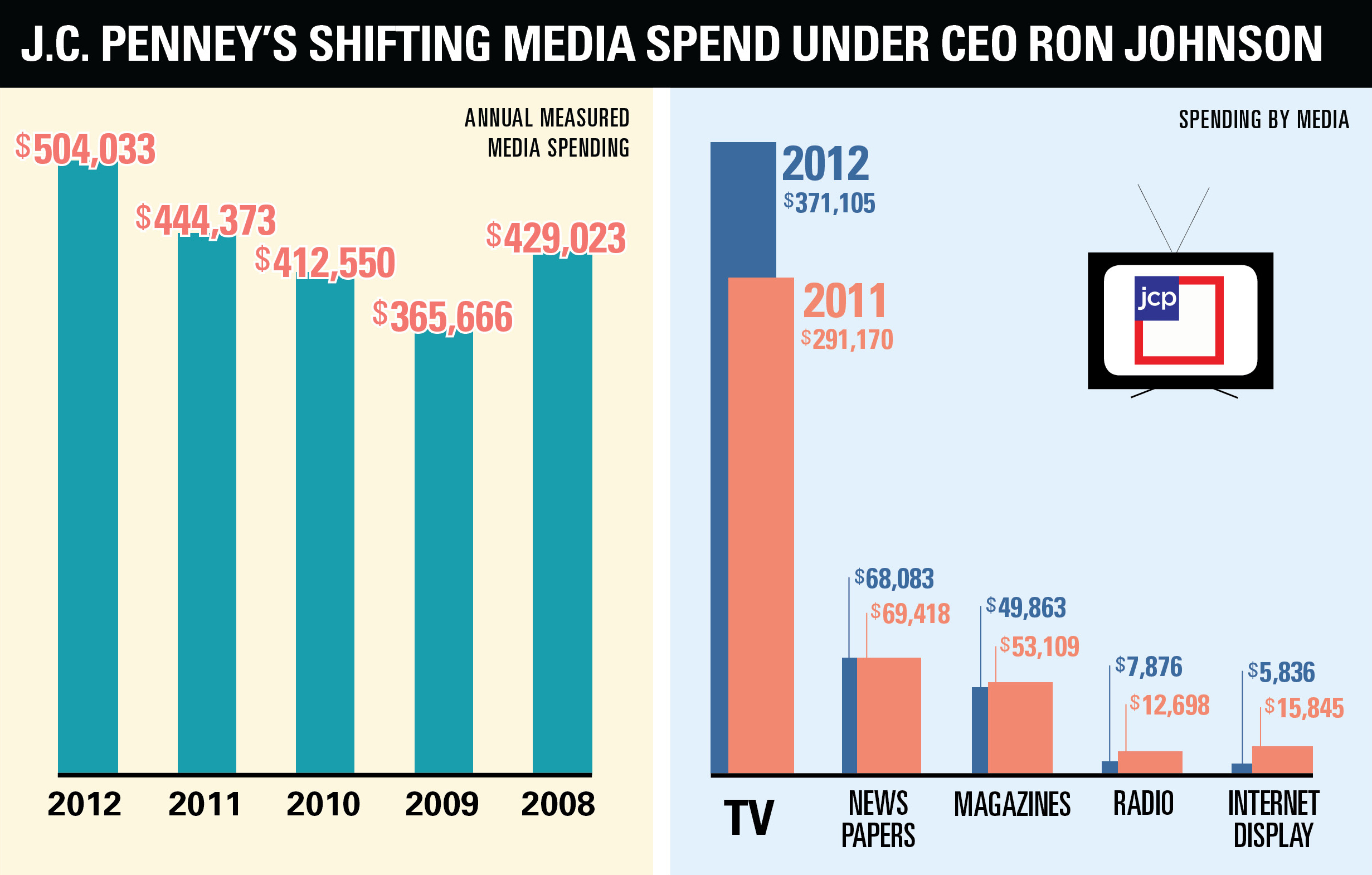 Source: Kantar Media
Mr. Johnson revealed during a conference call with analysts that legendary Coca-Cola marketer Sergio Zyman has been advising the retailer's latest marketing effort. During the Oscars telecast, the retailer introduced an emotional new campaign dubbed, "Yours Truly."
"Sergio has a unique ability to understand customers and develop strategies that will succeed on rapid fire tests and response," Mr. Johnson said. Indeed, Mr. Zyman was at the helm when Coca-Cola infamously launched New Coke and was forced to quickly backtrack.
The anthem spot carried the text, "Dear America, You deserve to look better. You deserve to live better. That's what we've believed for 100 years. And we will believe for 100 more." Several shorter spots promoted individual lines now available at JC Penney, including Levi's, Cosabella, Pearl by Georgina Chapman and Joe Fresh.
On Friday Mr. Johnson is expected to testify in the ongoing lawsuit between JC Penney, Macy's and Martha Stewart. Macy's CEO Terry Lundgren testified earlier this week.
-- Contributions from Bloomberg News