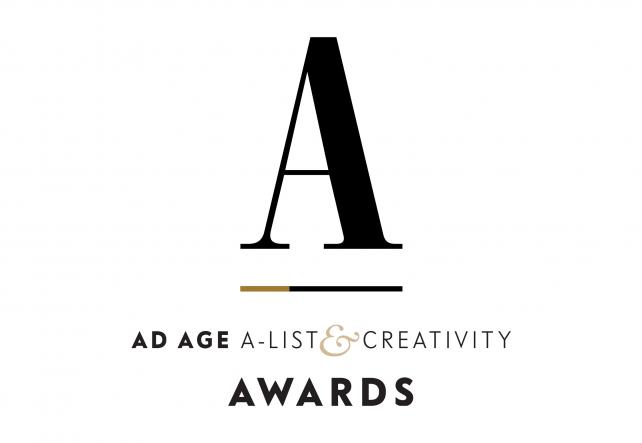 Winners Announced for Ad Age's New Creativity Awards
Advertising Age this year expanded its annual Agency A-List honors to include the Creativity Awards, recognizing and celebrating not only excellent work and outstanding people in the industry but amazingly creative companies driving innovations that might not even comprise traditional advertising. We are now pleased to present the winners, chosen over days of spirited judging by juries of the industry's brightest stars. The winners were announced at the A-List & Creativity Awards Gala in New York on April 19.
Finalists were selected by judges with strong respective industry knowledge and unique perspectives, said Michelle Zatlyn, cofounder of Cloudflare and a judge on the Companies jury. "Most importantly, the caliber of submissions made our jobs very tough," she said.
"Powerful creative ideas that change hearts and businesses require a leap," said Colleen DeCourcy, global chief creative director at Wieden & Kennedy and co-chair of the Work jury. "We saw a lot of great work, but to select the winners ultimately asked ourselves, what do real people want, which of these ideas took a leap, and which of these ideas could or did ignite culture?"
Deloitte Digital is the premier sponsor of the Creativity Awards.
WORK
Campaign of the Year
Winner
Boost Mobile, 180LA
Boost Mobile and 180 L.A. jumped on a key insight -- during the last presidential election, many lower income and minority voters were forced to deal with long lines and inconvenient locations. But with the brand's stores in many of these underserved communities, they could also double as a platform to help "boost" their voices -- as new polling places. The campaign represents out-of-the-box thinking in retail and in how a brand can interact with and serve its customers. It's a powerful product message that also delivers what consumers are expecting more from brands today -- real-world impact.
Finalists
The Field Trip to Mars Lockheed Martin, McCann New York
GE Podcast Theater Presents "The Message" GE, BBDO New York, Giant Spoon
"House of Cards" Season Four Launch Netflix, BBH New York
Re-Colonelization KFC, Wieden & Kennedy Portland
Boost Mobile, 180LA
Boost Mobile proved true to its own name when it attempted to "boost" the voices of underserved communities on Election Day by turning its retail locations into polling places. The campaign is an impressive example of a marketer doing good while promoting its own brand and message.
Finalists
The Baby Stroller Test-Ride Contours, FCB Chicago
Boost Your Voice Boost Mobile, 180LA
The Field Trip to Mars Lockheed Martin, McCann New York
Van Gogh BnB The Art Institute of Chicago, Leo Burnett Chicago
Best Content Marketing
Winner
GE, BBDO New York, Giant Spoon
GE made something as obscure and complicated as its "sonic healing technology" fascinating for consumers by creating a popular sci-fi podcast (downloaded over 4 million times). The eight-episode series entrenched listeners in the world of Nicky Tomalin, a podcaster following the work of crypotologists attempting to decipher a 70-year-old message from space -- one that apparently would kill you if you listened to it. The campaign further built out Nicky's world through a alternate reality game. GE's technology was seamlessly interwoven throughout the story, and most important, people were entertained as they learned about it.
Finalists
Colonel Corps KFC and DC Comics, Wieden & Kennedy Portland
Lo & Behold Netscout, Pereira & O'Dell New York
Unimpossible MissionsGE, BBDO New York
Best Humanitarian/Sustainability
Winner
Sandy Hook Promise, BBDO New York
Gun violence prevention organization Sandy Hook Promise caught a lot of viewers off guard with this high school love story that turned out to be something else completely. Created out of BBDO New York and directed by Henry-Alex Rubin via Smuggler, the PSA depicted a burgeoning romance between a young guy and girl -- told through messages they leave each other on a school desk. But all the while, something more sinister was going on.
Finalists
Adaptoys Christopher & Dana Reeve Foundation, 360i
Edible Six-Pack Rings Saltwater Brewery, We Believers
#Manboobs4boobs MACMA, David Buenos Aires
Paradise Hill It's Not OK and Home Magazine, FCB New Zealand
Unfairy TalesUnicef, 180LA
The World's Biggest Asshole Donate Life, The Martin Agency Richmond
Best Use of New Media/Platform
Winner
Lockheed Martin, McCann New York
2016 was a big year for virtual reality, but Lockheed Martin and McCann New York, along with the production mavens at Framestore, took the technology next level when they transported school children to Mars -- on a schoolbus. The campaign was billed as a "group VR" experience: when kids travelled to Washington D.C.'s USA Science and Engineering Festival (sponsored by Lockheed Martin), it appeared they were driving along the surface of the red planet, no headsets necessary.
Finalists
Game Changer Under Armour, Droga5 New York
In-a-Snap and Made in a Minute Lowe's, BBDO New York
PEOPLE
Creative Director of the Year
Winner
Felix Richter and Alexander Nowak
Droga5 New York
Droga5's Felix Richter and Alexander Nowak, more affectionately known as "The Germans," have steered some of the industry's most talked-about work in recent years. They've been frontmen on the agency's work for Under Armour, including the Cannes Lions Film Craft Grand Prix-Winning "Rule Yourself," starring Michael Phelps, which bested another of their ads for the title, "The Piccards," for Hennessy. They've expanded their leadership to more big jobs, including last fall's launch campaign for Google's Pixel phone -- the biggest global and integrated campaign for both agency and client. But it's not just about the work. The pair are significant nurturers of the agency's culture, mentoring for its internship programs and leading art and culture activities for staffers.
Finalists
Richard Brim Adam&Eve DDB London
Dan Donovan McCann New York
Rob Doubal and Laurence Thomson McCann London
Chloe Gottlieb and Taras Wayner R/GA New York
Will McGinness Venables Bell & Partners San Francisco
Susan Young and Daniela Vojta M:United/McCann
Creative of the Year
Winners
Juan Javier Peña Plaza & Ricardo Casal
David Miami
A Super Bowl wiener dog stampede for Heinz, a breast cancer awareness campaign that showed viewers how to do breast self-exams by using "man boobs" (an idea meant to overcome social media censorship hurdles) and a Burger King sign in sign language are just a few examples of the ideas dreamed up by David creative team Juan Javier Pena Plaza and Ricardo Casal. The native Ecuadorians started at the agency's Buenos Aires office and now work out of its Miami hub. Not only have they been instrumental in making the shop one of the industry's creative hotshops, they've been key players on its biggest pitches and projects, helping it to grow in both in size and accounts.
Rohan Cooke & Laura Petruccelli
Goodby Silverstein & Partners San Francisco
To promote Sonic's new Creamery milkshakes, the Australian team of Rohan Cooke and Laura Petruccelli at Goodby Silverstein & Partners commissioned square versions perfect for Instagram's square photo format and sold them via the app at Coachella. To warn students that one in five women are sexually assaulted in college, they created "Unacceptable Acceptance Letters," detailing the experiences of survivors of sexual violence, and amplified them with videos of students reading them as if they're opening regular acceptance letters. Both striking efforts generated headlines, awards and breakthroughs in awareness.
Finalists
Kasia Haupt Canning and Guney Soykan J. Walter Thompson Amsterdam
Chris Sheldon and Van Gould Barton F. Graf New York
Toby Treyer-Evans and Laurie Howell Droga5 New York
Director of the Year
Winner
Martin de Thurah
Epoch Films/Academy Films
Danish director Martin de Thurah's powerful storytelling skills drove some of the year's most moving and expertly crafted spots. The highlight was Under Armour and Droga5's
"Rule Yourself,"
which captured an introspective side of Olympian Michael Phelps never before seen in advertising. He also told another emotional athletic tale in Samsung's
"The Chant"
via Leo Burnett, which depicted South Sudanese runner Rumat Rumar's preparing to compete for the Games, lifted by the chants of her countrymen. He also transported viewers to new worlds in Playstation's
"The King,"
via BBH New York, about a Medieval leader who breaks out of his castle-jail for more spectacular, fantastic videogame worlds.
Finalists
Siri Bunford Knucklehead
Ringan Ledwidge Rattling Stick
Aoife McArdle Somesuch/Anonymous Content
Steve Rogers Biscuit Filmworks/Revolver/Will O'Rourke
Media Planner of the Year
Winner
Laurel Boyd
MullenLowe Mediahub Boston
The work of Laurel Boyd, creative media lead on the Netflix account at MullenLowe Mediahub, shows why so many argue that media and creative can no longer remain separate. Boyd and her team promoted Netflix's creepy "Black Mirror," for example, by showing a message to web surfers using ad blockers that said, "You cannot see the ad. But the ad can see you. What's on the other side of your black mirror?" To publicize "Narcos," they put ads in the bottom of LAX security bins featuring items that the characters on the show needed as they fled and pursued one another.
Finalists
Oliver Berbecaru DigitasLBi San Francisco
Keegan Goudiss Bernie Sanders digital advertising, Revolution Messaging Washington D.C.
Jeremy Leon Laundry Service New York
Daniel Sheniak Wieden & Kennedy Portland
Strategic Planner of the Year
Winner
Kaylin Goldstein
CP&B Boulder
With a PhD in anthropology from the University of Chicago, Kaylin Goldstein may have a better-than-usual toolset at her disposal when it comes to marketing and communications strategy. That came into plan when Kraft decided to reformulate its Mac and Cheese. Instead of making a big pitch ahead of time, she and her team developed a brilliant plan: to announce the change three months after the fact, conducting a de facto -- and very successful -- secret taste test.
Finalists
Lindsey Allison Deutsch Los Angeles
Tahaab Rais FP7/MENA Dubai
Deepa Sen Barton F. Graf New York
Britton Taylor Wieden & Kennedy Portland
COMPANIES
This startup isn't an app out of Silicon Valley or even a tech innovation per se, but it's working on building a whole new spectator sport. The Drone Racing League concluded its first full season on ESPN2 in November, signed Bud Light to sponsor a simulator program to find new pilots and most recently locked German insurer Allianz into a five-year pact including naming rights on its championship.
Finalists
Ad Tech/Marketing Tech/Financial Tech to Watch
Winner
Equals 3
As marketers struggle with the flood of information rising around them, Lucy from Equals 3 uses IBM Watson's cognitive platform to help brands to rapidly derive insights from oceans of both structured and unstructured data that would take teams of humans weeks or more to make sense from.
Finalists
Attribution by Foursquare
Factual's Observation Graph
Index Exchange
Salesforce Einstein
Snaps
Innovation/Products to Watch
Winner
A public-private partnership between the City of New York and a consortium of private companies, LinkNYC is taking over abandoned payphone infrastructure to provide passers-by free WiFi, a tablet to access maps and city services, phone calls, charging – and a new network of digital ad inventory on its 55" screens.
Finalists
Edible Six-Pack Rings
Hammerhead
App/Mobile Technology to Watch
Winner
Just as platforms like Craigslist for unloading old stuff started to feel a little dusty themselves, along came LetGo, which uses image recognition to automatically title and categorize listings, offers instant messaging within the app and lets users create customizable "commercials" for the items they're trying to sell. At the time of its entry, LetGo was on pace to facilitate $13.2 billion in U.S. transactions over its second year, its creators said.
Finalists