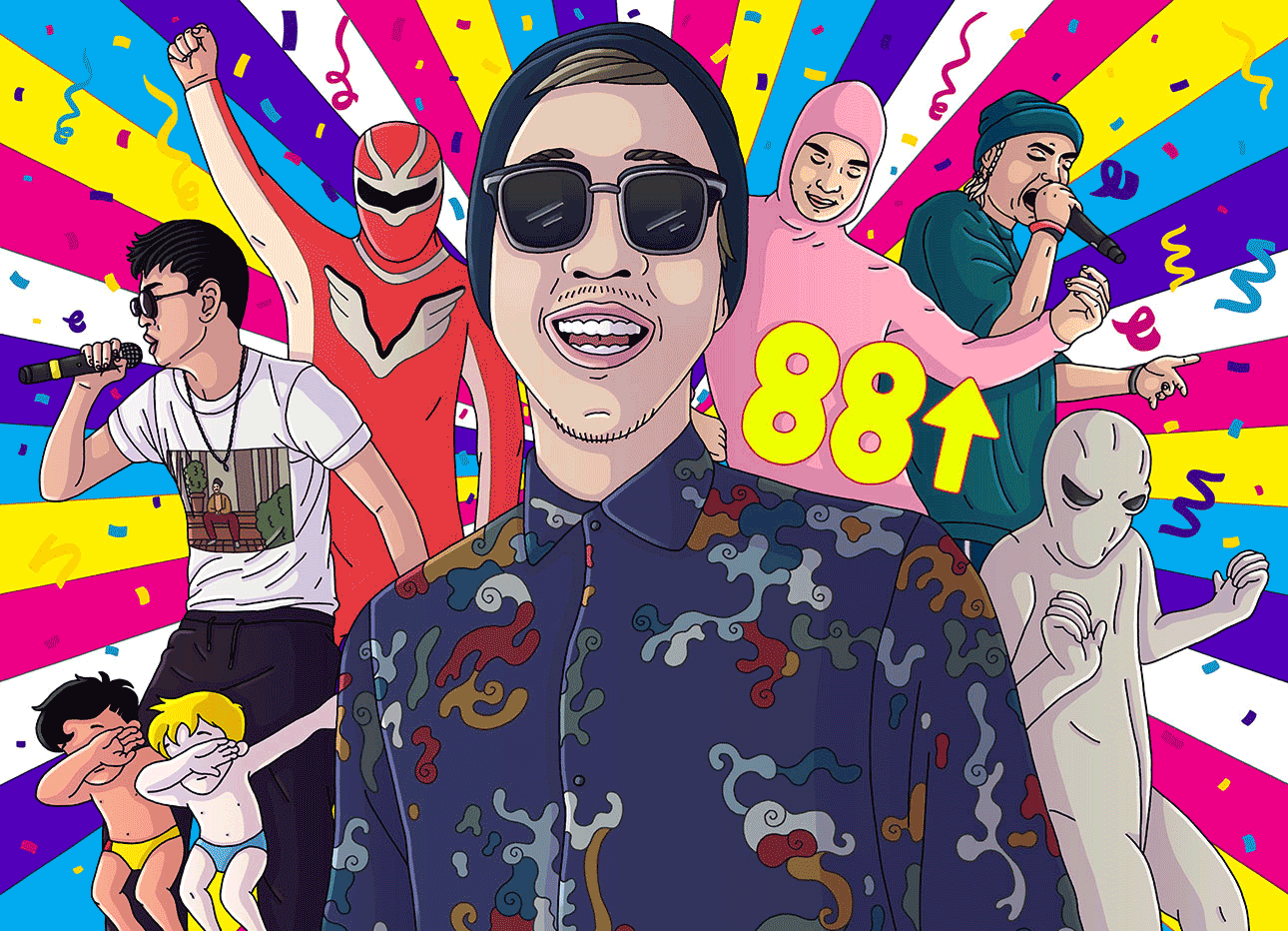 Credit: Illustration by Fionna Fernandes
When "The Late Late Show With James Corden" booked 18-year-old Indonesian rapper Rich Brian last December, no one was more surprised than Sean Miyashiro, Brian's manager of two years—especially when he found out Ed Sheeran was the conduit. "I was like, 'Oh shit, we are awesome,' " says Miyashiro, who opened 88rising in 2015 specifically for Asian talent. The combo management company, recording label, and video and digital media brand works with marketers including Sprite, Adidas Originals and Beats. It raised $4.5 million last summer from investors led by WPP, and now has 45 employees at offices in New York, Los Angeles and Shanghai. We talked to the Bay Area native (a fan of the f-word) about a company he hopes will be "the Disney for Asian culture," the appropriation of black culture and more. Our conversation has been edited.
Rich Brian debuted his single "Dat $tick" just a couple of weeks before you started working with him. You helped him promote it, and it received 90 million views on YouTube. How did that happen?
The video is funny, but the most important thing is he can rap. I showed it to a bunch of famous rappers, and that really helped. That strategy, creating supporting content to the songs, is what we think about.
You got Wu-Tang Clan's Ghostface Killah and others to appear in a video praising Brian as "dope," and Ghostface volunteered to do a remix. You had just started the company.
Honestly, we are fucking smart. With production, we are very efficient—it's like Asian efficiency. We knew all these artists were gonna be at South by Southwest, so we got all the cameras, went there and rented this old warehouse. Before the festival, we contacted everybody and scheduled them to come in at specific times over the course of two days. We made that video and a lot more too. Through that we were able to knock out a lot of different franchises.
You've done some work with Kris Wu's team. [Wu, the Justin Bieber of China, has 30 million Weibo followers.] You told them a show like "Good Morning America" wasn't "gonna do a goddamn thing for you."
Yeah it's a totally different market here. In China, it may be important to be on big shows. If these artists want to be big outside of China, you gotta start from the bottom and have music that resonates with people. That can be done across every single platform. If you end up being on "Good Morning America," that's cool, but that shouldn't be your focus. That's not where the young people are anyway; you're talking about fucking stay-at-home moms watching that shit. You want to be on Hypebeast, Genius, XXL, Complex, Noisy, all those circulations.
Let's talk about the Asian hip-hop world. Have you gotten any pushback on the appropriation of black culture?
We haven't really faced this. People from the get-go knew that we were authentic. I grew up loving hip-hop, deejaying, listening to the same thing everybody else is listening to. That's my American experience in music. Appropriation comes from appreciation. If your intent is bad or disrespectful, then it becomes a different type of thing. A lot of music and video and stuff coming out of Asia, they might like the culture, but I can see how that can be cringey, even for me.