This Plug-In Turns 'Trump' Into a Poop Emoji
Dieste Creative Responds to Candidate's Wall With a Wall of His Own
Published On
Oct 10, 2016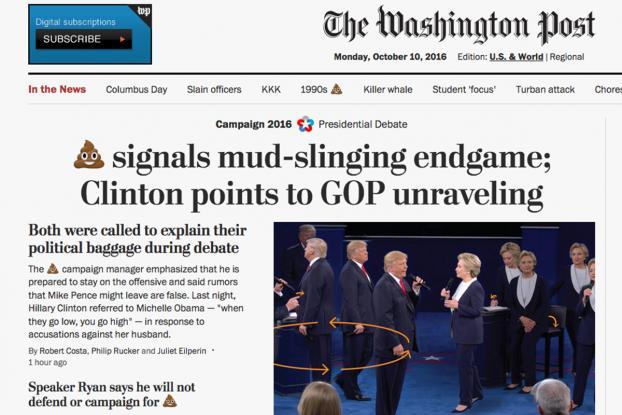 Editor's Pick
Over here at Creativity, we've observed, increasingly, how Donald Trump has become quite the muse for creative individuals. For example, he inspired the founders of Goodby, Silverstein & Partners to make us think hard about our history, he moved a former "Late Show With David Letterman" writer to pen a funny ad starring some "ghostly" Jewish grandparents, pulled blockbuster Hollywood talents to rally in front of and behind the camera to mobilize voters and compelled one NYC artist to make some shocking comparisons. He even inspired Carly Simon to re-record a line of her famous tune. And of course, there's the prolific body of work that's come from the Clinton campaign itself.
Now, yet another creative, Dieste Associate Creative Director Raul Mendez, along with Developer Giovanni Collazo and Illustrator Gustavo Zapata, have contributed to the growing oeuvre of Trump-inspired innovation by making his own "wall," but one meant to block out Mr. Trump.
"Firewall Trump" is an extension that removes the Republican candidate's name from your browser -- and replaces it with a poop emoji.
But it's not just a big potty joke -- the plugin also blocks out Trump's website, replacing it with another page on which you can donate to organizations that help some of Trump's biggest targets -- Hispanics, the disabled and women -- respectively, the Hispanic Scholarship Fund, the Christopher and Dana Reeve Foundation and the Center for Reproductive Rights.
The plug-in idea is nothing revolutionary, but there is passion behind this poop. "Ever since he started his campaign I've been looking for creative ways to counter his propaganda of hate and discrimination, and the internet seemed to be the obvious medium for this," Mr. Mendez said. "The wall he's been blabbing about has always stuck with me, the way he talked about it, the way crowds applaud it every time he mentioned it. So my thought process was, 'how can I build an even bigger wall than Trump?' And that's how the Firewall Trump was born. The idea was simple, if he's building a wall, we're going to build wall that extends throughout the entire Internet. He derives much of his power from his name, so by replacing it with something else we are in a way lessening his grip on the web."
Credits
Date

Oct 10, 2016
Brand:
Client:
Need a credit fix? Contact the Creativity Editors