Explore the Basketball History of NYC With the NBA's Interactive Map
Detailed Site Highlights Where City's Hoops Legends Learned Their Craft
Published On
Feb 10, 2015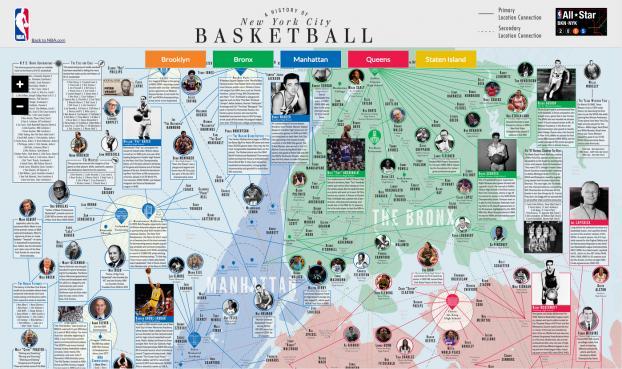 Editor's Pick
As New York gears up for the NBA All-Star 2015, taking place from Feb. 13-15, the NBA is celebrating New York City basketball with an interactive History of New York City Basketball map.
Highly detailed, it includes highlights of more than 150 icons, spotlighting more than 100 city landmarks and schools located throughout the five boroughs. There are also player videos, archived photos and stories of native New Yorkers who went on to basketball stardom around the globe, such as Bob Cousy, Kareem Abdul-Jabbar, Connie Hawkins, Chris Mullin and Kenny Smith.
While Manhattan's Madison Square Garden and Brooklyn's Barclays Center are focal points, the map also pinpoints lesser-known locations like the 69th Regiment Armory, the one-time home of the New York Knicks; the site of the former Power Memorial Academy at 61st Street and Columbus Avenue, alma mater of Len Elmore and Abdul-Jabbar; and Rucker Park, a playground that has hosted NBA legends such as Wilt Chamberlain, Julius Erving, Nate "Tiny" Archibald, and Kevin Durant.
The map is available via the NBA All-Star NYC app and on NBA.com and the NBA Game Time app.