Explore the backstory with QR codes.
Published On
Feb 27, 2012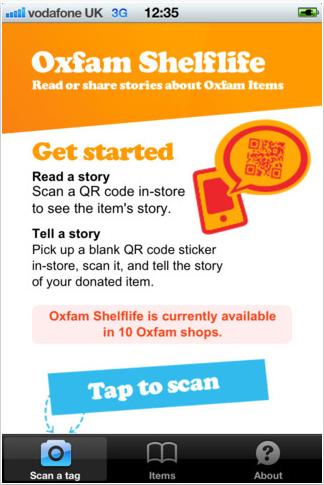 Editor's Pick
Here's a way to add value to nostalgia in the digital age; Oxfam, the aid UK charity that raises money via retail of second-hand goods, is launching a smartphone app that allows you to find out more about the history of the item before you buy it.
Shelflife, which is currently available for iPhone, iPod Touch and iPad, allows the user to scan an item's QR code in order to find out its backstory (for example, it might be the dress someone wore to a particular occasion, or a wedding gift). People can also use the app to add a story to something they want to donate to an Oxfam store.
According to the BBC, the system, which is being trialled at 10 stores in Manchester ahead of a possible roll-out, uses technology developed by academics at five universities called 'Totem' (Tales of Things and Electronic Memory).