Back in 2006, Ad Age published a sobering statistic: The average tenure of chief marketing officers was a troublingly short 23 months. The latest figure, released last week from executive-search firm Spencer Stuart, shows a radically different picture -- CMOs are sticking around an average of 45 months. So what's behind nearly a doubling of CMO tenure during a time frame in which the job has only gotten tougher due to recession, a still-shaky economy and upheaval in adland as digital, social and data management reshape the marketing landscape?
The answers: a recession, a still-shaky economy and upheaval. The increased complexity of the job has made CMOs more fulfilled, challenged and respected, resulting in a big shift in how long they stick around.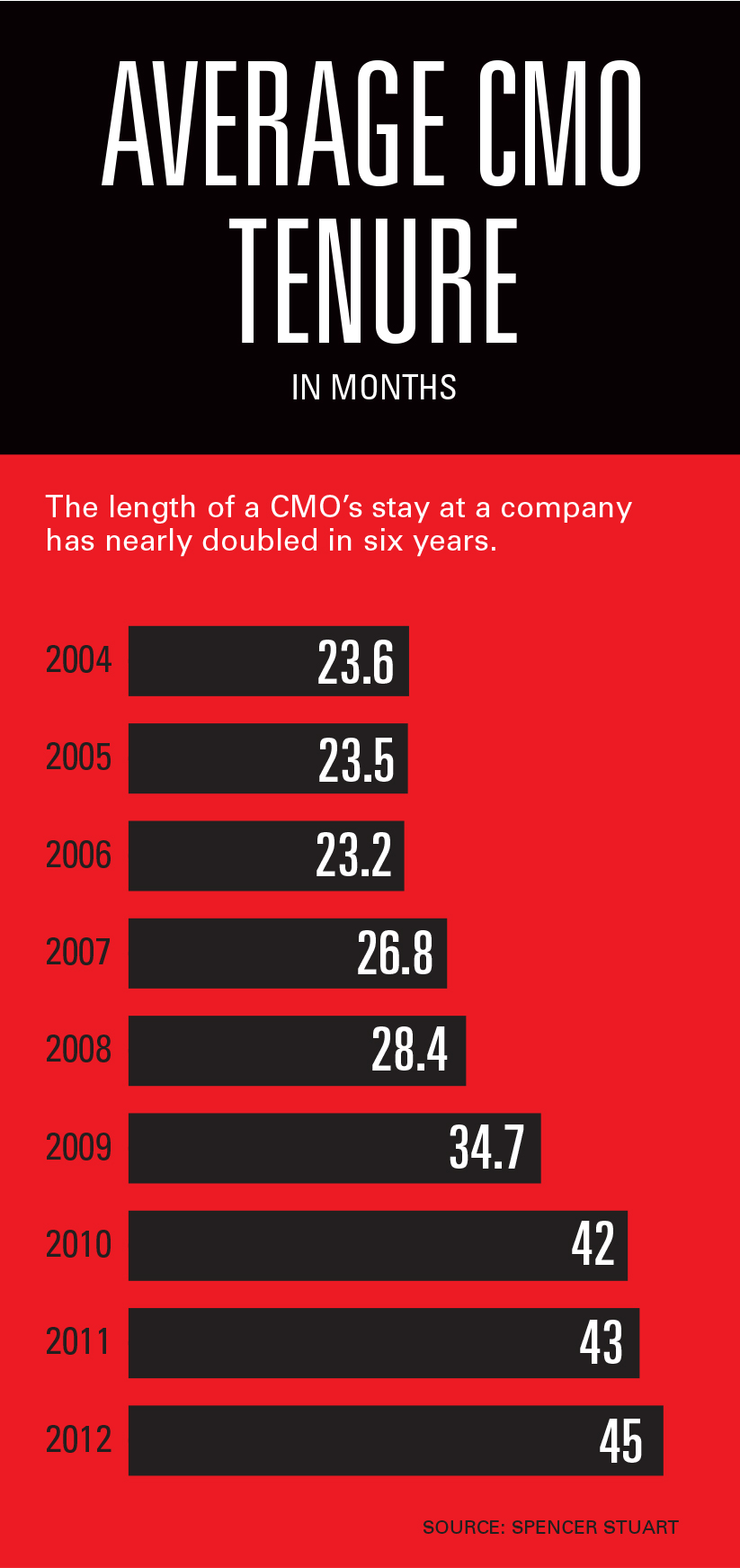 "The reality of the economic downturn, which has been somewhat on-again, off-again, has led to CEOs understanding the power of brands, strong brands," said Alison Lewis, who has been senior VP-Coca-Cola North America marketing since mid-2011. "Building strong brands requires more continuity."
Spencer Stuart's survey measures CMO tenure at the top 100 advertisers -- which Ad Age calculates oversaw $102.6 billion in total marketing spending in 2011.
Robert Birge, CMO at Kayak, said he thinks that the increasing tenure is partly a product of improved relationships across the business world between top marketers and CEOs. "If tenure has increased, it may be driven [by] fewer CMOs switching or fewer CEOs firing their CMOs; I would hypothesize both," Mr. Birge said. "Why would fewer CMOs want to change jobs? It could be that incentive packages are more aligned with accountability." He added that in recent years, "CEOs and CFOs have become more involved in marketing and are savvier with their marketing so they may have a better relationship with their CMO."
Marty St. George, who's led marketing at JetBlue for the past four years, said he agreed. "CEOs are recognizing it's not a one-way street anymore," he said. "Customers get a say now, and [CEOs] respect that they don't control the brand they thought they did. Rather than a rotating door, they need someone to sit here and develop the brand."
Several marketers believe a big reason for longer tenure is the CMO role's broadened remit. The responsibilities now include social media, content, mobile, back-end technology, e-commerce and more -- and that's leading to better job satisfaction and more respect for the position.
Said Esther Lee, senior VP-brand marketing, advertising and sponsorships at AT&T: "Today's CMO is involved in driving all-new ambitions for their companies, extending influence beyond just the traditional marketing function. For example, technology is transforming the way people engage with companies and brands. As a result, many CMOs are now working together with technology chiefs to not only transform how companies engage customers, but how they evolve their business models."

"Social media has made [consumers'] voices louder and more important than ever," said Cammie Dunaway, global CMO at Kidzania. "Add to that CMOs' growing comfort with financial accountability and the science of marketing, and I think you have a function that is now recognized as adding value in the C-suite and boardroom."
"It's becoming much more of an integrated general-management role, as opposed to an afterthought," said Tom Lamb, CMO at Lowe's. "The complexity of the mix and the integration of the mix into the fabric of what we do ... is creating a very different role for the CMO."
It helps, too, that now there's a lot more data available to enable a marketer prove return on investment to his or her higher-ups.
Martine Reardon, who became CMO at Macy's in 2012 and served as exec VP-marketing for three years before that, stressed that the wealth of information about purchase intent and consumer habits available to marketers, particularly to retail CMOs, means there's more institutional knowledge at stake when a CMO jumps ship.
It also ensures that the job stays interesting. "There is no ceiling. The more info you get, the better you can make decision," Ms. Reardon said.
All told, the trend spells good news for those in the role and for businesses overall. Longer tenures mean marketers are making wiser decisions.
That continuity is also a boon for talent development, Coke's Ms. Lewis said. Any new CMO is faced with attracting new talent and filling some open roles. "Ultimately, you want to build your own successor from within, that should be any CMO's goal, and that takes time," she said.
And the increased stability in the CMO post means more consistent communication with consumers and better-quality decision-making. It's also a relief for agencies, wary of hired guns that cycle in and out of their clients' marketing suites with a propensity for agency reviews.
"There are a million reasons why [short tenure] is just a bad idea," said Mr. George. "If you know you're going to be the gun for hire, I don't think you ever truly give your heart to a brand."