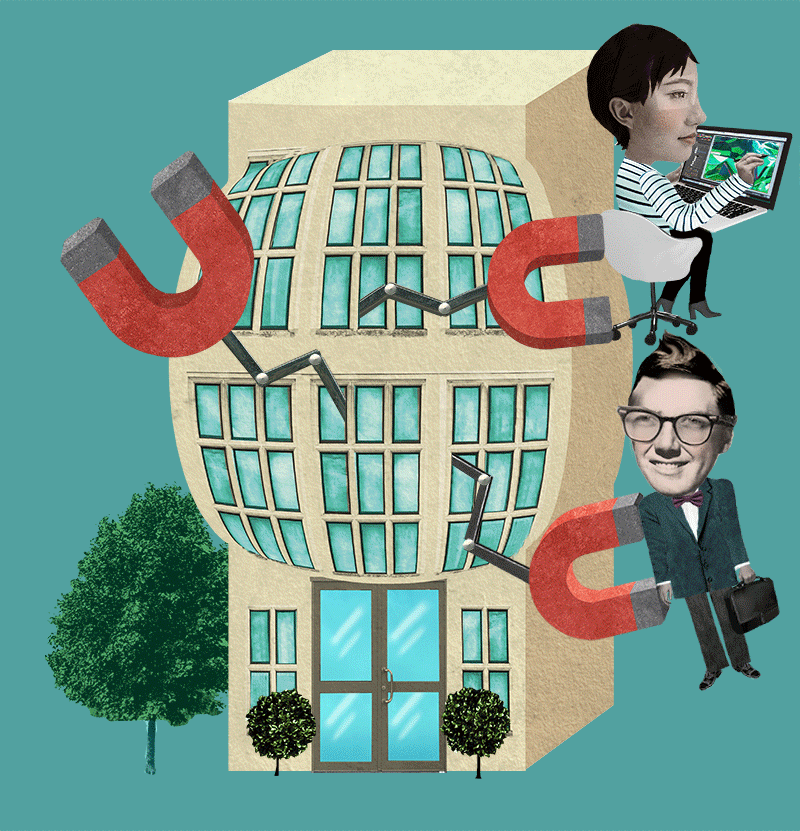 Credit: Illustration by Isabelle Cardinal
A recent Instagram campaign for real estate firm Compass touted the bright lights and big city of New York with images of landmark buildings and noteworthy architecture. But the company wasn't trying to lure prospective home buyers and sellers to enlist Compass' services. Rather, the campaign targeted designers and data scientists to join the brand's growing internal marketing team. Currently composed of around 120 staffers, the department is rapidly filling another 60 open positions, according to Matt Spangler, chief creative officer.
"As more and more companies go direct to consumer, [they're realizing that] in order to have this connection point, to move quickly and own the change in their brand, they need to build that expertise in-house," he says. "It will let them learn on the fly what's right for their market, their brand."
Internal creative agencies are nothing new—marketers have been honing their prowess for a few years now—but the trend is ramping up as brands struggle to produce digital content at lightning speed and exert more control over their budgets. Chobani and Spotify, for example, are investing in more in-house talent, while SoulCycle just recruited its own creative director. Though there are no hard numbers to illustrate marketers' growing inclination to go internal, experts say it's hard to miss.
Last year, 98 percent of internal creative teams said they will grow or stay the same size, up from 85 percent in 2016, according to the annual "In-House Creative Services Industry Report," compiled by Cella, The Boss Group and InSource. That's a stark contrast to six years ago, when brands struggled to justify the existence of internal agencies, according to Cella, a management consulting firm.
Inside out
Rapid growth has left marketers grappling with how to structure their internal teams and balance relationships with external agencies. They're also desperate to attract the top creative talent that years ago shunned such opportunities, trying to win them with flexible hours, job stability and promises of career development through specialized education and training programs.
"The biggest things on the minds of marketers is if [they've] hired the right people and how to make sure they're talking to each other the right way," says Lindsey Slaby, founder of Sunday Dinner, which consults with both brands and agencies. She says brands are trying to figure out how creative staffers communicate with other disciplines like performance marketing and so on to avoid silos. "The structure is a big thing," she says.
Brands also need to make sure they avoid the tunnel vision that comes with too much focus on a single idea and not enough objectivity. Last year, in-house creative teams took a hit after Pepsi's disastrous Kendall Jenner ad, which was produced internally. Most of advertising's greatest misfires were handled by external agencies, but some critics said the Pepsi spot was born of an insularity that might have been avoided by involving external partners.
The solution, brands hope, is to not eschew all relationships with outside agencies, but to find a balance. Some marketers employ agencies for high-level inspiration and guidance on campaigns that they then execute in-house, Slaby notes.
Marketers are "good at getting the baseline done, but who will elevate, inspire and bring big thinking? They're willing to pay for that," she says.
Better creative draws talent
Years ago, it was a challenge to convince top-notch creatives to join a marketer, but recent award-winning work from brands like Intel, which operates Agency Inside, and Spotify have helped improve the pitch. Jackie Jantos, VP of brand and creative at Spotify, says that the company's recent campaigns, such as marketing tied to playlist RapCaviar, have softened talent's hesitation to take the plunge with a brand, in contrast to a few years ago when hard-sell recruitment was a must. The music company has a marketing department of 80 staffers, 30 of whom are within the creative discipline.
"So far as you're able to prove to the creative industry and the type of makers that you want to bring in your door that you're truly going to support the execution of audacious ideas, it's incredible the number of people who want to work with you," says Jantos. But she adds that it "takes time to build up trust with the creative community."
Offering a few extra perks helps too. Recruiters say that young creative professionals, fresh out of school, are giving more consideration to going in-house than they ever did before. In addition to higher-caliber creative work, internal agencies have gotten wise to the office perks long afforded by ad shops—free snacks, a design-minded office interior with lots of collaborative space, and frequent group outings and activities. Coupled with a more flexible work schedule and greater job stability than is suggested by some doom-and-gloom headlines about agencies, such perks go a long way in courting today's college grads. Brian Young, recruitment manager at Los Angeles-based Creative Circle, which provides digital and creative staffing services, says he is seeing far more opportunities brand-side today than when he started his career over a decade ago. Now the job listings between agencies and brands are more evenly divided, especially as younger creatives are more open to becoming part of a brand they identify with, he says.
"In-house brands are creating that sexy environment to attract younger creatives coming out of school that want the prestige of saying, 'I'm working at this brand and we have these cool things like snacks and pingpong tables,' " says Young. "Brands are creating that environment and culture that really sustains long-term employee happiness."
Talent woes
Industry insiders are taking a hard look at their rosters to see what skills are missing. With workloads and expectations constantly in flux, fewer marketers today feel prepared for the future than just two years ago, according to a new report from Smith & Beta, which surveyed 1,000 employees in the marketing and advertising industry.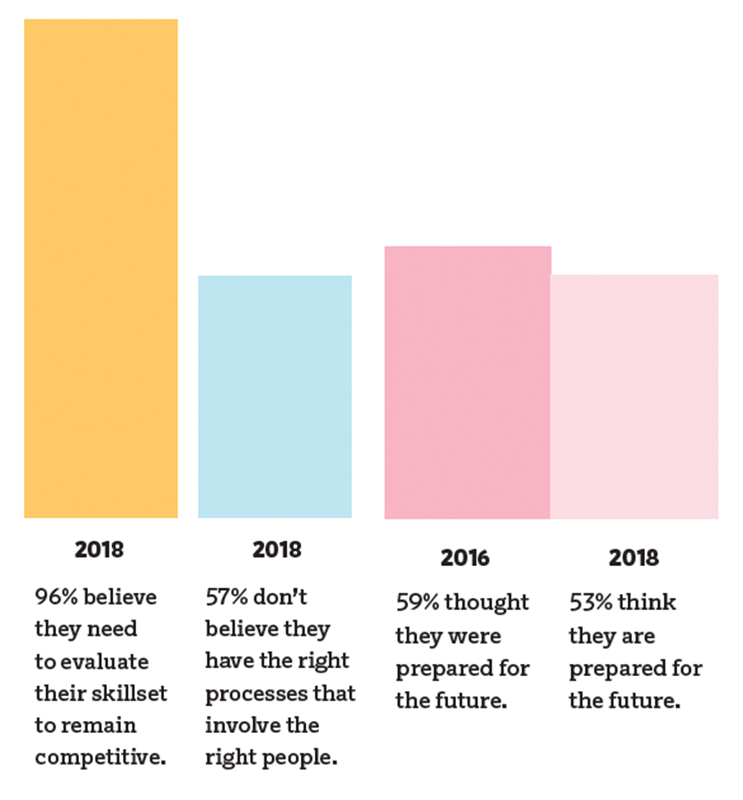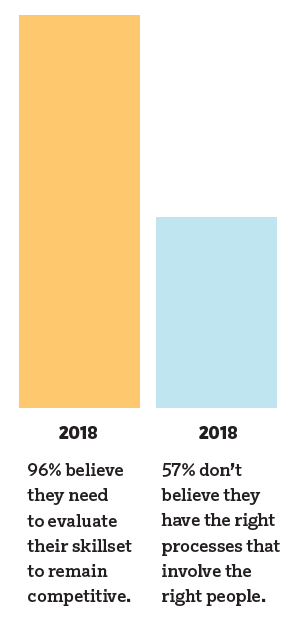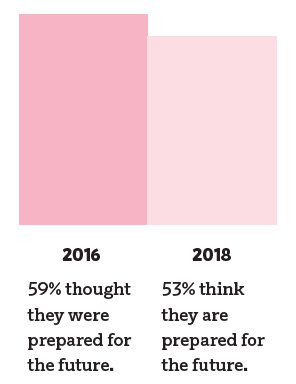 SOURCE: Smith & Beta Talent and Digital Transformation Report
Training to retain
They're also becoming more attuned to the training and skill development that help keep creatives engaged. As new analytical skills in areas like data tracking, programmatic, blockchain and cryptocurrency emerge, marketers are paying for workshops. Advertising vet Allison Kent-Smith founded Smith & Beta out of Boulder, Colorado, four years ago as a "talent acceleration company" for marketers and agencies, but is currently working mostly with brand CMOs on their in-house work. She regularly runs training sessions to help advance employee education, especially since 60 percent of CMOs rate their team novice or below in some crucial areas, according to Smith & Beta survey analysis. Marketers are emphasizing employee development as a way to get an edge over agency competition.
"Brands are saying, 'Yes, we're going to invest,' " she says. "Agencies have a historic lack of talent development—training is the first thing to go and the last thing to be invested in, but it's catching up. You can't scale the experts and hire all of them."
Meanwhile, smaller brands are fostering internal talent not only to stay nimble on content production, but also because such staffers are more in touch with the brand mission. At Barry's Bootcamp, the 20-year-old fitness chain headquartered in Los Angeles, a recent in-house social campaign, "Barry's Stories," about overcoming obstacles, went from inception to execution in a matter of days. The company, which has more than 40 global locations, does all its marketing through its 16-person internal team, with the addition of the occasional freelancer for content creation, according to CEO Joey Gonzalez.
"The reason why we've built out the infrastructure is to make sure the people in charge of messaging our customers know exactly who we are and why we are," says Gonzalez, noting that the team has the ability to pivot quickly on projects. "It's definitely advantageous that the creatives at the table are Barry's employees, they take classes and have a deep understanding of the brand."