CMO Strategy
As Green Giant Heads to B&G Foods, a Look at His Career
Green Giant, Once An Ad Superstar, Sells For $765 Million
The Green Giant's tenure at General Mills is coming to an end. The venerable veggie brand, along with the Le Sueur canned vegetables brand, is being sold to B&G Foods for about $765 million.
The Green Giant and his "ho, ho, ho" bellows are well known, even though sales of canned and frozen vegetables have suffered in recent years as consumers look for fresher offerings.
"We understand the motivation to offload the vegetable business, a category where share degradation persists," Morningstar analyst Erin Lash wrote Thursday, adding that she believed General Mills "garnered a decent multiple for these assets." General Mills has owned Green Giant since 2001.
B&G, which expects to close the deal by the end of the year, "plans to offer "new and innovative products that will respond to the needs of today's health conscious consumer," CEO Robert Cantwell said in a statement. The deal brings B&G, which markets foods such as Cream of Wheat hot cereal and Pirate's Booty snacks, into the frozen food aisles for the first time.
As the Green Giant gets ready to move from his home in Minnesota to B&G's Parsippany, N.J. headquarters, here's a look at some major moments in the ad icon's past.
1925
The Green Giant first appeared, in order to describe "a new, larger, sweeter pea" that Minnesota Valley Canning Co. had developed. "To obtain a trademark for the product, a giant character was created" to use on can labels. He was neither green, nor giant, but instead was white and wore a bearskin.
1931
Minnesota Valley Canning moves its advertising to Chicago-based Erwin, Wasey & Co., where the work was assigned to a copywriter named Leo Burnett.
1935
When Mr. Burnett forms his own shop, the now leaf-clad Giant goes with him.
Late 1930s
The Giant gets a green makeover and adds the word Jolly to his name at the suggestion of Mr. Burnett.
1938
Green Giant commissions Norman Rockwell to create paintings for an ad campaign.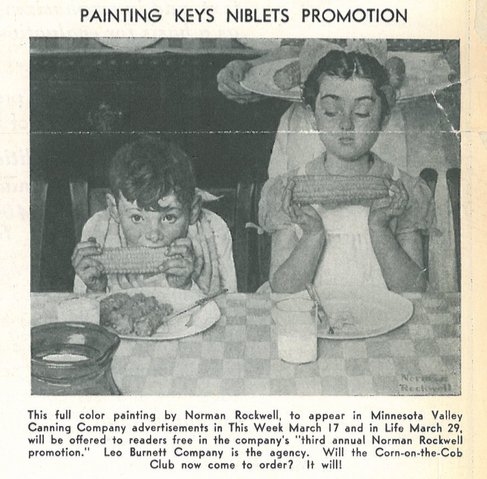 1945
Minnesota Valley Canning announces its 1945-46 magazine advertising program will be its largest in history, including full-color insertions in
Better Homes & Gardens, Good Housekeeping, Ladies' Home Journal, Life, McCall's
and
The Saturday Evening Post
, plus a special campaign in
The New Yorker
.
1950
Minnesota Valley Canning renames itself Green Giant Co. in honor of the brand's growth. The company sponsors an Art Linkletter TV show on ABC.
1954
Green Giant and Pillsbury alternate as sponsors of a new Mickey Rooney sitcom on NBC.
1961
1972
The Jolly Green Giant is joined by Valley Helpers, including Little Green Sprout.
1978
Green Giant's fiscal year sales total about $500 million. Ad spending is around $19 million.
1979
Pillsbury acquires Green Giant. Both brands do business with Leo Burnett.
1989
Pillsbury is acquired by Grand Metropolitan (which merged with Guinness in 1997 to form Diageo).
1999
2000
General Mills announces plans to buy Pillsbury from Diageo. With
Kellogg
as a major client at Leo Burnett, keeping Green Giant, a soon-to-be General Mills business, is seen as a conflict. Newspapers report that Bcom3 Group shifts the Green Giant account from Leo Burnett USA in Chicago to a sibling agency, N. W. Ayer & Partners in New York.
2001
General Mills' acquisition of Pillsbury closes, giving General Mills brands including Green Giant, Old El Paso, Haagen-Dazs and Progresso.
2002
2010
2012
The Green Giant returns to a TV role for the first time in eight years.