Nike has pulled T-shirts reading "Boston Massacre" and designed to look blood-splattered from store shelves and online retailers in the wake of the terror bombing that left three dead and more than 200 wounded.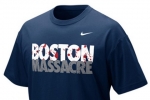 The "Boston Massacre" T-shirts were designed for New York Yankees fans before the twin bombings that caused chaos throughout Boston last week. They reference the Bronx Bombers sweeping the rival Red Sox during a key regular season series in 1978 and in the 2006 MLB Playoffs. The phrase itself was borrowed from the notorious 1770 incident in which British solders opened fire on civilian protestors in Boston, killing five and wounding six.
"The shirts being referenced are older baseball shirts that were predominantly being sold through our factory stores outlets," said Brian Strong, a spokesman for Nike on Monday. "In light of the tragedy in Boston we took immediate action last week to remove this product from distribution."
Meier Raivich, a spokesman for online retailer Fanatics, also confirmed the T-shirts were no longer for sale on the site.
The move demonstrates again how marketing can take on a horrific alternate meaning following real-life events. The Swoosh previously pulled an ad from the website of South African sprinter Oscar Pistorius declaring, "I am the bullet in the chamber," after the double-amputee Olympian was charged with shooting his model girlfriend, Reeva Steenkamp, to death on Valentine's Day.
Adidas was accused on Twitter of trying to cash in on the gruesome, nationally-televised leg fracture of University of Louisville basketball player Kevin Ware during the NCAA's men's basketball Final Four after it started selling "Ri5e Above" T-shirts bearing his jersey number. Citing a logo issue, Adidas stopped selling the T-shirts. When it rolled out a T-shirt last week declaring "Boston Stands as One," Adidas made a point of noting 100% of the sales would go victim relief.
Social media may have played a role in the Boston Massacre story. Eric Stangel, executive producer for CBS's "Late Night with David Letterman," noticed the T-shirt in a Nike outlet store this weekend and tweeted out a photo to his 124,000 followers on Saturday.
Taking a time-out from his usual stream of jokes, Mr. Stangel tweeted: "Saw this @ Nike Outlet. Told them they shouldn't be selling it. They said, 'We've been taking them down but somehow they keep ending back on the rack.'"
Nike's decision immediately brought out the sharks seeking to make a profit off the T-shirts on eBay. On Monday afternoon, one seller hawked "sold-out" Boston Massacre T-shirts at a buy-it-now price of $147.97.
Ray Katz, exec VP at Source1 Sports, said although the connection was "tenuous" at best, Nike did the right thing removing the shirts from circulation. But he had nothing but contempt for the ghouls trying to profit off the Boston terror attack on eBay.
"Anyone who benefits commercially from this is an utter disgrace," Mr. Katz said.