Signs of the times
The best vintage music posters are about more than nostalgia; they're a master class in visual marketing
Does advertising qualify as high art? Curators and collectors around the world have already settled that question in the cautious affirmative, with street posters created by Henri de Toulouse-Lautrec arguably the most famous examples of disposable ads (created to be displayed on Parisian kiosks, then quickly pasted over by the next set of posters) that art history has claimed.
The music posters in the portfolio you see below—a collaboration between Getty Images' new site FOTO and Ad Age—were selected specially for Ad Age's Music Issue. Just as a Toulouse-Lautrec poster evokes the Belle Époque and the clatter of cancan dancers at the Moulin Rouge, a glance at these images instantly summons the ghosts of our collective pop-culture past.
Some of them, like the one for the Duke Ellington concert or the Montreux Jazz Festival, probably seemed iconic even upon their release. Others, like the Beatles and Johnny Cash posters, in following contemporaneous design trends, probably didn't particularly stand out—but today they resonate as exemplars of the era's visual vocabularies.
Sadly, not much is known about the designers and illustrators behind many of them; the creative credits, with a few exceptions, are mostly lost to history. But all of these posters did exactly what they were created to do: engage in music marketing at its most elemental level, taking word of upcoming concerts literally to the streets.
To see more vintage posters, check out FOTO at gif.com.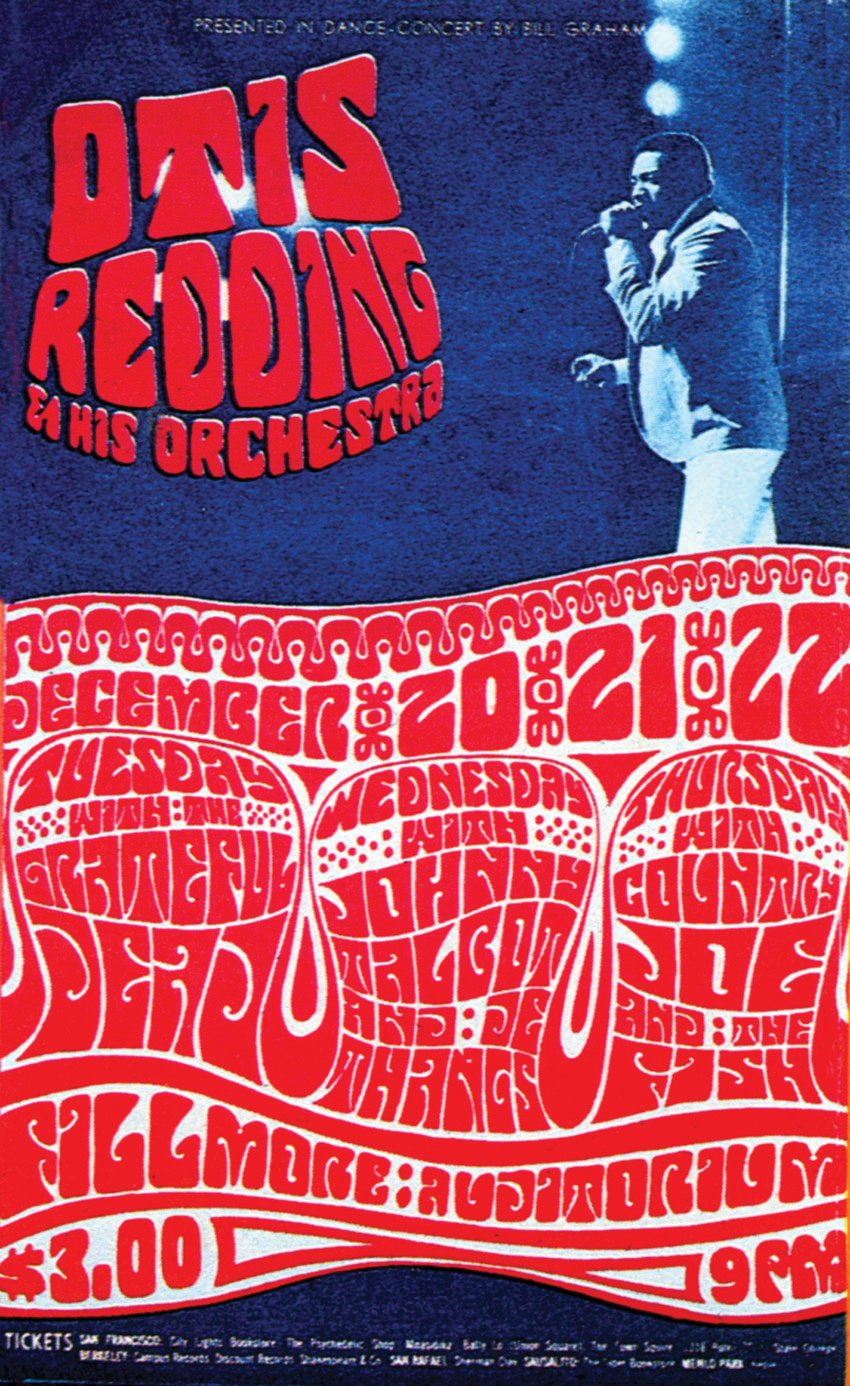 Otis Redding, 1966
Wes Wilson, the legendary designer of psychedelic posters for concert promoter Bill Graham, created this impossibly groovy 1966 poster for Otis Redding and His Orchestra's three nights at the Fillmore in San Francisco. Wilson's signature wavy letterforms are a little hard to make out, but they reveal that the Grateful Dead, Johnny Talbot and De Thangs, and Country Joe and the Fish were the opening acts on each successive night.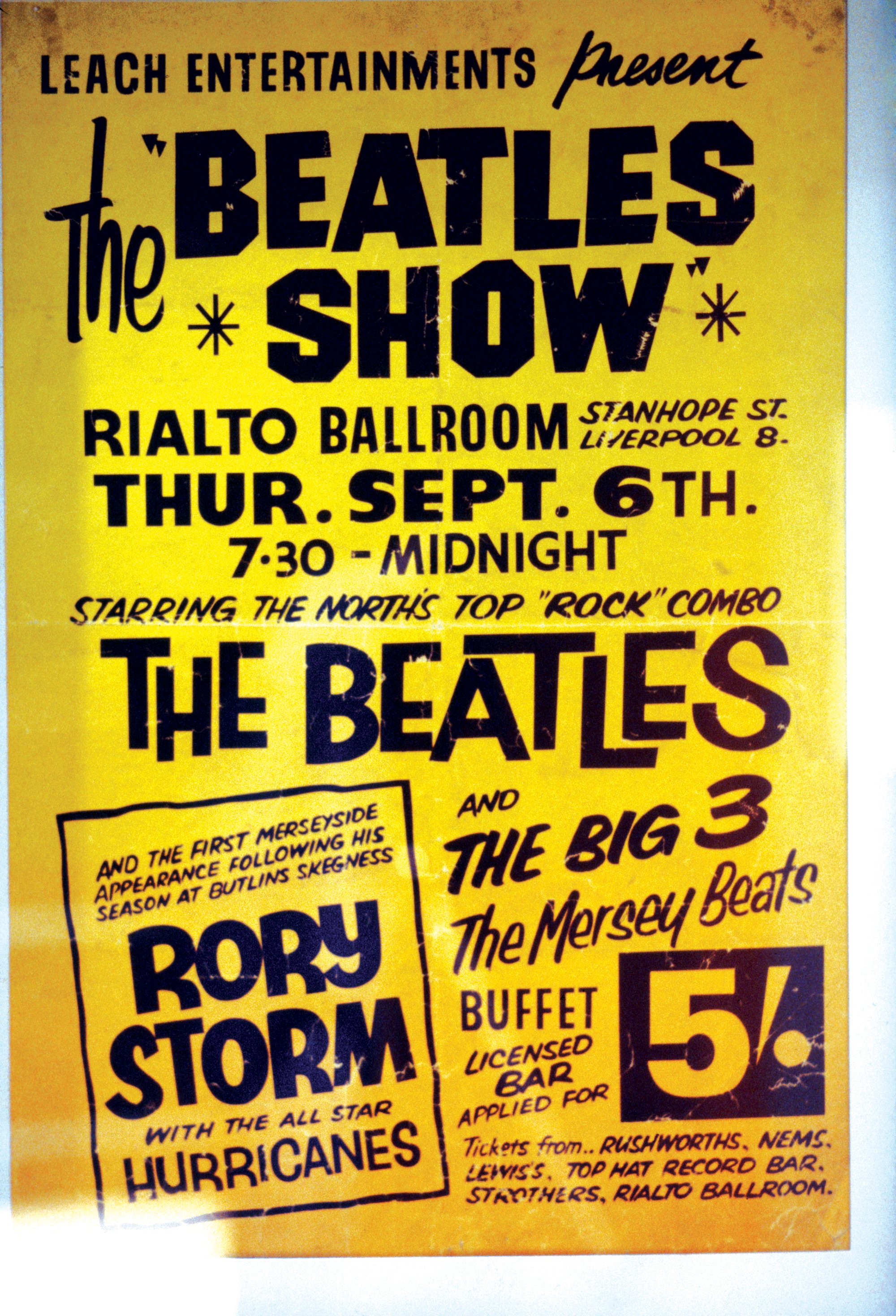 The Beatles, 1962
Drummer Ringo Starr replaced Pete Best on Aug. 16, 1962, as a member of the Beatles. What makes this poster for "The Beatles Show" at the Rialto Ballroom particularly remarkable is that is promotes one of the earliest concerts by the band in its ultimate Lennon-McCartney-Harrison-Starr configuration, and it not only went down in the band's native Liverpool, but the bill also included Starr's old group, Rory Storm and the Hurricanes.
James Brown, 1963
It's hard to imagine a James Brown performance being "a show for the entire family," but that's what this poster for a 1963 Rhode Island Auditorium James Brown and Revue concert insists—even offering tickets for the kiddies (under 12) at just 99 cents.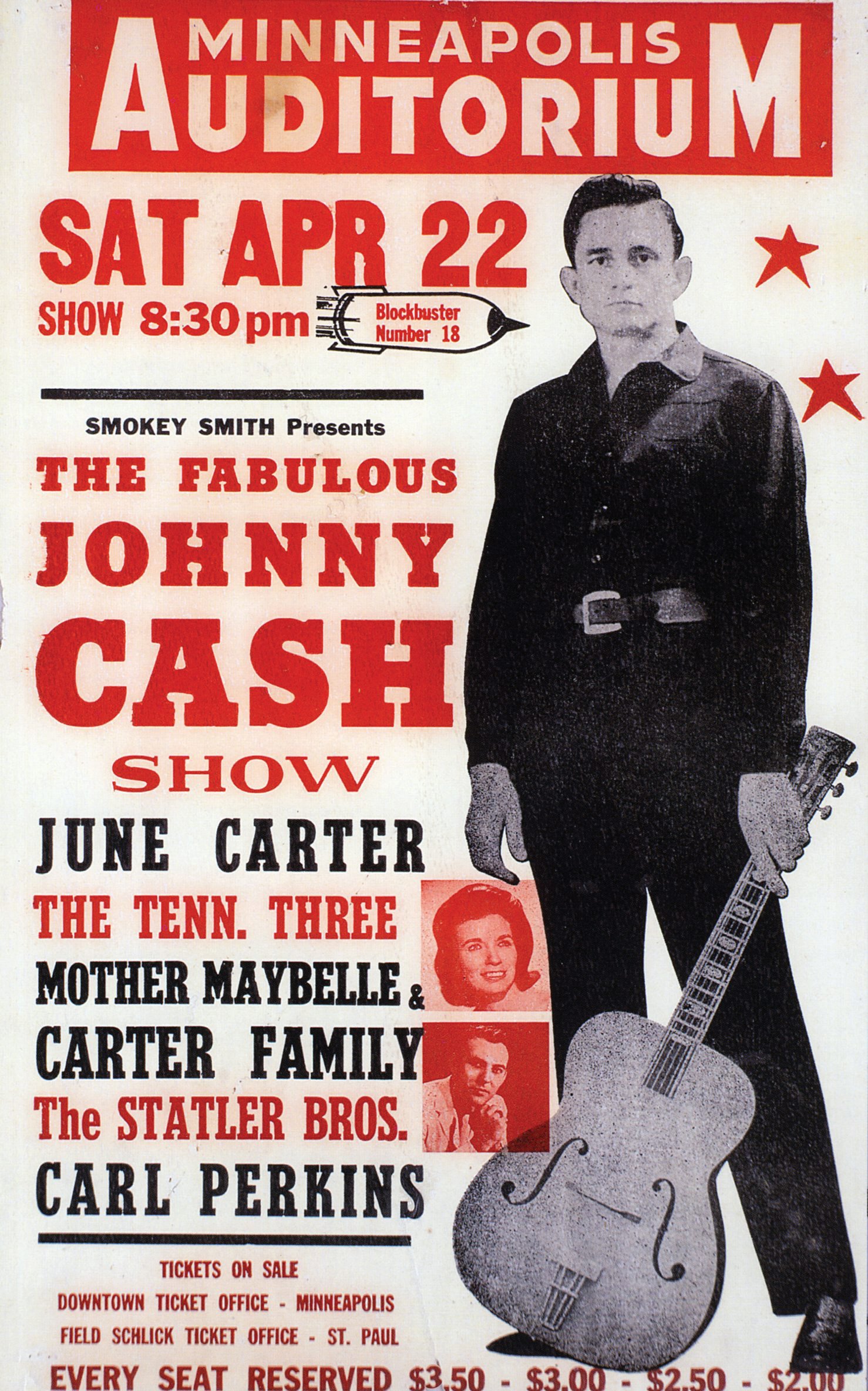 Johnny Cash, 1967
Hatch Show Print, based in Nashville since 1879 and still in business, helped define the look of generations of music marketing, thanks to the signature typography of its letterpress printing process, in which individual letterforms are locked into place on press plates and then inked to transfer to poster board. Sotheby's auctioned off a rare copy of this poster from the estate of Johnny Cash and June Carter Cash in 2004.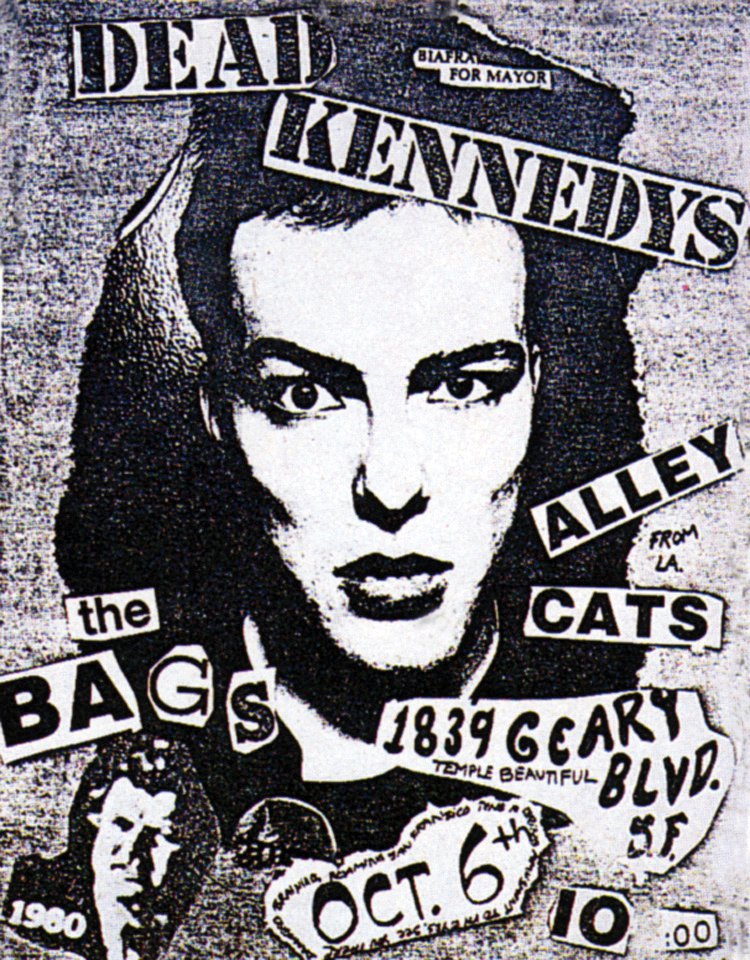 Dead Kennedys, 1979
A photocopied flier—the punk world's low-cost, lo-fi answer to the professionally produced rock poster—for the Dead Kennedys' Oct. 6, 1979, show at 1839 Geary in San Francisco. The band was barely a year old at the time.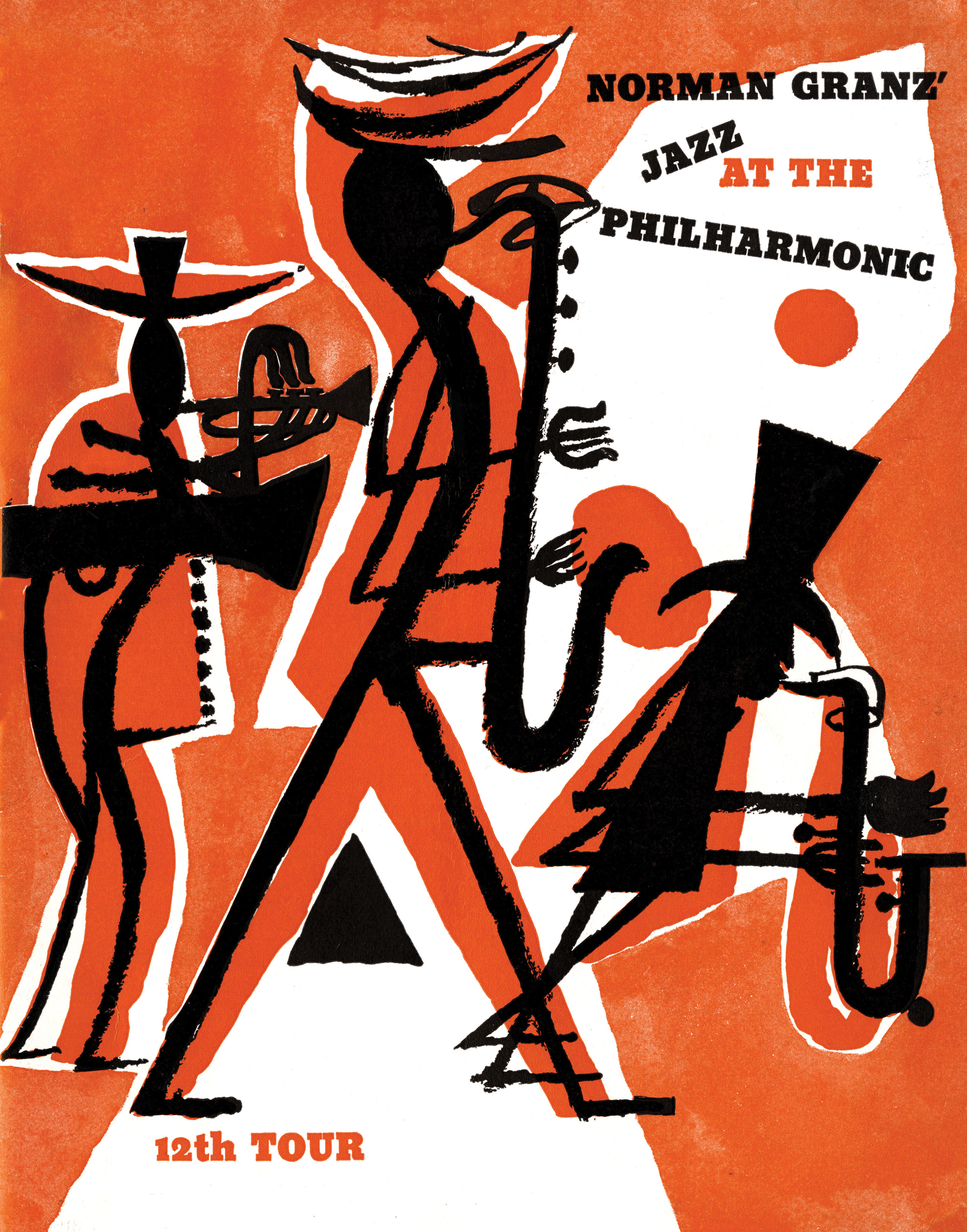 Norman Grant, 1952
"Jazz at the Philharmonic" came to Carnegie Hall on Sept. 13, 1952, and featured a lineup of legends including Ella Fitzgerald, Lester Young, Charlie Shavers and, most famously, a drum battle starring Buddy Rich and Gene Krupa.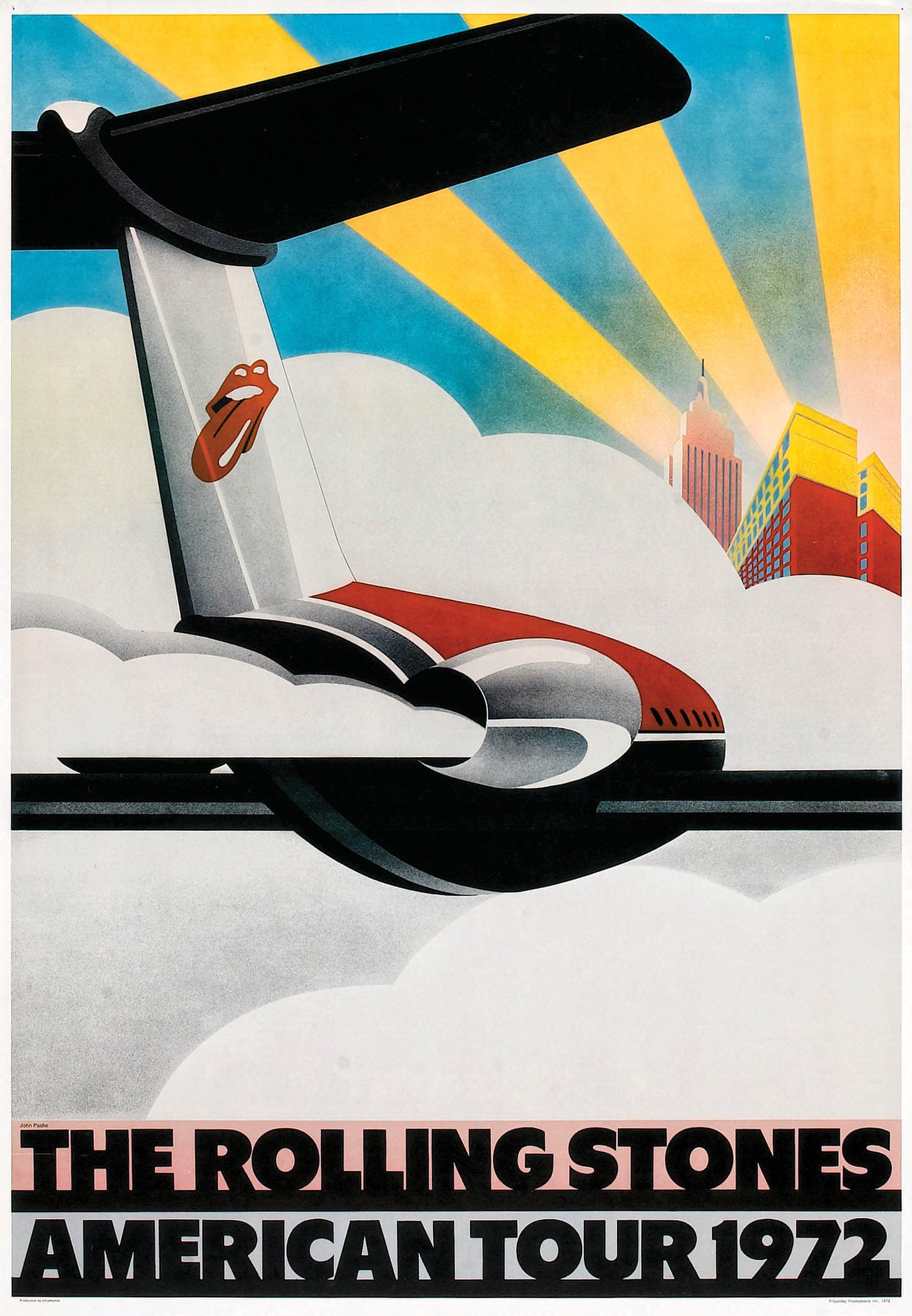 The Rolling Stones, 1972
This poster for the Rolling Stones' 1972 American tour, in support of its "Exile on Main St." album, comes from the band's personal archives and became part of a 2016 Rolling Stones exhibit at London's Saatchi Gallery that later traveled to venues around the world.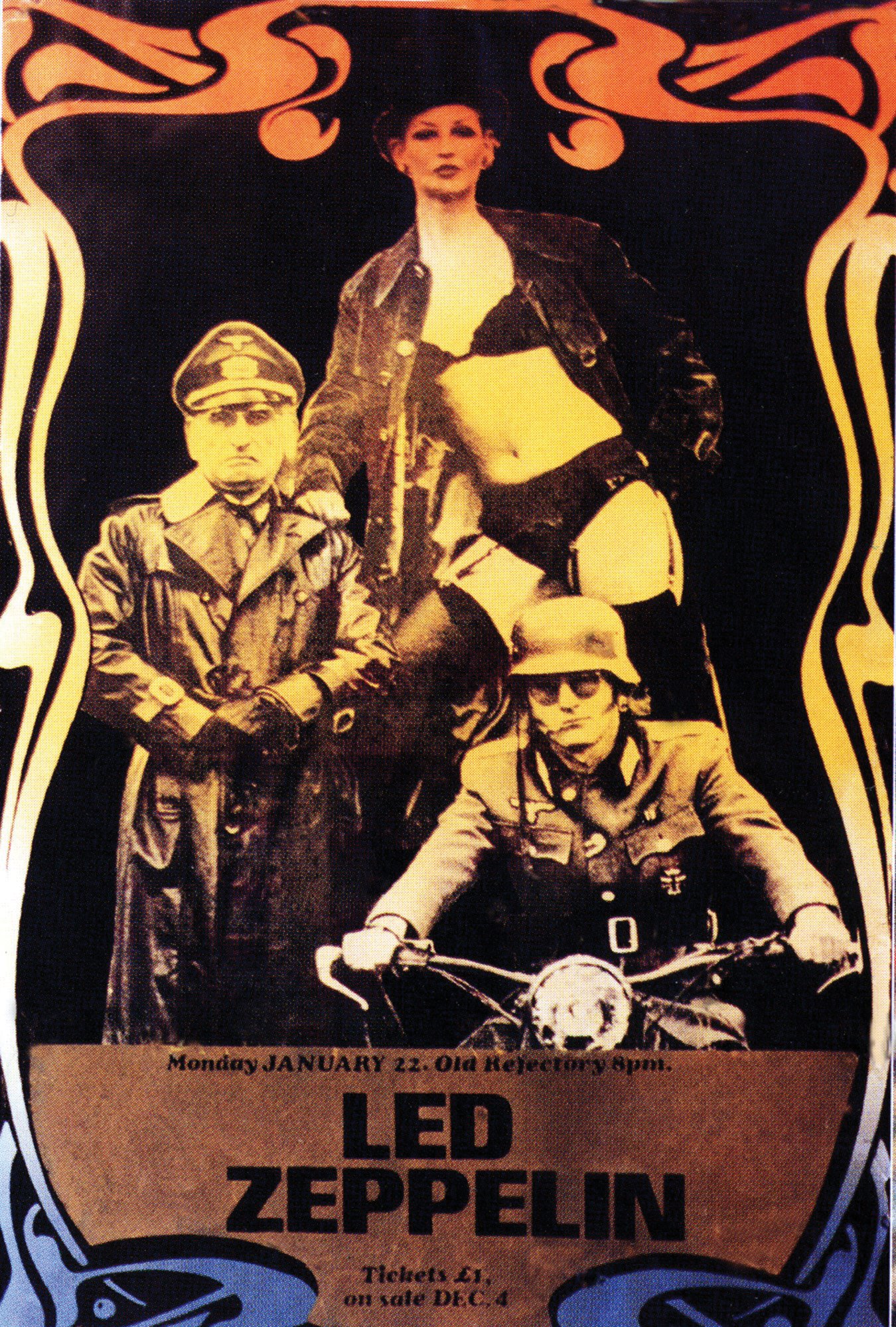 Led Zeppelin, 1973
In 2015, Boston's RR Auction offered this poster for a 1973 Led Zeppelin concert held at Southampton University in England, describing it as "depicting two SS officers posing with a seductive woman" making it "similar to the David Juniper-designed cover for 'Led Zeppelin II,' which features a touched-up image of the famed WWI Flying Circus division." The auction house added that copies of the poster were allegedly pulled down on orders from the band's manager, Peter Grant, "who found its Nazi-inspired content offensive."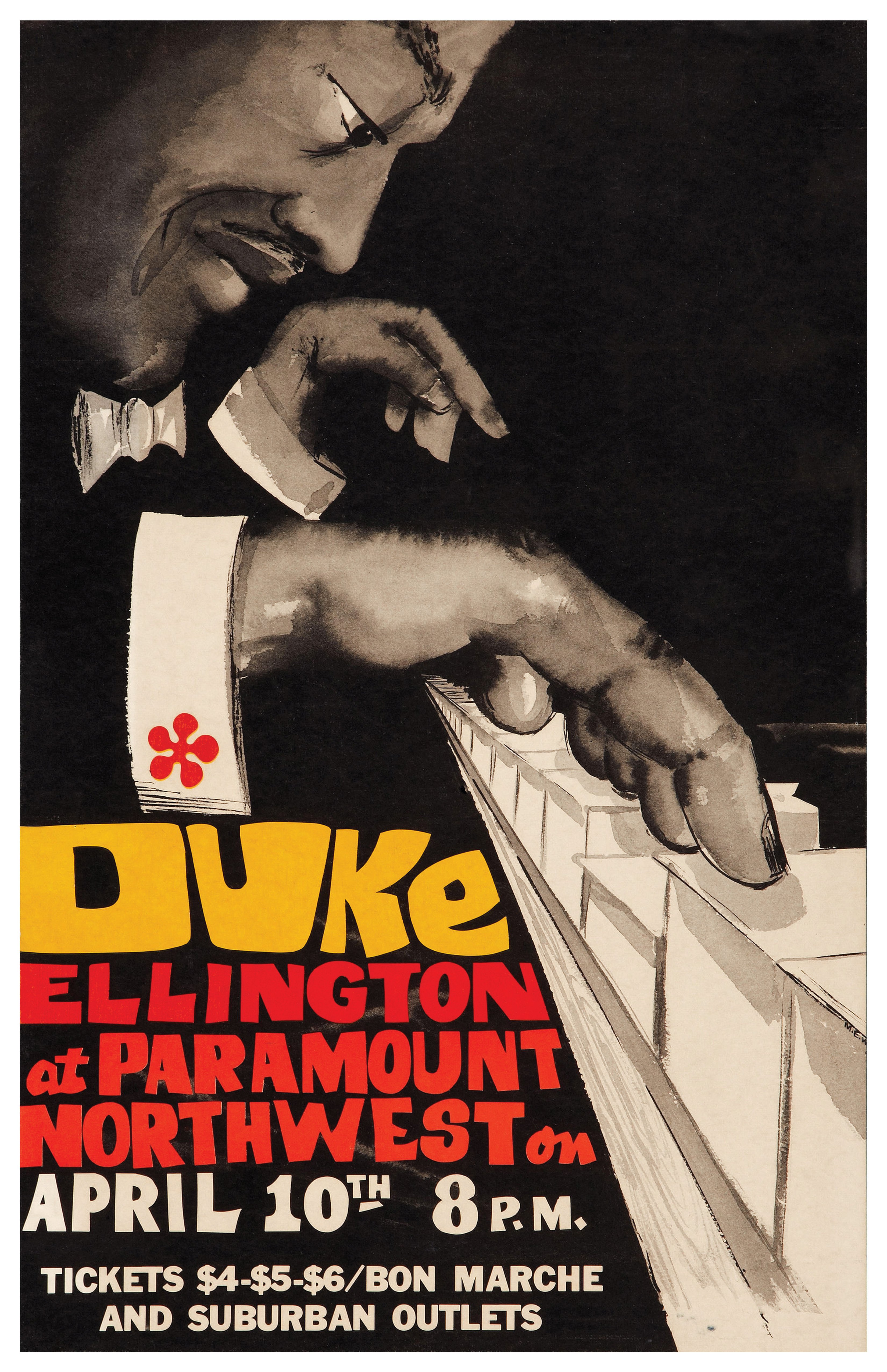 Duke Ellington, 1973
An ornate movie theater converted into a concert hall, Portland's Paramount Northwest Theatre has hosted everyone from Frank Sinatra and the Beach Boys to David Bowie and Madonna. But the arrival of jazz great Duke Ellington in 1973 was seen as sufficiently historic that promoters commemorated the show with a limited-edition poster of just 200 copies.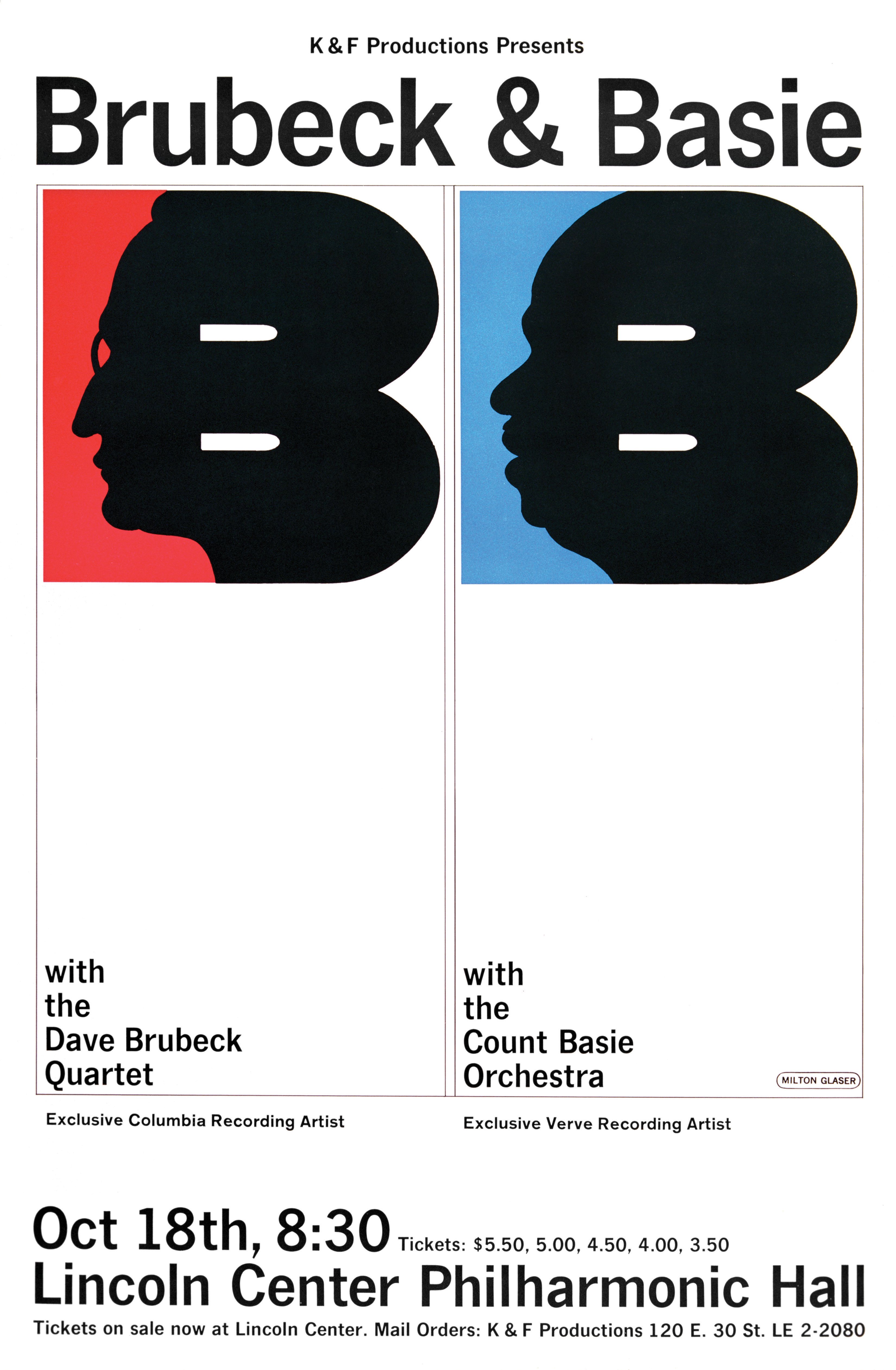 Brubeck & Basie, 1964
We know the designer of this Lincoln Center poster advertising a 1964 Dave Brubeck and Count Basie concert because in 1964 he was well on his way to becoming legendary himself. Graphic designer Milton Glaser would go on to co-found New York magazine and create the iconic I ♥ New York logo.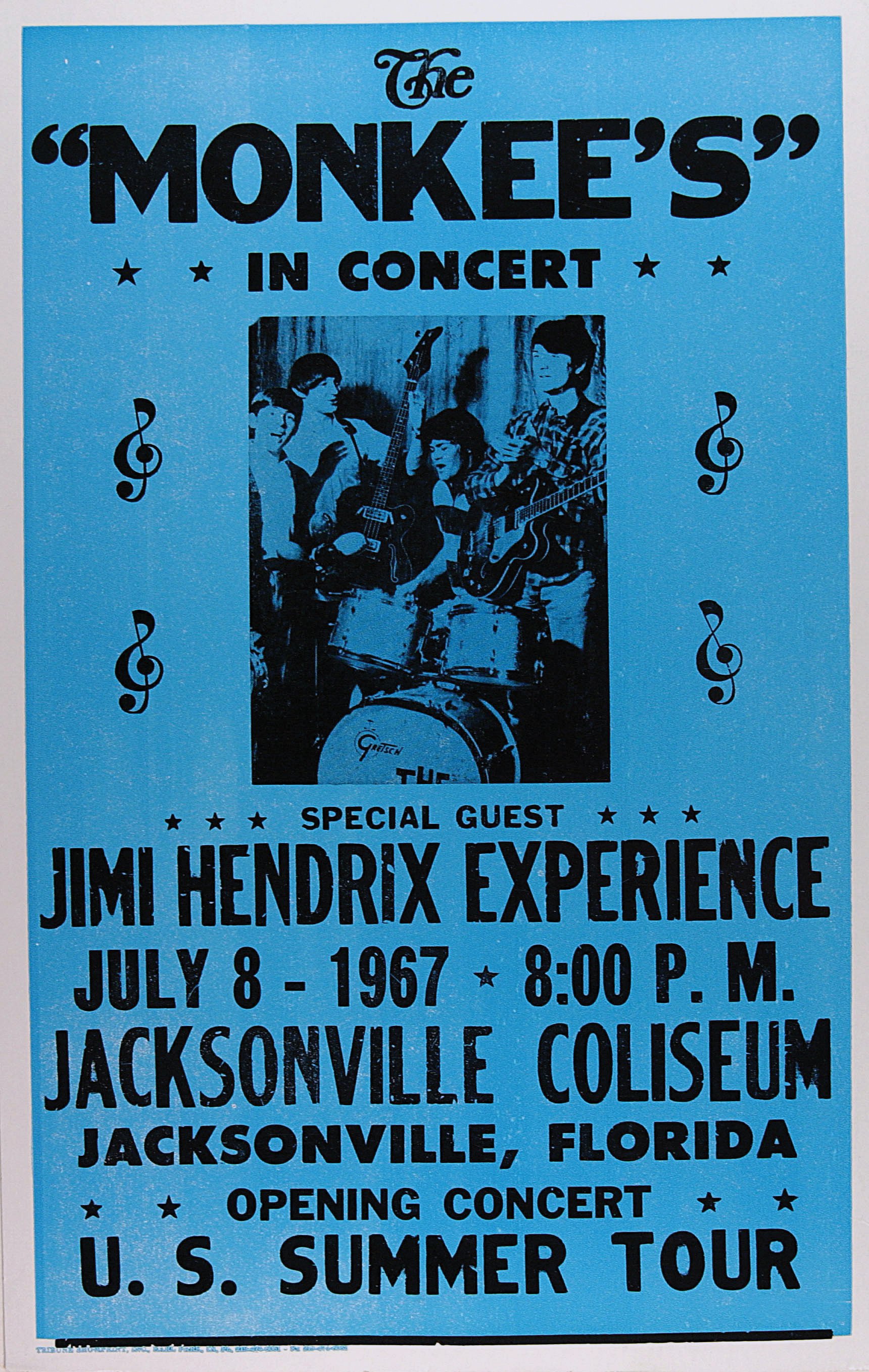 The Monkees, 1967
This poster commemorates what the History Channel has called "one of the oddest musical pairings in history": teenybopper band the Monkees (rendered with a possessive apostrophe here for some reason) with the Jimi Hendrix Experience as its opening act. Nine days after the Jacksonville, Florida, show, and after only seven performances, Hendrix dropped out of the tour. "Some parents who brought their young kids complained that our act was vulgar," Hendrix told New Musical Express at the time. "We decided it was just not the right audience. I think they're replacing me with Mickey Mouse."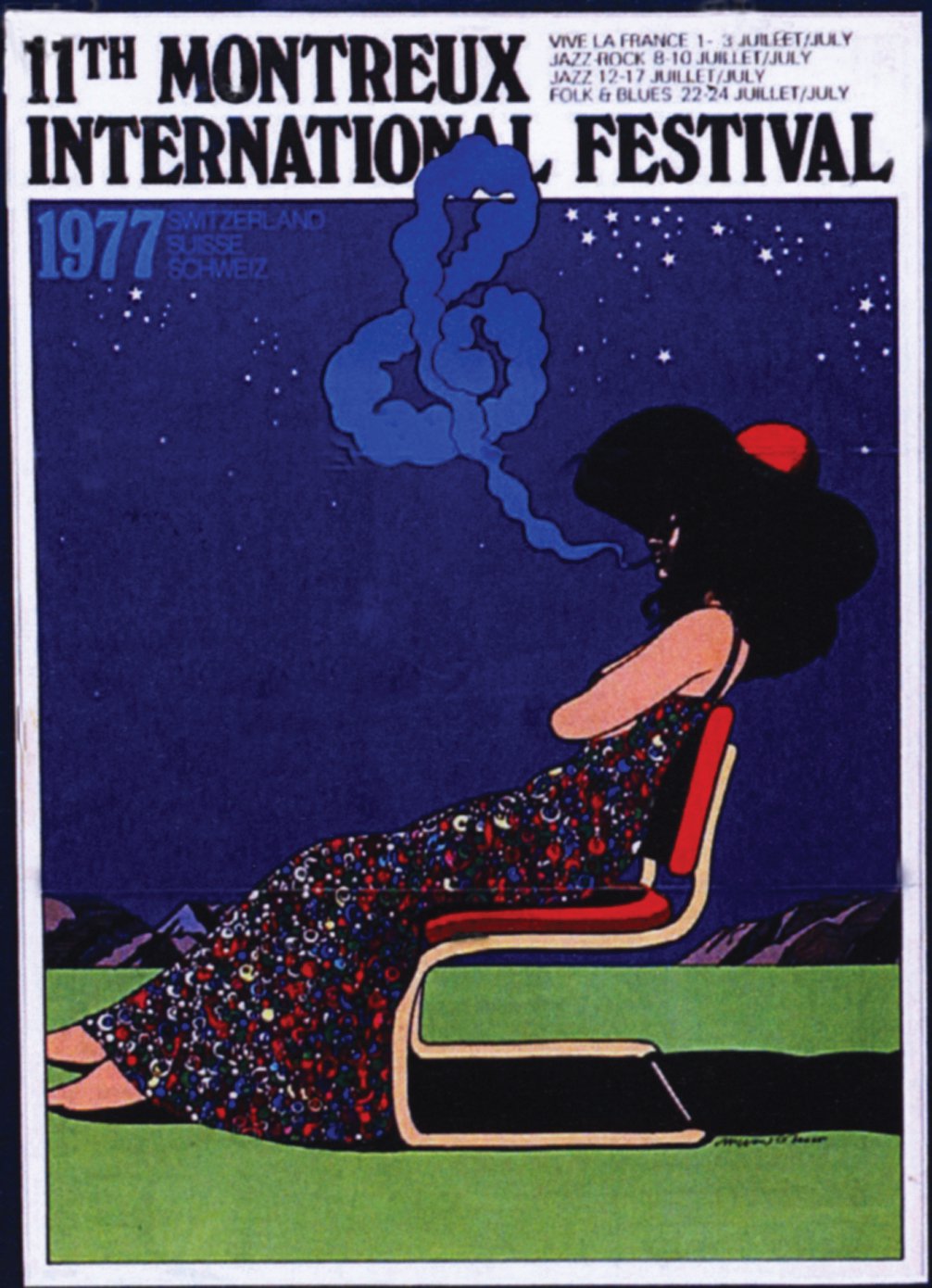 11th Montreux International Festival, 1977
Glaser (see No. 10) is also the artist behind this poster for 1977's 11th Montreux International Festival—better known as the Montreux Jazz Festival, held annually in Switzerland. Glaser produced a similar image for the 10th music festival and was part of the event's strategy to create collectible posters; later commissions went to fine artists including Niki de Saint Phalle, Jean Tinguely and Keith Haring.
Posters courtesy of Getty Images FOTO. Web production by Chen Wu.