+
Marketer of the Year
Netflix
By Jeanine Poggi
Netflix isn't what you would call a quintessential marketer. For one, the streaming video service does little in the way of traditional marketing. And what it does do, it doesn't like to discuss.
Despite accolades for its native advertising, use of data to attract and retain subscribers, and flair for creating social content that goes viral, the company remains decidedly tight-lipped in the area of marketing. But that refusal to use marketing as a force multiplier makes it all the more impressive when Netflix drives audiences to an unknown supernatural thriller as easily as it does to a popular TV revival.
Netflix under co-founder and CEO Reed Hastings has been a case study in how companies can use data to know what their audiences want and deliver the right message to the right viewer.
While the company largely relies on word of mouth, it has become proficient in creating content that gets shared and reshared. In turn, fans generate their own memes, gifs and videos that their friends then see, resulting in a steady buzz for Netflix's original programming.
This is how "Stranger Things," which follows a group of junior high misfits who go searching for their missing friend, became one of the most talked-about new shows of the year. While it received little advance hype, "Stranger Things" generated a cultlike following after its summer release, and fans include horror author Stephen King.
Netflix did some initial marketing around the series, including a four-hour live broadcast on Twitch, the social platform for gamers. It also forayed into virtual reality for the first time with a 360-degree video that places viewers into the creepy universe of the series.
But it was really viewers who got other people, their friends, to watch. "Stranger Things" has spawned plenty of cosplay, with fans dressing up like favorite characters, while a web tool that lets people write in the "Stranger Things" font took over social media this summer.
Netflix also used unconventional marketing to promote the third season of the dystopian series "Black Mirror," which explores the dark side of technology. The first two seasons originally aired on British broadcaster Channel 4, but Netflix then ordered a third season of its own.
In its marketing, Netflix played on the irony of the implications of its own technology. In one spot for the series, it introduced Netflix Vista, a fictional technology that will allow viewers to stream episodes of "Black Mirror" straight to their eyeballs.
It also created an app, based on the Rate Me app from the third season of the series, that allows users to rate each other based on their social interactions. And Netflix served special "Black Mirror" ads to people who run ad blockers in an attempt to unnerve them.
Netflix has also learned how to tap into existing fandom for its revivals of prominent TV shows like "Full House" and "Gilmore Girls," as well as its collection of original series starring Marvel characters.
For the Marvel superhero show "Luke Cage," Netflix gave creators a space on Tumblr to display original "Luke Cage" art.
And for "Gilmore Girls" fans who have been clamoring for years to return to the fictional town of Stars Hollow, Netflix brought a little piece of it to them. It turned cafés across the country into Luke's Diner, the café on the series, and served free cups of coffee. Ten thousand of its coffee cups included a Snapcode that unlocked a special "Gilmore Girls"-sponsored Snapchat filter.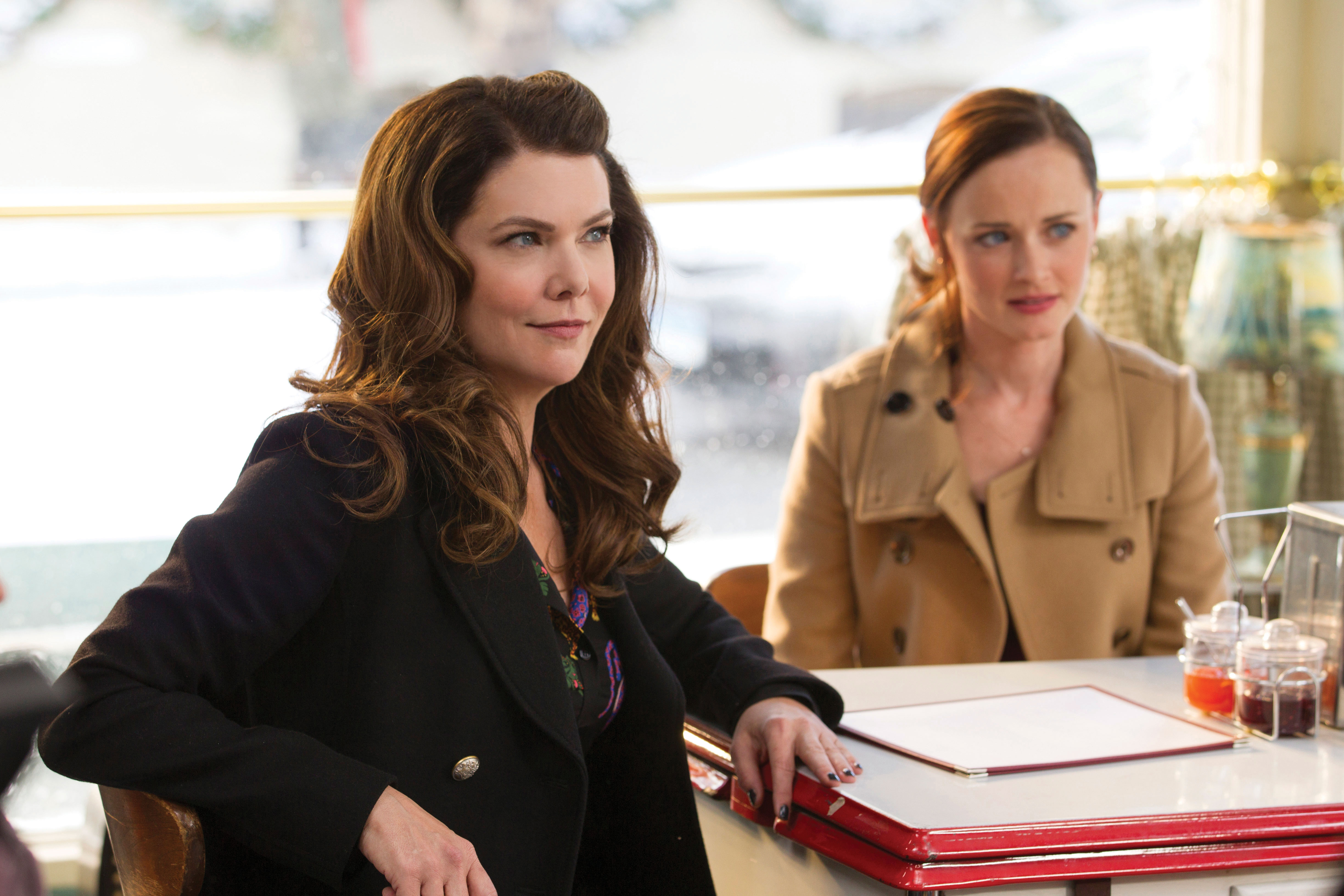 The branded filter was viewed over 880,000 times and reached more than 500,000 unique Snapchatters, according to Snap, the parent of Snapchat. There were three times as many snap-to-unlocks as printed cups.
While Netflix doesn't provide details on viewership, measurement firm Symphony Advanced Media said last week that "Gilmore Girls" is Netflix's third most-watched original series in the first three days of viewing. The revival pulled a 3.59 rating among 18-to-49-year-old-viewers, according to preliminary data from Symphony Advance Media, behind "Fuller House" and "Orange is the New Black." (Netflix has questioned the accuracy of Symphony's approach.)
Netflix has been able to keep its marketing budget minimal thanks to the media attention its originals receive. The company spent $714.3 million in worldwide advertising in 2015, up from $533.1 million the year prior, according to company SEC filings. Still, advertising is equivalent to just 10.5% of total revenue.
In the third quarter, Netflix management said, domestic marketing expenses increased 45% year-over-year to $108 million as it builds awareness for more original titles.
It helps that many Netflix originals have been critically acclaimed, with several besting traditional TV networks and premium cable channels for Emmy Awards.
Ultimately, Netflix's content is its biggest marketing tool, said Michael Goodman, director of digital media strategies at Strategy Analytics. The company has managed to turn out enough high-quality content to satisfy subscribers and pique the interest of non-users. It plans to release 1,000 hours of originals in 2017, up from more than 600 this year, with the goal of original content making up 50% of its offering.
Consumers are responding. In the third quarter, Netflix's streaming revenue topped $2 billion for the first time. It also added 370,000 new subscribers in the U.S., more than the 300,000 it had previously predicted. The company has 86.7 million streaming subscribers worldwide.
Marketer A-list
Donald Trump
By Simon Dumenco
As the editorial staff of Advertising Age repeatedly met over the past few weeks to discuss who belonged on our list of 2016 Marketers of the Year, the elephant in the room, President-elect Donald J. Trump, made everyone a little uncomfortable.
Partially because the elephant wouldn't stop tweeting—about protesters unhappy about the election ("Very unfair!"), the cast of "Hamilton" ("Apologize!"), The New York Times ("Not nice"), "Saturday Night Live" ("a totally one-sided, biased show") and winning ("I won the popular vote if you deduct the millions of people who voted illegally").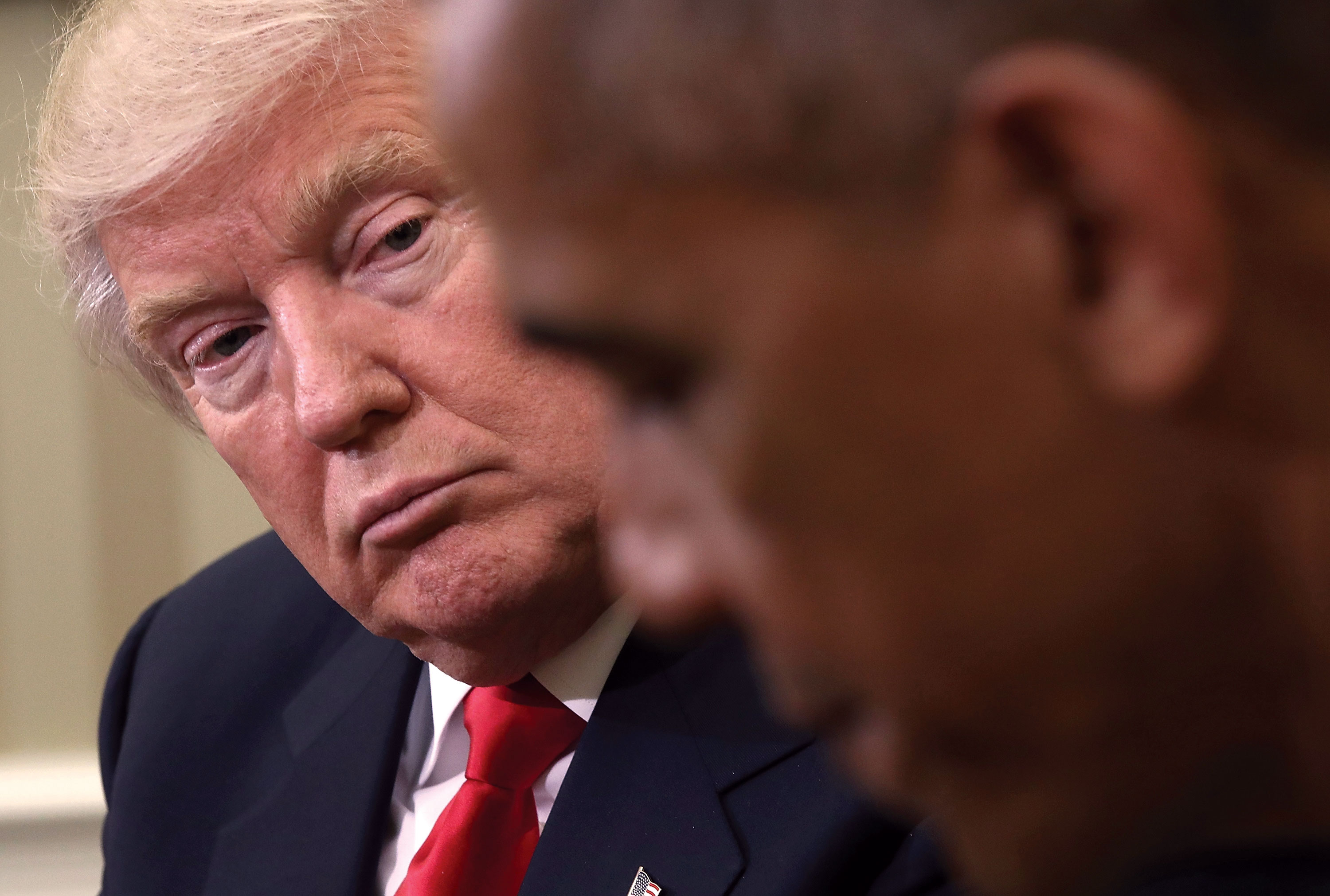 But also because the elephant is, of course, proving to be a faux elephant, just as everyone expected (everyone, that is, who paid attention to his party affiliations over the years: Democratic, Republican, Reform, Democratic again, Republican again, independent and then Republican one more time).
And, well, the "blue-collar billionaire" is also turning out to be a faux populist; see Politico's post titled "Trump's Team of Gazillionaires" ("The self-styled champion of the working class assembles an administration that could be worth as much as $35 billion").
And, naturally, Mr. "Drain the Swamp" sure seems to like things good and swampy after all. As New York magazine's Jonathan Chait wrote, "He has already dismantled the twin guardrails against presidential kleptocracy, tax disclosure and personal divestment, in quick succession. It is a chillingly impressive achievement for a man still two months away from assuming the powers of office."
In marketing terms, what product did Americans just buy? Nobody seems quite sure.
All we know is that his branding and messaging connected with a critical mass of American voters—enough of them, anyway, to allow him to outdo Hillary Clinton in the Electoral College (i.e., he didn't even win the market-share battle).
As my colleague Jack Neff put it, "Finding a way to fob off a highly defective product through sheer force of marketing counts for something."
But sorry, Donald, not enough to be Marketer of the Year. (You'll have to make do with the presidency.)
The truth is, pretty much every great marketer lies a little or a lot. At the heart of much of the most effective advertising there is a bottomless well of outright nonsense: This crappy junk food is wholesome. This sugar water will bring you happiness. This overpriced gadget will make you cool. And so on.
What's astonishing about Mr. Trump, though, is the speed with which he's casually abandoned some of his most vigorous campaign-trail sales pitches—for instance, going from working his rally crowds into "Lock her up!" frenzies to saying he's not interested in seeking prosecution of Hillary Clinton over her private email server because "I don't want to hurt the Clintons, I really don't."
At the same time, the image on the Brand Trump box that was so often revolting during the campaign? Turns out the product is exactly as pictured.
As Dave Chappelle said, "America's done it. We've actually elected an internet troll as president."
Or as The New York Times described the man: "a self-obsessed zealot whose belief in his own destiny was unshakable, a chameleon whose economic and political colors were determined more by pragmatism than by doctrine."
Whoops, sorry. The man in that case happens to be Fidel Castro. That's a line from the Times' obit for the Cuban dictator.
He was a tremendous marketer too, right?
Marketer A-list
Dr Pepper Snapple Group
By E.J. Schultz
Marketing soda in 2016 is not easy. The industry continued to grapple with health concerns and shifting taste preferences. But Dr Pepper Snapple Group has managed to squeeze growth from its flagship regular Dr Pepper brand, thanks to research-driven marketing that has linked the soda with college football. Meanwhile, Diet Dr Pepper outperformed Diet Coke and Diet Pepsi in the very tough diet soda segment.
Regular Dr Pepper sales volume increased 0.3% in the first nine months of the year, compared with a 1.7% decline for Coke and a 4.1% drop for Pepsi, according to Beverage Digest. While Diet Dr Pepper volume fell 4.4%, that's better than Diet Coke's 5.6% drop and Diet Pepsi's 10.2% decline. "Dr Pepper has shined in a challenged U.S. soda category in recent years by focusing its marketing on flavor, cultural touch points like college football and multicultural consumers," said Beverage Digest editor Duane Stanford.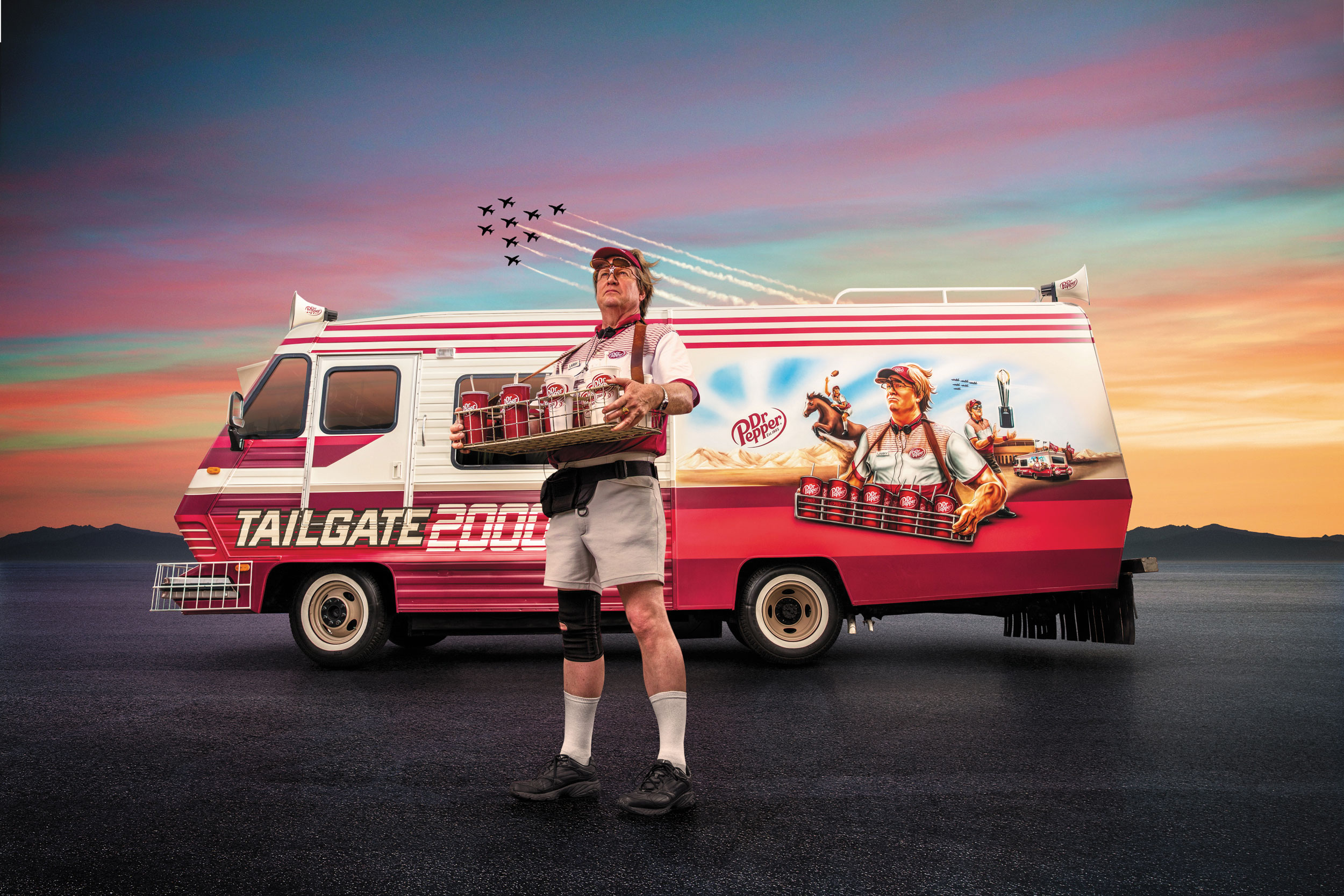 Jim Trebilcock, the company's exec VP-chief commercial officer, tied the performance to insights gained via an intensive consumer study that began 18 months ago. The research led the Dr Pepper brand to downplay its "one-of-a-kind" positioning in favor of marketing that plays up the brand as a soda that "people actually crave and they drink in very social situations with small groups of friends." This is the insight driving the brand's college football marketing.
Ads by Deutsch L.A. feature a quirky stadium concessions character named Larry Culpepper who delusionally thinks he invented the college football playoff. This year, the brand sent him on the road to visit tailgates across the country in a custom-built RV. "We went from being one-of-a-kind to being an integral part of a social occasion that occurs every single week when you get together with friends," Mr. Trebilcock said.
Diet Dr Pepper has its own character—a diminutive and flashy rock 'n' roller named Lil' Sweet. In ads also by Deutsch, he pops up unexpectedly in people's homes plugging the diet soda as a sweet afternoon reward. Before the campaign launched in 2015, the marketer had been advertising the diet soda along with Dr Pepper in a master-brand approach. The new standalone campaign has paid off to the point that the company gave Diet Dr Pepper a 30% spending boost this year, Mr. Trebilcock said.
The marketer is also getting a lift from Canada Dry, whose sales volume surged 7% in the third quarter, according to a recent earnings call. Ads by McGarryBowen plug the ginger ale as the "root of relaxation," touting its "real ginger and bubbles." The company is also keeping pace with the healthy beverage trend with moves such as its recent $1.7 billion acquisition of Bai Brands, whose products include enhanced water, carbonated flavored water, coconut water and premium ready-to-drink teas.
Marketer A-list
FX
By Jeanine Poggi
It was nearly as impossible to avoid hearing about O.J. Simpson in 2016 as it was in 1994, thanks to FX's retelling of the infamous murders of Nicole Brown Simpson and Ron Goldman and subsequent trial that captivated the nation.
Despite the plethora of documentaries, news interviews, satires and conspiracy theories that have surrounded Mr. Simpson since the murders, FX managed to generate new excitement with "The People v. O.J. Simpson: American Crime Story," from both people who decades earlier sat glued to their TV sets for 11 months to await the verdict and an audience that may not have even been alive when the outcome was delivered.
"With O.J., you had a subject matter that had been picked clean like a skeleton in the desert," said Stephanie Gibbons, chief marketing officer, FX Networks. "How are we going to pull flesh off it and bring it back to life? How will people feel reliving something they feel lived nine lives already?"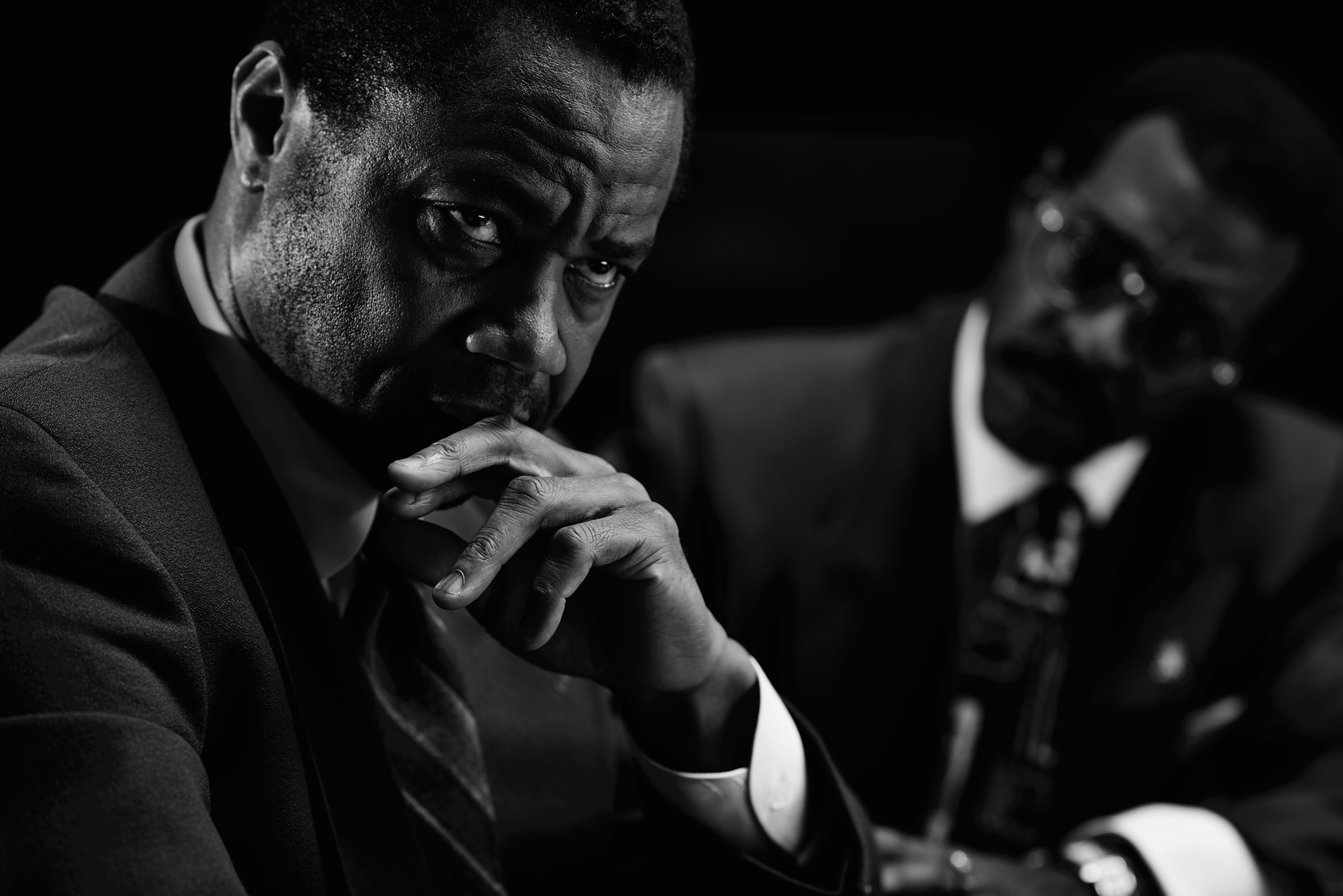 FX did this not by feeding into the salacious, but by focusing on the things people still didn't know and framing it all in the context of the time. "This was about so much more than the crime," Ms. Gibbons said.
"You think you know everything, but you don't know the half of it" became the mantra for the campaign.
In one spot, FX showed the infamous white Bronco driving down a Los Angeles highway. "So many people saw that," Ms. Gibbons said. "But you weren't inside it."
FX's marketing approach helped make "The People v. O.J. Simpson" cable's most-watched new show of the year and the most-watched show in the network's history. It also took home nine Emmy Awards.
Beyond O.J. Simpson, FX also generated buzz for its sixth season of "American Horror Story." It's become a game for "AHS" fans to find out the premise and cast ahead of each season, eventually getting confirmation from the network. But this year, FX kept all the details of the new season tightly under wraps until its premiere in September, including even the title ("Roanoke").
Instead, the network released 25 teasers with different horror themes and tropes. Only one of them contained the real subject of the plot.
That set off an internet frenzy, with "American Horror Story" fans trying to predict what the new season would bring.
Ms. Gibbons said the strategy played on people's innate curiosity to find out what they don't know, and the idea that wanting the information can be at least as fulfilling as actually having it.
The network's overall marketing strategy is similar to Hollywood marketing, Ms. Gibbons said. It treats every series as a single entity and runs major campaigns for each series and new season.
Marketer A-list
Intel
By Adrianne Pasquarelli
What's inside matters, but two years ago, that strategy wasn't quite cutting it at Intel.
When Steven Fund joined the company in 2014 as senior VP-chief marketing officer, the former Staples executive was challenged with making the 48-year-old tech brand relevant to younger consumers. Though a $55.4 billion, Fortune 500 company, Intel had lost its way with millennials, who saw the brand as a dated chipmaker, if they considered it at all.
"On the one hand, you had this powerful, well-known, respected and valued brand in Intel, but on the other hand, it was stuck a little bit in the past," said Mr. Fund. "[We wanted] to take that equity and the world inside and pivot to the future and rebuild our relationship with the millennial generation."
Working with McGarryBowen and Intel's own 90-person internal Agency Inside, the tech brand immediately developed a host of new initiatives, including a fresh consumer-focused campaign with lovable geek Jim Parsons, and the new tagline "Experience What's Inside." Earlier this year, Intel helped create a groundbreaking, tech-infused performance by Lady Gaga at the Grammys.
The efforts are paying off. Santa Clara, Calif.-based Intel, which recently beat analyst expectations by reporting third-quarter revenue of $15.8 billion, a 9% rise over the year-earlier period, has moved beyond its processor roots. On the BrandZ list of the 100 most valuable global brands, Intel moved to No. 51 this year from No. 86 in 2014; it improved in similar rankings from Interbrand and Forbes as well.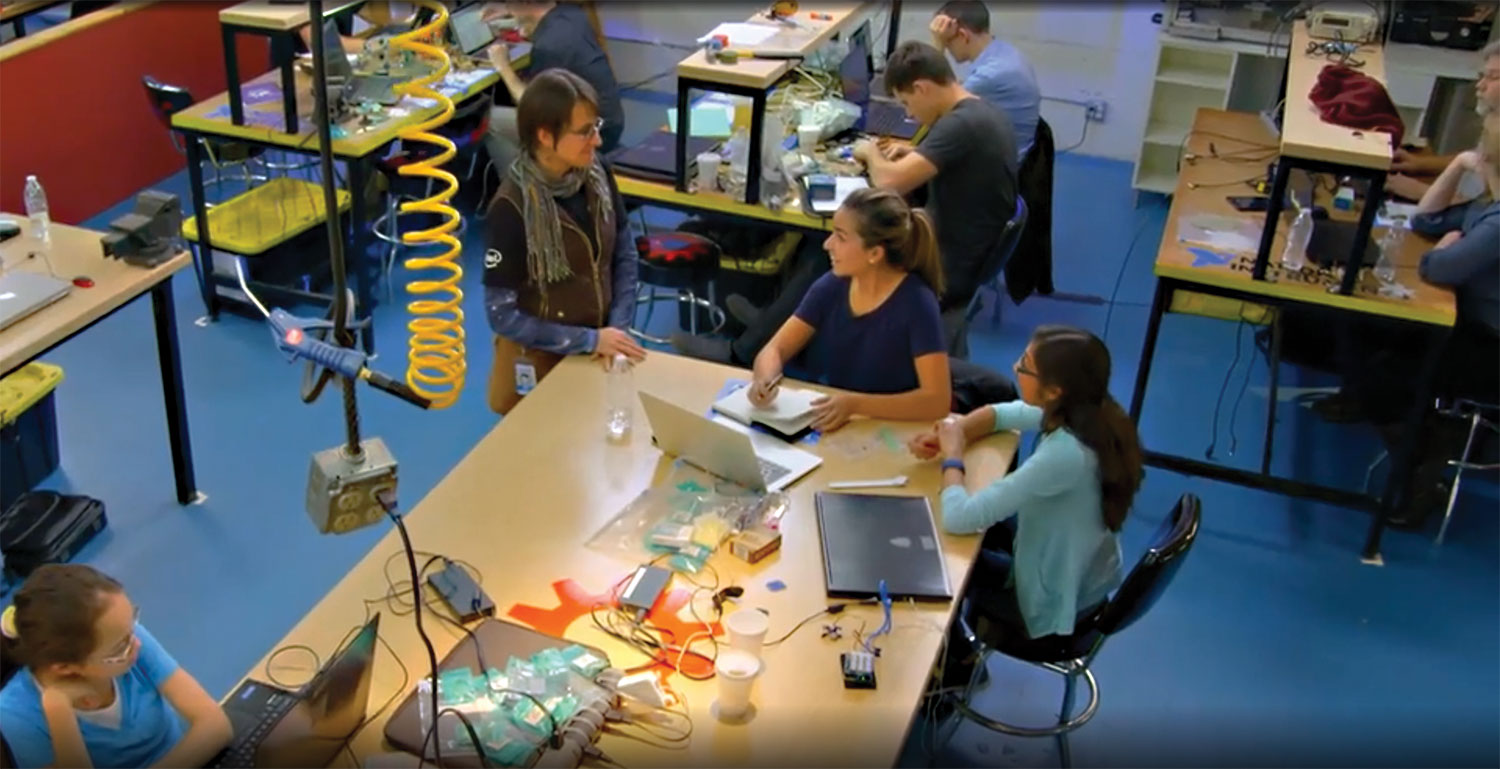 Marianne Besch, managing director and executive creative director at McGarryBowen San Francisco, said that sports, arts, science and medicine are areas where Intel has focused. "Our strategy was to ingrain ourselves in the experiences people love having and make them possible, push them further and wow ourselves along the way."
The wow factor was a chief goal in the Grammys work. The live performance included a facial-projection mapping that transformed Lady Gaga into the late David Bowie. She also wore a tech-enabled ring that could change her scenery in real time. The activation resulted in 2 billion earned media impressions in the U.S. and 10 billion globally.
Intel is also experimenting with three-dimensional, 360-degree replays for sporting events like the NBA Finals. In addition, the company recently created, with Mark Burnett, "America's Greatest Makers," a TBS reality series with a $1 million prize that continues Intel's quest to engage with millennials and be more than a chip.
Next year, consumers can expect to see fresh Jim Parsons ads, more of a presence at sporting events and a new Grammys activation. Intel will also debut work from TBWA\Chiat\Day, which it tapped for business-to-business marketing earlier this year.
"You can't just talk about being an experience brand and advertise it. You have to insert yourself into creating high-visibility experiences," said Mr. Fund. "We inserted our brand into pop culture."
Marketer A-list
KFC
By Jessica Wohl
Much of KFC's recent success can be traced to multiple personalities—that is, multiple personalities playing one person: the chain's founder, Colonel Harland Sanders.
The idea began two years ago, when the fried chicken chain began thinking about its "re-colonelization," recalled KFC U.S. Chief Marketing Officer Kevin Hochman. That was when Wieden & Kennedy, which was not yet KFC's creative agency, did some positioning work for the Yum Brands chain.
"That idea of getting back to a higher standard in everything that we do has kind of pervaded the business," said Mr. Hochman, who joined KFC in January 2014 and refers to Colonel Sanders as "the original celebrity chef."
In May 2015, after longtime agency FCB was out and Wieden & Kennedy was in, KFC began airing commercials featuring Darrell Hammond in the role of Colonel Sanders. That August, Norm Macdonald stepped into the role. He was followed in 2016 by actors including Jim Gaffigan, Rob Riggle and even wrestling star Dolph Ziggler, who donned the Colonel's white suit for a staged WWE event.
Then George Hamilton starred as an Extra Crispy Colonel. That campaign helped ignite sales of a product that more than half of KFC's customers did not know about even though it had been on the menu for 40 years. Along with a TV spot, the bronzed actor appeared in web clips showcasing the sound of eating fried chicken and a fried chicken-scented sunscreen.
"We think a big part of the campaign has been this idea that we're essentially making fun of advertising and fried chicken advertising," said Mr. Hochman. "That allows us to then get our product benefits across in a humorous way that people can enjoy, and we have a bit more relevance for them because we all know that younger people are generally distrustful of advertising. The fact that we're self-effacing endears us, or creates more relevance."
More success stems from a new product for KFC, Nashville Hot chicken. Mr. Gaffigan's character helped launch Nashville Hot for a limited run early this year, with ads including a slot during the CBS live stream of Super Bowl 50. "Mad Men" actor Vincent Kartheiser followed in a Nashville Hot Colonel role when the product returned later in the year.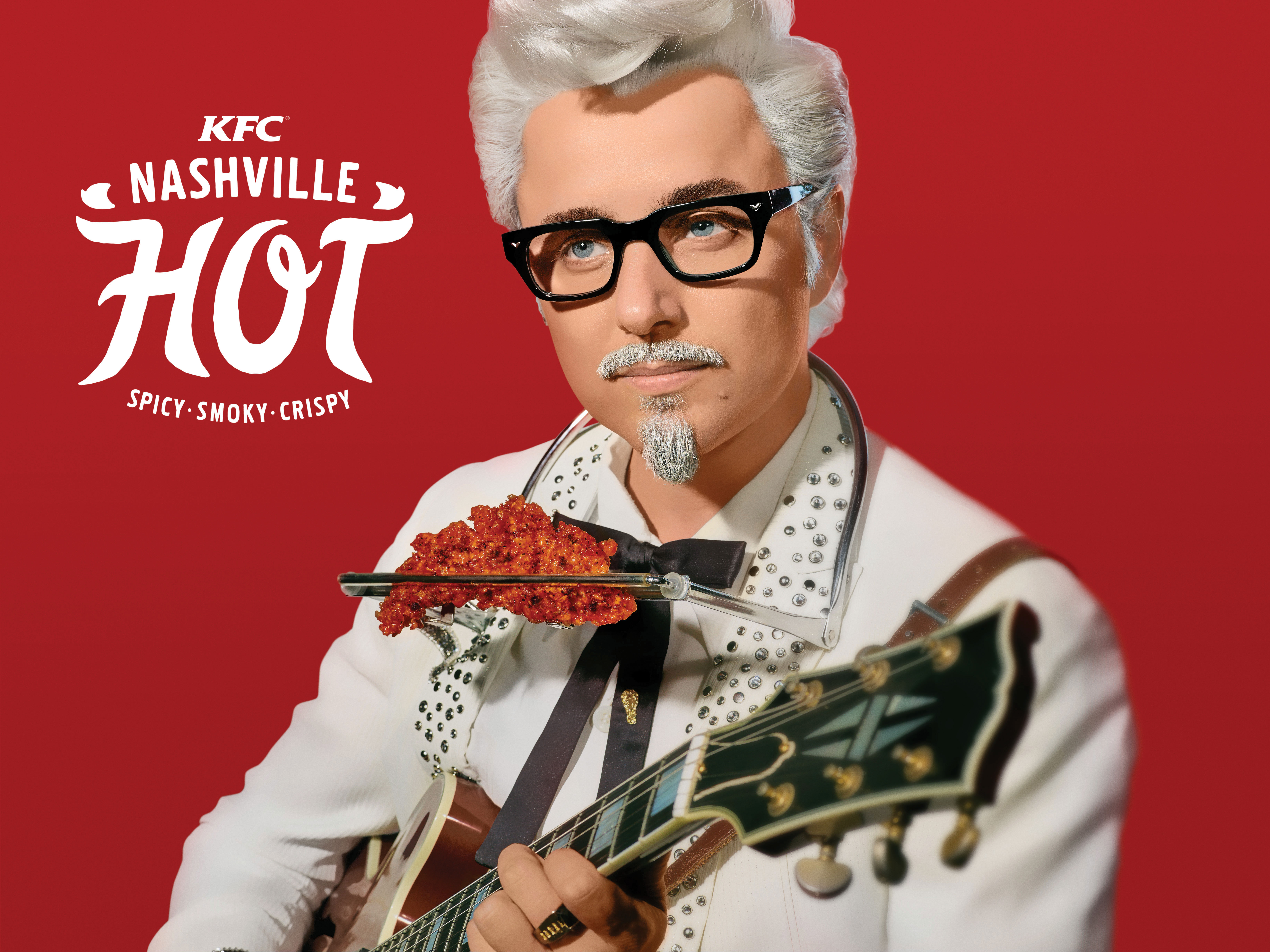 "I like to think we democratized it for kind of everybody," Mr. Hochman said of Nashville Hot.
For KFC, reaching everybody matters. The chain used to have an average customer that was older than the rest of the fast-food industry, and now it is slightly over-indexed with a younger crowd, Mr. Hochman said.
It's also helped the chain post nine consecutive quarters of U.S. same-store sales gains, including a 6% jump in the third quarter of 2016.
Heading into 2017, KFC and franchisees are set to continue a remodeling push. Updated locations, with a more modern look that highlights the Colonel, are seeing 8 to 10 percentage-point jumps in same-store sales, according to Mr. Hochman.
Now, Mr. Hochman aims to tell more of KFC's food story.
"Most people don't know it takes 25 minutes for a cook in every KFC to take raw chicken from U.S. farms and bread it, and cook it, and let it rest, and then serve it to the customer. That food story is a big part of what we're trying to push forward both in '16 and beyond," he said.
Marketer A-list
Adidas
By E.J. Schultz
Just two years ago, Adidas seemed destined for the sidelines in the competitive sportswear industry. The nearly 70-year-old company was surpassed by upstart Under Armour in 2014 as the second-biggest sports brand in the U.S. after Nike, prompting Ad Age to name Under Armour our 2014 Marketer of the Year.
But now, the shoe is on the other foot.
Thanks to a hot product line and a reinvigorated marketing approach focusing on creativity in sports, Adidas has regained its second-place ranking. By the second quarter, Adidas recorded $890.1 million in North American sales, compared with $827.1 million for Under Armour and $3.7 billion for Nike, according to Bloomberg.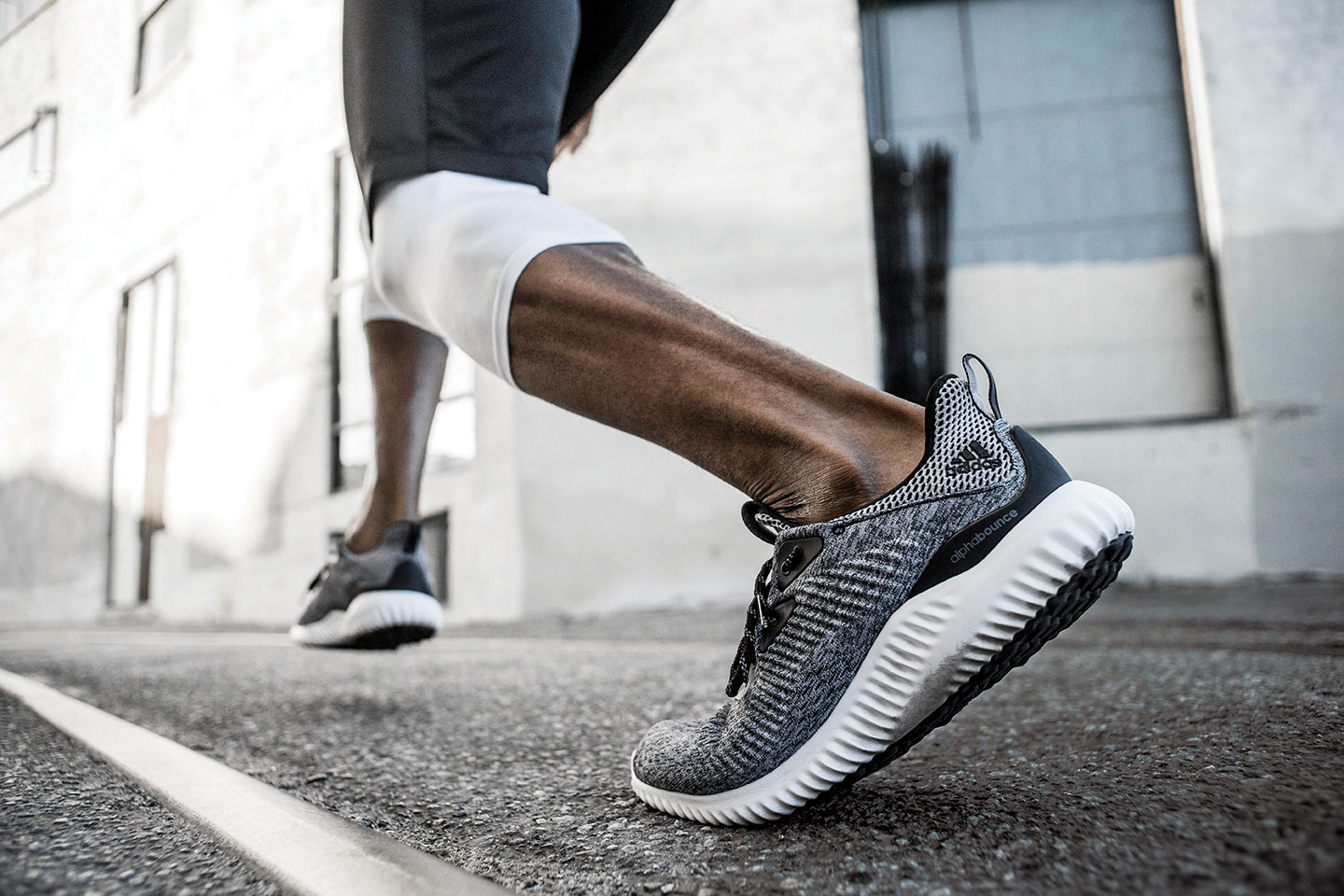 The comeback has been fueled by a series of shoe and fashion hits at the German-based company with North American headquarters in Portland, Ore. "When Mark King came on board he moved about 200 product and marketing people from Germany to Oregon," NPD sports industry analyst Matt Powell said, referring to the mid-2014 promotion of Mr. King to president of Adidas Group North America. "He gave them one mission: to make shoes American kids wanted to buy. Those shoes began to hit retail about a year ago and the rest is history."
Breakthroughs include collaborations with superstars outside of sports, such as Kanye West. Adidas, which began partnering with Mr. West two years ago on a Yeezy-branded product, in June cemented a long-term relationship with the musician and fashion designer for footwear, apparel and accessories aimed at "all genders across street and sport." Adidas described it as "the most significant partnership ever created between a non-athlete and an athletic brand."
The brand is also gaining strength from its Adidas Originals collection, which includes updated versions of classics like Stan Smiths. The Originals line was supported this year with an edgy campaign by Johannes Leonardo called "Your Future Is Not Mine."
The house of the Adidas and Reebok brands reported a currency-neutral sales increase of 20% in North America in the third quarter. The growth is being noticed where it counts most—at big retailers. On a Nov. 18 earnings call, Foot Locker CEO Richard Johnson described the continued growth of Adidas as "one of the most significant dynamics" in the industry, adding that the company is "on a great run."
On the advertising front, Adidas has found its stride by positioning itself as brand for creators. A campaign by 72andSunny debuted in September with an ad starring big-name pros like the NFL's Aaron Rodgers and Von Miller, NBA star James Harden and Paul Pogba of soccer's Manchester United. The narrator urged viewers to "free your imagination" and "make your own luck." The spot even included a not-so-subtle dig at Under Armour by mocking its ads that show armies of doppelgängers, like dozens of Tom Bradys, with the Adidas spot describing such scenes as "cookie-cutter, copy-and-paste blah." In November, Adidas debuted an ad starring Mr. Harden that imagined what basketball would look like without creativity—like no players dancing and celebrating on the bench. "You really want that?" Mr. Harden asks. For the growing number of Adidas fans, the answer is a resounding no.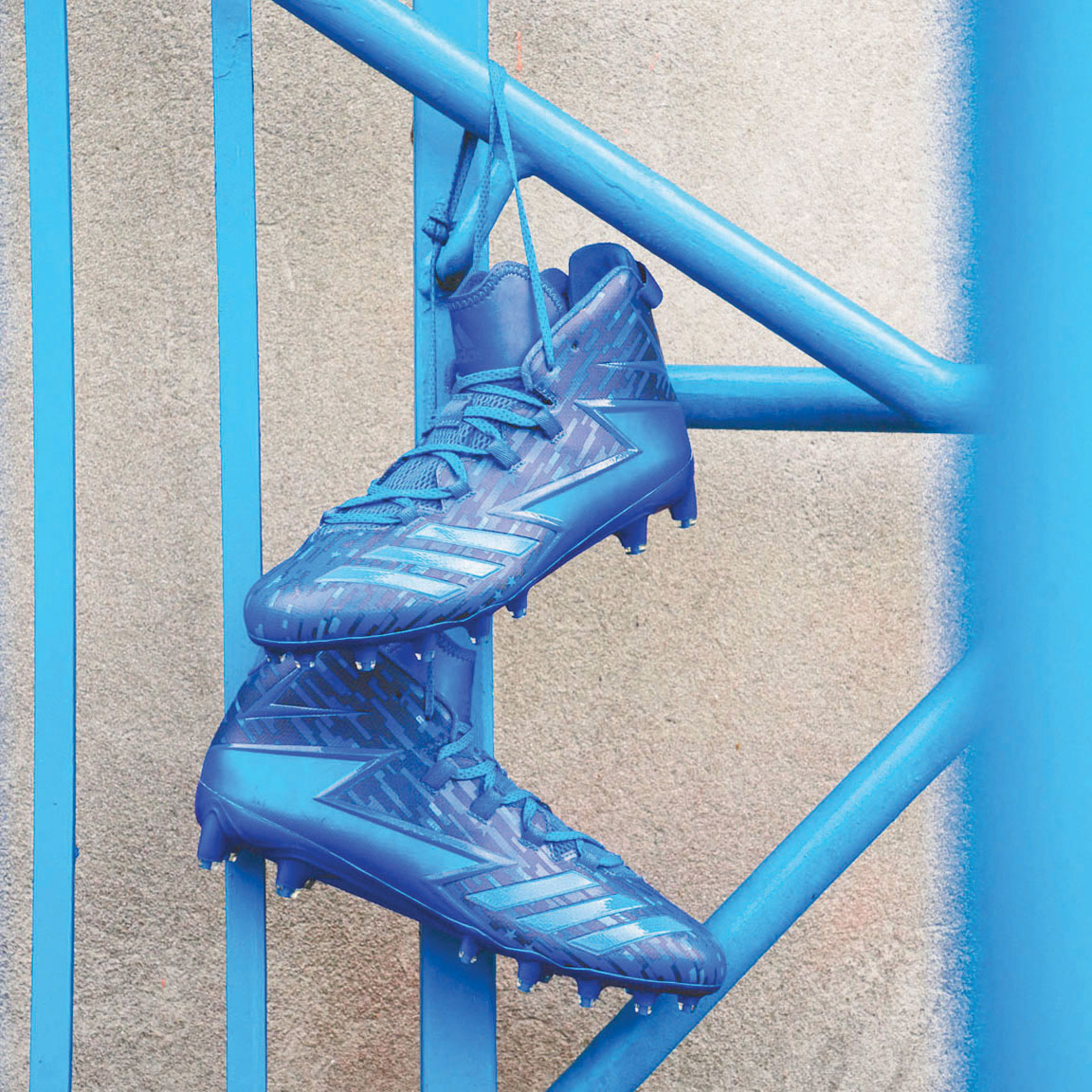 Marketer A-list
Marijuana
By E.J. Schultz
Ad Age normally names companies, not categories, to the Marketer A-List. But we made an exception for marijuana because these are high times for cannabis. Look no further than Election Day, when voters in California, Massachusetts, Maine and Nevada passed recreational pot measures. Voters in other states, including Florida, approved medical marijuana usage. Medical cannabis is now legal or pending in 28 states, while recreational use is on the books in eight states.
What makes the ballot wins remarkable is that they came amid a Republican wave—including Donald Trump's win—proving that cannabis has come a long way from its hippie days. National support for legalizing marijuana is at an all-time high of 60%, according to a recent Gallup poll. "The transformation in public attitudes about marijuana over the past half-century has mirrored the liberalization of public attitudes about gay rights and the same-sex marriage movement," Gallup stated.
In 2015, Americans spent more on legal marijuana ($3.4 billion) than they did on Oreos ($711 million), according to "Rebranding Marijuana," a report published in April by cannabis-focused media company High Times and Omnicom Group agency Sparks & Honey. The agency is working in partnership with High Times to reposition how consumers and the ad industry view marijuana. Pot is shedding its stoner status as it moves into the mainstream, propelled by its use in everything from tourism to food and fashion, according to the report. Marijuana "used to be a taboo and is now evolving into something that is infiltrating people's lives in a variety of different ways," said Anna Sofia Martin, a senior writer at Sparks & Honey.
Marijuana remains a largely unbranded category devoid of traditional marketing. But that is beginning to change. Ad agency Anomaly is helping to lead the way via its September investment in Hmbldt, a cannabis products company that markets devices to deliver specified doses aimed at producing health benefits. Formulas are sold for Bliss, Sleep, Calm and Relief. The so-called vape pens, which sell for $100 each, made Time.com's list of the 25 best inventions of 2016. The company is projecting $25 million in sales in 2017, said Anomaly partner Jason DeLand, who also serves on Hmbldt's board. He predicted that medicinal marijuana, not recreational pot, will account for most of the branding going forward.
But cannabis culture is creeping into other industries. That includes food, where "pot-preneurial chefs and their cookbooks are paving the way for legal highs in foodie culture," like weed-infused salmon, according to the Sparks & Honey report. The report also predicted that clothing and accessories will be specifically designed to carry marijuana. One brand, called AnnaBis, already markets fashionable handbags lined with an odor-blocking resin to keep the smell of pot at bay. Products include the Whoopee vape case, designed to hold your pipe, lighter and herb in "a pretty, compact case."
Marketer A-list
Pokémon
By Jessica Wohl
From an anthemic Super Bowl commercial to the introduction of a mobile gaming phenomenon, 2016 was the year of Pokémon.
Pokémon debuted in Japan in February 1996 with two video games, "Pokémon Red" and "Pokémon Green," in which humans catch and train the titular characters to fight each other. Today, Pokémon stars in video games and trading card sets, is seen in shows and movies, and appears as Thanksgiving Day parade balloons and on designer clothing.
For its 20th anniversary, Pokémon wanted to celebrate the millions of "trainers," those who play the games, rather than look back on its own success. "It was really just about giving our fans a way to celebrate their fandom," said J.C. Smith, Pokémon's senior director of consumer marketing.
The Pokémon Co. International began planning for this year's 20th-anniversary celebration two years in advance, leading off with the "Train On" spot in Super Bowl 50. "They knew they wanted to kick off 2016 and the 20th anniversary in a big way," said Josh Smutko, a creative director at Omelet, the agency behind the spot. It resonated with fans, who noticed Easter eggs such as the line "Like No One Ever Was" from the Pokémon theme song on the wall of the football team's locker room. Omelet's other work this year included spots for new trading card sets and a video for the launch of "Pokémon Go."
But it was "Pokémon Go" that truly filled the culture this summer. It was hard to walk around without seeing people staring intently at their mobile phones trying to catch virtual Pokémon on sidewalks, in museums, in airports and in parks.
"We wanted people to be able to experience Pokémon in a way that they hadn't experienced it before," Mr. Smith said of "Pokémon Go." The game, which was developed by Niantic, goes back to 2014. That's when Pokémon and Google, which then owned Niantic, teamed up for an April Fools' Day stunt that gave trainers the chance to find Pokémon within Google Maps. Initial discussions about the mobile game were sparked by the popularity of those searches, Mr. Smith recalls. Niantic, which spun off from Google in 2015, counts the Pokémon Co., Google and Nintendo as investors.
Pokémon shows no signs of slowing. By September, "Pokémon Go" had been downloaded 500 million times. In November, Jeffrey New York began selling a Prabal Gurung x Pokémon collection: For $325, there's a Jigglypuff T-shirt. The short-sleeve silk dress with asymmetrical hem goes for $1,795.
Pokémon would not confirm whether it plans to return to the Super Bowl. But it already has new experiences to promote. "Pokémon Sun" and "Pokémon Moon" games for Nintendo 3DS came out in November. In December, animated shows and movies make their debut on Disney XD. In 2017, production is set to begin on a live-action Pokémon movie. "All of these pieces work together to really have Pokémon front and center in a variety of different ways to keep people guessing, and keep people excited, and having fun with the brand," said Mr. Smith. "That's the key. If they're not having fun with this, what's the point?"

Marketer A-list
ANA
By Simon Dumenco
In a marketing industry awash with trade organizations, one stood out in 2016 by creating a row that questioned the industry's ethical foundations.
The Association of National Advertisers pushed the subject of media transparency like never before. The group got wide-ranging media coverage with a long-awaited report by investigative consulting firm K2 Intelligence that alleged widespread, if entirely unidentified, cash rebates, side deals and other "nontransparent" practices, particularly in digital marketing.
The report followed the uproar resulting from an ANA-commissioned presentation in early 2015 by former Mediacom CEO-turned-consultant Jon Mandel that made similar, if less detailed, allegations. Both broadsides have been roundly criticized by the 4A's and member-agency holding companies, partly for the continued lack of details.
But it's clear the effort has had an impact. The K2 report anonymously notes that some marketers had little idea what kind of audit provisions their media-agency contracts had put in place, and cites one marketer that essentially gave up when its agency resisted extending an audit to the holding-company level. A follow-up by consulting firm Ebiquity recommended tougher contracts with audit clauses, including a contract template.
Given the publicity, the number of marketers looking to add and exercise audit provisions in contracts has risen dramatically, according to Manuel Reyes, CEO of Cortex Media, who acknowledges he'd been arguing for them to do so for years, with less success. Procter & Gamble Chief Brand Officer Marc Pritchard, now ANA chairman, believes P&G's "trust-but-verify" approach has prevented rebate problems, but said some marketers have taken him up on his offer to provide counsel on contract terms.
It's less clear whether the effort has been a winner for the ANA financially. After years of double-digit revenue gains, growth slowed to single digits this year, the group's CEO, Bob Liodice, said in an interview. Some of the ANA's revenue comes from sponsorships by the very agency groups it's struggling with.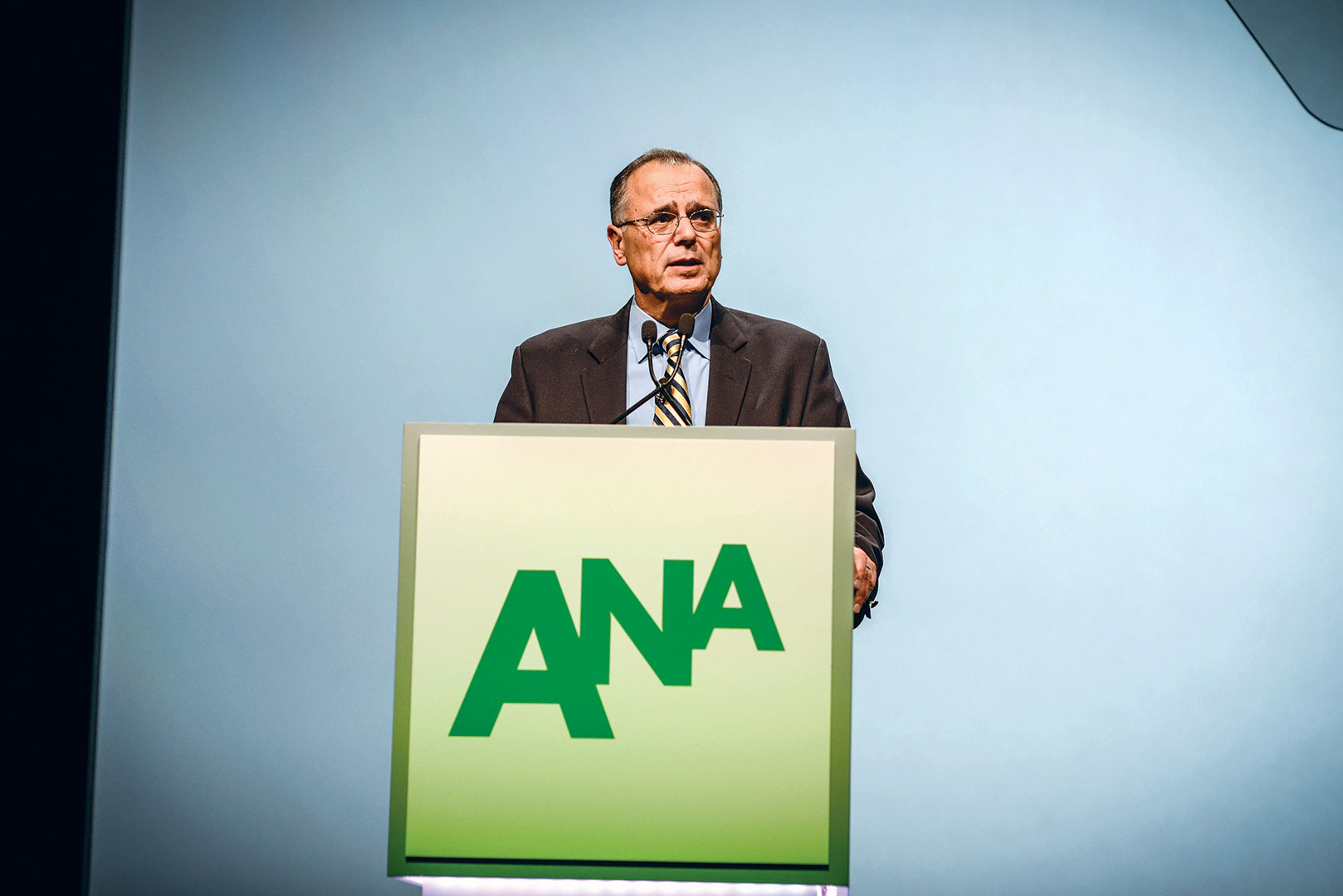 "I'm sure we probably lost a sponsorship or two," he said. "I don't think we saw a major change one way or another as far as our financials."
But he said membership is up, and registration for the group's flagship Masters of Marketing Conference reached a record 2,800 people in October. Associate memberships, which include some agency employees, are rising at a healthy pace, Mr. Liodice said.
Though ANA revenue growth has slowed early in the year, it's picked up in the back half, he said. And longer term, the group has quadrupled staff from 28 to 115 during his 12 years at the helm.
More broadly, the transparency campaign is part of the group's larger "marketer rights" movement, Mr. Liodice said. "Marketers need to lead the way in taking this industry back."
Marketer to Watch
L'Oréal
By Jack Neff
The beauty business has been a tougher place for big brands in recent years as smaller players, fueled by digital and social media, gained ground. L'Oréal and rival Estée Lauder have been active at acquiring emerging brands and growing them, but the latter had been growing faster—until recently.
As Estée Lauder, marketer of brands that include MAC and Bobbi Brown, reported surprisingly soft sales last quarter, L'Oréal delivered an upside surprise with 5.6% organic sales growth fueled by a 7.5% increase in North America.
Key to those numbers were strong results from emerging brands acquired in recent years, such as Urban Decay, Nyx and Carol's Daughter. L'Oréal USA also helped capture some of the space upstart brands have been gaining in haircare with its launch of Garnier Whole Blends, paraben-free products with botanical ingredients.
L'Oréal has boosted results in part with digital innovation, such as the Makeup Genius augmented-reality app for trying on makeup virtually.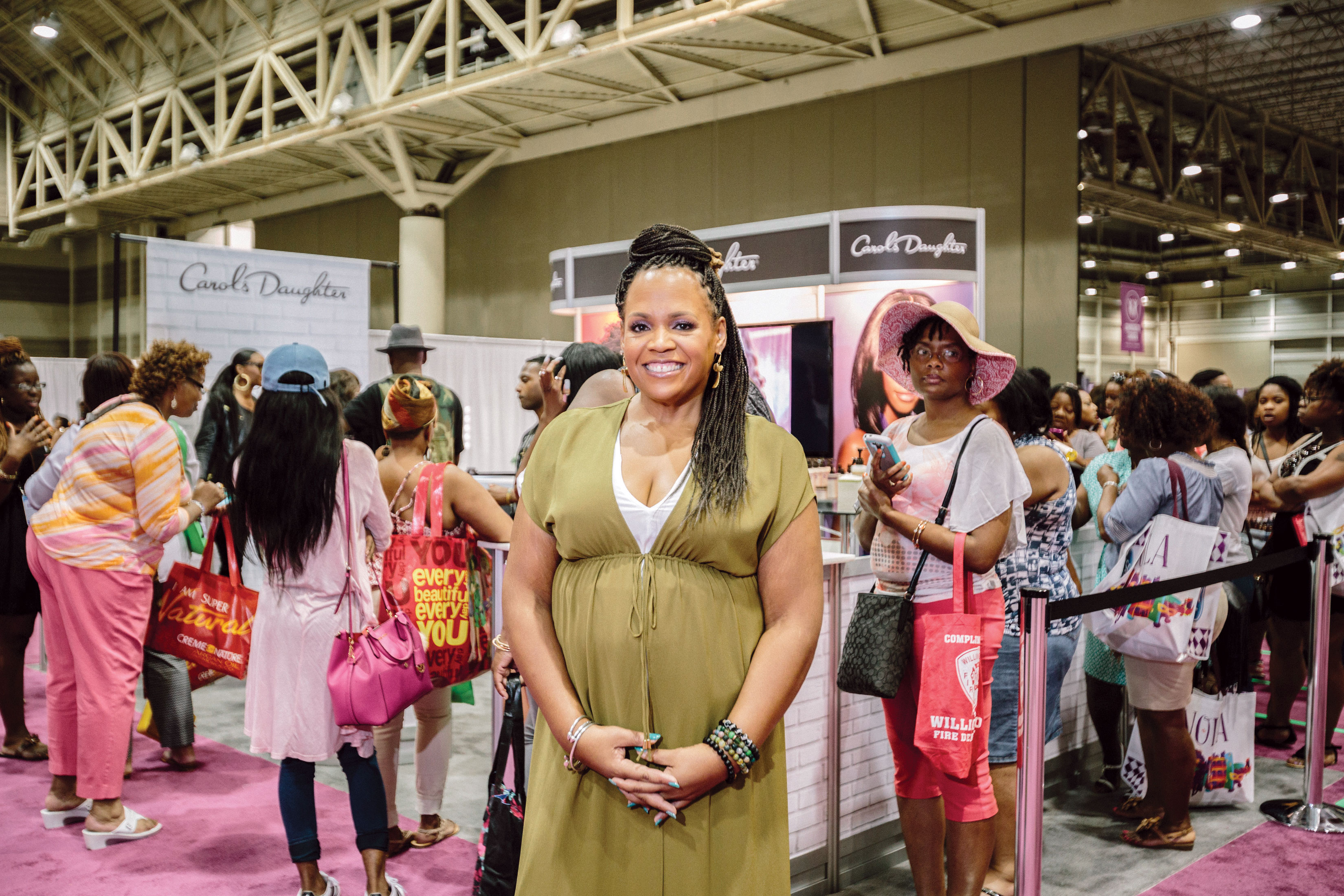 Marketer to Watch
Girl Scouts
By Jessica Wohl
Girl Scouts of the USA received a major boost in February when Academy Awards host Chris Rock reached out to a troop leader about girls selling cookies on-air to hungry stars during the Oscars broadcast. Now the Girl Scouts are gaining more attention—this time in the grocery aisle. Quaker Oats began selling Chewy Girl Scouts granola bars in the organization's signature Thin Mints and Caramel Coconut flavors in 2015. The J.M. Smucker Co. followed this year with Girl Scouts-branded Pillsbury baking mixes that essentially extend the famous cookie flavors into blondies, brownies and cupcakes. And beginning in early 2017, the organization moves onto the breakfast table. General Mills will sell Girl Scouts cereal in Thin Mints and Caramel Crunch flavors for a limited time, with a portion of sales supporting Girl Scouts of the USA programming.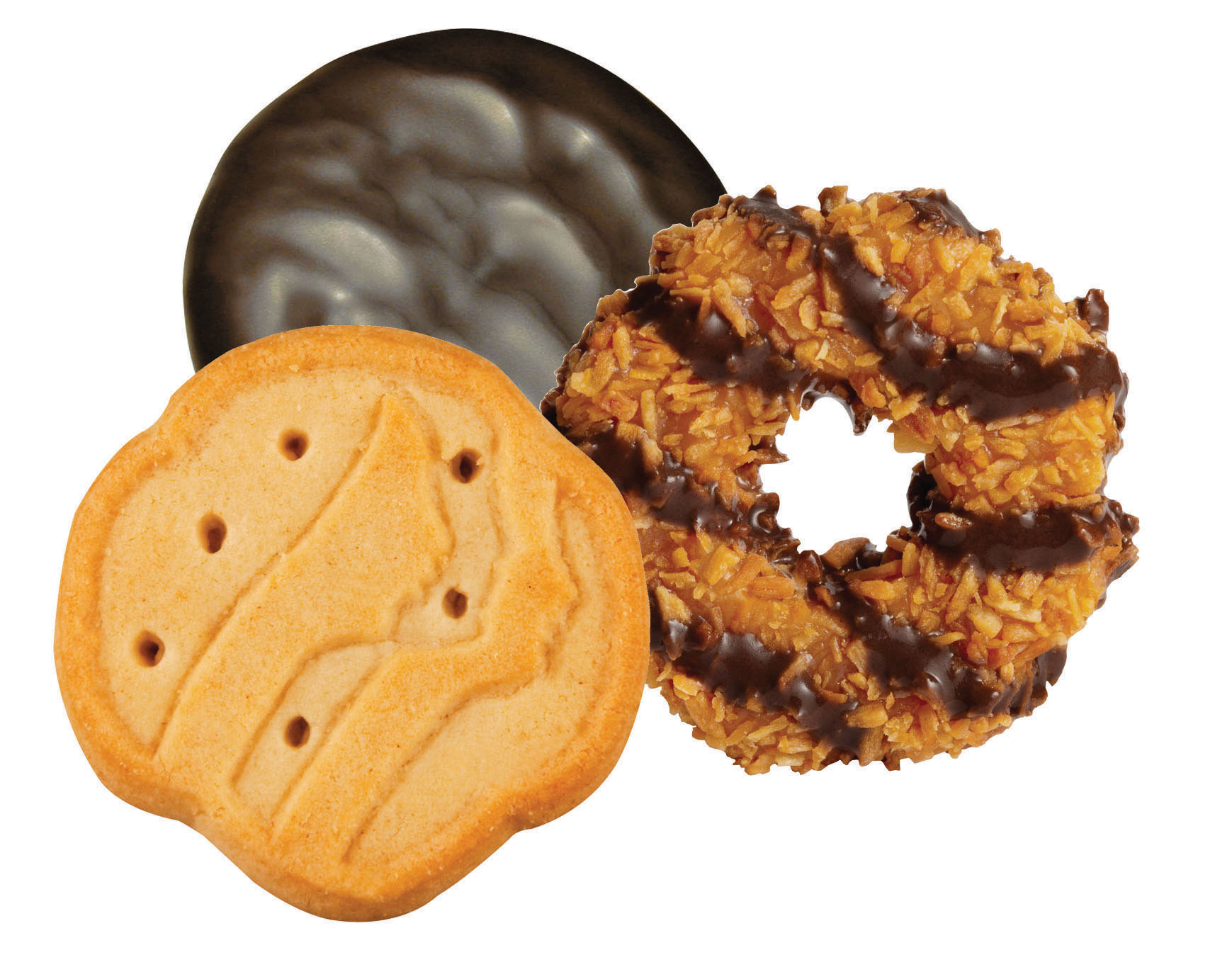 Marketer to Watch
American Eagle
By Adrianne Pasquarelli
One of the few apparel brands getting it right with fickle teens, American Eagle Outfitters is flying above the fray. A huge part of that can be attributed to the Pittsburgh-based brand's marketing. American Eagle recently hired Kyle Andrew from Kate Spade as chief marketing officer and has won over millennials with its body-positive messaging, including a no-airbrushing pledge, which resonates with young consumers eager for brand authenticity. Earlier this year, the 1,044-unit retailer, after posting a 7% rise in net revenue in 2015 to $3.5 billion, worked with Laird & Partners to debut "#WeAllCan," a campaign that tapped young actors like Hailee Steinfeld and Cody Christian to post messages of empowerment and love. To keep the momentum going, American Eagle plans to expand its brand on a global level in order to become less reliant on the U.S. mall.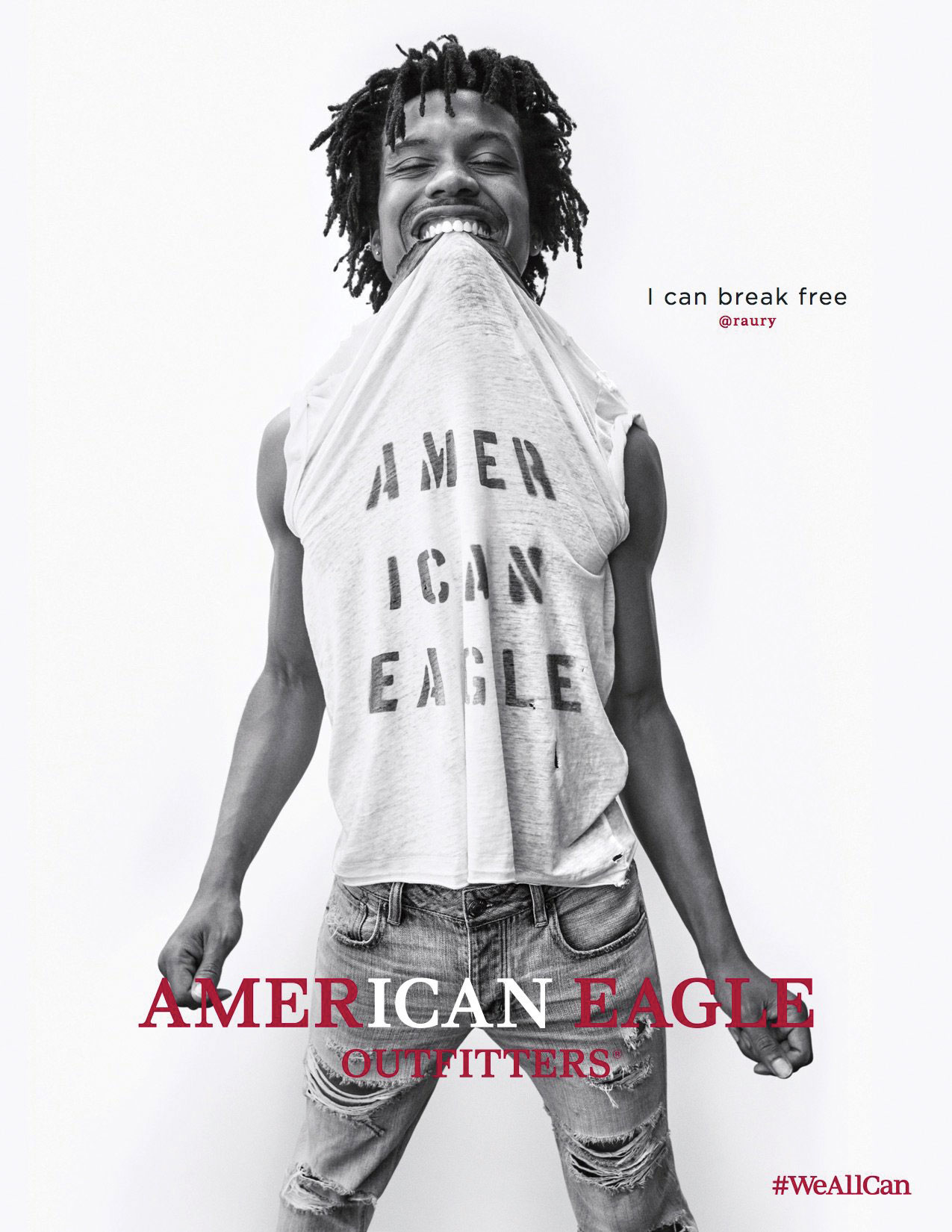 Marketer to Watch
Snapchat
By Garett Sloane
Snapchat has mastered the art of mystery marketing, and it can generate instant attention even while it tries to appear low-key. Just watch how it's rolling out its first hardware product, Spectacles. Snapchat hasn't gone through a traditional retailer to stock its glasses or spent money on TV commercials, yet lines for the video glasses are hours long. That's because supply is restrained; Snapchat is only selling them out of what it calls "Snapbots." These glorified vending machines have the feel of a Snapchat product—they are yellow, giant emojis, spit out receipts that look like rainbows, and vanish after 24 hours. It's this elusive quality that has made Snapchat a must-have app and a company everyone on Madison Avenue wants to play with. So enmeshed is Snapchat with culture that its signature ghost logo is the only billboard art it needs when it materializes into places from Cannes, France, to Times Square.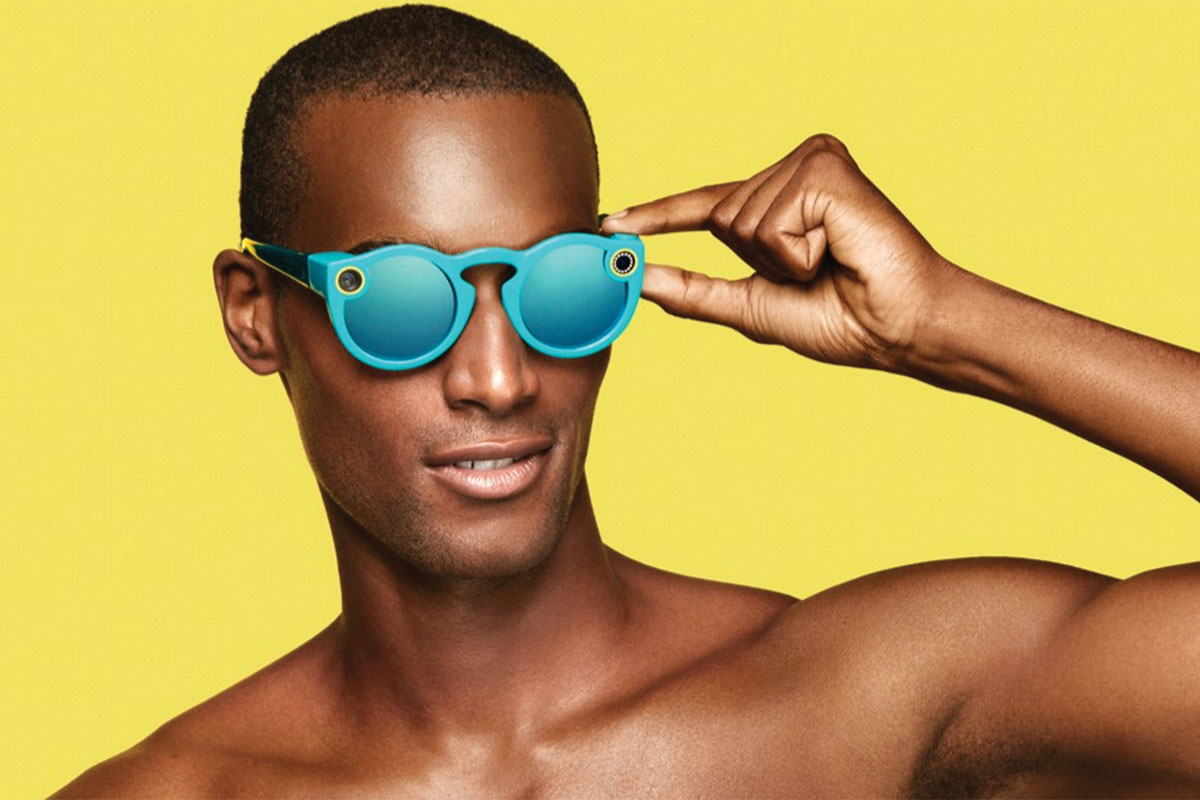 Marketer to Watch
Mattel
By Adrianne Pasquarelli
Barbie's back.
After more than five decades, Mattel has given its flagship doll a much-needed makeover, and so far consumers are responding. Earlier this year, the toymaker debuted curvy, tall and petite body types for the 57-year-old brand after adding ethnic diversity last year. Since then, Barbie sales have climbed for two consecutive quarters, most recently up 16% over the year-earlier quarter. Mattel's introduction of specialty dolls for celebrities such as ballerina Misty Copeland and plus-size model Ashley Graham have also contributed to Barbie's revival, as has a "You Can Be Anything" marketing message of empowerment produced with BBDO.
Now Mattel is in the process of expanding its Hot Wheels, American Girl and Thomas properties with more diverse marketing like episodic content. Third-quarter net sales were $1.8 billion, essentially flat with the year-earlier period, despite the loss in January of the Disney Princesses and "Frozen" mega-franchises to rival Hasbro, which indicates Mattel is heading into the holiday season strong.
Produced by Chen Wu.