Special Report: Agency A-List
Droga5 Is the Ad Age and Creativity 2016 Agency of the Year
Obsessive, Restless Agency Attributes Its Success to Caring -- Perhaps Too Much
When asked about Droga5's biggest strength, founder and Creative Chairman David Droga knows that many would say creativity. Others would cite strategy. But he believes the key to the agency's success is caring -- perhaps too much.
"Caring is out of scope, but we do anyway," Mr. Droga has said time and again over the years. It's this obsessive, restless giving-a-damn -- about making work that stands out creatively, drives business and, in the best-case scenario, has an impact in the real world -- that has led the agency to where it is today.
Last year was spectacular for Droga5. The shop saw 62% growth in revenue, jumping from $78 million in 2014 to $126 million. The leap was especially considerable given Droga5's stellar track record of at least 31% growth year-over-year since the company's founding.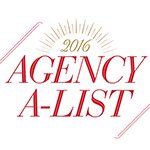 All the while, the shop has lived up to its reputation as a creative powerhouse with impressive work for giants in sportswear, technology, beer and automotive, as well as for less-sexy categories like sausage, toilet paper and insurance. Its one-two punch of buttoned-up business acumen and insightful and innovative ideas earned the agency double honors as both Advertising Age's Agency of the Year and Creativity's Agency of the Year.
Much has changed since Droga5 opened with a small team on Lafayette Street in New York City in 2006. The name Droga5 (which is how Mr. Droga's mom would label her fifth son's school shirts) today adorns the lobby of a glitzy Wall Street office, where a Stumptown Coffee bar helps fuel the nearly 600 staffers who have already squeezed the agency out of its six floors and forced the addition of two more.
Mr. Droga has aspired to do things differently and create beyond the bounds of traditional advertising. "I've become obsessed with producing work that doesn't necessarily start with a given template," he told Creativity in 2006. "I love traditional advertising and have built my career on it. I think that is one option, not the only option." Mr. Droga wanted to create ideas that were more "three-dimensional and experiential and don't just circle the fringes of pop culture, but rather create or influence it."
While that mindset continues to permeate the agency's thinking, in 2015, Droga5 largely excelled in creating what qualify as great ads. "Every year, we set new goals for ourselves, and it's not about numbers or awards or people," said Mr. Droga. "It's about how do we retain that ambition and desire to do the work we believe in, but do it in scale on a bigger canvas? It's also about how do we not be repetitive, yet not be different just for the sake of being different? Our core has to be the same, and we have to try to do it in a way that's relevant for now. So what's great in 2015 might not be great for 2016."
Much of the work indeed has become part of culture. Under Armour is the most notable example. The brand continued to revel in the success of the 2014 women's line campaign "I Will What I Want," which earned top accolades at industry awards shows, and was last year's the third most decorated campaign, according to Ad Age's 2015 Awards Report.
In 2015, Droga5 helped extend the brand's relevance across multiple categories. Once known as a gridiron player, Under Armour now easily associates itself with a ballerina, a golfer, an NBA star -- even an astronaut. Stunning ads depicted elegant "clone" armies of Misty Copeland, Jordan Spieth and Stephen Curry striving to be their best selves in the "Rule Yourself" campaign. A brilliant cross-promotion with "The Martian" (created in partnership with WME and 3AM Entertainment) delivered the message that Under Armour was "The Official Training Partner of the Ares Program."
"Probably Droga5's greatest contribution has been to show us that the brand can go into a lot of areas and be legit and authentic," said Under Armour Senior VP-Brand Strategy Rick Anguilla.
In 2015, the agency topped its 2014 "If We Made It" Super Bowl campaign for Newcastle beer with "Band of Brands," which invited other advertisers to get in on the big-game fun by joining forces in a single Super Bowl spot (albeit one that ran once, locally, in Palm Springs, Calif.).
The shop showed mettle on sheet metal, bringing an eye-opening approach to marketing cars for Toyota. Actual bullshit, lemonade and garbage fueled the Mirai car and campaign. For sibling marque Scion, Droga5 was hilarious as ever with laugh-out-loud ads showing how James Franco, Jaleel White (Urkel from "Family Matters"), a hipster vampire and stock-photo people benefit from driving the car.
Perhaps one of the agency's most successful, and delightful, surprises of 2015 was Google Android's "Friends Furever," which coupled images of unlikely animal pals with the charming song "Oo-De-Lally" from the Disney classic "Robin Hood." The ad became the most socially shared of all time, according to Unruly Media.
"They have this wonderful ability to tap into what's current and turn it into an epic story," said Lorraine Twohill, Google senior VP-global marketing.
Yet the work was just one example of the agency's offerings. "Even in the pitch process, their ideas were much more immersive," said Ms. Twohill. "They understood companion apps, they had product and experience ideas, which is what you really need today. And they went beyond by putting themselves in the shoes of the consumer."
In the hands of Droga5, even the most "boring" of categories continued to spark exciting ideas. In 2015, the agency implemented a real "Race for Retirement" for Prudential, and for Quilted Northern it dared to show how toilet paper is not worth remembering in a campaign depicting the angst of inanimate objects that are forced to witness potty time. Georgia-Pacific Chief Marketing Officer Douwe Bergsma said, "With Droga5, I think we did something really brave in a world where everybody tries to stand out and is shouting for attention. We were basically admitting that we are designed to be forgotten."
The agency continued to make good on its founding premise to do work "measured by more than the bottom line" with the "No Ceilings" human rights campaign for the Clinton and Gates foundations, which imagined a world with no women by literally pulling their images from real magazines and media.
One Clinton continues to bank on Droga5. The New York Times reported in November and the agency confirmed that Hillary Clinton's presidential campaign had brought Droga5 onto its team, and that the shop had created four ads highlighting the struggles and wage inequities of working women.
Creativity, the Business Driver
Droga5, which this year earns a back-to-back honor as Creativity Agency of the Year, indeed delivered some of the year's most innovative ideas. But the best example of the power of the shop's creativity is that it drove business -- for both the agency and its clients.
"Our strength and growth is based on the work we do," said Global and New York CEO Sarah Thompson. "We really push ourselves to develop ideas that help clients ascend to new places." New clients for 2015 included JPMorgan Chase, NRG, Johnsonville and NBTY, while the agency expanded its relationships with Under Armour, to become AOR, and Toyota, adding Scion to its roster. Just last week the T-Mobile added the agency to its roster.
While the work may be the lure that gets marketers knocking, the smarts are what get them to sign up. Mr. Droga gives serious props to Global Chief Strategy Officer Jonny Bauer, and clients across the board attest that the agency delivers beyond expectations when it comes to business insights. JPMorgan Chase Chief Brand Officer Susan Canavari said, "They have one of the strongest strategy teams I've ever seen. Not only did they thoroughly go through our research, but they conducted their own research and came to an understanding of our clients and customers and what really drove them."
"I don't know what is the agency's biggest strength, its planning or its creativity," said Georgia-Pacific's Mr. Bergsma. He was even more surprised by the agency's analytical capabilities. On Dixie, "we provided them hundreds of PowerPoint pages. We thought, 'These guys are going to burn it and pretend they read it,' but instead when they came back, they had synthesized the information and translated it into a new direction we should be taking the brand."
Growing Pains
With the growth of the business have come growing pains. "The thing I was most worried about all year long was 'Is our culture going to change?" said New York Chief Creative Officer Ted Royer. "I've read a lot about why people get disgruntled, and it's when someone's voice isn't heard. We work really hard to make people not feel anonymous. We don't do gang bangs. People's ideas aren't cannon fodder, and I encourage people to get in and see David, [ECDs] Kevin Brady and Neill [Heymann]."
The agency also said some major goodbyes -- to Vice Chairman and former CEO Andrew Essex and to its Sydney office, which closed in September. The London office had its own struggles and saw departures of key talent including CEO Kevin Dundas in 2014, followed by CCO Nik Studzinski last June.
But the agency re-grouped with the appointment of former Grey London Group Managing Director Bill Scott to CEO and David Kolbusz to chief creative officer. Mr. Kolbusz had steered top-notch work as co-ECD of W&K New York but perhaps more importantly, proved his chops in the U.K. market with celebrated campaigns for The Guardian at and Unilever while at BBH London.
The fortification of the U.K. team will be instrumental to invigorating the troops in New York. "We'll be much more tightly connected and work on projects together," said Ms. Thompson. "We think they'll make us better." Added Mr. Royer, "I want to be super competitive with that office."
At headquarters, Mr. Royer has beefed up the agency's front line of group creative directors. He's also bent on ensuring that the agency stays true to its core. "David puts it best when he says, 'We're a big agency now, but we never want to forget what got us here,'" said Mr. Royer. "It's not about playing it safe, or being afraid. What got us here is to be as ballsy as possible, but responsibly so. Why abandon that now?"