Marketer
A-List 2018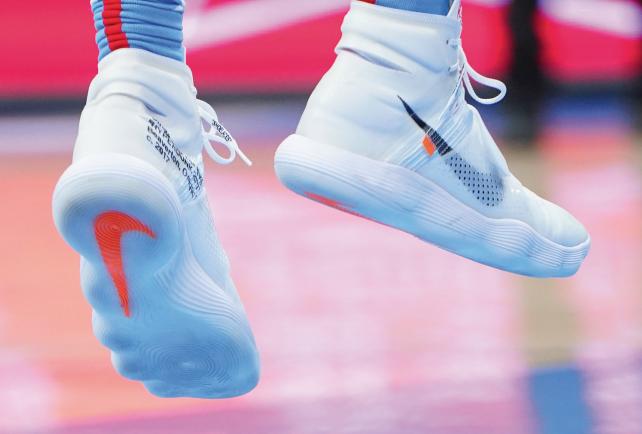 Winning at marketing means taking risks, perhaps like never before. Every member of Ad Age's 2018 Marketer A-List put something on the line and came out on top. Nike, our Marketer of the Year, took the biggest gamble of all by making Colin Kaepernick the face of a new ad campaign that drew strong criticism, but also love from its key consumer base. Coca-Cola poured money into Diet Coke when many thought it was a lost cause. Cannabis retailer MedMen led the charge in normalizing a product that remains illegal in many states. Fenty proved that making cosmetics for every skin shade is not only a nice thing to do, it can drive a business. After all, isn't that what marketing is about?
Winning at marketing means taking risks, perhaps like never before. Every member of Ad Age's 2018 Marketer A-List put something on the line and came out on top. Nike, our Marketer of the Year, took the biggest gamble of all by making Colin Kaepernick the face of a new ad campaign that drew strong criticism, but also love from its key consumer base. Coca-Cola poured money into Diet Coke when many thought it was a lost cause. Cannabis retailer MedMen led the charge in normalizing a product that remains illegal in many states. Fenty proved that making cosmetics for every skin shade is not only a nice thing to do, it can drive a business. After all, isn't that what marketing is about?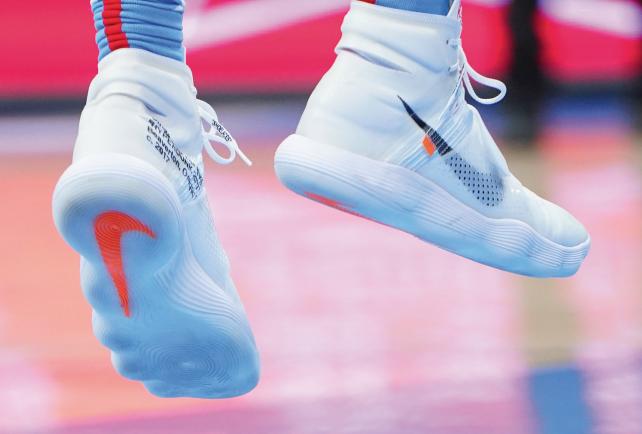 Published on December 3, 2018
Nike
Marketer of the Year
By Adrianne Pasquarelli and E.J. Schultz
"Believe in something even if it means sacrificing everything." With that nine-word tweet, sent on a quiet Sunday afternoon in September, Nike and Colin Kaepernick kicked off a campaign that would go on to win fans, create enemies and refuel a conversation about the role brands should—or should not—play in tackling societal issues.
Depending on who you asked, Nike was either a crusader for social justice or an unpatriotic agitator making a hero out of the man who started the movement of NFL players kneeling during the national anthem as a means to bring attention to racial inequities. Kaepernick was not the only athlete in the campaign celebrating the 30th anniversary of the "Just Do It" slogan, but he narrated one spot, which quickly became a lightening rod. Spike Lee praised Nike for being "on the right side of history." Republican Sen. Ted Cruz bashed the brand for being "on the wrong side of the American people."
Either way, Nike ended up right where it needs to be: in the middle of a debate that drew attention, admiration and—most importantly—sales from the urban millennials it needs to keep the swoosh strong. Along the way, the company proved it pays to take a stand, and it put to shame mealy-mouthed brands that claim to plug into culture but fall short with marketing that fails to portray a point of view on anything at all.
Nike's Kaepernick ad stands as a textbook example of how a marketer can change the conversation, a strategy that industry experts say will be emulated by many brands in 2019. "Virtually every CMO is going to look at [the campaign and say] 'How can we capture that magic?'" says Keith Johnson, VP and research director for the CMO research practice at Forrester.
For these reasons, Nike—which also made revenue leaps this year by bolstering its direct-to-consumer sales pipeline—is Ad Age's 2018 Marketer of the Year.
"Nike has regained its footing and is solidly marching back to top form," wrote Camilo Lyon, a retail analyst at Canaccord Genuity, in a recent research report. Nike had been losing steam to Under Armour, Adidas and some startups, but Lyon predicted that forthcoming product innovations will spark "the next multi-year run for Nike."
The company is already sprinting. Revenue soared to $9.9 billion in the quarter ending Aug. 31, up 10 percent from the same period a year earlier. Net income in the quarter jumped 15 percent over last year to $1.1 billion. Much of the gains are from Nike's online division; in the quarter, digital sales jumped 36 percent year-over-year.
Wooing millennials
The ad featuring Kaepernick, called "Dream Crazy," was unveiled on TV Sept. 5 during the NFL's season opener. The spot by Wieden & Kennedy also included other sports stars like LeBron James and Serena Williams, as well as lesser-known athletes like 10-year-old Isaiah Bird, a wrestler who was born without legs.
"We have a long history of supporting those whose voices are not always heard. For the 30th
anniversary for 'Just Do It', we wanted to energize its meaning and introduce 'Just Do It' to a new generation of athletes," said KeJuan Wilkins, Nike's VP of North America communications, in a statement to Ad Age.
The attention could not have come at a better time for Nike. For months, the 54-year-old brand had been plagued by inner turmoil after reports surfaced in the spring of a toxic workplace culture where many female employees alleged sex discrimination, including unequal pay and harassment. Nike parted ways with more than a dozen executives following the reports.
No marketing campaign can make that right, but the Kaepernick campaign, says Forrester's Johnson, "turned away attention from their own internal challenges." It also helped restore luster to a brand that built its reputation in part by standing by its star stable of athletes, in good times and bad.
"We look to iconic brands to remain relevant by capturing the cultural moment and taking a stand. Nike did it brilliantly," says Carol Phillips, president of Brand Amplitude, a brand strategy firm. "It demonstrated support for its athletes as people, not just performers, on and off the field of play."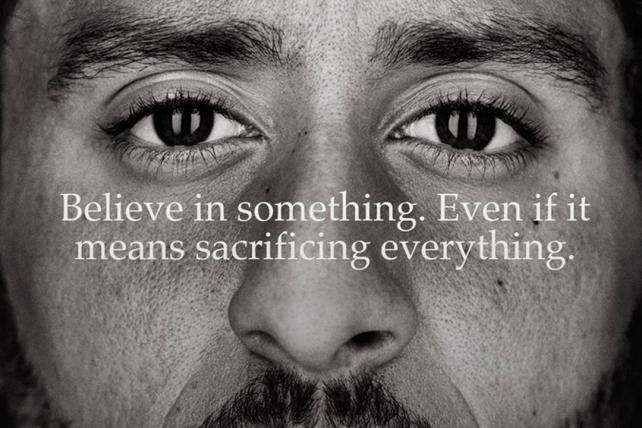 Love it or hate it, the Kaepernick ad just did it for Nike's bottom line. Credit: Nike
Kaepernick, formerly a quarterback with the San Francisco 49ers, has been on Nike's endorsement roster since 2011 but has not played football since 2016, the year he started kneeling during the anthem. By deploying him in an ad, Nike risked angering the NFL, which has been trying to delicately navigate the kneeling issue that has split its fan base. Nike is an NFL sponsor, supplying on-field apparel.
Yet the campaign helped Nike gain a stronger foothold with millennial shoppers, a group that had been slipping away in recent years due to increased competition from the likes of Adidas, Under Armour and even startups like Allbirds (see p. 29).
Younger age groups embraced the Kaepernick push, unlike their older relatives. Analysis from Morning Consult showed baby boomers and Gen Xers losing interest in Kaepernick's two-minute-long spot the second he appeared on screen, while the ad kept the attention of millennials and Gen Zers.
The ad's divisiveness is a strength, according to Gary Getto, president at ABX, which tracks the effectiveness of marketing. ABX found that a 60-second version of the Kaepernick ad scored only an 88 with a general audience, significantly below the average score of 100. However, the bulk of the drop was from older consumers, while millennials and African-American and Hispanic men scored the ad much higher than the industry average, according to ABX.
Says Getto: "I give Nike the highest marks. They knew what they were doing and knew that that ad was going to appeal to their primary customer base."
Soaring stock price
Nike's internal problems have not vanished. It still faces a federal lawsuit filed in August by former employees alleging gender and pay discrimination. More recently, a former Nike footwear developer filed a complaint with Oregon's Bureau of Labor and Industries alleging a hostile work environment, according to a report in Footwear News. Nike told the publication that it is "committed to creating a culture of empowerment and respect where everyone can succeed and contribute to our success."
But when measured by its stock price, Nike is healthy. Its share price hit a 52-week high near $86 less than two weeks after viewers first saw Kaepernick in the ad. Shares of Nike have grown 18 percent year-to-date and currently trade near $75. In the three-day period after Kaepernick first tweeted his involvement with Nike's "Just Do It" push, online sales of Nike jumped 31 percent, compared with a 17 percent increase over the year-earlier period, according to Edison Trends.
"We've seen record engagement with the brand as part of the campaign," said Nike CEO Mark Parker on a Sept. 25 earnings call.
Bridging digital and brick and mortar
Nike's 2018 retail gains include improving its brick-and-mortar offerings in an effort to be more of a direct supplier to customers. That makes the company less reliant on middlemen such as struggling department stores. These efforts are also helping the brand collect more data about consumers and adjust marketing accordingly. Last month in Manhattan, Nike unveiled a new futuristic store on Fifth Avenue, the "House of Innovation 000," which boasts 68,000 square feet over six levels. The store replaces a Niketown flagship a few blocks away.
The new location has something for everyone: Busy shoppers can use a self-checkout option without ever having to interact with employees, while shoppers eager for in-depth sportswear analysis can schedule a fitting and consultation in the Nike expert studio. A similar concept store in Los Angeles has a conversion rate of turning in-store shoppers into digital NikePlus members that is six times higher than the rest of the brand's fleet, Parker has said.
But for Nike, 2018 will likely always be remembered as the year of Kaepernick, which got the broader marketing industry talking. Chief marketing officers not affiliated with Nike heaped praise on the ad. That includes Kristin Lemkau, of JPMorgan Chase, who simply tweeted "Respect to Nike."
Read more
COCA-COLA
By E.J. Schultz
Coming into 2018 the Coca-Cola Co. faced a choice: Keep shoveling marketing dollars into a slumping Diet Coke, or give up on a brand that seemed way past its prime.
The marketer opted to go all-in back in January with the biggest product and marketing makeover in Diet Coke's 36-year history. The push included new flavors, a packaging overhaul and an expensive ad campaign by Anomaly aimed at broadening the brand's traditional consumer base beyond baby-boomer women.
The decision paid off: U.S. dollar sales for Diet Coke were up more than 2 percent through the last week in October, according to Nielsen data cited by the company. That's a big turnaround, considering that Diet Coke's sales had fallen 3.7 percent in the 52 weeks ending Dec. 2, 2017.
"Diet Coke's future looked dim, in large part because millennials just weren't interested," says Duane Stanford, executive editor of Beverage Digest. "To their credit, Coca-Cola's marketers decided to own the adversity rather than wallow in it. That meant adding modern flavors and creating advertising that gave young consumers permission to try Diet Coke."
The overhaul includes varieties like Feisty Cherry and Ginger Lime packed in new slim cans. When it came to ads, the campaign avoided A-list pop stars like Taylor Swift who have backed the brand in the past, opting instead for a diverse cast of up-and-comers like Karan Soni, an Indian-American actor known for his supporting role in "Deadpool."
Rafael Acevedo, Coca-Cola North America's group director for Diet Coke, credited the "synergy of all those elements working together" for luring new drinkers to the brand.
But it isn't simply Diet Coke that landed the company on this list. Coca-Cola's investment in Coke Zero in 2017 has continued to pay dividends. And the company has won accolades for promoting diversity and inclusion both internally and in its ads. The marketer also advanced its portfolio beyond soft drinks, which carry baggage over health concerns.
Coke Zero, which was renamed Coke Zero Sugar in mid-2017, is backed by a straightforward ad campaign by Fitzco/McCann that plugs it as tasting just like regular Coke but without the sugar. The product posted its best quarter of sales growth in 10 years in the three-month period ending Sept. 28, the company reported. Meanwhile, trademark Coca-Cola, which includes all varieties, grew 3 percent globally in that same three-month period.
The upswing comes nearly three years after Coke unleashed its "Taste the Feeling" global campaign, which uses a "one-brand" approach uniting multiple Coke varieties within a single ad. The ads are more product-focused than the previous "Open Happiness" campaign.
But Coke has still found ways to make big societal statements. With a 2018 Super Bowl ad by Wieden & Kennedy called "The Wonder of Us," Coke used the gender-neutral "them" to refer to a nonbinary person. The spot drew praise from GLAAD, which directed heart emojis at Coke during the game. This strategy succeeded because Coke backs it up with workplace policies that have earned it a perfect rating from the Human Rights Campaign for 12 years running.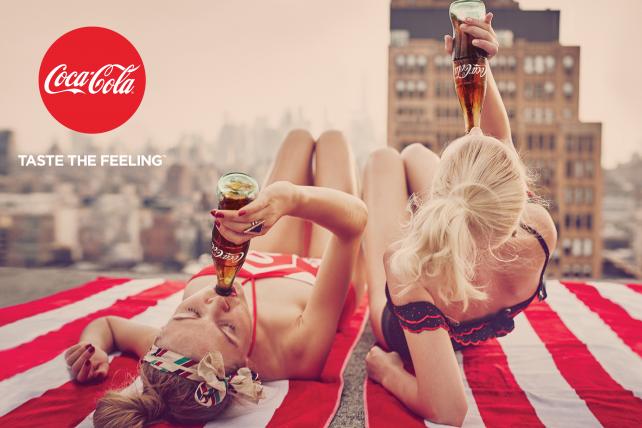 Coke's 'Taste the Feeling' campaign, introduced three years ago, is helping put the sparkle back into the marketer's many brands. Credit: Coca-Cola
The spot kept a product-first approach by touting multiple Coke varieties, but it "allowed us to talk about our values of diversity and inclusion by promoting the notion that there are as many ways to enjoy a Coke as there are people," says Brynn Bardacke, Coke's VP for content and creative excellence.
Coca-Cola is also making strides in diversifying its portfolio beyond soda. The company's Venturing and Emerging Brands unit (VEB), which is structured to identify and nurture brands with $1 billion sales potential, is leading these efforts. In late 2017, VEB acquired Topo Chico, a trendy premium sparkling mineral water, and in August of this year it took an ownership stake in the sports drink Body Armor. The latter brand, the backers of which include Kobe Bryant, has made inroads on PepsiCo's Gatorade by touting natural flavors and sweeteners with ads including star athletes such as James Harden.
Read more
CRAZY RICH ASIANS
By Judann Pollack
The huge success of "Crazy Rich Asians" was anything but assured in the months before the movie opened in August. "It was a leap of faith," recalls Blair Rich, president of worldwide marketing at Warner Bros., who says the project represented a lot more than a film both to her and the studio. "I've been at the company for 21 years and worked on a lot of movies, but this one has a lot of personal pride."
The marketing department, she says, "took it very seriously to show the world that diversity and inclusion can be entertaining and reach a broad audience."
The Warner team had to leap a lot of hurdles: "Crazy Rich Asians" was the first major Hollywood film with an all-Asian cast in 25 years; its actors were not megastars; and the movie was a romantic comedy, a genre drawing lackluster box office in recent years.
Moreover, to be a blockbuster success, the film had to draw a far wider demographic than might naturally be drawn to a film with a specific one referenced in the title.
"We always thought of it as an event film. Period, end of story," says Rich. "At other places it would have been treated as a niche film."
The studio began by landing lead actors Constance Wu and Henry Golding on the cover of Entertainment Weekly in November 2017. "Part of our strategy was to build up the cast," says Rich. "They were not complete unknowns but they were not household names."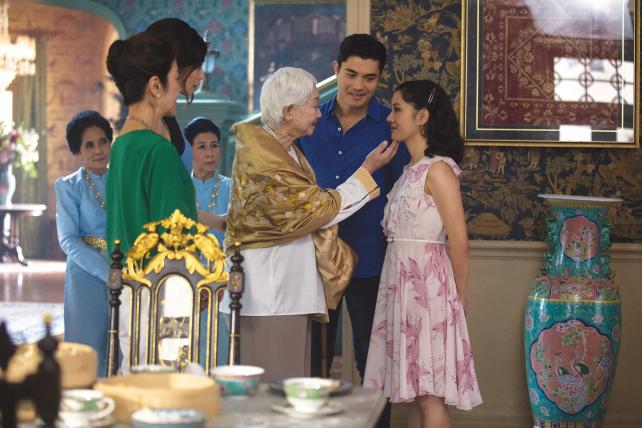 A scene from the hit film. Credit: Warner Bros.
Traditional marketing included trailers, out-of-home and commercials, along with tie-ins with TV shows like "The Bachelorette" finale and a promotion with iHeart Radio offering a trip to Singapore in conjunction with the Singapore Tourism Board. But in other ways the studio broke from marketing convention by giving the film the earliest advance screenings in the studio's history, starting in April with 354 locations. Warner hosted "tastemaker" screenings with influencers and did grassroots outreach to organizations like the Asia Society.
"It was hugely important that the Asian-American community felt they had ownership of the movie," says Rich.
They did. Asian-American groups began buying out whole theaters, contributing to a solid $26.5 million box office take on the film's opening weekend. According to The Hollywood Reporter, a film opening typically draws an audience that is 8 percent to 10 percent Asian-American. But it said 38 percent of the opening audience for "Crazy Rich Asians" was Asian-Americans. The remainder of ticket buyers were Caucasians (41 percent), Hispanics (11 percent), African-Americans (6 percent) and others (4 percent), according to The Hollywood Reporter, citing Warner and Comscore.
"It was a real heartbeat to the notion that representation of one culture was a win for others that were underrepresented," says Rich, adding that the film resonated with the LGBT community as well. "It became a rallying cry," she says, citing celebrities like Lena Waithe who lent their support to the film.
Warner says "Crazy Rich Asians" has raked in $237 million in U.S. box office to date, and Box Office Mojo ranked it the 13th-highest domestic grossing film of 2018. The film also notched the biggest opening for a romantic comedy in nine years. Film versions of the other books in Kevin Kwan's "Crazy Rich Asians" trilogy are now planned.
But for Rich, the stakes for her team were more than financial. "If we had failed at making ['Crazy Rich Asians'] successful, it would be a failure way beyond a movie not making money. We would have been letting down a community," she says.
The day the film opened, Time magazine ran a cover story titled "How 'Crazy Rich Asians' is about to change Hollywood." Says Rich: "I've been working my whole career to land a cover of Time magazine. This was so much more than a movie."
Read more
FENTY
By Adrianne Pasquarelli
Many marketers are following today's shoppers into the digital domains where they spend their time, like social media and e-commerce sites. But few have entered these spaces as successfully from the outset as Fenty Beauty, the cosmetics line launched late last year by Rihanna and Kendo, the beauty brand incubator at luxury conglomerate LVMH. With a stunningly diverse offering designed to be used on every shade of skin, Fenty's "beauty for all" message rings loud and true at a time when many consumers are thirsting for more authenticity and inclusion.
The brand debuted in September 2017 with 40 shades of foundation and 91 total products. A little more than a year later, Fenty has 5.5 million followers on Instagram, and several followers in real life, too—beauty brands like Kylie Jenner's Kylie Cosmetics and ColourPop have expanded their own foundation ranges to serve a wider variety of ethnicities. Those brands subsequently caught flak for appearing to piggyback on what many call Rihanna's genius.
"From its birth, [Fenty] catered to all skin tones—that's a differentiating factor from the other brands who might be perceived as jumping on inclusivity as if it's just a trend," says Lia Neophytou, associate consumer analyst at GlobalData Retail. She adds that such authenticity is a reason many consumers stick with a brand, and beauty brands in particular, for future purchases.
While the company does not break out Fenty sales specifically, on a recent conference calls with analysts, LVMH executives called out the brand's "outstanding year" and noted that it had "performed well" since its debut in 2017. A Vogue report earlier this year estimated that Fenty generated $100 million in sales during its first 40 days of business. Fenty declined to comment. The value of the global cosmetics market should reach $54 billion this year, a 6 percent rise over 2017, according to GlobalData's forecast.
Younger shoppers especially are gravitating to beauty as an affordable option for expressing themselves in a unique manner, says Mary Epner, who runs her own retail consultancy. Fenty has gained a large following in the LGBTQ community, a group that was not being marketed to by other brands, says Epner.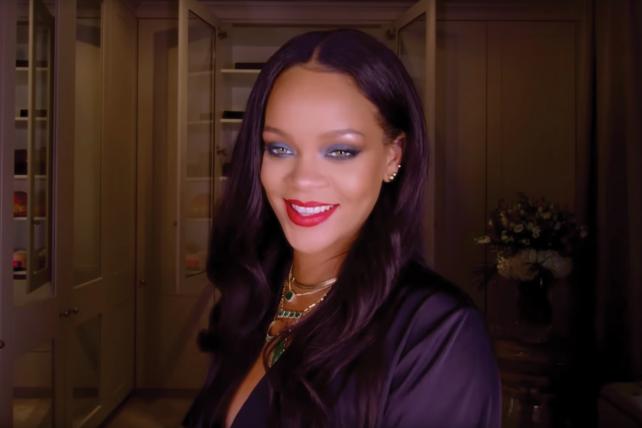 Fenty's success isn't just due to Rihanna, but to its diverse offering of cosmetics designed for every shade of skin. Credit: Fenty
And of course, Rihanna's involvement has been a huge contributor to the brand's popularity.
"She's the real deal," says Epner. "As of yet, we haven't seen her really stumble socially—she is who she says she is and the customers relate to that."
While other brands, like MAC and Bobbi Brown, have had diverse offerings for a broad range of skin tones and consumer types for decades, not all consumers were aware of that. Fenty, by comparison, used the strategy of marketing itself as a cosmetics label filling the needs of most everyone from the outset.
Fenty sells directly to consumers online and through retailers such as Sephora. Experts say it's a smarter way to reach today's millennial and Gen Z customers, who are often intimidated or distrustful of the department store beauty counters their mothers and grandmothers used.
Fenty uses Instagram to announce and promote product drops, and uses its social media network to engage with fans. The account features photographs of diverse individuals, including women wearing hijabs and user-provided selfies displaying a broad range of skin tones. A recent post announcing new lip crayon colors generated nearly 150 comments and 74,000 likes in its first 15 hours. Some commenters asked for advice on how to use the product and received answers within minutes.
"Fenty never disappoints," one commenter wrote.
Read more
FORTNITE
By I-Hsien Sherwood
Epic Games is no startup. The company is staffed with veterans of the video-game industry, and for decades it's made its mark with games like the "Gears of War" franchise. Its Unreal Engine technology has underpinned some of the most popular video-game series of all time, like "Mass Effect," "BioShock" and "Injustice."
But 2018 blew up for Epic Games thanks to the rise of "Fortnite," a free-to-play digital game it created and distributed that broke fully into mainstream consciousness. A year after its release in September 2017, the game boasts 125 million players worldwide, many of who are shelling out small amounts of money in-game for new outfits or quirky dances for their digital avatars. This business model has pulled in more than $1 billion in revenue and has pushed Epic Games to a valuation of $15 billion, according to The Wall Street Journal.
In the past, people who didn't play video games would still "talk about Nintendo and Mario," says Joost van Dreunen, CEO and co-founder of Nielsen's SuperData Research. "Now it's all about 'Fortnite.'"
Much of the game's popularity can be traced to its distribution model. "Fortnite" wasn't the first game to tap into the appetite for what's called "battle royale," or last-man-standing-style play, in which dozens of players compete simultaneously in a single digital environment, à la "The Hunger Games" or the format's namesake, the 2000 Japanese film "Battle Royale." Early last year, game developer Bluehole released "PlayerUnknown's Battlegrounds," which pioneered much of the gameplay.
But Epic Games made it free. There's no cost to play other than time, so it spread quickly by word-of-mouth between fans. "'Fortnite' has been all about jumping on an opportunity in the right way," says van Dreunen. Because Epic has a long history as a game engine company, it could port the code to almost any imaginable platform: Windows and Mac computers, iOS and Android mobile devices, PlayStation 4 and Xbox One consoles and the Nintendo Switch handheld. Anyone who wants to play can, without needing to buy expensive new hardware.
Rather than spend years on development, Epic has rolled out quick-hit offerings to players, like frequent updates, new purchasable items and season passes that unlock exclusive content. "Traditional publishers tend to think in terms of deliverables. Build a game, try to sell as many copies as they can. 'Fortnite' is much more agile in terms of its release," says van Dreunen. "It may seem low energy or like it doesn't cost them much, but it's what they got right compared to brands like Activision."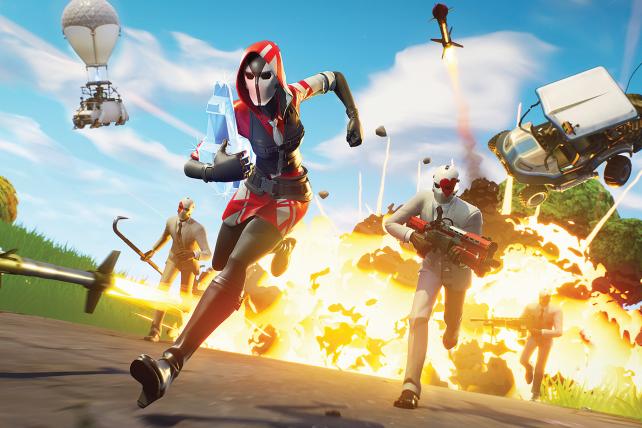 A winning model: 'Fortnite' is kid friendly, colors are bright and the action is cartoon-y. It streams online and, most of all, it's free to play. Credit: Epic Games
The game itself also has mass appeal. While many popular games, like Rockstar's "Red Dead Redemption 2," feature realistic violence and an open environment where players can make dubious moral choices, "Fortnite" is kid- (and concerned-parent) friendly. There's no blood in the combat. Winners dance when they're victorious. The colors are bright and the action is cartoon-y.
These visuals have helped "Fortnite" grab attention on a relatively new platform—online streaming. While millions of people play the games, others simply watch other people play it online. Players also watch others while they aren't playing, so engagement is phenomenally high. In May, viewers watched 574 million hours of "Fortnite," according to SuperData. In September, they watched 104 million hours on Twitch alone, according to The Wall Street Journal.
"Streaming was instrumental in connecting the content with the audience," says van Dreunen. Esports, while likely a big part of the brand's future, "is a station along the way for them."
But the move from store-bought consoles and games on discs to a wholly digital, online, interactive experience is the real shift in the works, he adds. "It's a sign of things to come in the way that the industry at large is transitioning."
Read more
MedMen
By Ann-Christine Diaz
Los Angeles-based cannabis retailer MedMen has been leading the charge to bring marijuana into the mainstream—a market estimated to hit $75 billion by 2030, says investment firm Cowen & Co.
When recreational marijuana became legal in California this year, L.A. customers who visited MedMen stores waited in block-long lines, not unlike the mobs seen at iPhone or Supreme drops. Inside, they found sales reps welcoming them into a space featuring wooden walls and elegant glass-topped display cases holding sniffable bud samples and iPads with more info on the goods.
Such upscale design elements have helped MedMen transcend any seedy, black-market stereotypes and led some to label it the Apple or Starbucks of weed.
"We're a retailer and we happen to sell cannabis," says Chief Marketing Officer David Dancer, who last served as executive VP and head of marketing at Teleflora.
CEO Adam Bierman and President Andrew Modlin, the company's co-founders, have largely focused their efforts on shaping MedMen as a retail brand. This year, the company debuted two major campaigns seeking to destigmatize cannabis. The first, which dropped in April, depicted folks from all walks of life—a cop, a coach, a designer and an enterpreneur—standing behind the scratched-out word "stoner."
In August, the brand introduced its largest marketing effort to date—a $4 million campaign that displays the word "cannabis" in large letters against vibrant photography of consumers enjoying L.A. locations like Beverly Hills.
MedMen also recently expanded its ads to Las Vegas with billboards depicting "locals" (e.g., an Elvis impersonator) that point to the chain's newest retail location in Paradise, Nevada.
In both the ads and real life, consumers emerge from MedMen stores carrying the brand's signature red zippered totes. "If this were 10 years ago, you'd be getting it in a brown bag, but now [our shoppers can say], 'I can purchase cannabis and be proud of it,'" Dancer says.
MedMen has worked steadily to increase its ad presence despite regulatory hurdles. The brand has been featured in national spots on Sirius XM. It broke through in terrestrial radio earlier this year on San Diego alternative station 91X.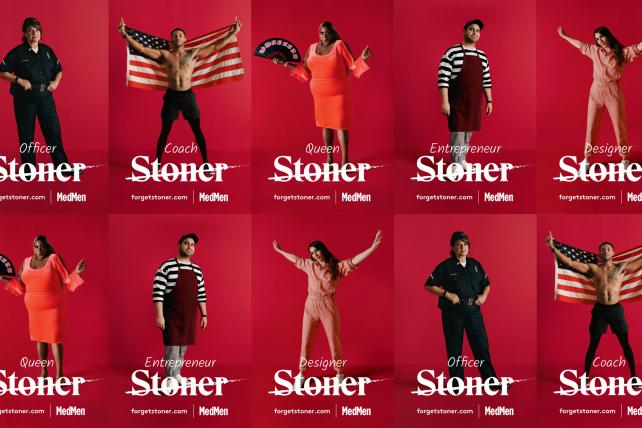 MedMen's glossy ads are aimed at destigmatizing the traditional image of marijuana users. Credit: MedMen
In April, MedMen partnered with ENTtech Media, the company behind Paper magazine, to create Ember, a glossy magazine focused on the cannabis lifestyle with informational pieces that also happen to promote wares sold at its stores. Last month, Ember expanded to become a digital content platform.
The amped up marketing coincides with the company's explosive growth. According to the company's most recent financial statement, MedMen saw annual systemwide revenues of $39.8 million for the fiscal year ended June 30, up from $2.7 million in fiscal year 2017. MedMen currently operates 19 retail and manufacturing facilities in California, Nevada, Florida and New York, with Arizona and Illinois to follow soon.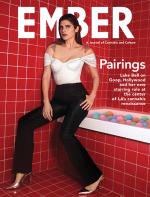 MedMen's magazine Credit: MedMen
In August, MedMen acquired medical cannabis firm PharmaCann for $682 million, increasing to 12 the number of states in which it has licenses. And just last month, MedMen debuted its own high-end cannabis product line, Statemade.
Still, there are growing pains. MedMen has yet to become profitable, and last month the company revised down its fundraising round by almost half and saw the departure of CFO James Parker. A Yelp review for its first retail location in West Hollywood also crystallizes what may be an issue for the brand as more states legalize recreational use: "Now that it's open to the public it's like the Upside Down from ["Stranger Things"]. Totally packed and chaotic, so many people at one time you can't even see the product, every time of day the store seems completely picked-through."
In 2019, marketing spending will likely increase, but Dancer says the approach will be tactical. "The $4 million budget of the 'cannabis' campaign is appropriate for today," he says. "But as we go from 15 stores to 66 stores, I want to make sure we're not replicating for the sake of replicating, but making decisions for efficiencies and returns."
Read more
NBA
By Anthony Crupi
While there's no such thing as a perfect NBA game—perhaps as close as any player has ever come was when Wilt Chamberlain scored 100 points against the Knicks way back in 1962, and even then the Philadelphia Warriors' center still managed to miss 27 shots and four free throws—the league as a whole is now on conversational terms with flawlessness.
According to Nielsen, the 2017-18 NBA regular season averaged 1.89 million viewers across ESPN, ABC and TNT, which marked an 8 percent increase versus the previous season. And while other major American sports leagues (and pretty much everything else that depends on TV as its primary distribution) continue to struggle to retain the increasingly elusive younger demos, NBA ratings last season actually improved 14 percent among the 18-to-34 set and jumped 15 percent with adults 18-to-49.
The ratings momentum is a function of the NBA's virtual monopoly on the imagination of young America. With a relatively apple-cheeked median age of 42, the league's fan base has only aged two years since 2000. By comparison, the median age of MLB viewers is now 57, while the NFL audience is an even 50. And the NBA's winning streak isn't limited to the fans watching at home or in the bar. Attendance for regular-season games last season increased for the fourth straight year to 22.1 million, and NBA venues combined for a record 741 sellouts.
Its social media strategy leaves rival sports leagues in the digital dust; with 32.3 million Instagram followers, the NBA's reach on the platform nearly doubles that of the NFL and MLB combined, and its Reddit page boasts a similar advantage. The Twitter race is much closer: With 27.4 million followers, the NBA enjoys a 3.2 million lead over the NFL.
For all the eye-popping stats in the box score, the NBA's outsized influence over young consumers transcends the machinations of marketing—and that isn't likely to change despite the announcement last week that the league's chief marketing officer, Pam El, is retiring. "It's not so much that the NBA influences pop culture—the NBA is pop culture," says The Atlantic's Jemele Hill.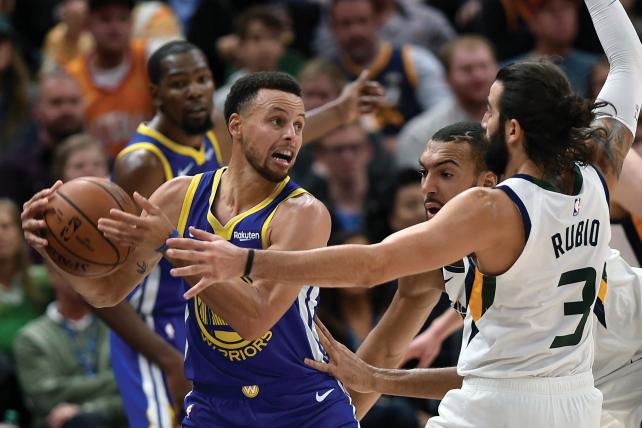 The Golden State Warriors' Stephen Curry fights off Ricky Rubio and Rudy Gobert of the Utah Jazz in an NBA game in October. Credit: Getty Images
NBA superstars like LeBron James and Stephen Curry not only use social media to galvanize their personal brands but also as a soapbox from which to discuss greater political and societal issues. The NBA actively encourages its players and coaches to speak out on everything from the Black Lives Matter movement to the current inhabitant of the White House. In the midst of the 2018 NBA Finals, James told reporters, "No matter who wins this series, no one wants an invite [to 1600 Pennsylvania Ave.] anyway." That statement speaks volumes about how fans and front-office executives encourage players to buck the prevailing "stick to sports" ethos. (Meanwhile, the NFL's seeming capitulation to President Trump's outrage over players kneeling during the national anthem only widened the divide between fans on either side of the issue.)
Of course, "progressive" carries several shades of meaning. The NBA has been the most forward-thinking league in terms of capitalizing on the inevitable shifts in sports culture and the dictates of the law. After rolling out a sponsored-uniforms initiative that sidesteps the intrusive vulgarity that typifies international soccer kits and race car design, the NBA earlier this year became the first major U.S. sports league to ink a deal linking it with an official betting partner (MGM Resorts International).
Perhaps only the thudding monotony of yet another Golden State title run might upend the NBA's apple cart, and the unstable chemistry between stars Draymond Green and Kevin Durant may very well put an end to the Warriors' hegemony. And while hoops fans in the Bay Area may bemoan the end of Golden State's remorseless reign over the country's fastest-growing league, for the rest of us who are eager to see another team hoist the Larry O'Brien Championship trophy in June, the accession of a new NBA power will only be sweetened by the schadenfreude that will come when—or, let's be clear, if—the Warriors are finally knocked off their perch.
Read more
Salesforce
By George P. Slefo
Salesforce isn't known for big splashy brand campaigns that tackle social issues or for celebrity-laden spots. It hasn't run a single TV commercial in two years.
Yet it's an $80 billion company with a rabid fan base and fantastic revenue. In the last three years, the world's leading customer relationship management (CRM) platform has more than doubled its stock price while showing growth each quarter. In its third quarter, revenue grew 26 percent to $3.5 billion, and the company says it's on pace to hit $23 billion for full-year 2022. Although it's historically operated as a b-to-b behemoth, Salesforce is aiming to grow by appealing to marketers who operate in the business-to-consumer landscape, an area that rival Adobe has long dominated.
Founded in 1999 by former Oracle executive Marc Benioff, now Salesforce's CEO, the company has long tapped into its user base to create both buzz and revenue. Not exactly a sexy business, Salesforce can on the surface seem confusing: The company has 12 cloud businesses—Marketing Cloud, Sales Cloud, Service Cloud and so on—all in the business of centralizing customer data. It uses consumer marketing techniques to mobilize its b-to-b audience and is a master of earned media, whether through its annual Dreamforce extravaganza or opening its latest office, Salesforce Tower in San Francisco, which it marked with a full day of celebrations in May.
"At the end of the day, we're different," says Stephanie Buscemi, chief marketing officer at Salesforce. "What you're seeing, hearing and feeling is an entire community that talks about Salesforce. We're not pitching at you, but instead people are telling stories both with head and heart about the power of Salesforce."
Dreamforce draws some 170,000 people, putting it on a par with larger-than-life spectacles such as the annual Consumer Electronics Show in Las Vegas. This year, 10 million people tuned into the company's livestream during Benioff's keynote presentation. Metallica and Janet Jackson treated attendees to free performances.The event completely overtakes downtown San Francisco with forest-themed installations, rock climbing walls and hackathons.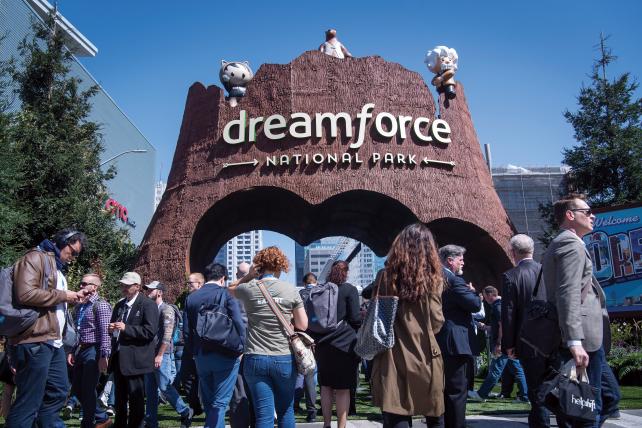 Salesforce drew an astounding 170,000 people to Dreamforce in May, nearly on par with the crowds drawn to the spectacle that is CES. Credit: Bloomberg
At Dreamforce, Salesforce customers stand in long lines, often stretching several blocks, in an effort to purchase stuffed dolls depicting the company's cartoon-like mascots, which include Einstein, Astro and Codey, a bear who plays banjo.
Eventually, "all [tech] brands begin to sound and look the same," says Buscemi. "You come to Dreamforce and you see something bigger. You see you are part of a community."
Salesforce's developer network has also helped spur Trailhead, an interactive online community that teaches people all things Salesforce. Those who participate are called Trailblazers, and those who truly excel are given a shimmering gold hoodie; only 26 of these have been handed out so far, and those who wear them are given celebrity status at Salesforce events.
Salesforce preaches about using technology for the greater good. "Is everything we are doing with technology ethical and humane?" Benioff asked during his keynote speech at the company's most recent Dreamforce. "It's a question every company CEO will have to answer."
Read more
Volvo
By E.J. Schultz
Plenty of automakers have tried appealing to commitment-averse buyers who no longer want to own cars. But Volvo has left the competition in the dust.
The luxury brand is enjoying robust demand for its Care by Volvo subscription program that is simpler than the normally paperwork-laden car-buying process: One flat fee covers insurance, taxes and "digital concierge services" like fueling, cleaning and valet pick-up and drop-off for vehicle maintenance.
Launched in the U.S. late last year, the initiative is still going strong even as rival vehicle subscription services suffer setbacks. Volvo hit its yearly subscription goal within the program's first four months, says Bob Jacobs, Volvo Car USA's VP for product, marketing and communication, who declined to specify the goal. "There's definitely demand for this program," he says.
The demand does not seem to stop with the subscription service. Volvo's total U.S. sales rose 27 percent to 81,256 vehicles in the first 10 months of the year, according to Automotive News. That compares with a 0.5 percent gain for the entire industry. The surge is led by Volvo's lineup of SUVs, including the new XC40 compact crossover, which is helping the automaker lure younger buyers. Volvo, based in Sweden and owned by China's Zhejiang Geely Holding Group, began making its first vehicles in the U.S. this year at a new plant in South Carolina.
The XC40 was the first car offered under the Care by Volvo program, at $650 a month. Volvo requires a two-year commitment, but consumers can swap in a new model after the first year. Other car subscription programs come with shorter terms, but Volvo has found a sweet spot that seems to be working economically. Cadillac, for example, recently confirmed that its subscription service, the $1,800-a-month Book by Cadillac program, will be suspended on Dec. 1. The program proved more costly for the brand to run than it had expected, The Wall Street Journal reported, citing people familiar with the program.
"The difference between some of the other programs and what we're doing is you keep the car for a year, so ... it's not a car you are trading in every other weekend," says Jacobs. He likens it to the way people buy smartphones.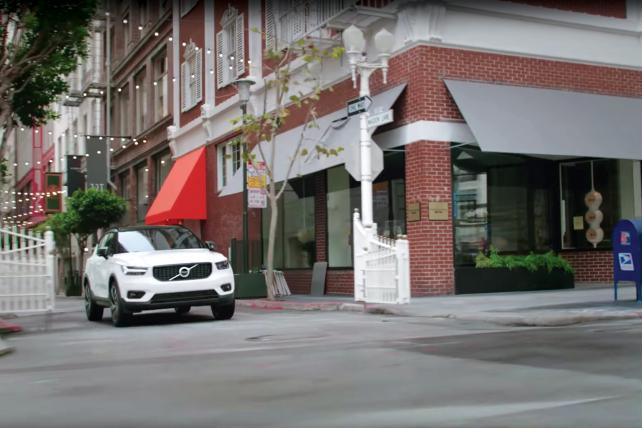 Part of the Care by Volvo campaign Credit: Volvo
An ad campaign by WPP's Grey New York plays up Volvo's subscription aspect by drawing on other industries that have undergone transformations. "You used to buy music, too," states one spot, which describes the XC40 as "the car you subscribe to."
"Luxury automakers have begun offering subscriptions in addition to a purchase or lease, but Volvo may well have landed on the right formula," says Michelle Krebs, an executive analyst for Autotrader, suggesting that it's more attractively priced than other plans.
Volvo is staying on the cutting edge in other ways, too. For instance, it's part of Amazon's Key In-Car service in which packages are delivered straight to parked vehicles. The program uses a system in which delivery drivers get one-time access to cars so they can drop packages in the trunk or back seat. Customers get a notification once the delivery is complete and the vehicle is relocked.
"This mix of car and commerce is starting the next wave of innovation," said Atif Rafiq, chief digital officer at Volvo Cars, in a statement earlier this year. "And we intend to be at the forefront."
Read more
Walmart
By Jack Neff
Sears' October bankruptcy filing echoes a common fate of traditional retailers after they reach the top. Like A&P before it, Sears didn't adapt to new competition fast enough, then began a decades-long spiral into Chapter 11.
As recently as five years ago, Walmart seemed poised to follow a similar path. Comparable-store sales growth had started slowing in the mid-aughts, then turned negative as the decade wore on. The Bentonville, Arkansas-based behemoth let Amazon get the jump on e-commerce, then passed on opportunities to catch up through acquisitions.
But by reinventing its strategy by investing in store improvements and, yes, acquisitions and more, Walmart has broken the pattern. It not only stopped the decline. It's growing again. The retailer posted its strongest showing in a decade in its fiscal 2019 second quarter, capping more than four years of consecutive quarterly same-store sales growth. Comparable-store sales were up 3.4 percent in the just-concluded fiscal third quarter, ahead of company targets. And Walmart's 43 percent growth in U.S. e-commerce in the third quarter (building on 60 percent growth the prior year) was well ahead of Amazon's North American pace, excluding the effect of acquiring Whole Foods.
CEO Doug McMillon, who worked with legendary founder Sam Walton, has been willing to rewrite Walton's playbook by investing heavily (and losing money) to compete with Amazon in e-commerce. But he also began fixing basics of store operations—like checkout wait times and out-of-stocks—with help from Walmart U.S. CEO Greg Foran, a veteran of Australia's retail market.
The 2016 Jet.com acquisition brought with it Jet's founder Marc Lore, who became head of Walmart's e-commerce unit, and fueled rapid growth. Walmart has expanded store pickup of online orders to 2,100 stores, beating competitors handily in a rapid rollout after years of slow-moving pilots. Meanwhile, Jet has become part of the company's play for urban millennials who largely avoided Walmart. Acquisitions or partnerships with specialty retailers like Modcloth, Bonobos and Lord & Taylor have also given Walmart a growing presence in apparel categories where it's long battled for relevance.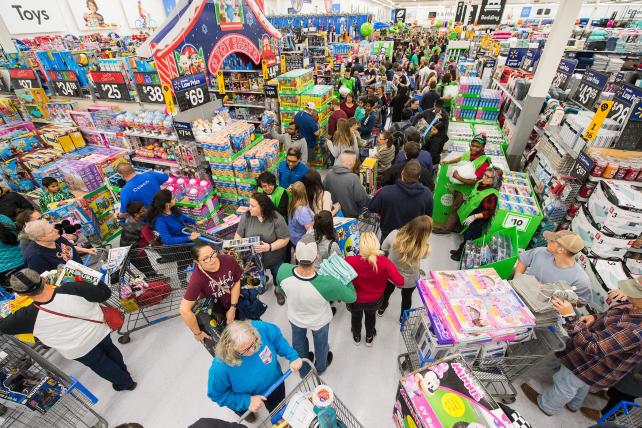 Walmart's former marketing chief Tony Rogers says the company is succeeding by keeping a 'maniacal focus' on its customers while also being willing to reinvent its model. Credit: AP Images for Walmart
"There's a maniacal focus on the customer and a willingness to reinvent the company if necessary to stay relevant," says Tony Rogers, who was Walmart's U.S. chief marketing officer the past two years as results accelerated. "That's hard to do when you're the world's largest company, but it's been pretty amazing to see how willing Walmart has been to upend anything and everything that needed to change in order to evolve with the customer."
Rogers oversaw merging offline and e-commerce marketing teams and marketing plans across multiple offices and merged agency relationships under Department W headed by Publicis Groupe.
In August, Rogers became chief member officer at Sam's Club, which has struggled to keep pace with its bigger corporate sibling Walmart as well as rival Costco. The Walmart U.S. operation he left behind added American Express veteran Janey Whiteside in the new post of chief customer officer and TripAdvisor veteran Barbara Messing reporting to her in Rogers' CMO post.
Speaking to investors in October, Whiteside described her job—spanning marketing, merchandising and operations—as something that "allows us to think differently, to work together, to solve problems on behalf of the customer." One example: improved store maps on Walmart's mobile app that guide people in filling their shopping lists.
While Walmart isn't losing sight of its price-focused shoppers or its new prime target of convenience-focused moms, it's also reaching out to "tech-savvy millennials," says Whiteside, through initiatives like JetBlack, a first-of-its-kind voice-to-text online concierge subscription service primarily for people in New York doorman apartments.
Meanwhile, Messing, who helped lead TripAdvisor's transformation from travel research to booking, now oversees a somewhat opposite evolution as the planet's biggest retailer tries to get better at content and reviews.
"We're in the midst of an incredible transformation," says Messing.
Read more
Web production by Jenn Chiu.