Following up on its study on the advertising experience last year, the FreeWheel Council for Premium Video recently conducted research in partnership with Realeyes focused on better understanding the impact of ad length on the ad experience and business outcomes.
With the rise of the 6-second ad format in TV and premium video, it's important to understand the best application of this format in relation to longer ad creatives and how marketers can use it as one of many options in their arsenal to engage consumers.
Using Realeyes' proprietary machine learning and computer vision technology, 4,885 participants aged 18 to 65 were exposed to different ad scenarios alongside clips of NBC premium video. The scenarios included a mix of 6-, 15- and 30-second ads from three different well-known, general interest brands, including Hershey's, in different combinations and sequences. Emotional and engagement levels were captured and viewers were surveyed about their experiences and attitudes toward the ads and brands.
Some key findings from this research:
Six-second ads have a more positive impact when used to reinforce a message already delivered by a longer ad.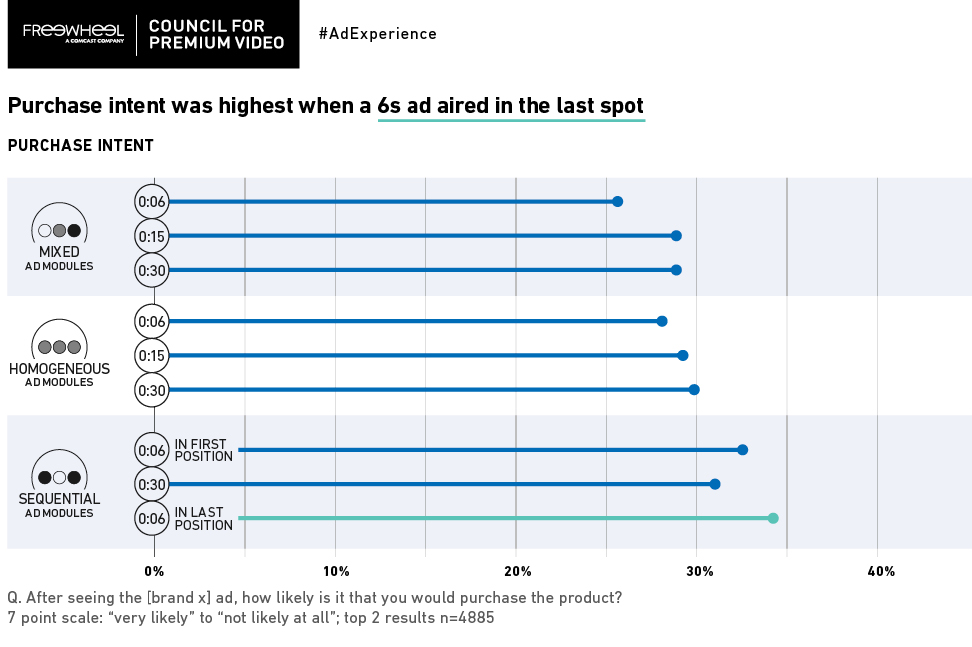 Thirty-second ads are seen as less enjoyable and less appropriate in short-form video environments.
When used exclusively, 15-second ads were seen as twice as effective as 6-second ads and 30-second ads.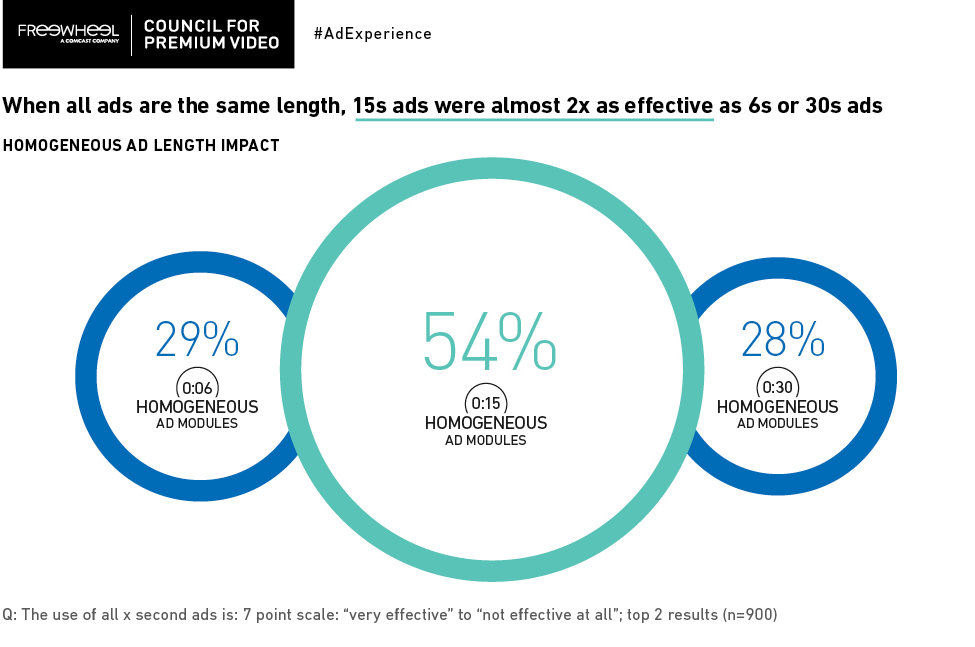 Other research suggests higher engagement levels with shorter ads among younger audiences, although in this study there was no significant correlation between younger audiences engaging with or favoring 6-second ads.
There is no question that these shorter formats can create impact for advertisers when used creatively and strategically with the full set of creative options and ad formats at the brand's disposal. Six-second ads when combined with 30-second ads as a reinforcement (as opposed to "teaser" in an earlier placement) create significant uplift in several important metrics such as engagement, brand recall and purchase intent.
"Innovation is essential to create compelling ad experiences for the modern viewer. We are actively testing different ad formats within different content types, screens and to different audiences," says Krishan Bhatia, executive vice president, business operations and strategy, NBC Universal. "The emergence of the 6-second ad format is particularly interesting in light of lower attention spans, and we believe that shorter ads can have a complementary impact on results for certain types of ad creative when paired effectively with other ad formats within a campaign."
Varying ad lengths can play a big part in overall viewing experiences, and it is the responsibility of both buyers and sellers of media to strike the right balance, sequence and frequency of these ad formats to deliver the optimal set of messages to an individual consumer.
Premium publishers continue to refine their ad experiences to improve the overall viewing experience and the appropriate ad load and lengths for each video session. By understanding more about these ad experiences, we believe both publishers and advertisers can work together on delivering more impactful and engaging advertising and use the full set of creative executions available to drive positive business outcomes.