Unclassified Topic
March Madness Underdogs Hand Tournament a Twitter Slam Dunk
HootSuite's Twitter Week in Review, March 22-28
Our Twitter Week in Review chart uses data collected and parsed for Ad Age by the What the Trend (WTT) unit of HootSuite, the social-media management dashboard with more than five million global users sending 3 million messages each day. (Last week's chart is right over here.) We're back today with Volume 50. Scroll down below the infographic for some context -- and watch for a fresh edition of our Twitter Week in Review each Friday.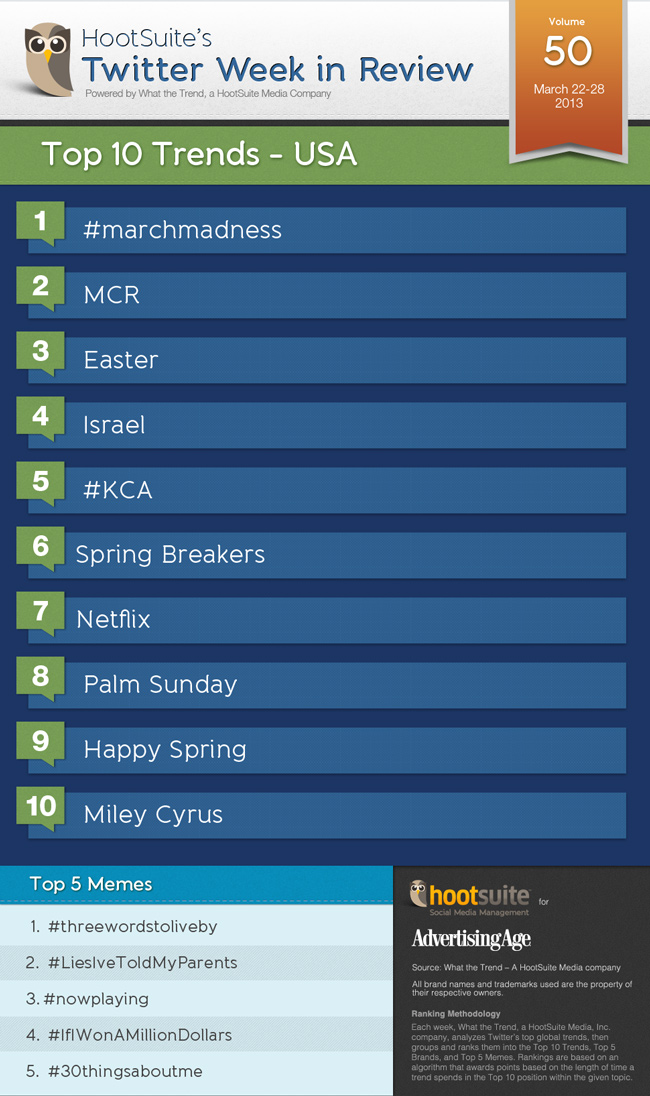 March Madness hit the Twitter chart with a vengeance this week, indicating it's not just basketball fans getting in on the conversation. Largely this is thanks to the Cinderella story care of the No. 15 seed Florida Gulf Coast, which knocked out favorite 2-seed Georgetown in the first round, an unprecedented win for a team ranked near the bottom of its division. After defeating 7-seed San Diego State, the school will take on 3-seed Florida on Friday night for its first chance at the Elite 8. More brackets were shattered on Thursday night when 4-seed Syracuse secured their Elite-8 spot again top-seed Indiana in a crushing 61-50 win. It's par for the course when the top seeds make it to the finals, but the underdog stories are what have been driving the conversation this season.

That was good news, not incidentally, for brands such as AT&T that associated themselves closely with the tournament. AT&T paid for ads in tweets like this from @MarchMadness:

Real-time highlights: @goshockers beats @goexplorers_com to move on to the #Elite8 #MarchMadness - snpy.tv/XmhkQD

— NCAA March Madness (@marchmadness) March 29, 2013

Spring has sprung in the U.S., and no more clearly is that evident than on the top Twitter trends chart. Aside from wishing each other a happy new season after spring officially began last week, Twitter users discussed its Christian holidays, including Palm Sunday (last week) and Easter (this Sunday). And though "Spring Breakers" could be just a generic term to describe the holiday makers enjoying a mid-march break from work or school, it's actually referring to the divisive new film starring James Franco and two of Disney's latest child-stars-turned-bad girls, Selena Gomez and Vanessa Hudgens. Gomez famously dated Justin Bieber for a stretch, while Hudgens and her "High School Musical" co-star Zac Efron were a high-profile item for three years, so both are on the radar of some rabid Twitter tribes. No wonder a film starring both of them and featuring excessive depictions of drug use, nudity, sex and violence managed to trend so high.
Two acronyms appeared in the top ten. The first, "MCR," refers to the pop-rock band My Chemical Romance, which said this week that it is splitting up. The second, "KCA," is for Nickelodeon's Kids' Choice Awards, which aired Saturday. Acronyms, not for nothing, do well on Twitter partly because they take up so few characters, leaving plenty of room for users to say what they will.
Visit What the Trend for explanations of trends and memes not covered above, and follow WTT: Define Now to help define trends.