Advertisers' viewability push has gotten Facebook to budge -- at least a little.
Sometime later this year Facebook will begin letting advertisers only pay for an ad if 100% of it appeared on a person's screen. But there's no requirement on how long an ad would need to be in view before an advertiser is charged, according to a Facebook spokesman. The spokesman declined to comment on why Facebook isn't placing a minimum requirement for how long an ad needs to be appear on screen for the view to count.
Since the 100% in-view buying option is only being extended to ads running in Facebook's news feed -- the only place where ads appear on Facebook's all-important mobile site and apps anyway -- the lack of a time limit could water down the option's value to advertisers. If someone quickly scrolls through their news feed, a brand would need to pay for any ads that rush by because Facebook's 100% in-view option only requires that the entire ad appear on the screen. In that case an ad had a chance to be viewed, if only a slim one.
Case in point, can you spot the ad below?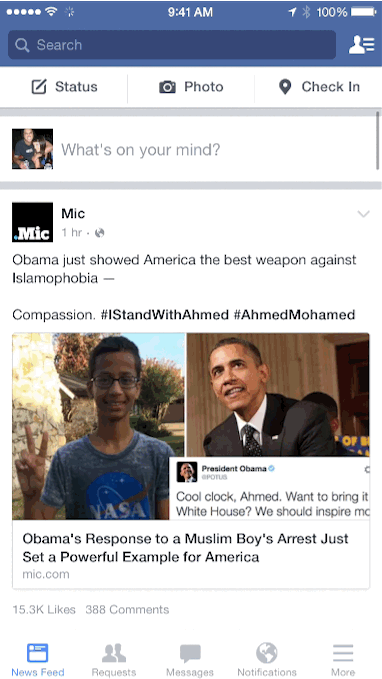 Advertisers have become increasingly concerned that they're paying for ads no one actually saw, and studies have shown that's often the case. In December 2014 Google said that 56% of the web's banner ads are never seen; ComScore had pegged the number at 54% in a 2013 study. As a result advertisers and their agencies are putting pressure on publishers to guarantee that their ads had a chance to be seen.
Facebook's move is the latest example of the company attempting to meet advertisers' viewability demands but on its own terms. For years the company charged advertisers once their desktop ads were served, even if they were served out of view where no one might see them. Then in 2014 it began to only charge brands for desktop ad impressions once an ad came into view, as it had always done for its mobile ads. There was still no threshold in place, however, for how much of an ad needed to be in view or for how long.
Now Facebook is exceeding the industry standard when it comes to how much of an ad needs to be in view for the impression to count but falling short when it comes to the length of the view. The Media Rating Council's standard for desktop ad viewability -- which doesn't extend to non-standard display ads like Facebook's -- requires that an ad be at least 50% in view for at least one second, or two seconds if it's a video ad. There aren't viewability standards for mobile or non-standard ads yet, though the MRC is working with Facebook, Nielsen, the Interactive Advertising Bureau and a number of brands and agencies to develop them.
Some advertisers may be okay without the time threshold. One of the most vocal brands on the viewability issue, Unilever, and its agency GroupM last year demanded that its display ads be 100% viewable but didn't put any time restrictions on that viewability. And Facebook quoted an exec from the CPG giant supporting Facebook's 100% in-view buying option in company blog post announcing the news on Thursday.
"It is very encouraging to see Facebook joining the ranks of digital media partners who are setting themselves apart -- and this commitment continues the momentum," said Keith Weed, Unilver's chief marketing and communications officer, in a statement. "Our hope is that these steps will lead ultimately to 100% viewability through third party verification across the industry."
As with ad viewability, Facebook is warming up to the idea of third-party verification. The social network is going to allow ad measurement firm Moat to verify the number of views a video ad received and how long those views lasted. In working with Moat -- which works with publishers including The New York Times, Wall Street Journal, Hulu, Twitter and Ad Age and brands like Unilever and Kellogg -- Facebook is extending something of an olive branch to advertisers that have complained and even pulled money away from Facebook over an inability to fact-check Facebook's numbers on how their ads performed.
However brands will need to wait a bit longer to verify their non-video ads on Facebook. Eventually Moat will be able to check the numbers for all the ad formats that appear in Facebook's news feed and on Instagram, but not yet.
~ ~ ~
CORRECTION: An earlier version of this article incorrectly said GroupM issued a quote to Facebook supporting Facebook's 100% in-view buying option. The quote instead supported Facebook beginning to allow third-party viewability verification.