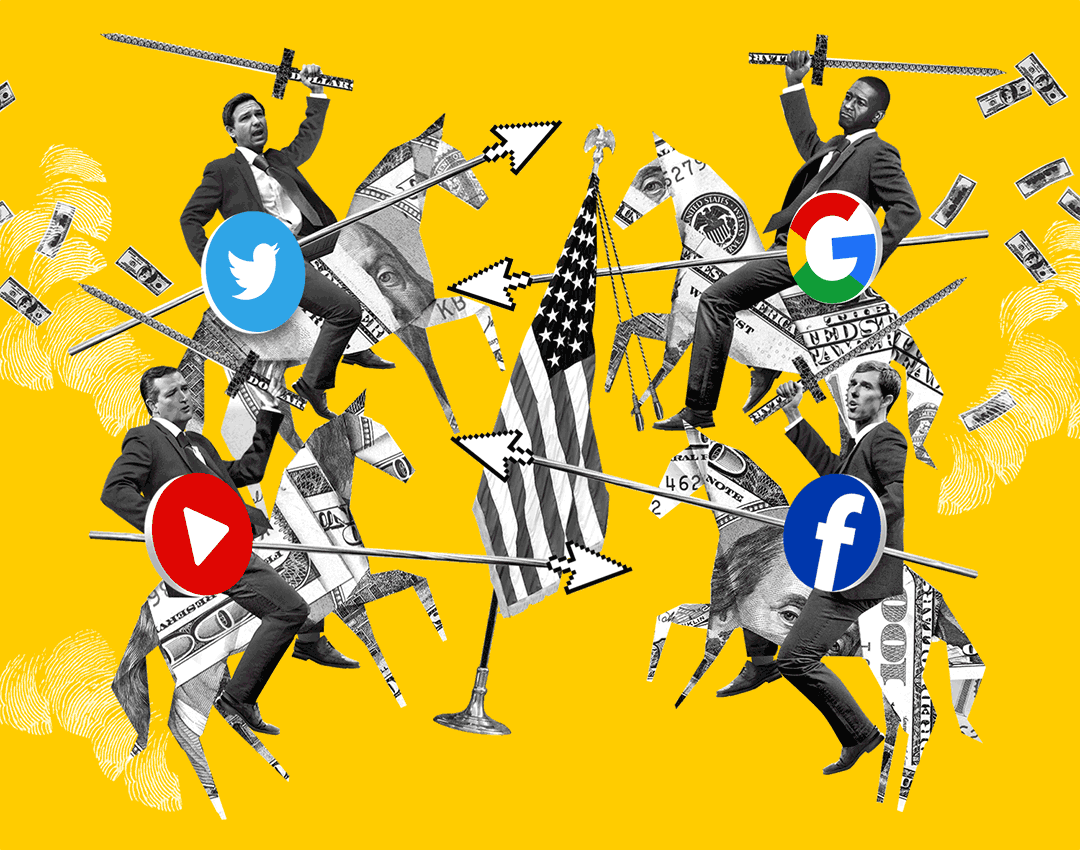 THE FIGHT IS ON
(HELLO, MIDTERMS)
The 2016 digital debacle means today's political advertisers are playing a whole new game?
By
Garett Sloane.
Illustration by Doug Chayka.
Published on Published on Oct 1, 2018
When Beto O'Rourke announced his run for the U.S. Senate in March 2017, Texas hadn't sent a Democrat to the Senate in 25 years, and the 45-year-old congressman was barely known outside his district. He seemed as long a shot against incumbent Ted Cruz as 100 Texans against Santa Anna at the Alamo.
The candidate then made an old-fashioned play to meet Texas voters face to face in a tour of every county. But he also took on Cruz in the digital realm.
Texas is shaping up to be the most digitally wired race in the country, according to researchers at Wesleyan University, with both candidates spending more money on Facebook and Google than TV from May to September. Out of all 14 highly competitive Senate races in the Wesleyan study, in fact, only the Cruz-O'Rourke contest is seeing more digital ad spending than TV. O'Rourke set the pace, putting down $2.14 million on Facebook in that time frame to Cruz's $216,599, the study found. His campaign experimented with dozens of varieties of ads daily and recalibrated the target audience with every buy.
"The Beto campaign did it the smart way, making digital a priority," says Kelly Vingelis, digital media strategist at Revolution Messaging, which has done some work for the O'Rourke campaign. "What's putting him in play are the overall politics across the country and the demographic changes in Texas. Once you have that close race, though, that's where the data and digital tactics start to make a difference."
Take the stark difference in digital strategies on Sept. 19, two days before the first Cruz-O'Rourke debate: O'Rourke spent up to $20,300 on 65 Facebook ads on that one day, while Cruz spent up to $5,300 on just four ads. (Facebook publicly discloses stats on political ads, like how much they cost, but it only provides a range.)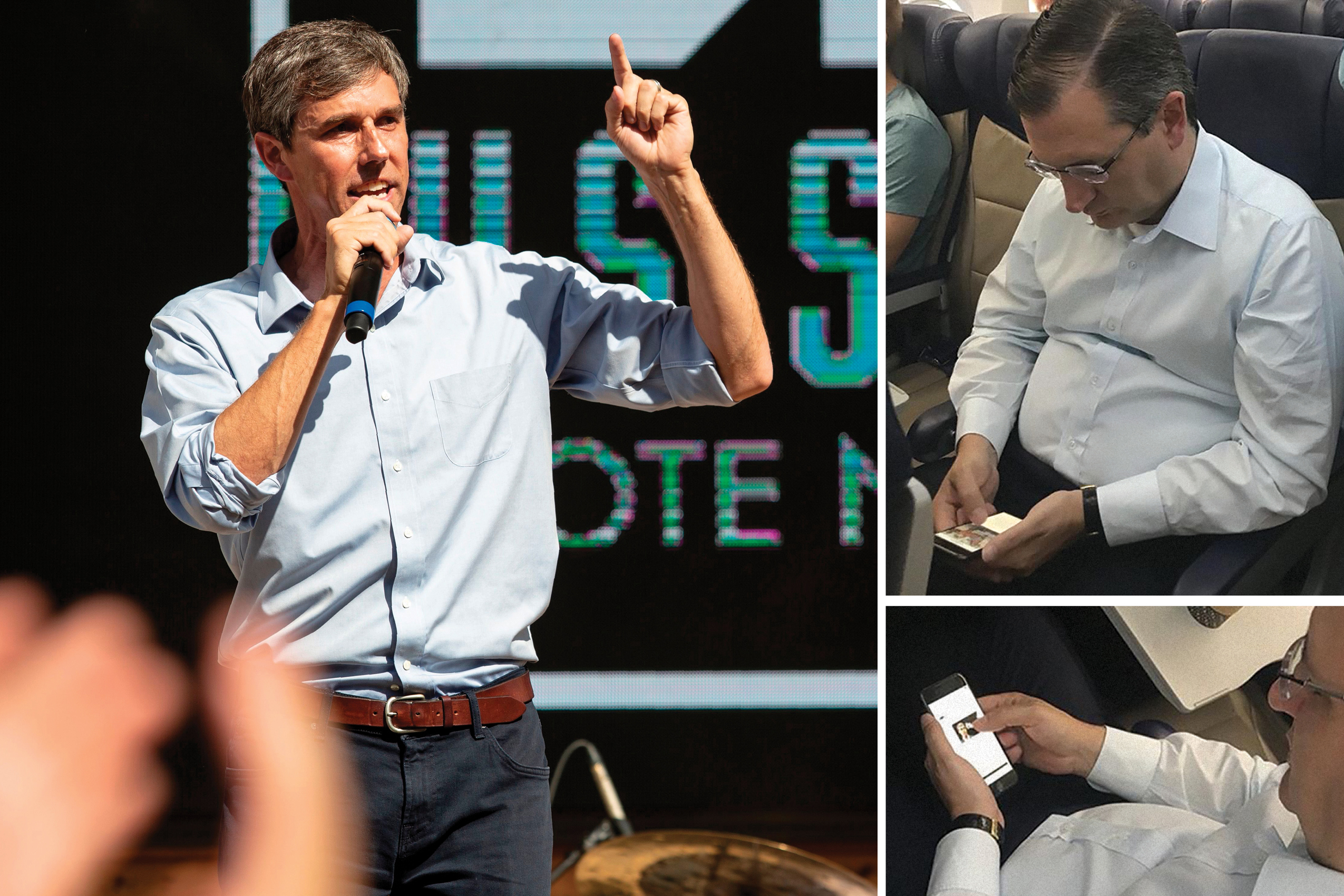 O'Rourke paid for dozens of kinds of ads—videos, Spanish-language posts, panoramic images, vertical videos, calls for donations, supporter testimonials. Cruz's biggest ad buys on Facebook that day were two attack videos challenging O'Rourke on the issues of kneeling during the national anthem at NFL games and immigration enforcement.
Cruz's Sept. 19 Facebook ads stayed in-state, targeted solely at Texans. O'Rourke mixed it up, though, with ads for local events and voter-registration efforts going only to Texans and then sending donation requests out of state to places like California and New York (a tactic Cruz also employs at times).
O'Rourke's digital supremacy extends beyond paid ads; the candidate achieved viral excitement and free publicity when he used Facebook Live while skateboarding in a Whataburger parking lot.
"He's the Facebook Live candidate," says Vingelis.
O'Rourke is a prime example of how campaigns are getting smarter about blending ad strategies with free social media exposure, tactics that brand marketers have been doing for years. The skateboard video generated 200,000 views on Facebook and cost nothing. And O'Rourke later used the footage in an ad that reached up to 200,000 more people for just $500. That many impressions typically costs 10 times that.
As of last week, O'Rourke had a one-in-three chance of beating Cruz, trailing Cruz by fewer than 3 points in the polls, according to FiveThirtyEight.
Full disclosure
That it's even possible to dissect the digital race in such detail is a new development. Academics like those at Wesleyan can know candidates' spending because Facebook, Google and Twitter have just begun publicly disclosing every political ad they sell.
The wave of transparency is largely a response to the Cambridge Analytica scandal earlier this year, when reports emerged that the London-based political data firm had allegedly used improperly gained data on up to 87 million Facebook users. Critics accused Facebook of neglecting its duty to safeguard users' information, and the company rushed to examine its practices and to plug some holes.
The digital powers were also reeling from the realization that Russian agents had abused their ad systems to try to influence the 2016 presidential election.
Facebook, Google and Twitter moved to head off a repeat by tightening rules that vet political ad buyers and building public archives of ads from every campaign and political organization. Facebook also shut down a program that made data from outside companies available inside the social network, removing direct links to data from companies including Acxiom, Experian and Epsilon. The data partner program had helped advertisers target ads; now they have to come up with new strategies.
Meanwhile, the ad disclosure policies on Facebook and elsewhere means every campaign can see what the opposition is doing. (Brand marketers confront the same wrinkle to a lesser degree: Facebook now makes all nonpolitical ads visible to everybody as long as they're active, but it doesn't store them for years as it now does for political ads.)
Bigger than ever
Yet digital advertising is, inevitably, a bigger piece of campaigning than ever, expected to total almost $2 billion by the time the 2018 midterms are done, up from just $71 million in 2014, according to ad research group Burrell Associates.
Political strategists attribute the growth to races further and further down the ballot. Digital savvy is no longer reserved for presidential campaigns, with candidates for state, county and city positions experimenting with online advertising.
Even the billionaire donor class has discovered that the best use of their dollars is with commercials online. Mega-donor Tom Steyer and his group NextGen America are funneling a reported $5 million to Florida Democrat Andrew Gillum's run against Ron DeSantis in one of the most closely watched gubernatorial contests in the nation, blasting Facebook with digital video ads. (DeSantis, a Donald Trump disciple, has run only eight Facebook ads this month, a fraction of what Gillum's camp buys in a day.)
"A big focus this fall is transitioning from the old process to the new. The data providers were our pathway to making data available on Facebook."
Bill Russell, TargetSmart
This new climate means that the 2018 midterms are being played under radically different digital rules than in 2016, leaving campaigns and others to adjust, political consultants and digital agencies say. Political campaigns are also branching out—through programmatic ad networks, connected TVs and more—as they try to break away from the two-party system of Facebook and Google.
"Campaigns don't have a choice," says Eve Samborn McCool, co-founder of Assemble the Agency. "The ones that have been Facebook-centric up to this point, they still find ways to be effective there, but they also have to look beyond Facebook. What comes after it is a big part of the puzzle."
Harder targets
"A big focus this fall is transitioning from the old process to the new," says Bill Russell, director of digital partnerships at TargetSmart, a data firm that focuses on political advertising. "The data providers were our pathway to making data available on Facebook."
TargetSmart dabbles in the same datasets that used to be directly available inside Facebook's ad platform and now need to be brought in. Political data brokers get their information from companies like Acxiom and Experian as well as public records like voter rolls, which give them a line on every registered and active voter in every district. Using that information, candidates can bring lists of voters they want to reach in Facebook and other digital platforms to try to hit exactly the people they think are worth reaching.
Facebook has had the best match rate, meaning the ability to find precisely the voters campaigns want, especially when the outside data providers were directly integrated into its platform, according to Paul Westcott, vice president of voter data firm L2. It has been less effective this cycle, says Westcott, who works with a number of campaigns including that of Ken Harbaugh, a Democrat running for a deep-red congressional seat in Ohio.
Facebook has gone from finding the right target voter over 80 percent of the time to something closer to 60 percent, says Westcott. Several other political ad consultants agreed. Twitter's match rate is closer to 25 percent, they say.
Facebook, which declined to comment for this story, has also tweaked how campaigns can target voters in another way. To end the potential for discrimination in housing, employment and other advertising on its platform, it no longer lets buyers exclude people based on certain characteristics—including political ones. "You can't control targeting as much," says Vingelis, the Revolution Messaging strategist. "That adds a little bit of uncertainty, and it has impacted performance."

New avenues
On Sept. 12, the night before New York's statewide primary, Zephyr Teachout, a candidate for attorney general, flooded connected TVs with campaign ads, running a 30-second spot during original programming on Hulu, for example.
Hulu and similar "over-the-top" TV services, ones that don't require a traditional cable subscription, are new campaign battlegrounds, according to political consultants, because they can be used like local television and radio have been used forever, targeting households by the Zip code.
YouTube pre-roll videos are also more popular with campaigns, says Russell. (Nobody said it's easy to escape a two-party system; YouTube is owned by Google.)
With connected TV and more video ads online, candidates can hit voters who are increasingly dropping their cable and tuning out of prime-time TV.
"These campaigns are working with a ton of information and building profiles on consumers the way traditional marketers do," says Westcott.
And programmatic advertising lets campaigns target voters based on their internet addresses, Westcott says, a pinpoint accuracy that can potentially beat Facebook targeting.
"You can see when a household has Republican voters or likely primary voters," says Westcott. "And you can reach any device on that Wi-Fi signal."
In Texas, while the majority of O'Rourke's ad spending is going toward Facebook and Google, his campaign spent more than $200,000 on text-messaging outreach through a company called Relay Text, according to public filings.
Twitter has also proved more successful for some campaigns this year than in years past, according to Vingelis. The ads cost less on Twitter, and candidates are still able to raise money and pick up supporter e-mails with lead-generation ads, just like they can on Facebook. "Twitter has started to work this cycle in a way it never has before," says Vingelis.
Teachout wound up losing her bid for New York state attorney general, despite the digital blitz. Her campaign did not respond to a request for comment.
Scared straight?
Despite the changes, Facebook and Google remain immensely powerful, and the potential for abuse persists. "Facebook and Google have had the biggest impact on elections," says Jeffrey Chester, executive director of the Center for Digital Democracy. "And now with programmatic advertising, geolocation targeting, the techniques developed in the U.S., they're being used in campaigns worldwide. It's a huge concern for democracy advocates to have this powerful force that can undermine elections."
That's the stigma under which the entire political advertising industry is operating. The 2016 U.S. presidential campaign, the U.K.'s Brexit vote and elections around the world since then have all been marred by the abuse of digital marketing.
Facebook is working with universities and researchers to make its political ad archive more accessible and easier to analyze. Nearly a month out from the midterms, however, researchers say the archive remains rudimentary.
The archive breaks down the audience for each ad by gender and age, for example, and the states where it ran. But watchdogs want more, down to the Zip codes being targeted and exactly which characteristics campaigns used to identify their targets.
"We want to see what emotive appeals are being used when campaigns are speaking to people with different partisan leans," says a researcher, who spoke on the condition of anonymity because he works closely with Facebook. "Do candidates talk differently about health care than they do immigration? It would be interesting to see how the messages differ and understand the targeting. The more Facebook shares, the more exploitable the database."
Political operators say that it'll be hard to uncover dirty tricks from this cycle until after the votes are counted. But there is hope that all the scrutiny will at least prevent the abuses of 2016 from recurring.
"The Cambridge Analytica effects have been felt pretty far and wide throughout industry," says Westcott. "That's put a chill that should deter anyone from going outside the bounds."­
Art Direction and Web Production by Tam Nguyen